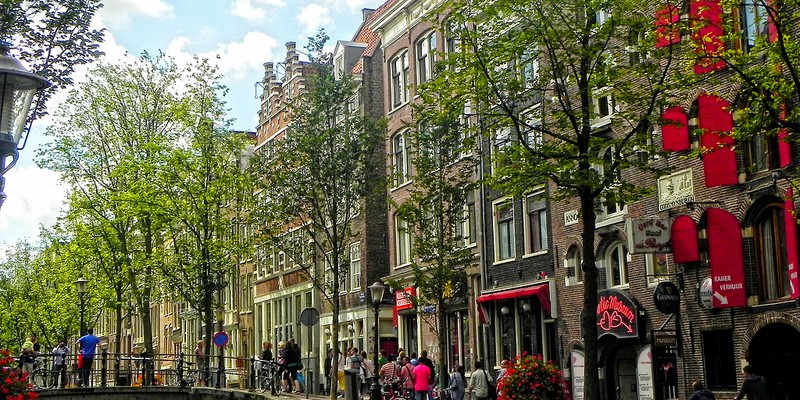 Things You Need To Know Before A Trip To Amsterdam
Some tourists think Amsterdam is a city of sin, but in truth it is a city of freedom. And in freedom, most people find sin.

The Fault In Our Stars by John Green
Starting this post with a quote from one of my favorite books because when I was in The Netherlands on my last trip, I could feel I arrived in a whole different world than the one I came from, in the best way possible. The first thing I noticed was the people. You may visit places with better attractions, better history, better food or better weather, but the Dutch people are the kindest I've met (so far). I'll write in a future post about what is worth visiting in Amsterdam. In the meantime, below you will find some travel advice if you're planning a trip to the capital of The Netherlands
Plan in advance
To be honest, this is the best advice I can give no matter the destination. What makes it even more important for a trip to Amsterdam is the fact that there are SO many things to see, you won't have time to see much unless you get organized. For instance, a trip to the Rijksmuseum would take an entire day if you're passionate about art. Make a list with the things you would be interested in, figure out which sights are close to each other, check schedules (some may be closed on Mondays or on weekends) and see if you can "sketch" a daily plan, that you don't necessarily have to follow, but to use it as a guide when you're out and about. If I could go back in time, I'd tell myself to drop some of the sights on the list, as our schedule was a tad too busy for the period of time we spent in Amsterdam. Then again, if you're not interested in museums, churches or other attractions and you prefer to wander on the streets, Amsterdam is the perfect place for that, you could get lost for hours admiring its buildings and canals. 🙂
Use public transportation and/or bikes
If you want to come by car to Amsterdam, well….don't! Or leave it at the hotel and rent a bike or get a public transportation card. (you may find the cards for a few days much more convenient, as well as the IAmsterdam Card) It's much more easier to get around this way. Not saying Amsterdam is a crowded city, quite the contrary, but the bike lanes are unlike anywhere else. And the public transportation can get you from point A to point B nice and fast. Oh, how I loved their trams 😀 Make sure you always have a ticket and you validated it. You get on the bus in the front and if you don't have a ticket, you can buy one from the driver. If you are caught without a ticket, you may get a fine. (duh)
Check the weather
Keep in mind that in The Netherlands is chillier than in other places, the average high temperature in August being 22°C (72°F), and usually rainy. Luckily, when we went it only rained for a bit on the last day, but an umbrella and a sweater in the suitcase will come in handy.
Try traditional food
I always want to eat traditional food when visiting a new country, no matter how weird the food may seem to be. What I ate in The Netherlands was great, although they weren't the lowest in calories meals I've had. From stamppot to kroket to stroopwafels, we tried a lot of things and enjoyed them. I could eat stroopwafels all day! And the cheese, oooooooh, the cheese!
Find good accommodation
Just because a hotel is close to Dam Square, it doesn't mean it's necessarily good. When I book a hotel room, I look for the following three things: location (it has to be close to a public transportation stop), comfort (clean room, wifi…) and price (obviously, it has to be within budget). We stayed at Hotel Casa 400 and it met all my requirements so perfectly that the next time I'll visit Amsterdam, I won't even look for something else, I'll book a room there.
Avoid rush hour
There's always going to be a long queue at Madame Tussauds or any of the main attractions in the afternoon. Try to get there earlier, obviously not as soon as the sun rises, but right after breakfast should be good enough. Around 10 is the perfect time to visit. And of course, they're going to be even more crowded on weekends.
Don't take pictures of the girls in the Red Light District
Should be common sense though, you need to respect their privacy.
Shops close early!
If you're planning to go home with more than just the regular souvenirs, you should know that most of the shops close at 6 PM during the work days and on Saturday at 5 PM. Most of them are open until 9 PM on Thursdays, but the Albert Heijn are open until 8 or 10 PM. I don't understand why they close so early, maybe a Dutch person will read this and explain.
Where to buy souvenirs
Speaking of souvenirs, avoid buying them from the shops next to the main attractions (Dam Square for instance), as they will be more expensive. What you want to do is walk from Dam Square towards Magna Plaza and there will be a street named Raadhuisstraat that goes to Westerkerk. On this street I found nice souvenirs at convenient prices.
Do not smoke in public
Just because marijuana is allowed in The Netherlands, doesn't mean you can act like a baboon and do whatever you want. Smoking in public is something you must not do. On one hand, it is illegal, and on the other hand, it is disrespectful to others who chose not to smoke. I don't condemn, nor encourage people to smoke or not smoke. It's your choice after all, you're on holiday, right? 🙂 But remember, other drugs are still illegal.
On my next post I'll talk about some of the great things this city has to offer, the ones I've seen and the ones I wish I had seen. 🙂