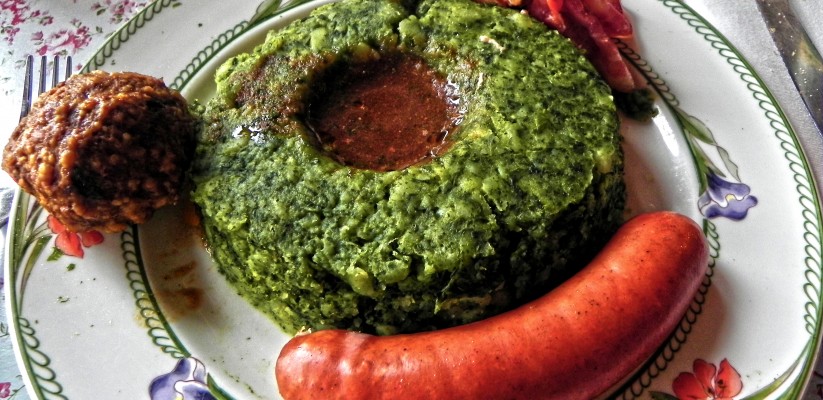 Eating in Amsterdam
Dutch food isn't what you would call haute cuisine but what you'll find in The Netherlands is tasty and nutritious comfort food. I had a lot of interesting, weird, tasty dishes in Amsterdam and I'd like to tell you about some of them.
Hotchpotch
Hotchpotch is a dish we had at the Moeders restaurant (which I highly recommend if you want food with real Dutch flavor, moeder is the Dutch word for mother) which is made with the traditional Dutch stamppot. Stamppot means potatoes mashed with different vegetables; for instance, when we had it, we could choose either stamppot with spinach or with sauerkraut. In the middle there is some delicious gravy, and at Moeders, it is served with a sausage, meatball and bacon (pictured above). It may not be the best looking dish, but it really is tasty and you will leave the restaurant with your bellies full. When I asked my Dutch friend to recommend me something to eat and showed her the menu at Moeders, she simply said "you can't get more traditional than that, this is what we commonly eat". 🙂
Bitterballen and Kroketten
They biterballen may look like your average meatballs, but there's a twist. I don't know much about how they are made, but it includes mixing different types of meat so that the inside is creamy and pasty. I first had it on the Nemo rooftop at their restaurant, it makes a great snack. A kroket is basically the same thing, but in a different shape.
Frikandel
If you want a quick snack and you didn't like the bitterballen (I wasn't a big fan, to be honest), then the frikandel may be the thing for you. It's kind of a sausage, but it's deep fried. It's made with chicken mixed with pork meat and served with fries and different sauces.
Erwtensoep
This is a tick pea soup that is traditionally eaten on New Year's Day, or during the cold winter. I haven't had the chance to try it, but it sounded way too good not to recommend it. If you did, let me know how it was. 🙂
Dutch cheese
Being the largest exporter of cheese in the world, you absolutely cannot leave The Netherlands without having tried their cheese (and without taking some home as well 😉 ). There are a lot of different kinds, I liked Gouda a lot, as well as the one with different herbs.
Stroopwafels
Ooooh, the stroopwafels. I would walk to the Netherlands for some good stroopwafels. They are made with two thin layers of baked dough and a caramel filling in the middle. I bought the ones with no sugar and they were so delicious, I need to go back and make a stash to last me an entire year.
Poffertjes
These small and fluffy pancakes are so tasty, especially if you eat them with a side of ice cream.
Appeltaart
I love apple pies, in whatever shape or size they come in. So naturally, I had to try theirs as well. I knew I made a good decision from the first bite. It's drier on the inside than other pies and it has large apple pieces. This makes a great dessert and there are many places where you can get a slice.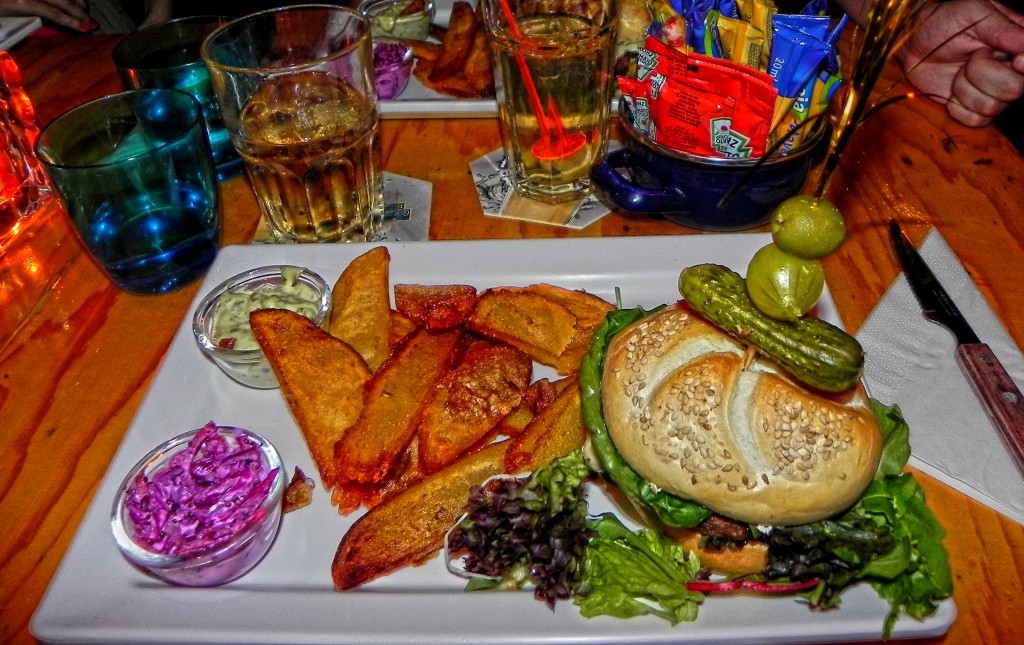 Although they hardly can be considered traditional Dutch food, I must recommend the diva burgers from Getto, pictured above. They are huge, come with fries, salad and sauce and they are absolutely delicious. And the staff was very friendly, we were offered free water when we came in, that quickly needed a refill, and they gave us lollipops when we left. Fun! 😀
Have you been to Amsterdam? What did you think about the food?