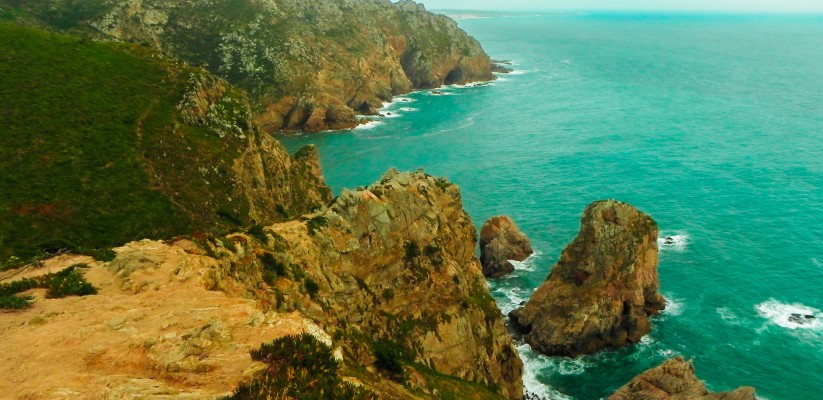 Day Trips From Lisbon
When I was little, I used to take road trips with my parents across the country. We'd spend a few days in a place, then drove to the next destination on our itinerary. Thus we saw the whole country, from east to west and from south to north. Maybe this is the reason why I start feeling on edge whenever I'm on holiday and stay in a place for too long, no matter how great that place is. Luckily, I've managed to come up with solutions for this and one of them is taking a day trip (or two). When I was in Lisbon, we've rented a car to explore nearby places. Here is what we saw…
Note: I won't be talking about the day trip we took to Peniche, because I've already written about it in a previous post.
Boca do Inferno
Our first stop was just outside Cascais, a famous rock formation known as Boca do Inferno (or Hell Mouth in English) that attracts many visitors. For me, it was a taste of what was yet to come. It was also the first time I saw the ocean and it was marvelous. We got there on a sunny day with a clear blue sky and stopped to take in the beautiful scenery. Seagulls flying, fisherman waiting for something to be caught in their hooks and….wind blowing. Wearing a dress isn't a good idea, if you're a girl, unless you like that Marilyn Monroe effect 🙂
Cascais
My one and only reason for going to Cascais was that I wanted to go to the beach and swim in the ocean for the first time, and Cascais is probably the closest place to Lisbon where you can do that. "But it's full of snobby rich people," my Portuguese friend warned me. While that didn't paint the town in a good light, I didn't seem to notice or mind. Yes, the prices for food were a bit higher than in other places but the beach was perfect! There is a large number of beaches that you can choose from, all with golden sand, some with rocky formations and some that are perfect for surfing. You can easily reach Cascais, either by car, or by train from the Cais do Sodré station, where a train will take you to the Atlantic Ocean in 30 – 40 minutes for only 2.30€ a return ticket. Definitely worth going for a lazy day of lying under the sun and swimming in the ocean.
Cabo da Roca
Going to Cabo da Roca was my favorite part of the daytrip, as it's without a doubt one of the most fascinating places I've visited. For one, it's the westernmost point of Europe and you can see where the land ends and how there's nothing but water ahead. To get there, you can take the 403 bus either from Cascais or from Sintra (it connects the two cities). There are no hotels anywhere near, all you'll find is a small souvenir shop, a cafe and many-many spectacular views. The wild vegetation is specific to the area and it adapted to the rather harsh weather conditions. The wind here can be quite strong and you should be well dressed (and not go over the fence!). My only disappointment was that it got cloudy and we couldn't see a perfect sunset, with the sun disappearing into the ocean. Bummer. You can get, as a souvenir, a certificate that says that you visited the westernmost point in Europe and while you won't be hanging it on your walls on anything, it's a fun thing to have.
Sintra
As Aggy pointed out in her post, Sintra is a magical place. So magical that it makes me wish I had more time to explore it, as one day was hardly enough. It also made me wish I didn't wear shorts that day (we were planning to go to the beach after visiting what we wanted), it was rather chilly, compared to Lisbon's warmth. We first visited the Castle of the Moors (Castelo dos Mouros, pictured above), a beautiful 8th century medieval castle and an UNESCO World Heritage Site. Having seen many wars during its time, the castle overlooks the town of Sintra from the Sintra Mountains, and recently archaeological excavations have started, medieval discovery tombs being discovered. It was also a pit stop in the 23rd season of The Amazing Race, having me glued to the screen and screaming "I HAVE BEEN THERE!!!11" 😀 On another hill you can view the Pena National Palace (pictured below), a Romanticist charming palace from the 19th century. I'm always fascinated by different mixes of architecture (such as Gothic, Manueline and Neo-Renaissance) and I could have spent hours photographing the exceptionally beautiful facade.
Have you ever taken a day trip from Lisbon? What did you like the most? If not, where would you most like to go?
I'll be back in Portugal in September for an awesome road trip, from Lisbon to Porto and Algarve. Fetch me a time machine now. 🙂