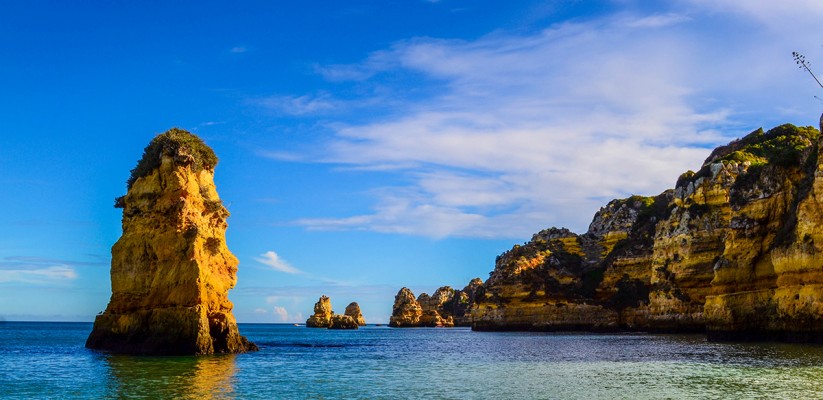 Portugal Road Trip: My favorite moments
After more than 2500 km traveled by car, I've returned from one of the most beautiful trips I've ever taken where I've visited many places that I thought existed only in travel magazines or on computer wallpapers. If you've been following on my Facebook page, you know that I've posted daily little updates from the road. If you haven't however, you'll have plenty of time to catch up, as I've been writing down notes here and there and have enough ideas to last me a while. So without further ado, I would like to present to you my favorite moments from the Portugal road trip (though really, every moment was special, so I'm just sharing some of my favorite pictures).
Discovering the stunning beaches in the Algarve
I'm actually convinced that the Algarve region is one of those places that are heaven on earth. Gorgeous beaches where you could spend hours just enjoying the fresh air and the peaceful atmosphere. Or you could swim. Or surf. Or even snorkel (I wish I did that!). Whatever is your cup of tea, you can be sure the Algarve will welcome you with open arms.
The sunny day in Porto
I had mixed feelings about Porto at first, since we've only spent two and a half days and more than half the time it rained. But there was one day when we walked a lot, saw a lot of the places we were interested in and fell in love with the charming city. And then the next day it rained from morning till evening. Ugh.
Finding beauty in the little places
Whenever we traveled from Point A to Point B, we made sure not to travel the whole distance at once and I always looked for interesting places to visit on the way. That's how we ended up admiring the moliceiros (Portuguese gondolas) in Aveiro, seeing the university in Coimbra, having the best meal in Alcácer do Sal or walking the full of history streets of Évora.
The cave boat tour
There are A LOT of possible boat tours you can take in Algarve, there are dolphin watching cruises, cruise with barbecue on the beach, whole day cruise and so on, one wall at the reception of the hotel we've stayed at was literally filled with brochures. But due to my excellent planning skills (self five!), I knew it would be cool to take a cruise from Benagil and see the wonderful sea caves. Best money spent during this trip!
Finally visiting Lagos
I was in high school and I hadn't caught the travel bug yet. Hell, I hadn't even left the country when I saw a picture of Ponta da Piedade in Lagos. It was then when I said I would love to visit it one day, but it seemed highly impossible at that time. Several years later, I did visit the place that was only a dream back then and  I had such an overwhelming feeling seeing it with my own eyes.
Searching for the best azulejos and street art in Porto
I never feel the need to actually visit a museum in Portugal, since the streets are offering me a more interesting display than any museum could. On the one hand you have the brilliant azulejos (the painted ceramic tiles) that could blow your mind and on the other hand, on every corner you could find street art that is either funny, cute, amazing or just plain weird. I set out to search the best of both worlds, but for now, I'll just share two pictures I've loved the most.
Saying hello to an old friend
Leaving Portugal without stopping in Lisbon felt wrong, so I made sure to include a day in one of my favorite cities in Europe. It was such a pleasant feeling to walk again on streets I knew so well and venturing into new places. Sadly though, it seems like my friend was too busy for me, as it was so much more crowded than the first time I've visited in July.
I have a lot more detailed stories to share about my trip in Portugal (and how I took a day trip to Spain!) so if you want to make sure you never miss a post, you can subscribe via e-mail in the sidebar, or follow me on Facebook and Twitter.