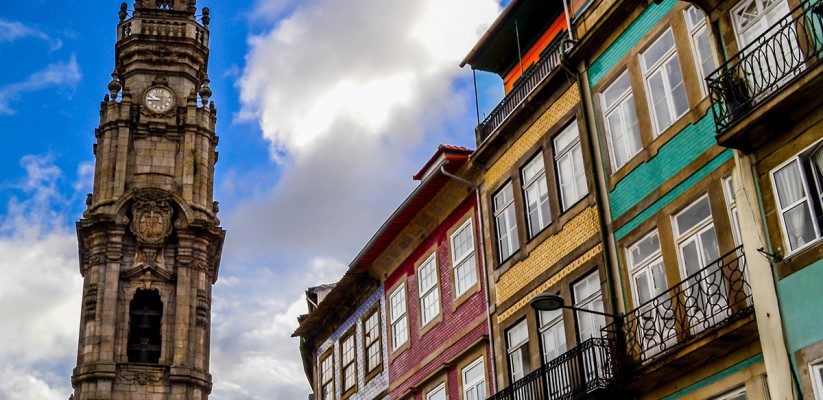 10 Reasons To Make Porto Your Next Destination
The initial plan for our trip to Portugal included only the Algarve. It was when I started reading different blogs that I realized we must add Porto to our itinerary and now that I came back, I can honestly say that I don't regret it. Sure, it may have rained a little more than I would've liked it, but the city made up for it with its charming streets, interesting (and often weird) street art, delicious food and port wine. So here are 10 reasons why you must make Porto your next destination.
1. The history
The city that most likely gives the name of the country dates from the 4th century when, under the Roman occupation, it became an important commercial port, this status maintaining throughout the ages, when the city would start exporting port wine to England. But beyond all the guide books, the real history is discovered by wandering on its streets. Porto is one of the oldest cities in Portugal and this is seen everywhere you go. A skyscraper in the city would be as strange as a flying pig.
2. The architecture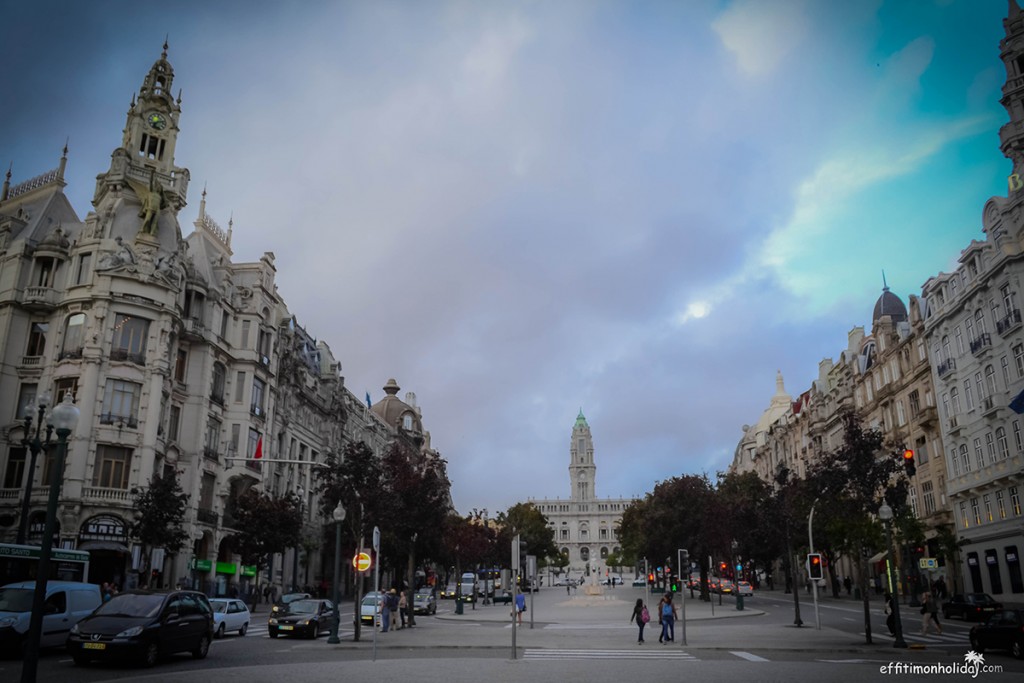 From the old to the new, Porto is a city that you need to discover street by street and step by step. Many buildings decorated with the famous Portuguese azulejos (painted tiles), colorful houses and even a whole street, Avenida dos Aliados, that made me feel like I was in Paris, it's the perfect place to wander and discover hidden gems.
3. The churches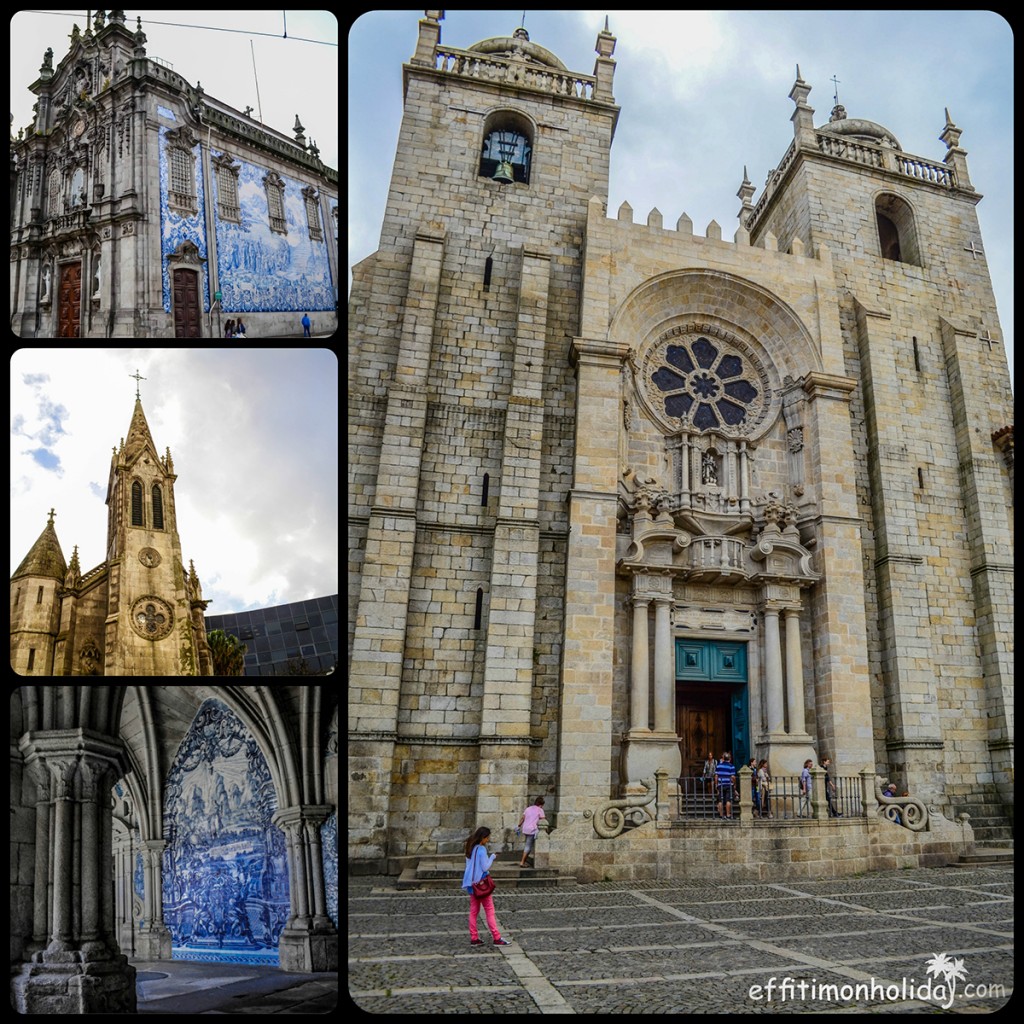 Speaking of architecture, Porto is home to many churches with an amazing facade and an even more beautiful interior. We have visited a few and each time I would say that the current one was my favorite. There even is a church (turned into a museum now) with the interior made of gold, where else are you going to see that? (okay, you can find one in Lisbon too) My favorite however was the cathedral, the azulejos inside were the most beautiful I've seen in the whole city.
4. It's affordable
Portugal is cheaper than any other country in Western Europe and Porto is no exception, you can find perfect accommodation at decent prices, eat out every day and still have money for some souvenirs for the people back home. Also, many of the city's top attractions are free or cost only a few euros so you can make the most of a city break without spending one euro for entrance fees.
5. The viewpoints
Whenever I visit a city for the first time, I look for places where I can see the city from above. But in Porto, as well as Lisbon, every street could lead you to a viewpoint. Some are more hidden, some are easily found, like the Don Louis Bridge that offers some fantastic views over the Ribeira (the waterfront, an UNESCO World Heritage Site), although if you have a fear of heights this place is definitely not for you. I'm usually not bothered by heights but up there I froze every time a train passed by. 😆
6. The Lello Book Store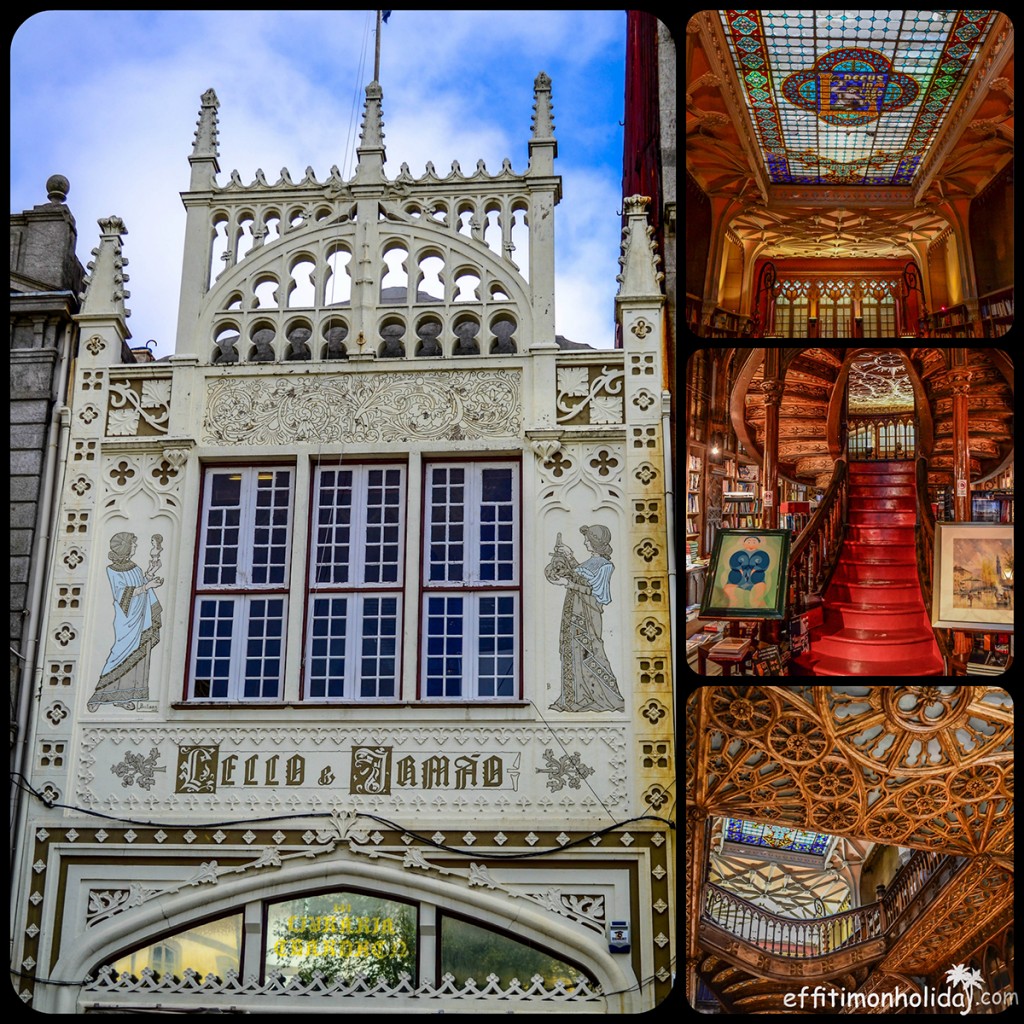 Porto is home to the third most beautiful bookstore in the world. Yes, the one that inspired JK Rowling while writing the Harry Potter novels. It's also a place so popular with travellers, that they only allow pictures before the store officially opens, between 9 and 10 in the morning.
7. The food and the port wine. But mostly the wine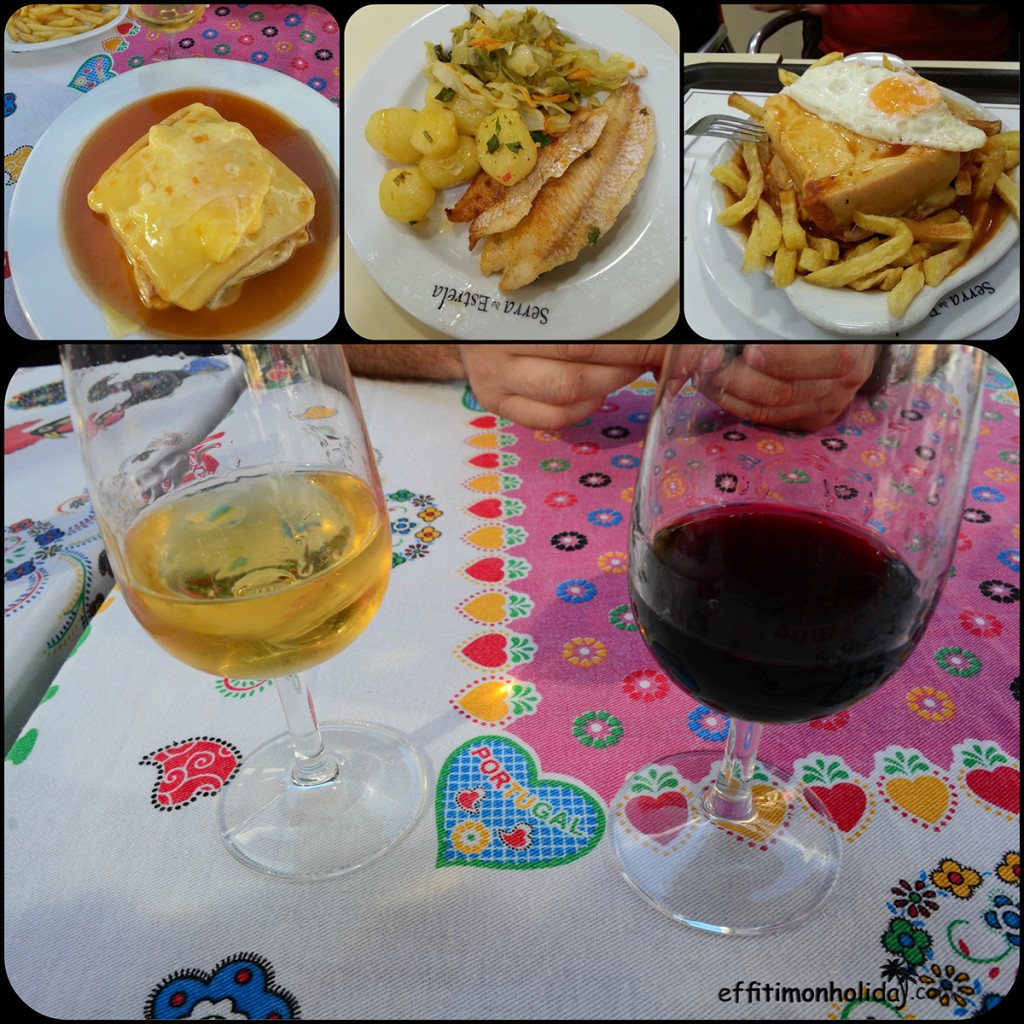 This is where you will fall in love with the famous port wine, made with grapes from the Douro Valley vineyards and aged in the wine cellars in Gaia. Most wine cellars offer tours and samples included in the price of the ticket, but if that's not your cup of tea (or glass of wine), you can go to any restaurant or bar and order a nice glass of port (my favorite was the tawny one from Taylor's). When it comes to food, on every menu you will find the Francesinha, a dish that should come with health warnings 😉 A sandwich with bread, all kinds of meat mixed together (steak, sausage, bacon), covered with melted cheese, dipped in a sauce made with beer and served with french fries. What else could you ask for? A doctor maybe 😛
8. It's chill
Compared to other European hot spots (including Lisbon), Porto doesn't attract many visitors which can be a wonderful thing if you're looking for a quiet getaway. Strolling around Ribeira may be just what you need to recharge your batteries before going back to work.
9. The street art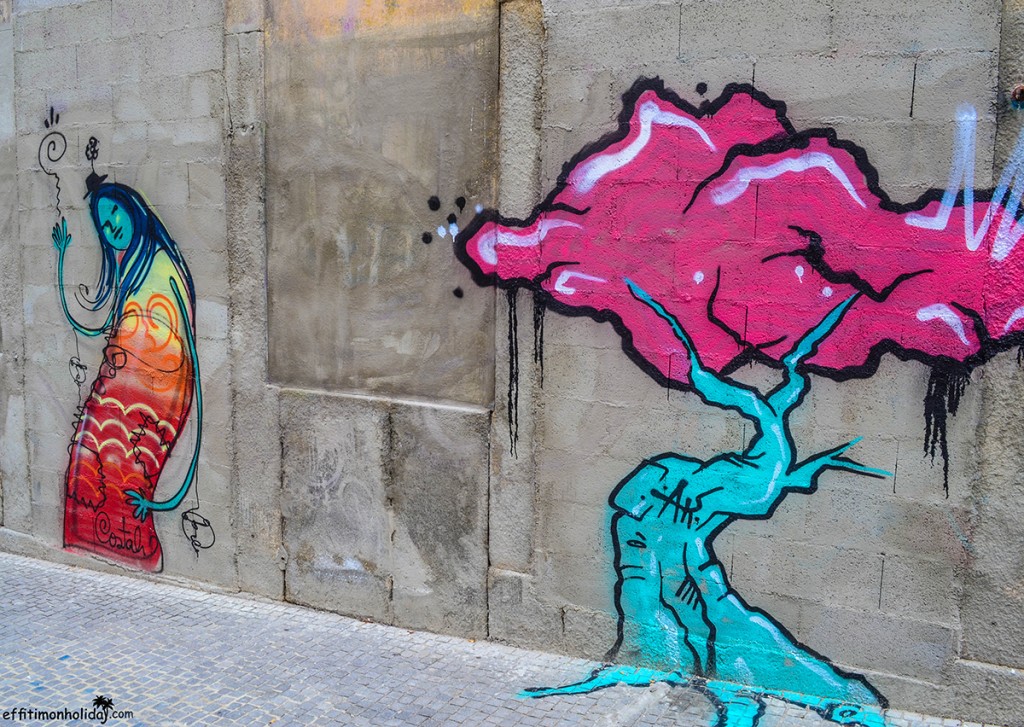 I loved how around every corner I would find some interesting, beautiful, or just plain weird street art. I had a quest of finding the most beautiful and while I did find some that I liked a lot, I'm sure there were a lot more just waiting to be discovered.
10. It's just super pretty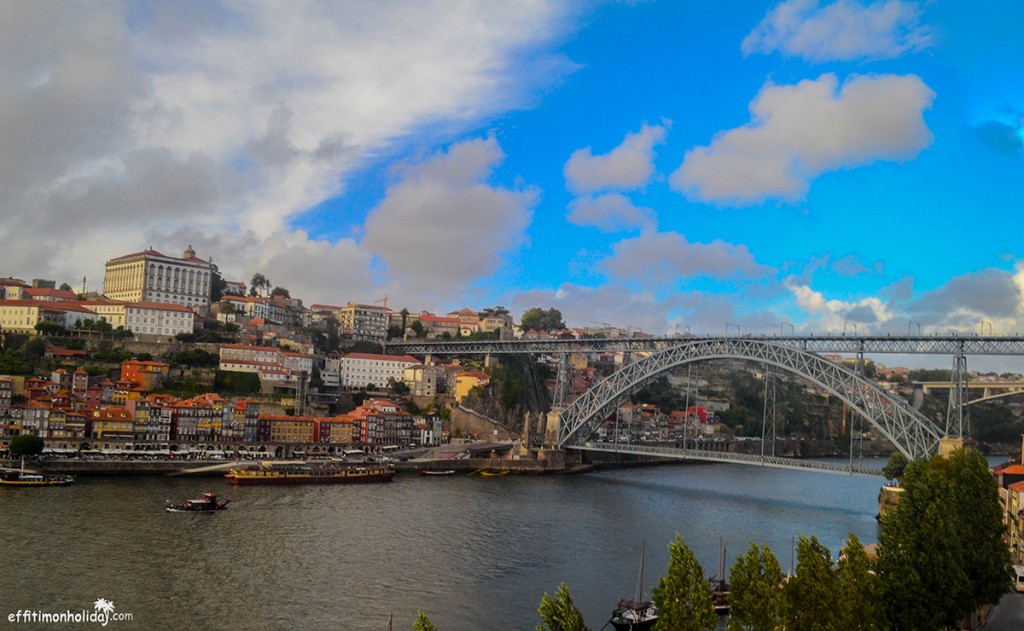 If I haven't convinced you already, I will end on this note: Visit Porto, it's a beautiful city!
If you need help planning your trip, the quirky Stop4Porto travel guide is a great resource, as well as Gail's blog, Gail At Large, where she posts a lot of helpful information since she lives there. I would like to thank her for all the help she has given me prior to my visit.
Have you been to Porto or would you like to visit it?
Want to make sure you never miss a post? Subscribe via e-mail in the sidebar, or follow me on Facebook and Twitter.