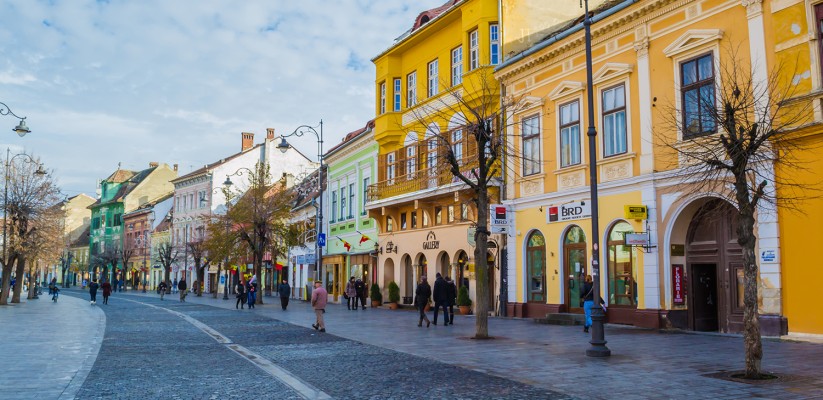 7 Reasons Why Sibiu Should Be On Your Travel Wish List
There are cities you only visit once and cities you would return to over and over again. Sibiu is a city that I have visited every year since 2011. Located in the heart of Romania, in Transylvania, this small city keeps drawing me back year after year. If you've ever been fascinated by Prague, Vienna, or German cities, then you will definitely fall in love with Sibiu. I'd like to tell you why you should add Sibiu to your travel wish list and maybe plan a visit in 2015.
It's beautiful
Sometimes nice architecture is enough to make me love a city and Sibiu is no exception. I could spend hours wandering aimlessly on its streets and not get tired of the view. Plus, with each step, you are bound to find yet another historical building with its stories hidden behind the walls that stood there for centuries.
Its history
Speaking of history, Sibiu, or Hermannstadt as it's known in German, was the most important ethnic German city in Transylvania and was once part of the Austro-Hungarian Empire and until recently, the majority of the population was still of the aforementioned ethnicity and nowadays there are about 2000 left, including Romania's new president. In 2007, Sibiu was the European Capital of Culture, a rank that was given to Riga this year.
It's fun for everyone
It's impossible to go to Sibiu and not find something to do, there is a little bit for everyone. For the art lover, there's the Brukenthal museum, the first one opened in Romania. For the music fan, there are concerts even for the pickiest person, from metal (the awesome Artmania Festival) to classical at the State Philharmonic. For families with kids there are a lot of different museums with fun exhibitions, such as the Natural History Museum. For the shopaholic there are many shops with attractive prices. If you are into skiing, there is a ski resort at Păltiniș, 30 km from the city, which could make a fun day trip.
Its delicious food
Romanian food is delicious and that is a fact, I don't think anyone has left Romania without enjoying our tasty dishes. In Sibiu I dare you to go to any restaurant and not be satisfied with your meal. All the restaurants serve authentic Romanian food, my personal favorite however is Sibiul Vechi, where a reservation is needed because it's always full of people – this should tell you something about how good the food is. La Turn is the go-to restaurant when I can't find a table at Sibiul Vechi because sometimes you're hungry and you don't feel like waiting, am I right? 😉 They have exquisite food and it's right in the city center. If you want to warm up and chat over coffee, Cafe Wien is an excellent choice, their selection is impressive. But if it's summer, you'll want to cool down with an ice tea so I wholeheartedly recommend Haller Cafe, a place where I spent many summer mornings.
It's affordable
Like I said before, Romania is an affordable country for travelers, but if you don't want to take my word for it (it's not like I live here, you know? 😛 ), at least listen to Lonely Planet. In Sibiu, the prices at a hostel can start from as little as €10 per night, depending on the season. You wouldn't need public transportation because you can walk from one place to another and all the main sights are either free or will make you look for some change in your pocket. The most "expensive" one is the Brukenthal museum where it costs around €5 (20 lei) full price, or €1.2 (5 lei) if you are a student. So you'll be left with a lot to splurge on the yummy food. 😉
Its connections
Being in the center of the country, it's well connected by road or by train to many other cities that the visitors love, such as the delightful Brașov or the charming Sighișoara, to name a few. Also, 30 km from the city you can drive on "the most beautiful road in the world", according to the folks at Top Gear, the Transfăgărășan, where you will admire stunning landscapes.
It's beautiful
I know I said it twice, but it really IS beautiful! It wouldn't be my favorite city in Romania if it weren't. 😉
If you are interested in visiting the city of Sibiu, you can book a room at nice hotels right in the city center with Destinia, or you can get a flight+hotel package. Feeling like seeing cities nearby or driving on the most beautiful road in the world? No problem, Destinia offers car rentals as well. You can book everything you want on a single site AND you can pay with PayPal or Bitcoins, how awesome is that?
Would you like to visit Sibiu?