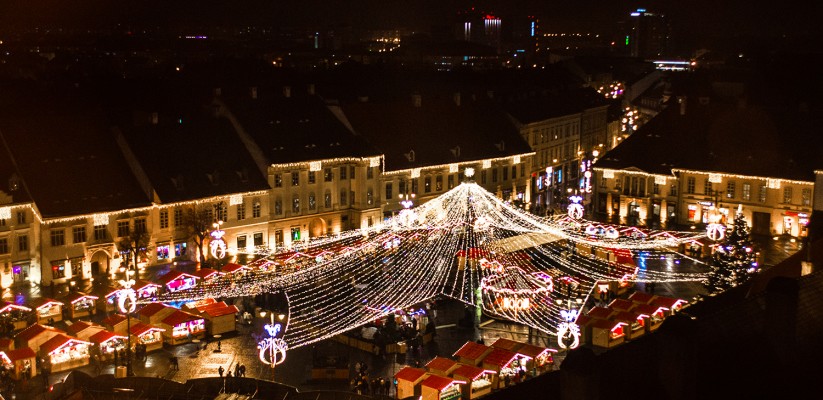 The Sibiu Christmas Market
While my last trip to Sibiu, my favorite city in Romania, wasn't planned, I decided to go for only one reason : to revisit the beautiful Christmas market. At its 8th edition, located in the heart of the city right in the Large Square, the market opened its gates on November 21st and for more than a month it welcomes with open arms the visitors curious about its 71 charming cottages. Would you like to take a look?
Despite announced as sunny, I arrived in Sibiu on a cold and rainy Friday (damn it, Mr Weatherman). Reluctant, I started on foot towards the city center, taking pictures along the way. The first thing I noticed when I got there was that it looked a lot less magical during the day. Nonetheless, I spent a while checking out each cottage and buying gifts here and there. I was impressed by the variety of things you could find, from sweets and toys, to unique handmade Christmas ornaments, Romanian traditional products and even Dutch cheese. What I liked the most was that each cottage had a different name, such as "The Little Cottage With Sweets".
If during the day it's best to buy homemade chocolate, tea or gifts for your friends, in the evening you have to eat roasted chestnuts and drink a cup of mulled wine. Or two. Or three. Or…. stop judging me! If you want to have a bird's eye view over the market, you can climb in the Council Tower that overlooks the whole square.
If I had anything to complain is that they replaced the ice skating rink in the middle of the market with bumper cars this year. Because nothing screams Christmas like smashing your car into another, right? This and the fact that it got sunny the day we had to leave (damn you, Murphy's Law! 🙁 ). If you want to see how the market looks right now, you can check out the webcams they have in the Large Square.
This post is for the Travel Advent Calendar 2014 created by Shere y Paul. Check out the rest of the posts and come back tomorrow to open another door on the calendar.