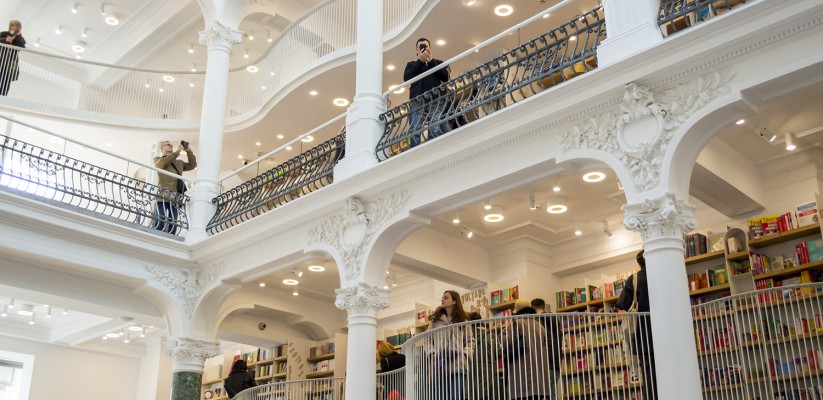 Step Inside The Most Beautiful Bookstore In Bucharest
Since I was in high school, the Old Town of Bucharest has gone through a lot of changes and restoration processes, making the liveliest part of the city today, preferred by locals and tourists alike. The most famous place there is Lipscani, an important commercial street in the 19th century, filled with beautiful Neoclassical and Baroque buildings where recently a new bookstore has opened its doors. Named Carturesti Carousel, it's the most elegant shop in town and it will enchant you the minute you walk inside. Let's have a look!
My favorite bookstore in Bucharest is Carturesti so I was excited when I saw photos in January from their new location on Lipscani 55, a historical building in the Old Town, which in 1903 was owned by a family of bankers, but it was later seized by the communists and turned into a shop.
Starting this month, it's the new cool place in the city, where everyone came to take a look at the joyful design and maybe buy something too. It's also a hipster's favorite spot in the Old Town. 😉
Take a look by clicking on each image to see it in a bigger size.
So what can you find at Carturesti Carousel?
A little bit of everything. The basement became the multimedia section, where there are music albums, movies, or comic and manga books. On the ground floor you can spend a lot of time browsing their excellent selection of teas (and teacups or kettles), as well as their quirky selection of gifts and Romanian souvenirs. If you are looking for a book, then the first and second floors are for you, and in addition to this, on the first floor you can also find a section for contemporary art. The last floor is reserved for a bistro with a view of the entire store, but since it was so crowded, I haven't had the chance to try anything, but I did see some delicious-looking cakes. There's also an elevator if you want to quickly get to the yummy stuff. The nicest part however is between the second and third floors, a level where you can grab a pillow, sit down and read a book in peace. 😀
My honest opinion: after the initial reactions that included "WOW, it's so pretty!" and "OMG they have the new Imagine Dragons album!!!",  I realized it's not too focused on the books, you quickly forget that you are in a bookstore. It seemed like there wasn't enough space for all the books (even though they have a lot of them), but of course, this may have been my impression because the place was packed with people, so I'll go back again soon.
Regardless, I am very happy the new Carturesti has opened in the Old Town of Bucharest and I'll recommend it to everyone who visits the city. Would you like to go?