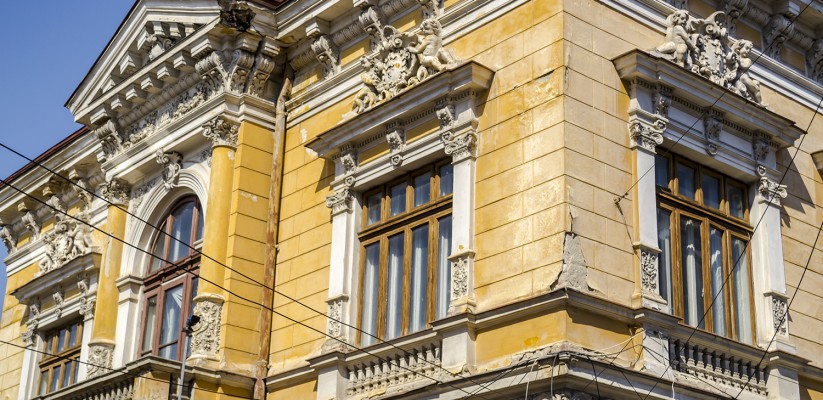 The Hidden Gems Of Bucharest
What do you usually do to fulfill your wanderlust when you are not traveling? Have you ever considered being a tourist in the city you live in? Ever since I visited the Little Bucharest Old Town Hostel, I wanted to go on a walking tour and when a friend suggested it last weekend, I immediately agreed. On a perfect spring morning I joined the hidden gems of Bucharest walking tour from Interesting Times which turned out to be well, interesting, because I learned the story of beautiful buildings and charming neighborhoods from places that only 10% of the people living in the capital of Romania know about.
Once again, I discovered the good parts of my hometown, realizing why the city was called Little Paris in the good old days. Let me take you on a (virtual) tour that includes the oldest building in Bucharest, a house built in Gaudi's style and….a witch's house?!
Bucharest is a city dominated by tall apartment buildings, most of them built in the communist era, and tall office buildings, or as I like to call them, glass boxes. However, hidden not far from the historical center there still are places that  preserve the same charm that gave the city its Little Paris nickname and made people fall in love with it. On this walking tour you will discover buildings in many architectural styles, from Byzantine to Art Deco, Romanesque and Art Nouveau, which have all been popular throughout the city at their time. Let me give you some examples.
I got to learn a little more about the history and old habits of the people who lived in my city, its stories and myths. For example, when electricity was a luxury, the numbers of the houses on the street used to be lighted by candles. I've also passed by the only Dutch-style house in Bucharest and stopped at the oldest building in town, the Melik House, which accommodates the Theodor Pallady museum with a collection of Romanian art. The house has an eventful past, from a family home, it became a shelter for people who planned the 1848 revolution, then it was a sanctuary for poor Armenian women. It had many owners over the years which contributed to its degradation. Finally, in 1994 it opened its doors as a valuable, yet unknown museum.
Bucharest wouldn't be Bucharest without its quirks and I was amused by some of the things we found, such as houses covered with ivy and vines, that made them look like a witch's home or as if the building had a beard. This reminded me how I couldn't live in a house covered in ivy, all the time I'd worry about bugs, haha. 😀 People have always been fascinated with the details from the properties owned by the Royal family and one tall apartment building has lions instead of the usual drain pipes. However, for me the highlight of the tour was seeing a house built in Gaudi's style. Not much is known about it, but being the Gaudi fan that I am, I couldn't help but admire all the shapes and curves, the fence and the dragons guarding the entrance.  Some people say the house is owned by an architect who invested 2 million euros to bring the building to life. Sigh, I wish I could randomly decide one day that I wanted a house in the style of a great Catalan architect.
However, it wouldn't feel right not to mention the negative parts. I wish I could have been a tourist completely and not notice the bad things that I dislike about my city, but they stood out here especially since they were surrounded by such beautiful places. Here's the ugly truth: Bucharest is a city without an urban plan. It never had one, and it doesn't now, and to be honest, it seems like no one in charge ever cared about making the city one that people travel to year after year. So much for Romania not needing bloggers to promote the country abroad. *end of mini rant*
Historical buildings are demolished every day to make space for new constructions, the new ones don't have any connections to the surrounding neighborhoods and are painted in the craziest colors. In addition to this, there are many "red dot" buildings, which means that if there is a large earthquake, they will be nothing but dust. I don't even want to mention the wires that are everywhere or the fact that the whole city is one giant parking lot, since there aren't enough parking spaces so you can see cars on sidewalks everywhere. I could have easily photoshopped the cars and wires out of the pictures, but I've decided to let them there, just in case the right people will see it….
Tour details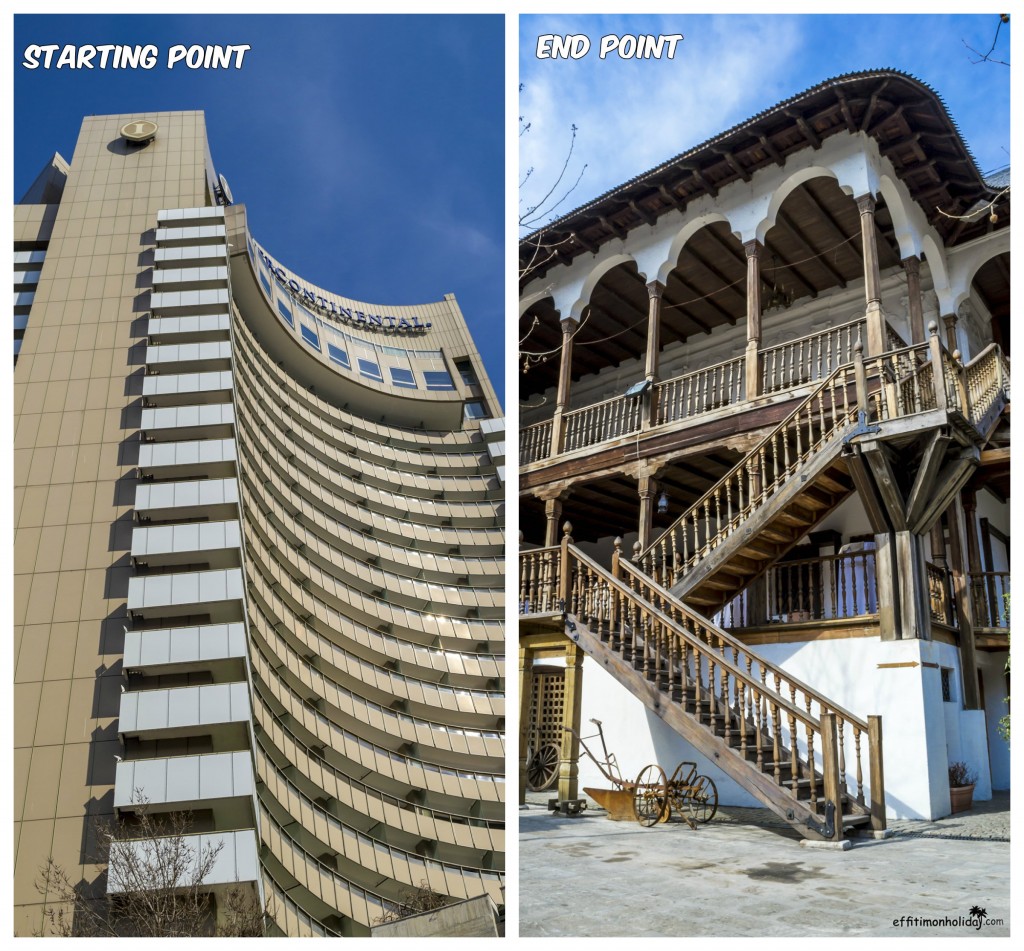 The tour starts from the Intercontinental Hotel and ends at Manuc's Inn, it costs €19  and it includes one refreshment and one street food snack, the bus/metro fair and, of course, the professional guide with a PHD in History, Anita. You don't need to be in the best physical condition for this tour, but you should have comfortable shoes because you'll be walking for a few hours. A small warning if you're doing the tour during the summer: it can get quite hot at times, so covering your head and wearing sunscreen is recommended.
Would you like to explore the hidden gems of Bucharest if you visited the city? 🙂
Pin it: