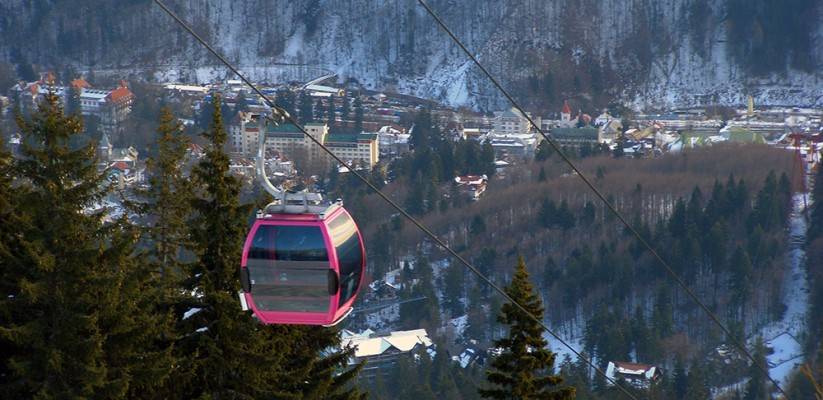 A Day Trip From Bucharest to Sinaia
­For us, part time travelers, a weekend trip is sometimes the best way to get out and explore new places, considering we all have limited annual leave. We usually spend a lot of time in airports, often neglecting what we have in our own back yard. Thus, after weeks of discussing with my friends, we compromised on a day trip instead of a full weekend (damn growing up) and decided to revisit Sinaia, a place I haven't seen in years, located only a few hours away from Bucharest. It's a small picturesque town in the Carpathian Mountains, perfect for both relaxing and sightseeing. Although the weather wasn't the best, we still had a great time and for me it was the perfect way to test my new baby (aka a 35mm lens for my camera). Here are the top 5 things you can do in Sinaia on a weekend or a day trip.
Visit the Peles & Pelisor Castles
The construction for the Peles Castle started in 1873 at the request of King Carol I of Romania who wanted a summer residence in a little village he has fallen in love with for its breathtaking scenery. A Neo-Renaissance building, in my opinion, is the most beautiful castle in Romania. I could spend hours just photographing all the details on the facade and the garden, but the interior is equally impressive. Sadly, out of all my visits to the castle I couldn't find one single photo from the inside. 🙁 If you want to visit, there are two types of tours, one only for the ground floor (that costs 20 RON or €4.5) or one for both the ground floor and the first floor (that costs 50 RON or €12).
Pelisor is a smaller castle nearby, built for Carol's nephew and heir, King Ferdinand. It has "only" 99 rooms, while Peles has 160 and the most impressive one is the gold room, with Art Nouveau decorations. This was my first visit to the castle and sadly, I don't have any photos of the interior because their policy is stupid and there's no point in paying a photo tax if I'm not allowed to share them here. The entrance is also 20 RON (or €4.5) and unlike Peles, you can walk freely on the halls and admire the beautiful rooms.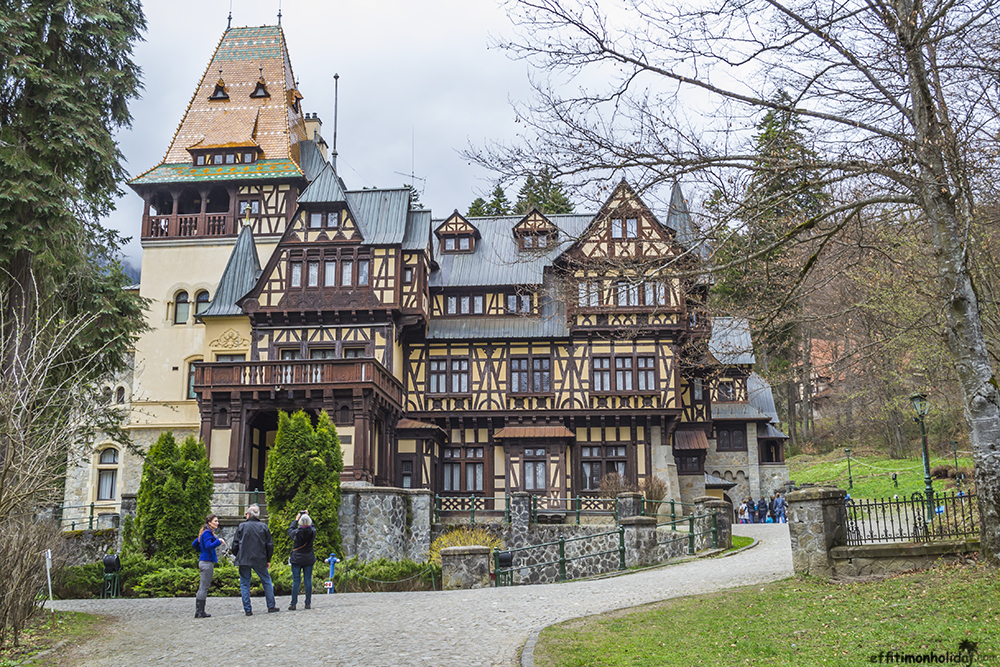 Take the cable car
As I've mentioned before, Sinaia is located in the Carpathian Mountains so you shouldn't miss the chance of going to the top of the mountain. You can either hike or take the cable car to an altitude of 1400 or 2000 meters. There you can enjoy a nice cup of mulled wine during the cold season, go sledding or skiing from December to May. There are multiple ways to get to the top of the mountain, either by chairlift (18 RON or €4), by cable car (31 RON – €7 or 62 RON – €14, depending on the altitude) or by gondola (34 RON – €7.7), which is smaller than the cable car and only goes to an altitude of 1400 meters. Additionally, there is a Ski Pass that gives you access to all these for more days. I will probably use it, once I learn how to ski.
Visit the Sinaia Casino
Opened in 1913, the elegant casino located in the charming Dimitrie Ghica park, was a place where people of that time used to go and waste a lot of money. Nowadays, people waste a lot of money elsewhere (betting agencies everywhere) so the Sinaia Casino has become an event hall, perfect for corporate events or weddings. The guided tour was interesting and I learned a lot about the history of the place. I've always been fascinated by secret tunnels and passageways and I was interested to learn there were tunnels under the casino that went to the Peles Castle and….the Sinaia Monastery. I guess priests liked to gamble? 😉 A complete tour costs 15 RON or €3.4 and I highly recommend it if you visit Sinaia.
Light a candle at the Sinaia Monastery
Dating from the 1690, the Old Church in Sinaia was built to house 12 monks, similar to Jesus' 12 apostles, but over the years their number grew and a new monastery was built, forming the "New Court" of the monastery. Built in the Romanian representative architectural style, Brancovenesc, it's a quiet place, close to all the main attractions of the city.
Eat a traditional Romanian meal
I'm not sure why, but whenever I go to a restaurant in a different city than my own, I find the food to be so much better! So obviously, you can't leave without eating a traditional Romanian soup (beef, my favorite or the ever popular, tripe soup), some sarmale cu mamaliguta (stuffed cabbage rolls with polenta), or papanasi for desert. Yum! 😀
Would you like to visit Sinaia?