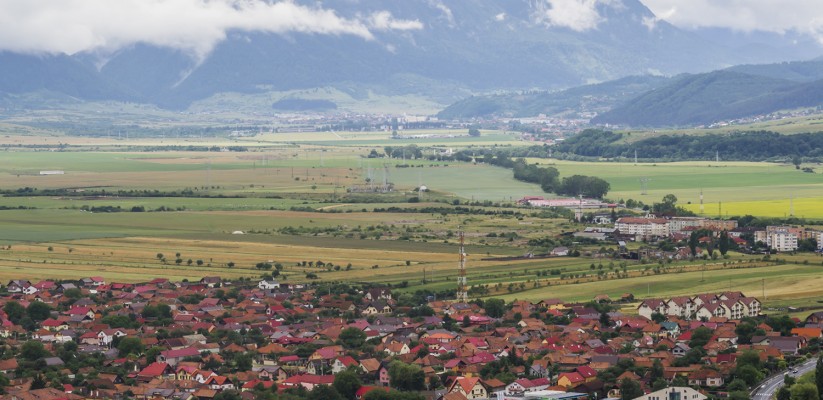 Rasnov, Between History, Nature and Dinosaurs
After living my whole life in Romania, I'd say that I can't be easily surprised, especially if it's tourism related. But recent news have stirred interest in this little town I first visited eight years ago on a cold January day and didn't think much of it. Introducing Rasnov (or Rosenau in German). Halfway between Brasov and Bran, two destinations preferred by everyone who visits Romania, it gained press coverage thanks to the Ski Jump World Cup that was held there and also the recent opening of a dinosaur park. Yep, our very own Jurassic Park, only safer and with less Chris Pratt (they should really invest some more, then! 😛 ). So I revisited the city on a day trip from Brasov and I was quite impressed by how clean and nice it looks.
With the help of Adri from City Of The Week, let me point out why you should consider stopping in Rasnov for a day if you are visiting Transylvania.
Rasnov Fortress
Rasnov is synonymous with the fortress that overlooks the whole city from the top of the hill. The fortress was built by the people of Rasnov to protect themselves from the Turkish attacks and this can easily be noticed since it doesn't have any particular architectural features, they only focused on making it safe. Thus, it was built using stones and bricks, the walls having an irregular shape and measuring 5 meteres high and 1.5 meters thick. Even after the last siege, the fortress couldn't enjoy its retirement on a beach somewhere, because it had to go through a great fire, an earthquake and a couple of revolutions.
There is a fountain in the courtyard and legend has it, the people of Rasnov captured two Turkish soldiers and made them dig until they found water, because there was an alarming lack of fresh water in the city at that time. They were told they would be free once the fountain was complete but after 17 years of digging (and writing Quran verses on the walls), they were still killed. I don't know why Romanian legends must always be so grim.
Nowadays, you can visit it every day between 9 and 19 for the small price of 10 Ron (2.3 euros) or 5 Ron (1.2 euros) for students and you can wander around the fortress, pretend to be Katniss and learn how to shoot an arrow or do some horseback riding. And obviously, this goes without saying, you can find your tacky Dracula souvenir here.
Dino Park
Halfway between the fortress and the main road, a very large dinosaur welcomes you to the first dinosaur park in Romania (and the largest in South Eastern Europe). Don't worry though, it ain't Jurassic World and no one is running in high heels from the T-Rex. However, there are 45 life-size dinosaurs, ready to greet you and tell you all about their history. It's definitely fun for kids who will have a great time, with the dinosaur themed playground and the tree houses, but also for adults, because let's face it, how many times will you take a selfie with a dinosaur? 😉 There is a platform where you can feel what it would be like if that huge creature would get up and started walking. Let's just hope it's a vegan dinosaur! 😛
Opened every day from 9 to 20:30, a ticket costs 28 Ron (6.3 euros) for adults and 22 Ron (4.9 euros) for kids, while the ones under 3 have free access. My only complaint is that the ticket wasn't dinosaur themed, it seems like such a wasted opportunity! Oh well, I did get a small purple T-Rex from the gift shop. You can check out more details on their Facebook page.
Valea Cetatii cave
Sadly, I haven't made it to the cave (yet), but I asked Adri from City Of The Week to tell you about it, since she has visited it a few days before me.
Although Rasnov is mostly famous for its fortress and most recently, its dinosaur park, not many people know that it is also home to an impressive cave system. The Valea Cetatii cave is located at a distance of 1.5 kilometers from the fortress, easily reachable by car and even by foot along the main road. A huge sign welcomes tourists, so you can't really miss the entrance. Once you leave your car in the parking lot, the local souvenir vendor will direct you towards a path in the woods. After a ten-minute walk on a marked path you'll reach the mouth of the cave.
The ticket counter is located at the main entrance, where you'll leave behind 15 Ron (3.4 euros) and are told to wait a few minutes until the guide comes. There's a guided tour held every half hour, so it doesn't matter whether you're alone or with a huge group. The temperature in the cave is usually between 10-12C, and since you'll stay inside for nearly 30 minutes, make sure to bring some warm clothes with you even in the summer.
Once inside, you are greeted by the cold and humid weather until your eyes get accustomed to the dim light. After passing the primary passageway you'll get to the main chamber, where the visibility is higher. There the guide explains a few basic things about the formation of Valea Cetatii, and then you're encouraged to look around and even ask questions.  Albeit the cave itself is relatively small, I highly recommend visiting it if you're in the area, since the illuminated stalagmites and stalactites are in prime condition, being one of the best-preserved caves in the country. Valea Cetatii is the only cave in the Brasov County that can be visited, and it also serves as a stage for concerts of the Braşov Philharmonic because of its exquisite acoustics.
What do you think, would you like to visit Rasnov?