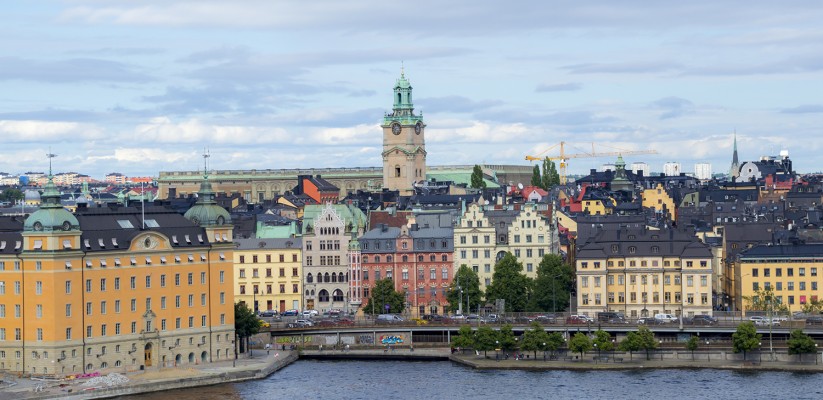 10 Ways To Have A Great Time When You Visit Stockholm
I always like the places I travel to. Thanks to my natural curiosity, I want to go everywhere and I always try to see the best in each country I visit. But I don't always fall in love with them, there are only a few cities where I would return in a heartbeat, the kind that I would visit any day and night and wouldn't even think twice if someone asked me to go. Before my last trip to Northern Europe, my mom asked what city I think I would like the most and I had a feeling it will be Stockholm. Now that I came back home, I can confirm that 100%, I am absolutely and completely in love with Stockholm. Whenever this happens, it's more than just about a pretty city. It's about the way the people are and how I felt while I was there. But that's a story for another post. For now, I'd like to tell you 10 things you can do in Stockholm to have a wonderful time.
1. Wander on the beautiful streets of Gamla Stan
The Old Town of Stockholm is truly gorgeous, with its medieval alleys, 13th century buildings and cobblestone streets, you could easily wander around for hours, discovering at every corner your new favorite bakery, restaurant or sci-fi book shop (or maybe that's just me 😉 ). Be careful though, since it's filled with tourists, there are places that have adjusted their prices accordingly (not all of them though, I had a very lovely and reasonably priced dinner there).
2. Go for a fika
I just love that the Swedish have a special word for "hanging out with your friends, drinking coffee and eating pastries". Who wouldn't love that, the cinnamon rolls and chokladboll (literally chocolate balls) are delicious, combine them with coffee and a good conversation and you'll have a perfect way to spend an afternoon. I met my friend Irma (creator of the Imy comic and my lovely banner), for a fika, for the first time after talking online for about 7 years (has it really been that long?!). We had fun talking about anything from Sweden, to comics and Eurovision, I had no idea when the time passed by. 😀
3. See the lazy seals at Skansen
Skansen is the world's first open air museum and it shows life in different parts of Sweden, replicating a 19th century village. It also has a zoo with Scandinavian animals and I would be lying if I said that the village was my favorite part (although it was a lot of fun trying to walk on stilts). What I liked the most were the funny animals, including that one lazy seal that would not move for anything in the world. You can also see brown bears, moose, reindeer and wolves, as well as go inside a beautiful 1730 wooden church, try yummy pastries and Swedish bread and buy some seals. Plush seals, don't get the wrong idea!
4. Take a cruise around the islands
The city is spread across 14 islands, so why not go on a cruise and see some of them from the water. You guys know already how much I love these cruises so it shouldn't come as a surprise when I recommend this one. You get headphones and listen to interesting explanations about the places you see in the language you choose. It's a great way to see more in a short time, but also to relax your sore feet. 😉
5. Learn about the Vasa Ship
Imagine you spent two years working on a project, making it look perfectly. Then when you decide it's ready and make a test, it fails after a couple of minutes. What the hell happened? This is the story of the imposing Vasa ship which sank after only 120 meters from the shore and was salvaged more than 300 years later. The water at that time was highly polluted and that lead to the conservation of the ship. At the Vasa Museum, you can learn all about the ship, as well as each member of the crew.
6. Go on the crazy rides at Grona Lund
Grona Lund is Sweden's oldest amusement park, dating from the 19th century. It houses seven roller coasters (including a wooden one and one that is literally called Insane!) and many other attractions. I didn't feel as courageous (or maybe I have just gotten older) and only went for Kättingflygaren (The Wave Swinger, pictured) and trying my luck at winning a 2kg chocolate or pack of jelly beans. I was SO close to coming back with something that would have definitely been over my hand luggage limit!
7. Have a picnic in a park
Stockholm has many parks and if you combine that with sunny weather, you have the perfect combination for a picnic. Well, it rained a bit for us, but we still had an amazing time, trying delicious traditional food, thanks to our Swedish friends. We chose Skinnarviksparken as the picnic spot, which is a bit of a hidden gem, considering Google Maps doesn't even know it. Located on the Södermalm island, it has a gorgeous view of the city and it's also located near the Monteliusvägen viewpoint which is the perfect spot for pictures! 😉 You can check out here more picnic locations in Stockholm.
I'd like to thank Anna, Paul, Peter and Lars once again for such a warm welcome to their beautiful country! 🙂
8. See the fantastic subway stations
When I visit a new city and have to get around by public transportation, I'm always faced with a dilemma: do I go with the fast way, the subway, or the slower way that gives me the chance to see more of the city? In Stockholm however, you have to travel by subway. Not only is it efficient, but some of the stations are true works of art. Granted, I've only seen a few on the blue line, but can you look at the pictures above and say that you don't want to go?
9. Eat traditional Swedish Candy
Located in Gamla Stan, just a few steps away from the subway station, there is a little shop that will make you feel like you've traveled back in time, to the 19th century. At Polkagriskokeri you can see how the world famous "polkagris", red-white peppermint candy cane is made by hand and even make your own! They have so many different types and we settled on buying a lot of candy for the kids back home and by that I mean, of course, we bought a lot of candy for ourselves.
10. See the Stockholm Archipelago
Granted, you have to get out of Stockholm for this one, but it's totally worth it. The Stockholm Archipelago is formed by over 30000 islands, all with a different story and each one more charming than the other. There are even ways to see them on a tight schedule, by visiting islands that are only 30 minutes away from the city. I was lucky to see the stunning archipelago while coming into the city by ferry, I was the only one on deck and it was a sight to remember. Sometimes it pays off to wake up early! 😉
The Stockholm Card is a great way to save money while visiting the city, you can see all the attractions above and travel by public transportation for free, but it will be discontinued after December 31st 2015. So you should hurry and visit the city this year! Maybe you'll be lucky and see the Northern Lights as well! 😉
I hope I've managed to make you interested in visiting Stockholm, or if you've been already, to look back on your time there and the memories you've made. It's not often that I leave a city desperately wanting to return, but that's how much the capital of Sweden has impressed me.
Have you ever been to Stockholm? Was it love at first sight as well?
Disclaimer: I was offered a Stockholm Card by Visit Stockholm, but falling in love with the city was entirely my doing.