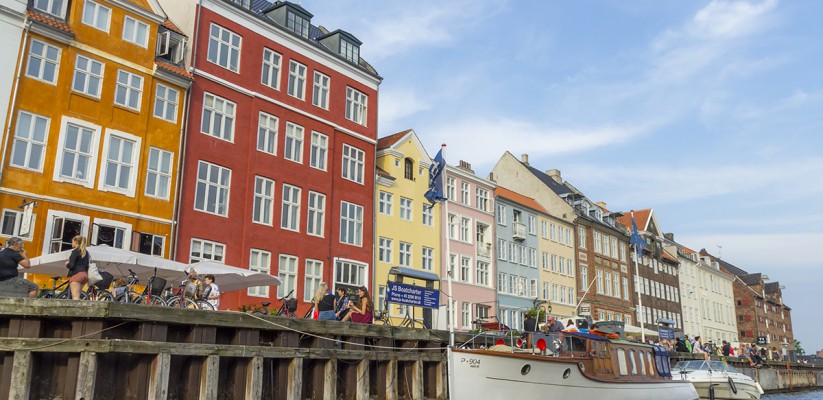 A Cruise On The Canals of Copenhagen
The capital of Denmark isn't a big city, you can even see Copenhagen in one day. But no matter how much time you have in this beautiful pearl, a cruise on its canals is a must. The most beautiful parts of the city are by the water and you can see them all while a friendly guide shares interesting information as well as stories you won't find in guide books. Does it sound good? Let me show you what you will see on a canal cruise in Copenhagen.

The cruise departed from Gammel Strand and I though it was a good idea to start there, because that way you get to see the splendor of Nyhavn as you sail into the beautiful harbor that was once the home of Hans Christian Andersen. Dug by Swedish war prisoners, it was meant to be a way for ships to come into the city to unload their cargo and fish. Nowadays however, it's a very hip and touristy area of town, full of lovely restaurants and cafes. Go for smørrebrød (traditional Danish sandwiches)  and waffles with ice-cream, yum! As pretty as Nyhavn is, I found it ten times more charming seen from the canal.
After Nyhavn, you will pass by the iconic Opera House, which is one of the most modern and expensive in the world, despite being only ten years old. Nearby there are a few industrial areas, which I found a bit off putting, although I did see a humongous crane! The view on the left side is a lot better, you can see parts of the Amalienborg Palace and The Marble Church so if I were to do it again, I'd choose the left side. Of course, on the right side you have a better view of the Little Mermaid, from the left side, you'd probably need binoculars to see it. 😉
The guide kept warning us to be careful when we were passing under a bridge because they were all so low, you could easily bump your head. At one point we passed under a very narrow bridge, it was surprising that we even got through. A duck would have had to wait in line if it wanted to go by us.
However, the nicest part of the tour was seeing Christianshavn, the delightful district that made me wonder whether we took a wrong turn and ended up in Amsterdam as the houses looked very similar. In reality, it all started when King Christian VI had plans to fortify the city and Christianshavn was created as a little merchant town, but since it couldn't survive on its own, it was integrated into Copenhagen. Nowadays it's a lively area and I wish I had more time to wander on its streets, to get a better taste of life in Copenhagen.
Tour details
You can join the Grand Canal Cruise either from Nyhavn or Gammel Strand, it takes one hour, and the guide speaks Danish and English, as well as German, Italian, French, Portuguese or Spanish  – some departures are audio guided which would be better because hearing the same thing in multiple languages can be a bit off putting, but then you wouldn't hear the jokes and funny stories told by the tour guide. It costs 80 DKK (roughly €10) but it's free if you have a Copenhagen Card (for the departures from Gammel Strand only).
If you have limited time in Copenhagen or if you're tired from walking around and need a way to relax for an hour, the Grand Canal Cruise is the perfect choice for you.
Disclaimer: I was offered two complimentary tickets for the Grand Canal Cruise, but all views and pictures are, as always, entirely my own.