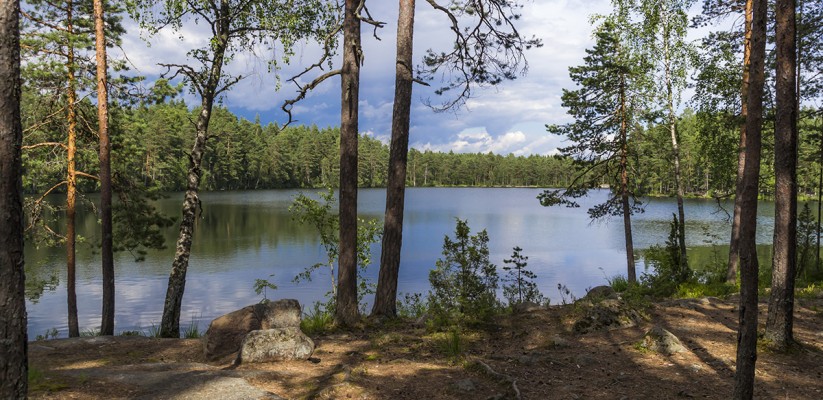 A Day Trip From Helsinki to the Nuuksio National Park
Finland has a special relationship with nature and this can be easily seen if you look at it on a map. There are no big metropolises with skyscrapers, but small cities, forests that cover 75% of the surface of the country and around 190000 lakes. No, I haven't accidentally added an extra 0 or two, there are that many lakes. With this in mind, it was only natural to take a day trip from Helsinki to the wonderful Nuuksio National Park. I spent a lot of time researching everything about the park, but I'm here to make your life easier and tell you everything you need to know about the Nuuksio National Park. But if I had to describe it in five words? Hiking, berries, lakes, sore feet.
How to get to the Nuuksio National Park from Helsinki
Although it may seem a bit complicated, it's actually really easy to get there. From the Helsinki train station you need to take a S, U, L or E regional train to Espoo. To avoid queues, buy the tickets from a machine, but you can pay only by card. The trains are very frequent so don't worry if you miss one, odds are the next leaves in 10 minutes. Once in Espoo, you need to take the bus 85 or 85A that stops right in front of the train station. You can buy a ticket inside and it's best to ask the driver where you have to get off, depending on which route you want to take (more of this in a bit). Otherwise you'll just miss your stop and need to go back. The visitors center and the main entrance is at Haukkalampi and from the bus station you need to walk about 2km to reach it. There are so many berries on the way though, it will seem like a much longer distance. 😉
Which hiking route to take at the Nuuksio National Park
There are five circular routes and many more trails or connecting routes. We initially wanted to do the 4 km blue circular route, but after asking at the information center, we found out the 7 km yellow route is a much easier hike, so we chose that one. All the routes are well marked so it's impossible to get lost. I loved the route we took and I think it was a good way to see the park, even though sitting on a chair in the bus on the way back to Helsinki felt like a blessing for my feet. You can check out here a brochure with all the hiking routes.
What to see & do at the Nuuksio National Park
Hiking in unspoiled forests with valleys and gorges that date from the Ice Age, you will see stunning landscapes and gorgeous lakes. You can have a picnic or even spend the night in a camp site and if you haven't realized this yet, let me say it again: you can pick delicious wild berries, as well as different types of mushrooms (if you know which ones won't kill you!). Supposedly there are a lot of different species of animals in the park, such as elk, deer, foxes and even the symbol of the Nuuksio National Park, the flying squirrel, but I think you need to literally get off the beaten paths to see them. During the 7 km route we took, I only saw a duck. A very hungry duck who was eager to eat my cereal bar right from my hand.
What to bring & what to wear at the Nuuksio National Park
The first thing you need to do is pick your most comfortable hiking shoes. You'll be walking a lot and you don't want to feel every tree root or every rock you step on. Secondly, it wouldn't hurt to bring a rain jacket or even an umbrella, just in case it starts raining and you're on the middle of the trail. You should consider bringing some snacks and enough water for the hike, they have a few things for sale at the entrance of the park, but you don't have much to choose from (the caramel muffins are good though!)
The Nuuksio National Park is a great way to get in touch with nature and escape the city, even though it's located only an hour away from Helsinki. Would you like to visit?
Pin for later: