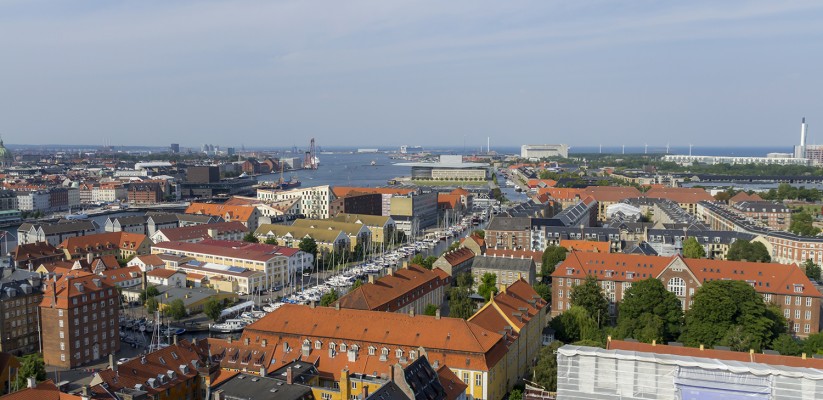 Looking For A Good Restaurant In Copenhagen
One of the problems we had last year in Paris was that we didn't know where to eat, we went out of our way to find a good place and ended up spending a lot of money. With that in mind and knowing how expensive it is to eat out in Northern Europe, I spent a couple of evenings after work to research good and affordable restaurants. Now, Copenhagen is the city with the most Michelin stars, for 15 restaurants, but when you're on a budget (and you're not a pretentious snob), finding a place to eat can be tricky. Luckily, I have managed to make a list with quite a few reasonably priced restaurants but guess what: in the end we haven't been to any of them. Curious to see how it went?
You could say that our first moments in Copenhagen weren't the best, after realizing the hotel wasn't nowhere near the train station. My bad. You see, there are five with the same name in the city and I was under the impression that ours was the one closest to the train station and the Tivoli Gardens, since I didn't book it myself. It wasn't. So we went from "yay, we'll walk to the hotel, then explore the city" to "wait, we're paying THAT much, the room is THAT small and it's THAT far from the city center?!"
So you see, the visit to Copenhagen hadn't started on the right foot. After finding the hotel (the right one!) and checking in, we went out to see the city. But first some food, because we were starving. Luckily, I had a whole list of places with great lunch buffets for around 100 DKK (€13) which is a great deal for Copenhagen. So we set out to find a Greek restaurant, but after walking down a street with many options to choose from, my friends said they didn't like how the restaurant I picked looks like and wanted to go somewhere cuter. I was so hungry, I didn't care and told them to choose whichever they want.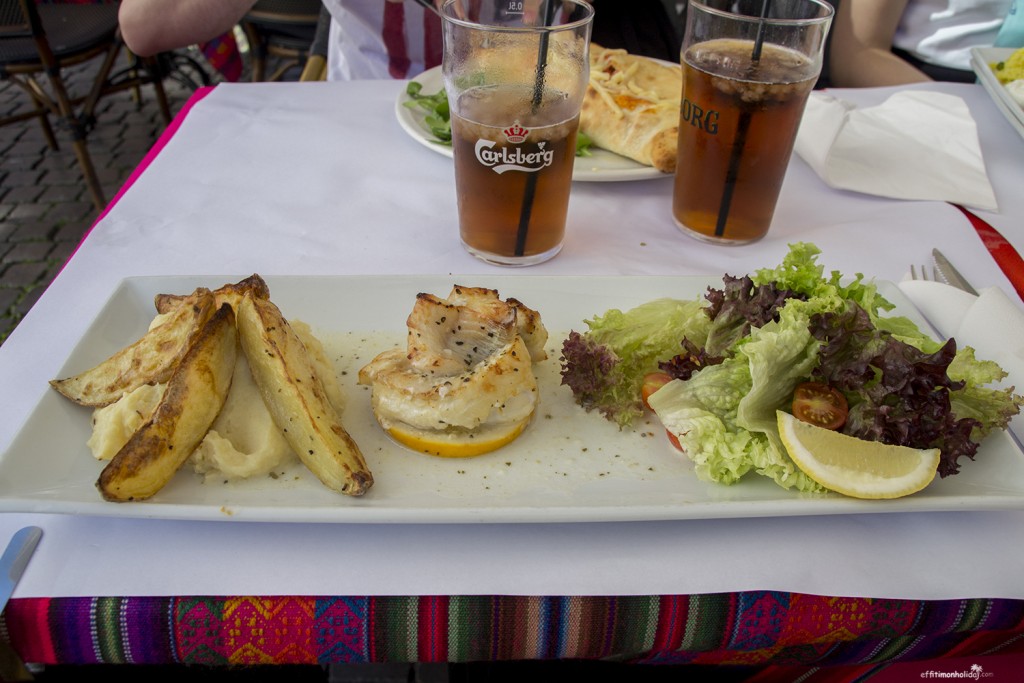 We settled on Nova, a restaurant with an outdoor terrace (which, if you ask me, was pretty ordinary, not cute at all) and while we were looking through the menu, a waiter was incredibly rude to a customer, telling him that "it's a restaurant, not McDonald's" because he was waiting for food for a long time. That should have triggered some warnings, but we were so hungry! My friends ordered some fish & chips from the lunch menu, while another friend and I got "fish with white wine sauce, mashed potatoes, vegetables and salad", the waiter calling it "an excellent choice" so I was excited. The result? The fish & chips my friends got came from a supermarket frozen bag as to what I ordered….well, you can see it above. The fish was ok (nothing special), the vegetables described were potatoes and the mashed potatoes, well….they were sour. No, no, not because it was bad, but because it had sour cream in it. Yuck! But it was "a matter of personal taste", as the waiter explained not-so-nicely. Ironically, this restaurant has a very similar name to the best one in Copenhagen / the world. I wonder if there was ever anyone who stumbled on this place by accident and expected haute cuisine. In retrospect, we should have gone to McDonald's instead! And I don't even eat from McDonald's!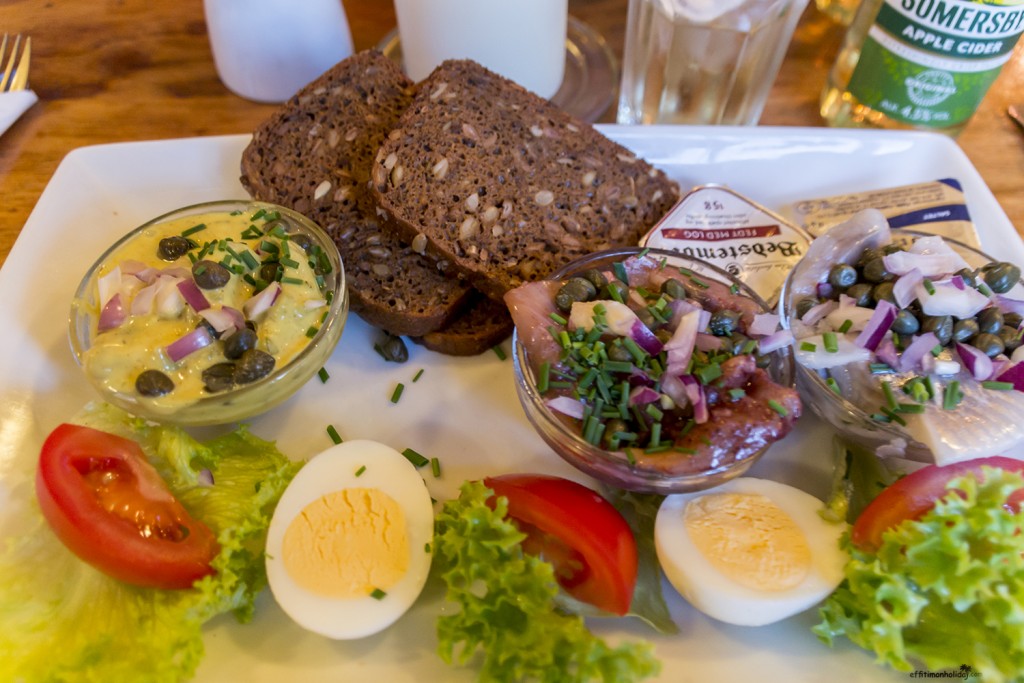 Later that day, we were wandering around Nyhavn when we decided to eat, but after the previous experience and knowing how expensive the area is, we checked prices and TripAdvisor reviews beforehand. We settled on Hyttefadet to get some smørrebrød, which was quite good. My friends got one with salmon and I got a DIY version with three different types of herring, bread, butter and egg. Later that evening we bought waffles with ice cream so all was good again. 😀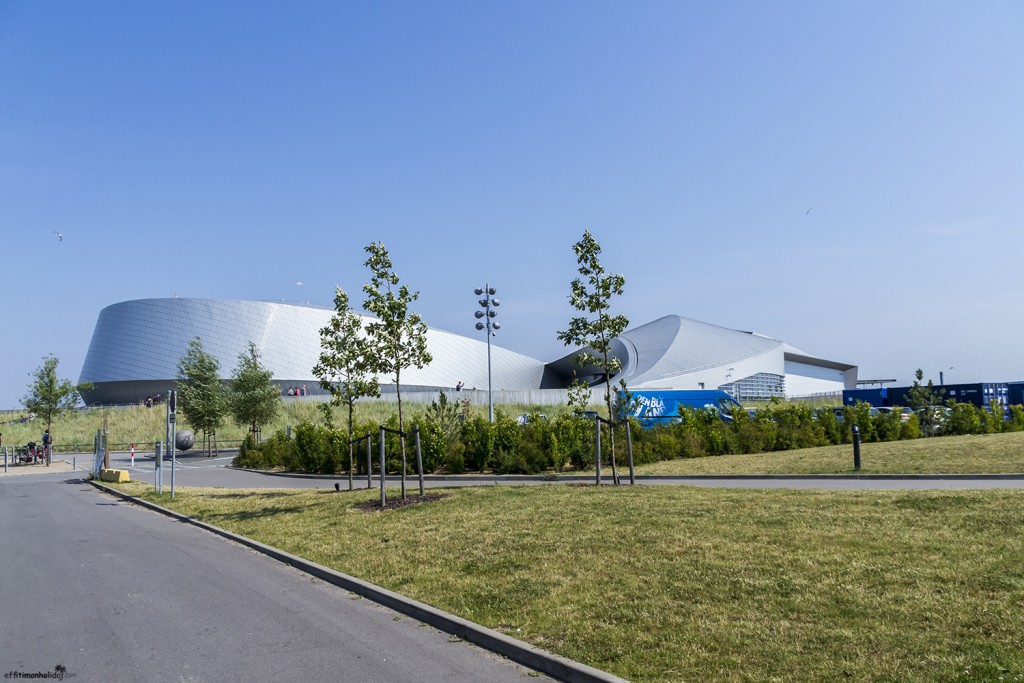 Until the next day. After visiting the Den Bla Planet, my friends said we should eat at the restaurant of the aquarium because it's cute. I died a little inside. They got fish & chips again, which turned out to be great, but as I try to stay away from fried things, I got something that sounded good: shrimp sandwich with egg salad. It wasn't. The egg salad with curry was absolutely gross and I'm surprised I didn't throw up. I'll be right back, I need a lemon.
So after a canal cruise, we finally went to check out a place that I picked with great reviews, claiming to have the best burgers in Copenhagen, a restaurant called Banana Joe with very nice owners. Owners who were on holiday the whole month and have closed our one chance to have some above average food. With an imminent rain, a street without many options and hunger induced crankiness, we sought shelter in the only place on the street that was open and had tables indoors: The Laundromat Café. I got a burger and a cider, which I liked so much that I didn't even have time to take a photo of. The place is really cozy and quirky, you can eat and do your laundry at the same time. We should have come back, because after we left, the rain started again and we got soaking wet while we ran to the bus stop. Umbrellas? Who needs umbrellas, their place is obviously in the hotel room. 😛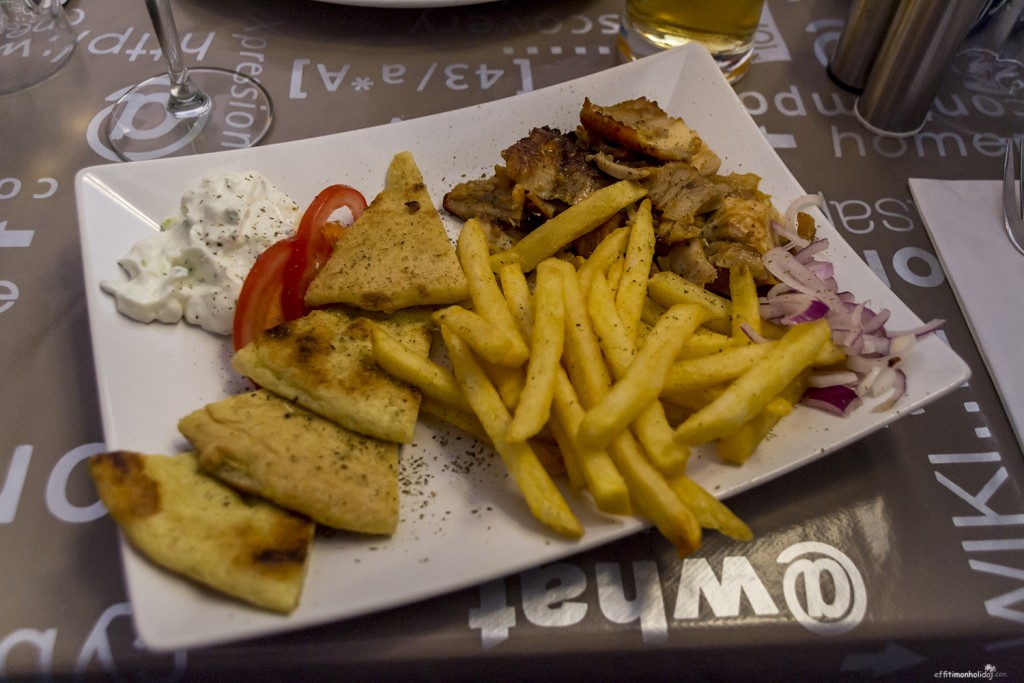 On our last day, we went to a Greek restaurant called Bakaliko Greek Deli because when we first passed it someone was eating a dish that looked good. Not only was the food delicious, but the chef was Romanian and he offered us some Ouzo on the house after our meal. That was quite a nice surprise at the end of the trip. 🙂
So if there's one thing I learned from the experience it's this: stop researching and making lists before a trip and just check out TripAdvisor reviews before going to a restaurant. Somehow I think this may not be the right lesson…
Have you ever had a strike of bad experiences with food in a city you've visited?