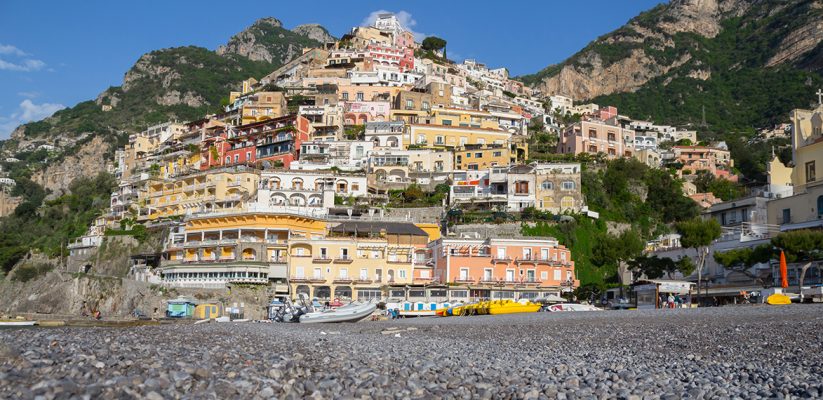 From Praiano To Positano In One Day
I sit in a bus and watch as a car is squished into a wall to make enough room for us to pass. I don't regret leaving our car in the parking lot and choosing the more convenient option. We left our beautiful apartment in Praiano and we're heading to Positano, the most talked about town on the Amalfi Coast. It's easy to see why everyone loves it, though while planning my trip, I had no idea what can you do or see in Positano. I realize now that, although it doesn't have some major tourist attractions, its charm lies in the narrow and often steep alleys with colorful houses, the pebble beach, the cute shops, and huge lemons.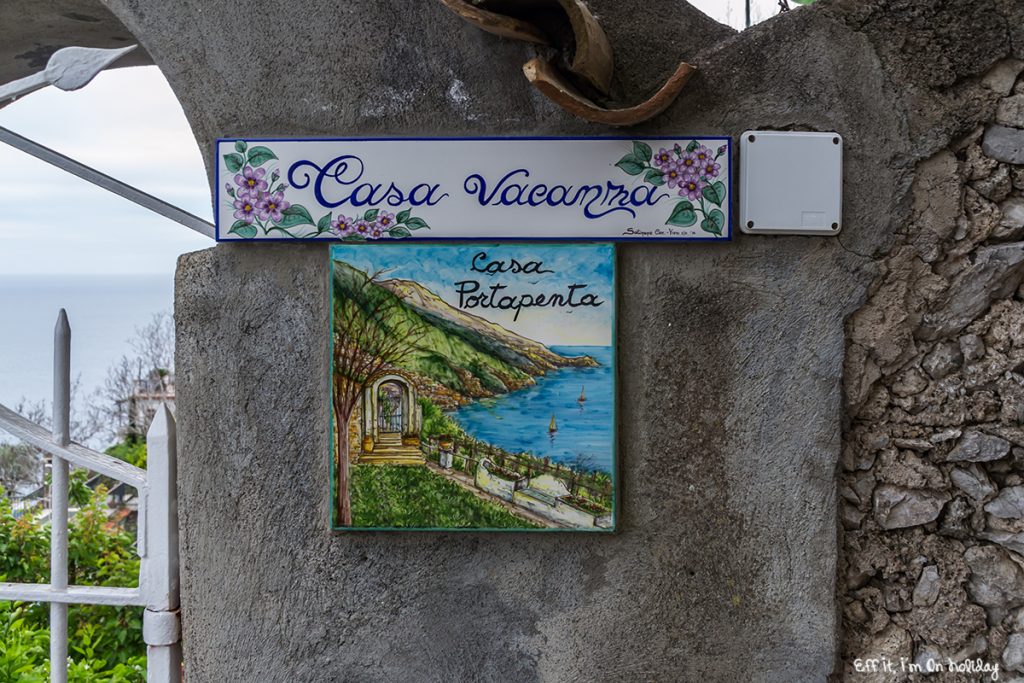 "You should get off at the next stop, for the best view of Positano," our host, who just happened to be on the same bus, informs us. Half of the people on the bus do the same and I see the majestic town up close for the first time. I've seen hundreds of photos with that view, but seeing it with my own eyes is overwhelming. From the bus stop to the center is a short walk, but we check out every shop along the way, so it definitely feels longer. We gaze at all kinds of beautiful ceramics, from a pizza cutter that had a ceramic handle with painted lemons (what else?) to a stunning table with a painted view of Positano. We remember the luggage restrictions and we buy some wooden spoons with ceramic handles instead.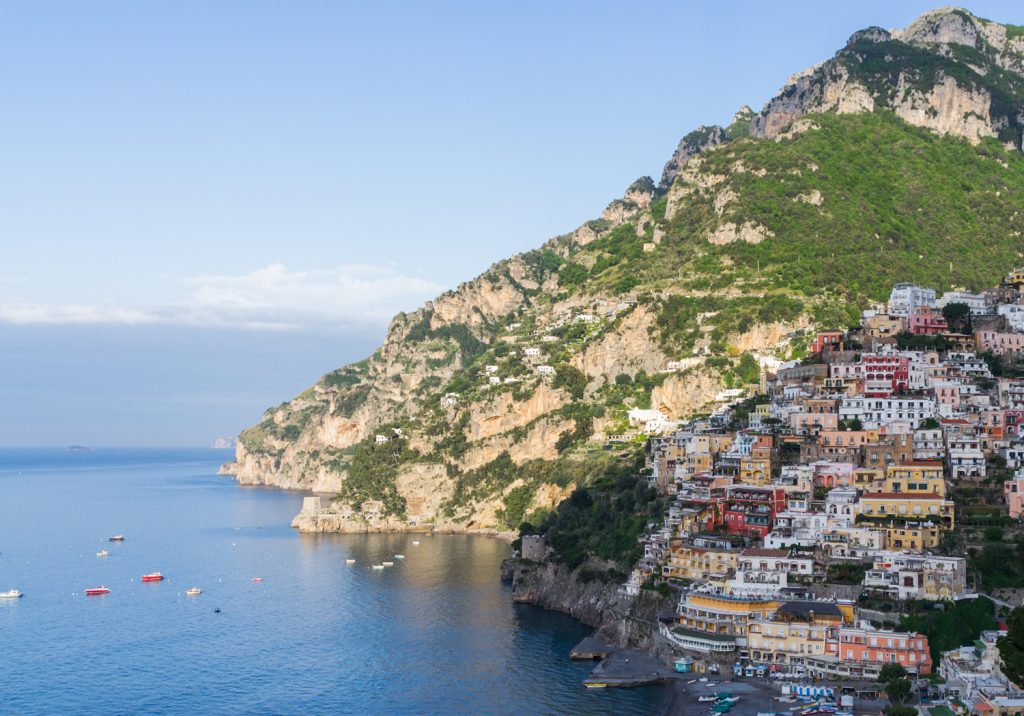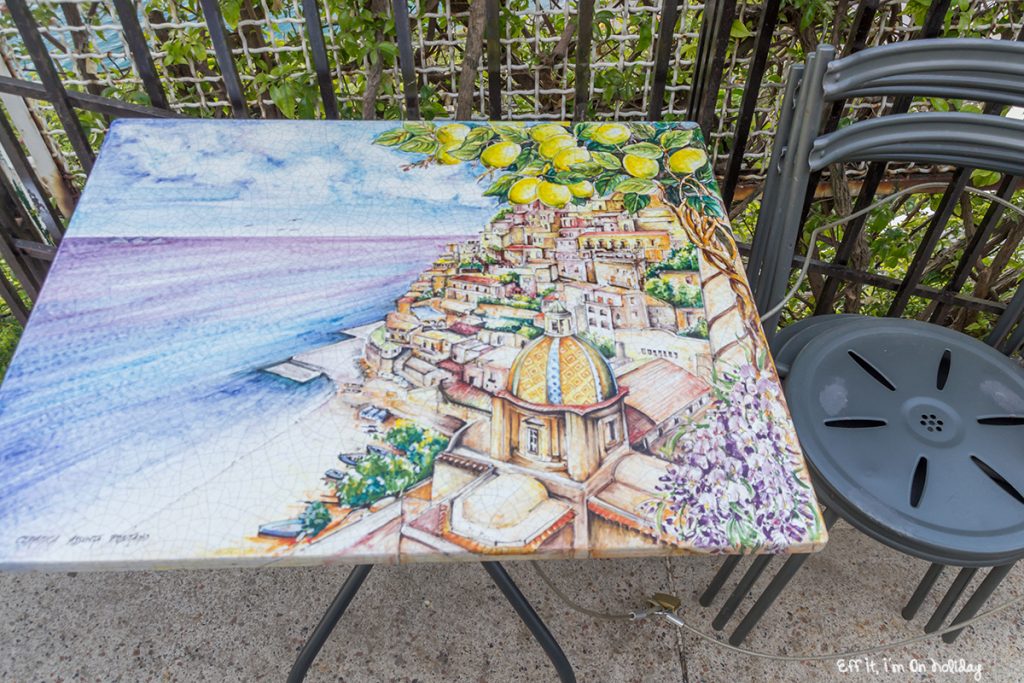 We finally make our way to town and we start walking towards Spiaggia Grande (Positano's main beach), but we stop multiple times along the way. The smell of lemon products is incredible and I was amazed to see some lemons as big as a pineapple. We find the Church of Santa Maria Assunta, dating from the 10th century with its dome that can be seen from any part of town and is found on all the painting and postcards. After visiting it, we decide to look for some food. Have you ever had pizza on the beach? Neither have I, but there's a first time for everything, isn't it? We get some delicious takeaway pizza from Capricci and sit down on the beach, watching the water. Mind you, Positano isn't exactly cheap, but you can save a few euros if you choose to take away rather than eating at the restaurant.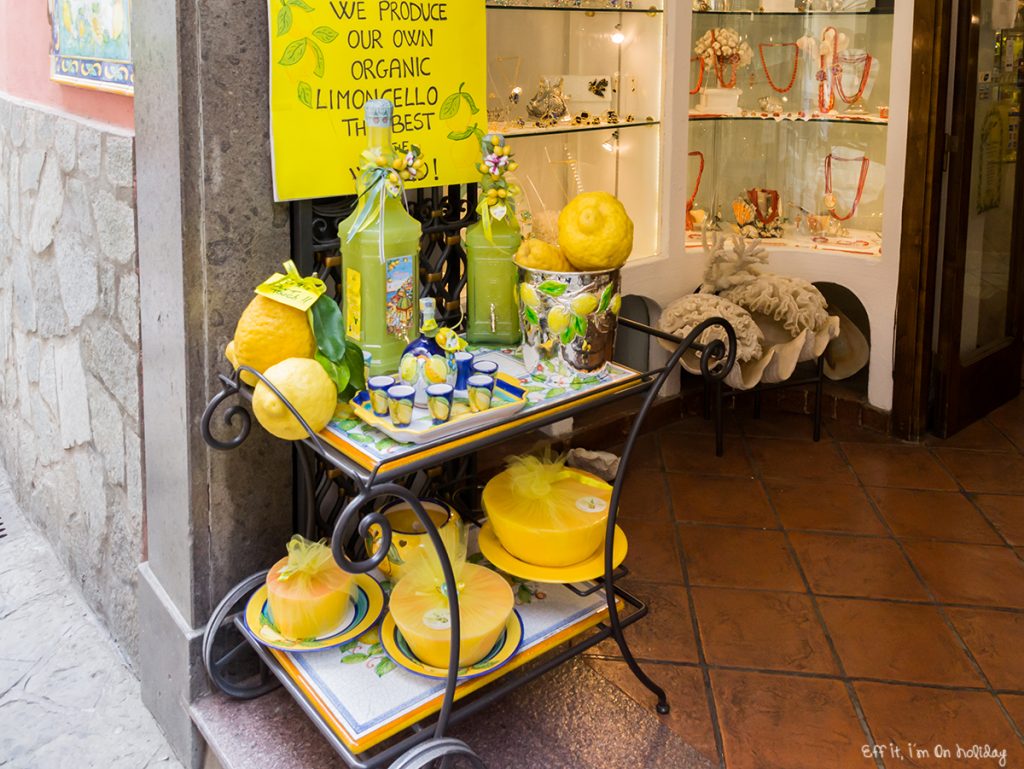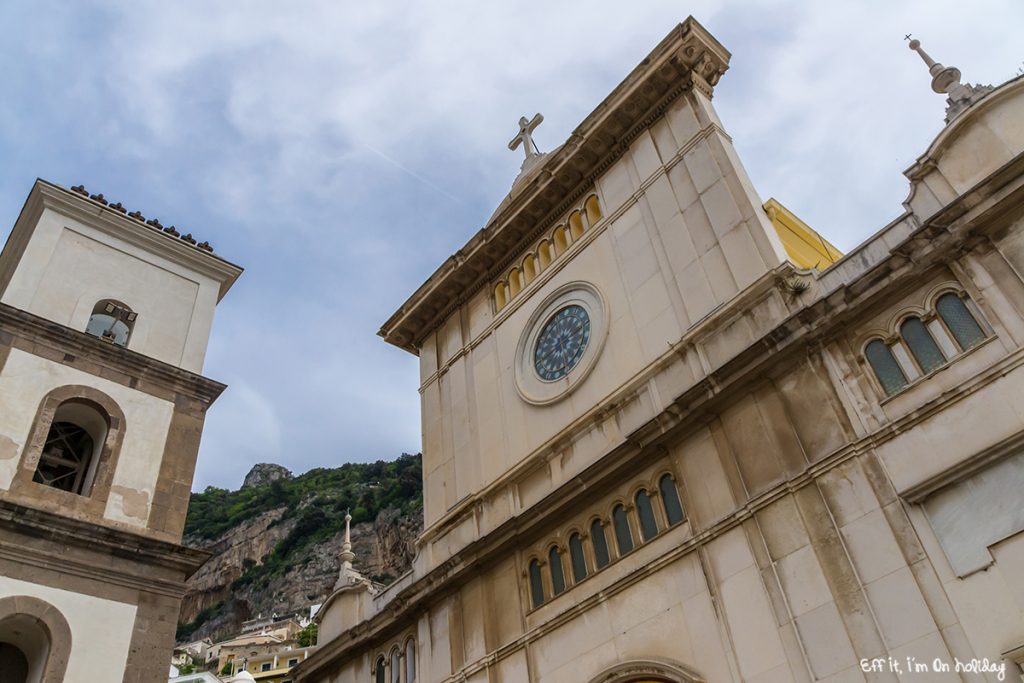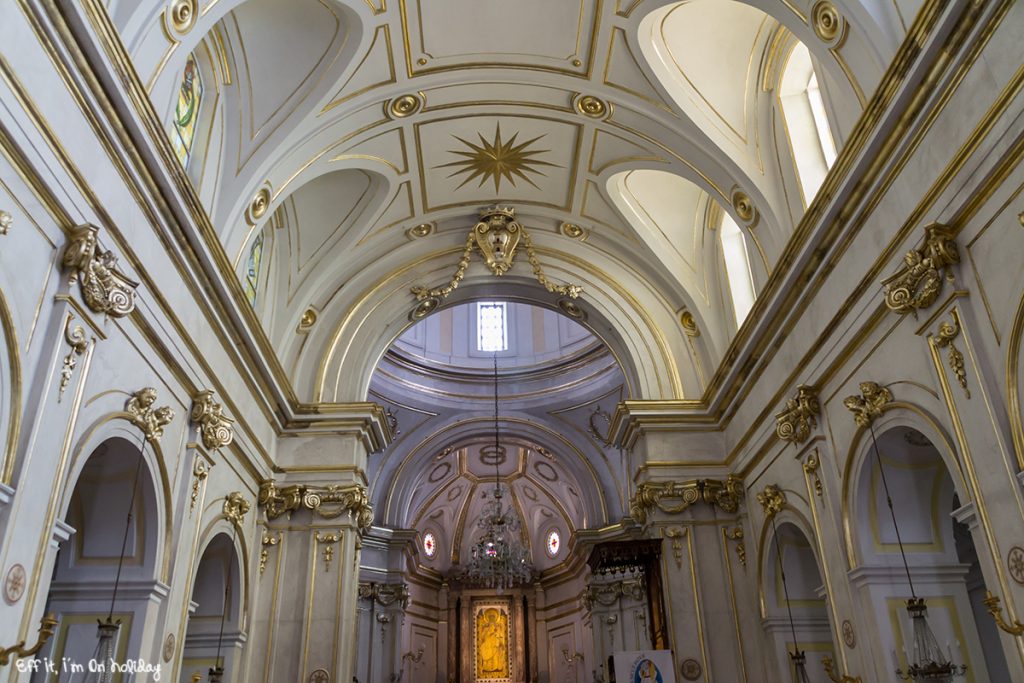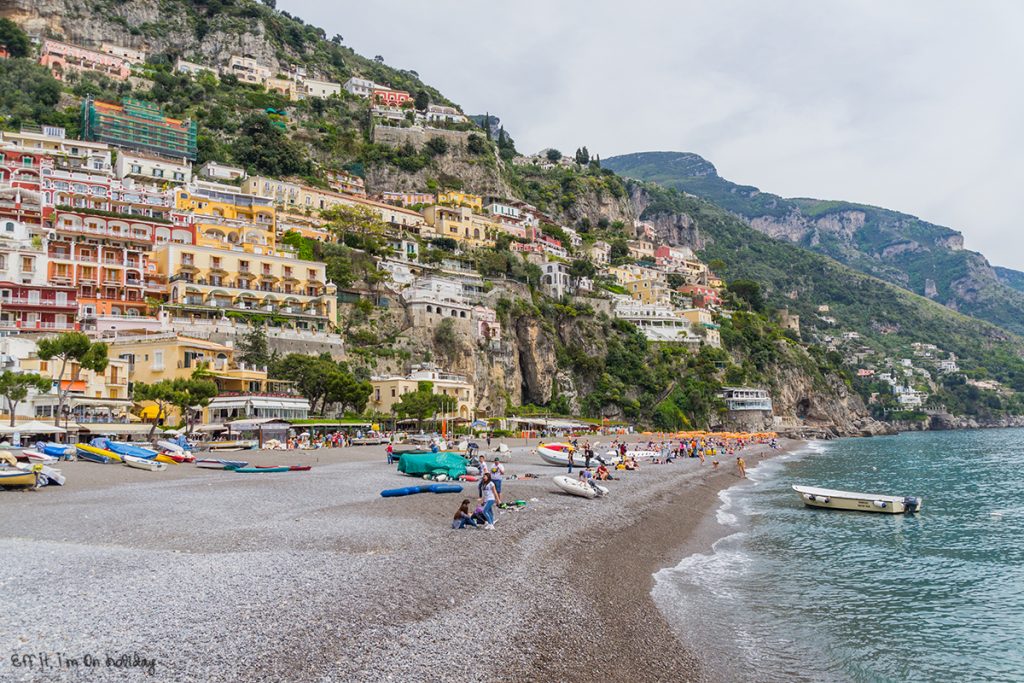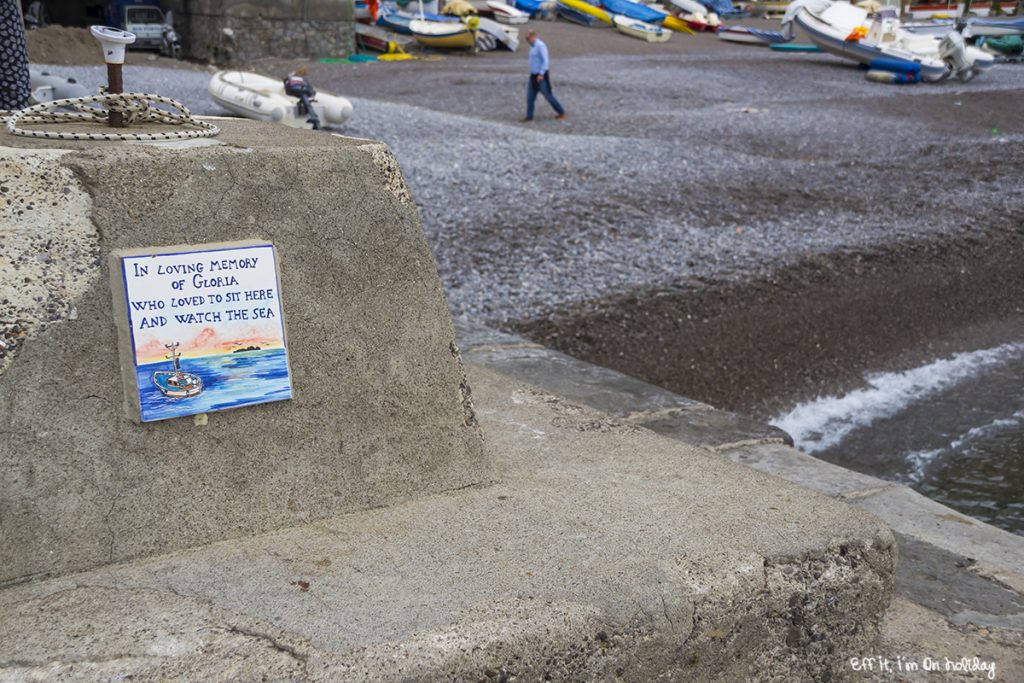 While I didn't come to Positano with a plan in mind, there was one thing I wanted: to find a beautiful painting for the frame in my living room. With so many artists there, it's impossible not to find one you like. With our backpack full of cute souvenirs and our hunger gone, we set out to see more parts of the town. I see a chair of cats. More shops with cute stuff. Cue me buying some lemon soap. "Hey look, let's see where those stairs will take us!," I say enthusiastically, hoping to stay away from temptations. The stairs lead us to charming narrow streets that were completely empty, no other tourists but us. Us and a curious dog.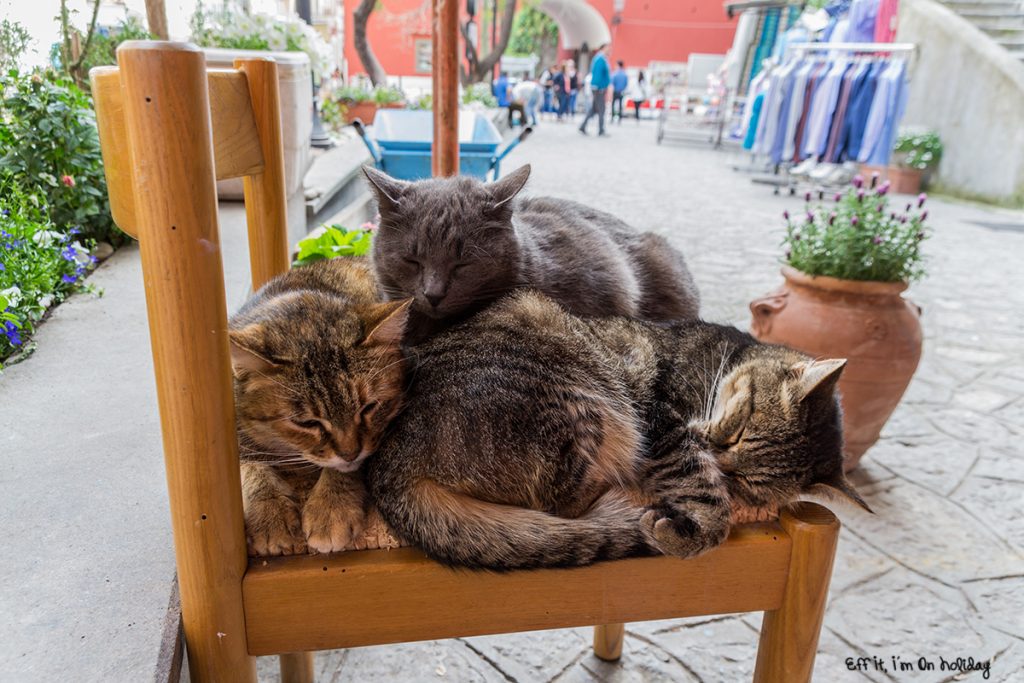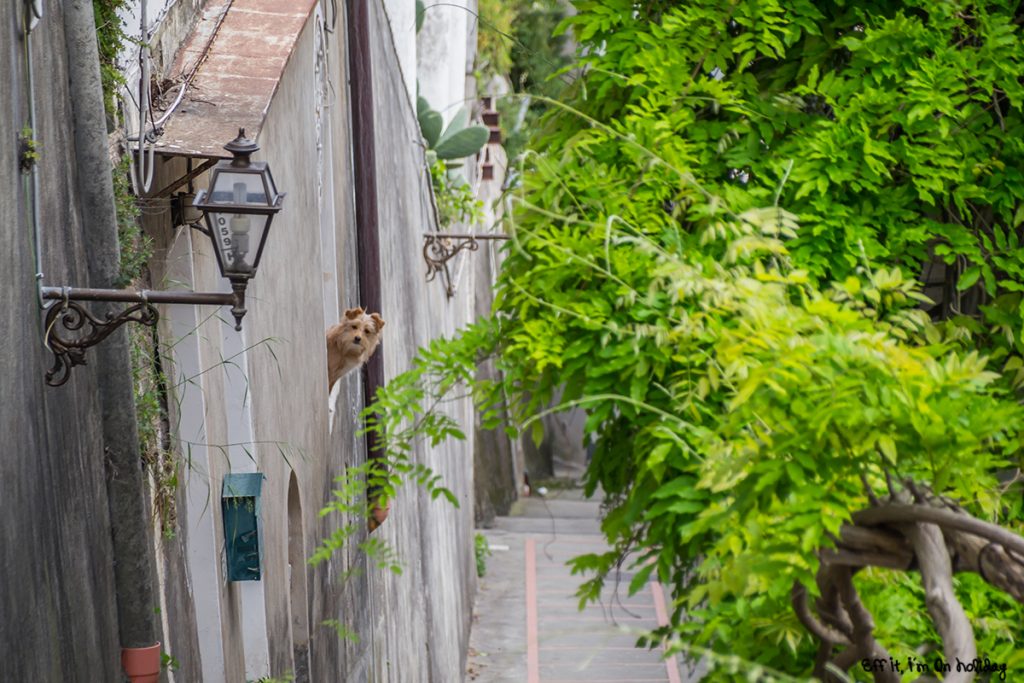 We continue walking when we reach the top of the stairs and we find a place with a view of Positano I haven't seen in photos a million times before. After taking a million photos myself, we slowly walk towards the station and wait for the bus, watching amused how two middle-aged women asked a good looking police officer to take photos with them.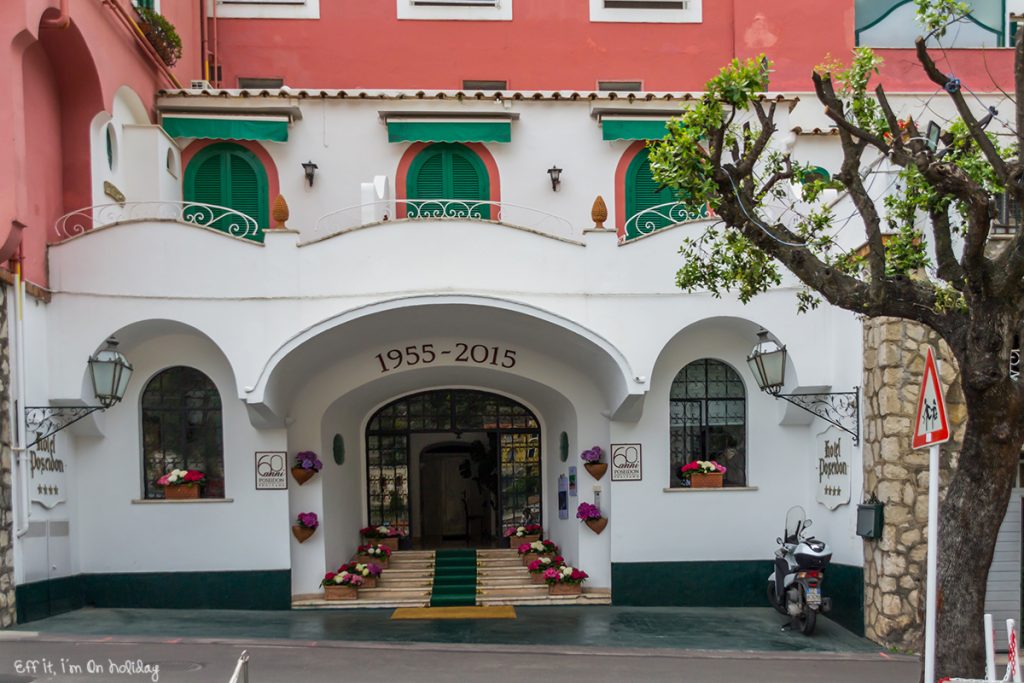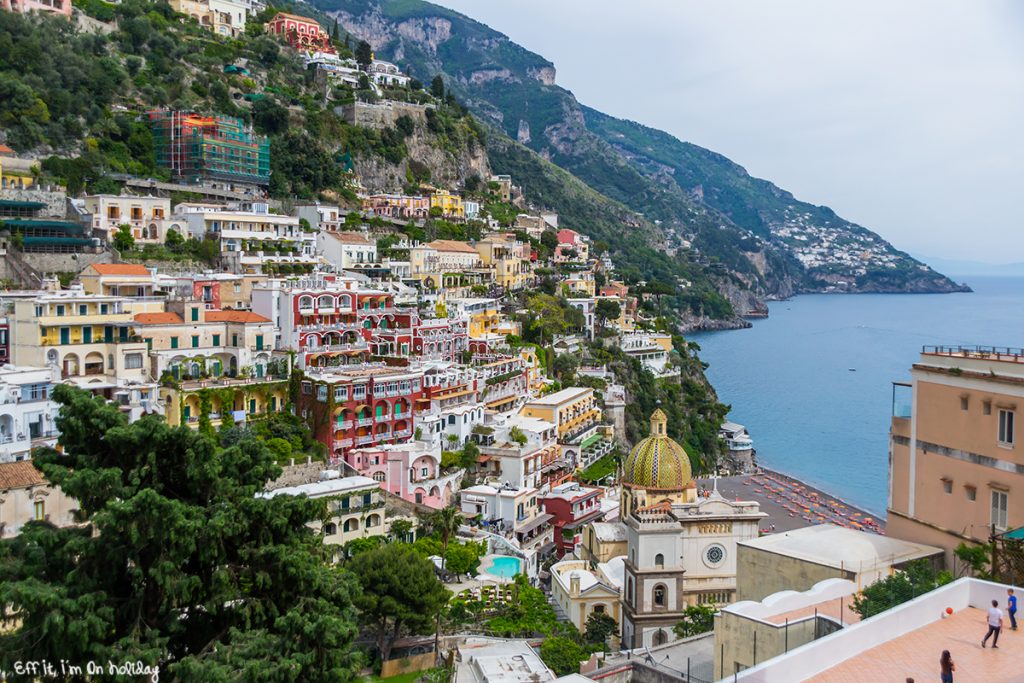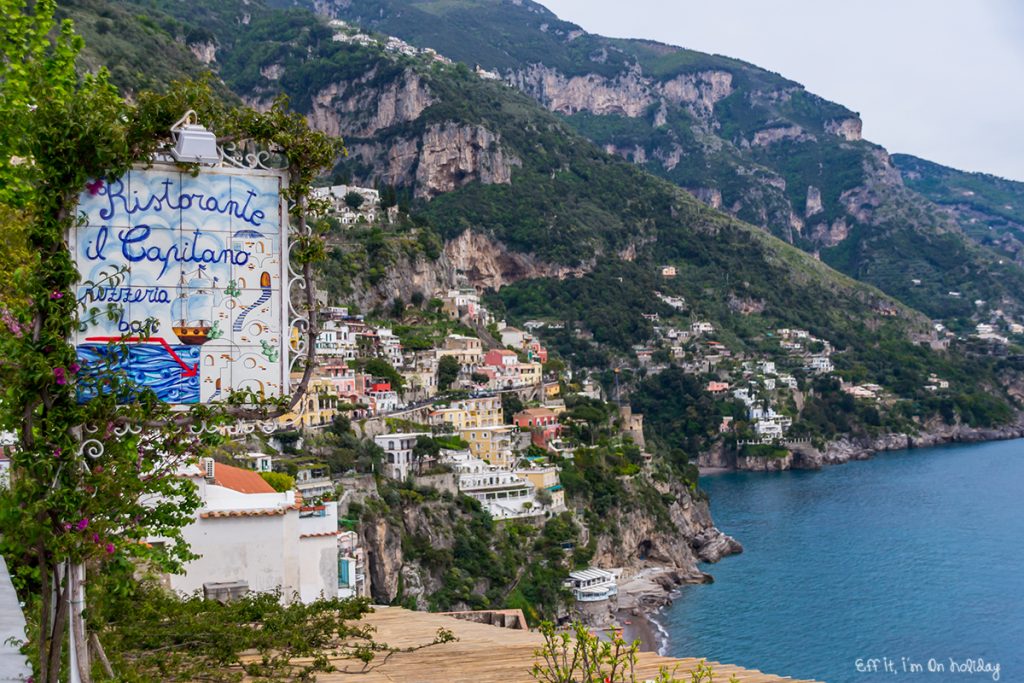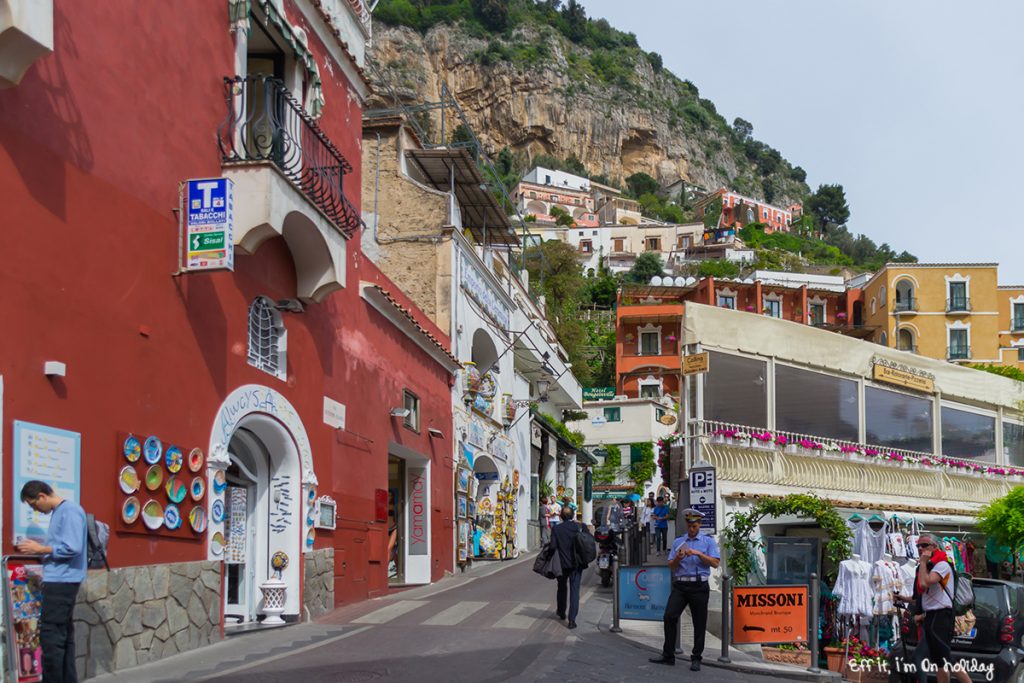 I get on the bus that follows the same curvy and narrow road, same honking whenever there was a curve. Once again, I don't miss the car. I reach Praiano, but I'm not ready to call it a day. The town is a quieter and cheaper alternative to Positano and it feels more authentic. I make my way towards Parrocchia Di San Gennaro. Some kids are playing football in the square but I go inside the church. Each one on the Amalfi Coast has something special, but I think this was my favorite, with its painted ceramic floors. Not knowing what to do next, I follow the signs to the beach, although it was getting late and rather cloudy. I follow the funny fish on the walls, leading to Via Masa, a charming street that would have offered a wonderful view of Positano on a clear day. The dog that was leading the way was disappointed to see me head back to the apartment.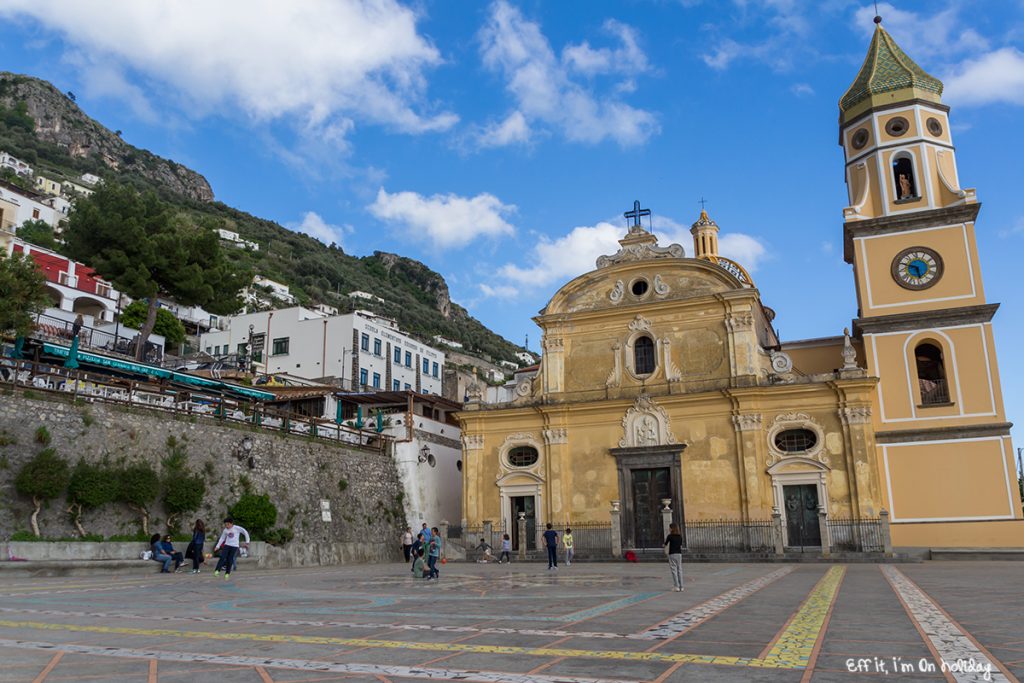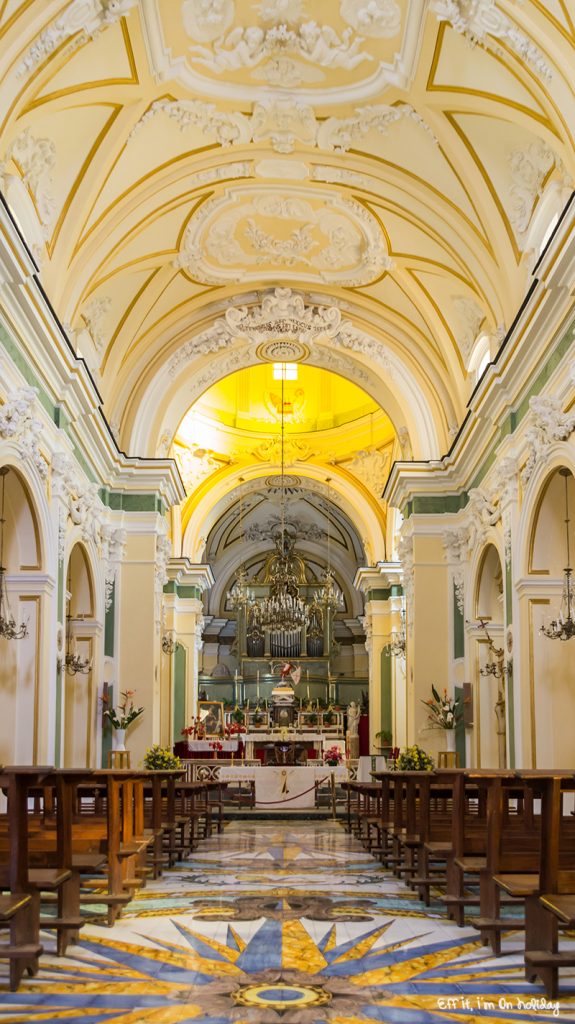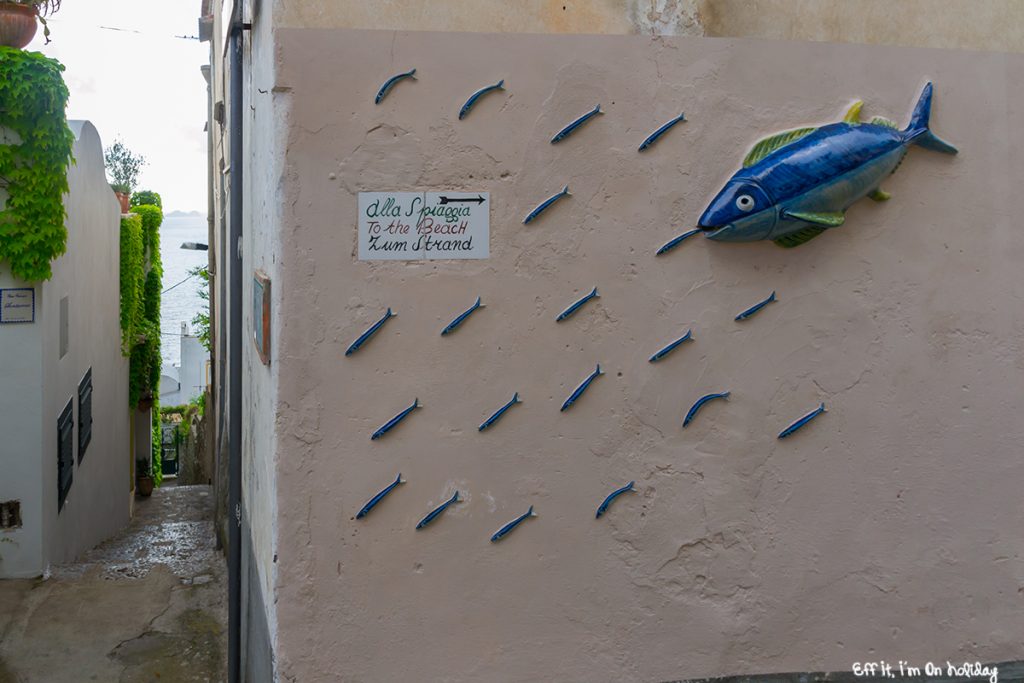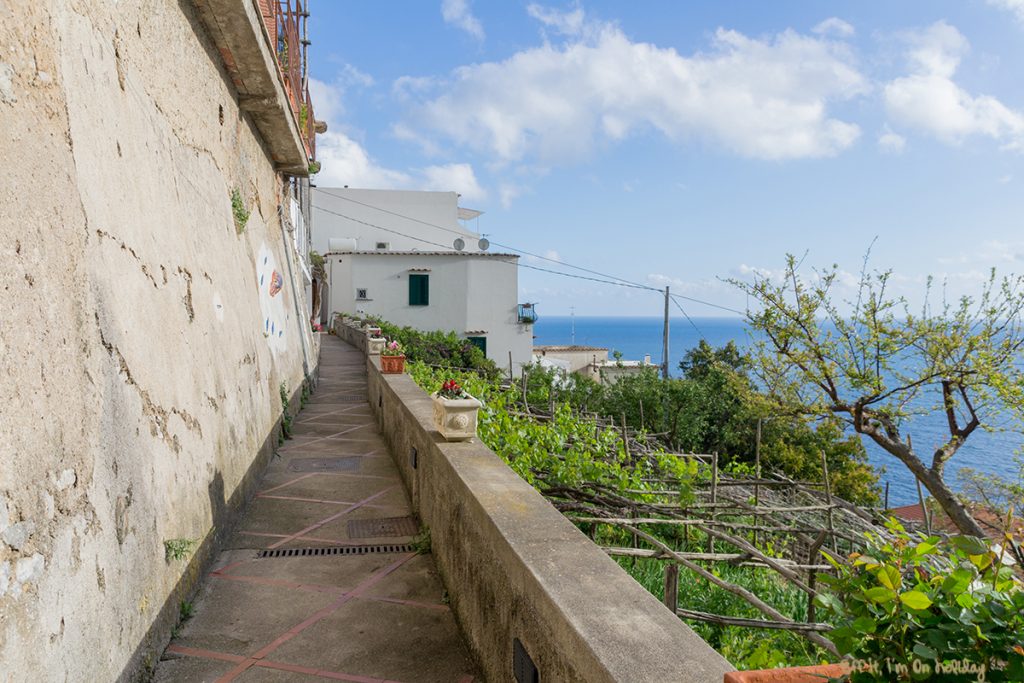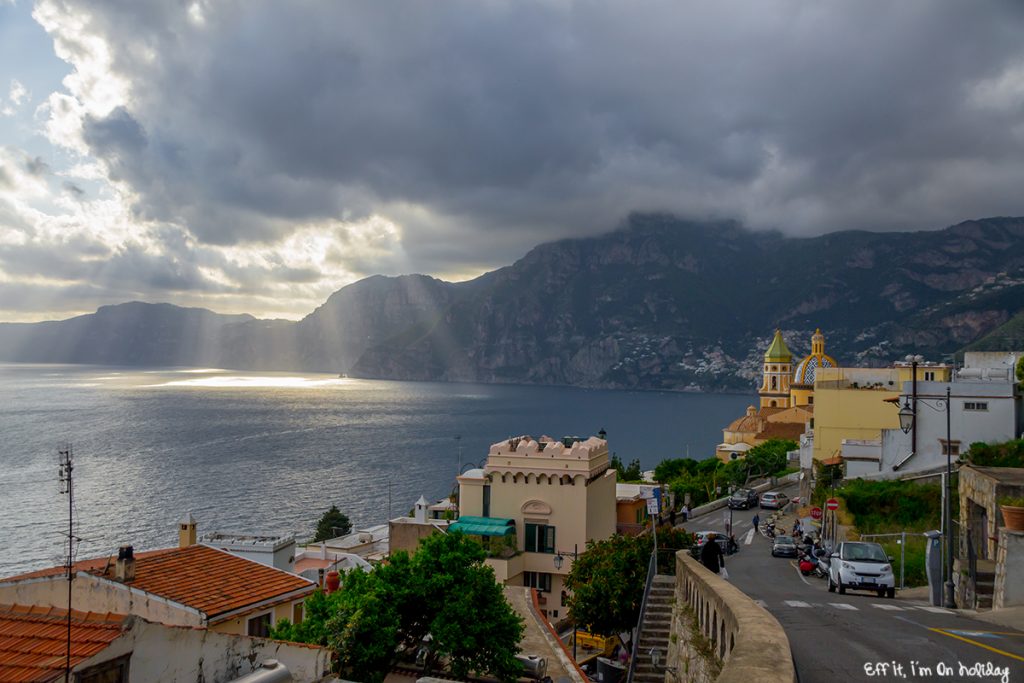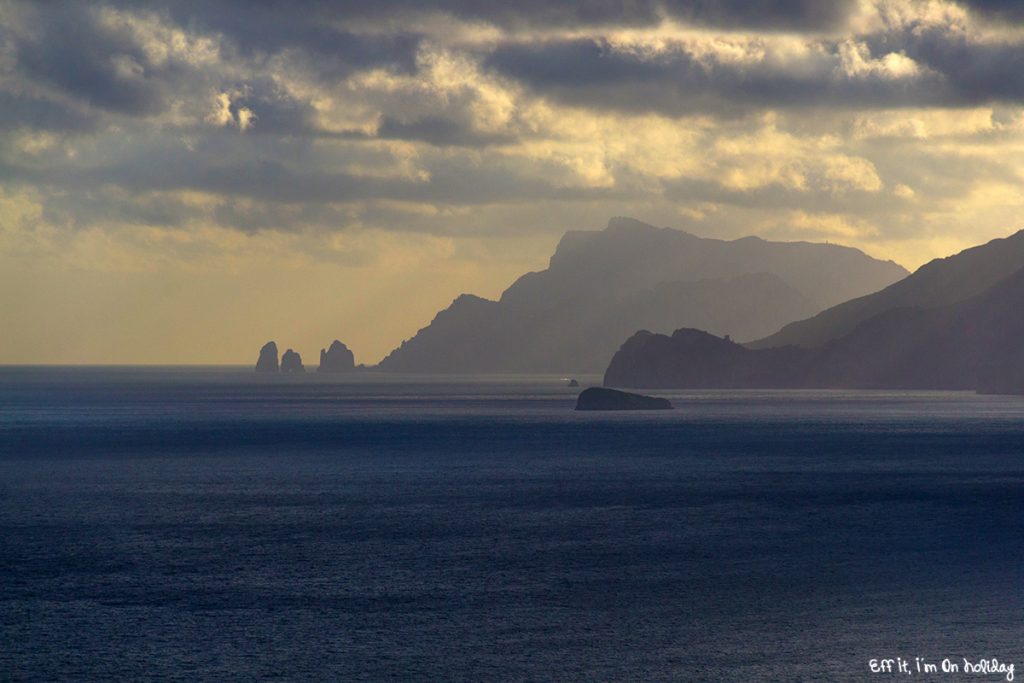 I didn't make it to the beach, nor to Torre di Grado, so I have something to look forward to on my next visit.We have pizza on the terrace watching how a bright moon is slowly replacing the sun on the sky and I tell to myself: "I need to come back here soon". Later that night, the universe seemed to agree with me and gave us a wonderful fireworks show above the coast. Yep, definitely coming back.
Have you ever visited Positano or Praiano?