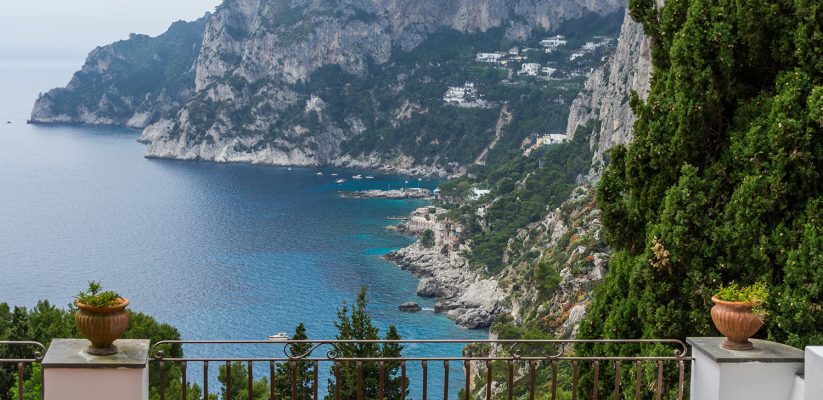 Dear Capri: Is It Just Me Or Is It You Too?
I was never keen on going to Capri. However, my parents wanted to see it and my colleagues at work were telling me how wonderful it is, so I figured why not. We bought our tickets to the boat from Positano the day before and the next morning we were the first people enjoying a coffee by the beach, looking at a lovely blue sky and a calm sea. Sounded like the start of a  perfect day, doesn't it? But then everything changed when the Fire Nation attacked. 
As we were waiting for the boat, dark clouds started to appear above the city and it was getting cold. I had two thoughts at that point: "So glad I didn't wear shorts but I did put on sunscreen" and "Well as long as it doesn't rain, it will be fine". Who was I kidding though, I knew there's a reason that all those beautiful Capri pictures have a blue sky. The boat came and left and I was happy to take some shots of Positano as we were sailing away, until I got cold and went inside where I started to feel a little claustrophobic since there were a lot of people. Not only that, but I got sea sick for the first time in my life. Hope it won't happen again though!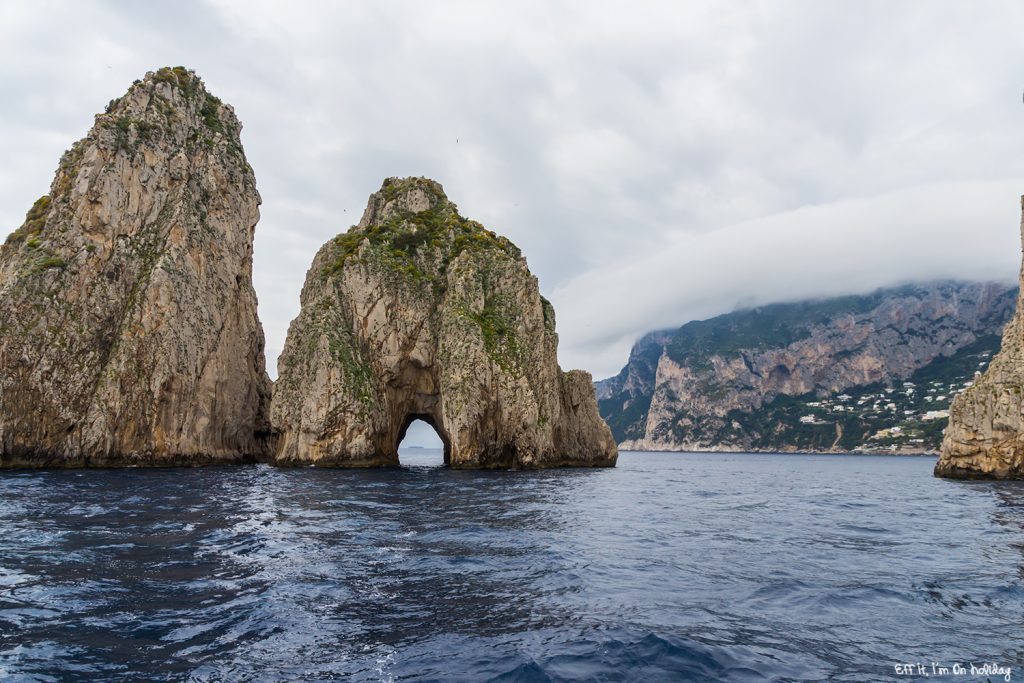 As we were approaching Faraglioni, Capri's famous three rocks (stacks actually), I went on the top deck to take some photos. Yep, I was definitely underdressed. Regardless, once we reached Marina Grande we wanted to buy tickets to the funicular, but we realized it wasn't worth catching a cold, so we stopped to buy something to keep us warm. That's why for the rest of the day I wore a comfy made in China hoodie with CAPRI written on it. I have to admit, I felt a little self conscious wearing the hoodie, like one of those people wearing an I ♥ Paris shirt, while in Paris, but as it got colder and started to rain, I saw more and more people wearing similar hoodies, so it became funny after a while.
We got off the funicular and were welcomed by a crowded Piazzetta in Capri Town. We didn't have a plan in mind so we started wandering the streets and do some window shopping. From the start, one thing was clear: Capri would be so much better if it weren't so crowded and expensive. Let me tell you, I'm not the most frugal traveler and I do enjoy splurging every now and then, but the prices in Capri were so off putting, I felt like I should return only after I've won the lottery. It went something like this: see something I like -> see price -> weep -> walk away.
Although the famous wavy road Via Krupp was closed, we did see it from the Gardens of Augustus, one of the most beautiful places on the island. Once again I wished there were fewer people, I couldn't even sit for a photo on one of the benches with a view, there was one buff guy on one of them, eating his biscuits very slowly, I kept hoping he'd finish the damn pack before I died of old age. No such luck. He's probably still there.
We continued to wander and found some quiet streets with lovely houses, four stars hotels and a vicious cat. I started to think that Capri isn't all bad, I loved those streets and if it were sunny, it would have been even nicer. Still, I couldn't shake off the feeling that maybe Capri just wasn't for me. I wanted to visit Arco Naturale, a natural arch made from a collapsed grotto, but with an imminent rain, we decided to go seek shelter.
And we found shelter in a lovely restaurant with a view. Well, it wasn't much of a view, considering it was foggy and raining, but the food was excellent, I had octopus for the first time in forever and it was one of the best meals I had on the whole trip. If you're curious, the restaurant was Al Capri Don Alfonso. When we got off the funicular, it was even colder (how was that possible) and raining a lot, so we sought refuge in a cafe. I wasn't that much of a coffee drinker before this trip. I am now though. #CapuccinosForLife
As we were waiting for the boat, I saw more and more people wearing Capri hoodies, I found it so funny and I felt a little better knowing that I wasn't the only one who didn't come prepared. I left Capri that day, not knowing what to make of it. I had mixed feelings then and I still do.
I don't know if I would visit Capri again, but that shouldn't stop you from going. Here are two lovely posts about Capri in the sun: Capri From Above: The Summit Of Monte Solaro and Capri: the Island of the Sun (and the Stars)
Have you ever visited Capri? I'm curious to hear your thoughts on it.