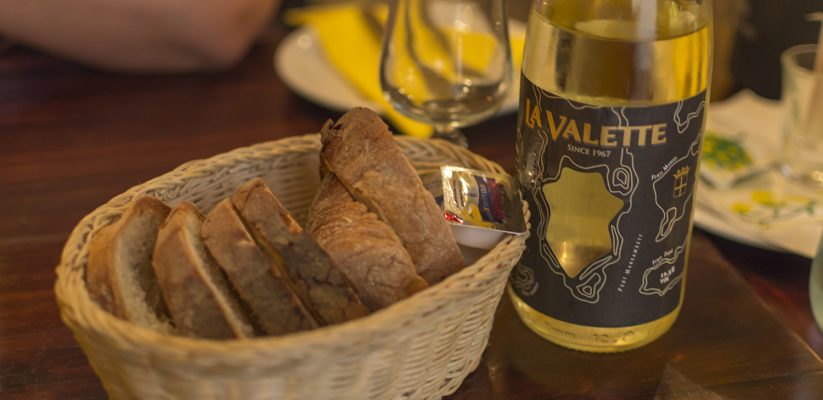 A Foodie's Guide To Eating In Malta
Every time I think about Malta and the Maltese traditions I automatically think about the mixed cultures – you can see it in the people, in the language, in all the beautiful places and certainly in the food. Eating in Malta has definitely been one of my favorites parts of the trip. Malta (and all the things that are part of this country) is basically part Arabic, part Italian, part English and part unique identity. I think that only here you will find a combination of cannelloni con ricotta and halva on the same plate. When you take these elements apart you can identify the Italian components and the Arabic components. I think that is a common mistake.
At some point I stopped seeing the Maltese cuisine as a combination of different elements and acknowledged it as a unique and different cuisine. That was the moment when I really understood and enjoyed it.
Eating in Malta: a quick history
When you look back at the history of this country, you can understand why the Maltese cuisine has so many outside influences – Malta was under Roman rule in Antiquity, had an Arab period in the Middle Ages, was occupied by France between 1798 and 1800 and was part of the British Empire. Also, location is another factor that played a major role in defining the culture of Malta – Sicily, Tunis and Libya are close.
However, I believe that the Maltese cuisine has its own identity. Moreover, you can identify unique aspects of the dishes when you travel to Gozo.
There is a saying in Maltese that can summarize the importance of food in the traditions – "Tuna l – pastizzi ha mmutu zghar" (that can roughly be translated as: give us pastizzi so we die young). Pastizzi are a traditional pastry that can reach up to 600 calories per piece. Don't let that stop you though, they're definitely one of the first things you should be eating in Malta.
Traditional food
Appetizers.
I only had three kind of appetizers: Gozo cheese (Ġbejna) with Gozo olives, pasta with rabbit sauce and Bigilla. Often the appetizers are on the house. Gozo cheese (Ġbejna) is made either from goat milk or sheep milk and along with the local version of ricotta are protected by the EU legislation. You can eat it as is or deep fried it and served it with salad and olives. Rabbit dishes are very common in Malta. They became very popular after the lifting of the hunting restrictions and the domestication of the wild rabbits. Bigilla is a dish made of mashed beans and it can be eaten with roasted bread.
Meat dishes.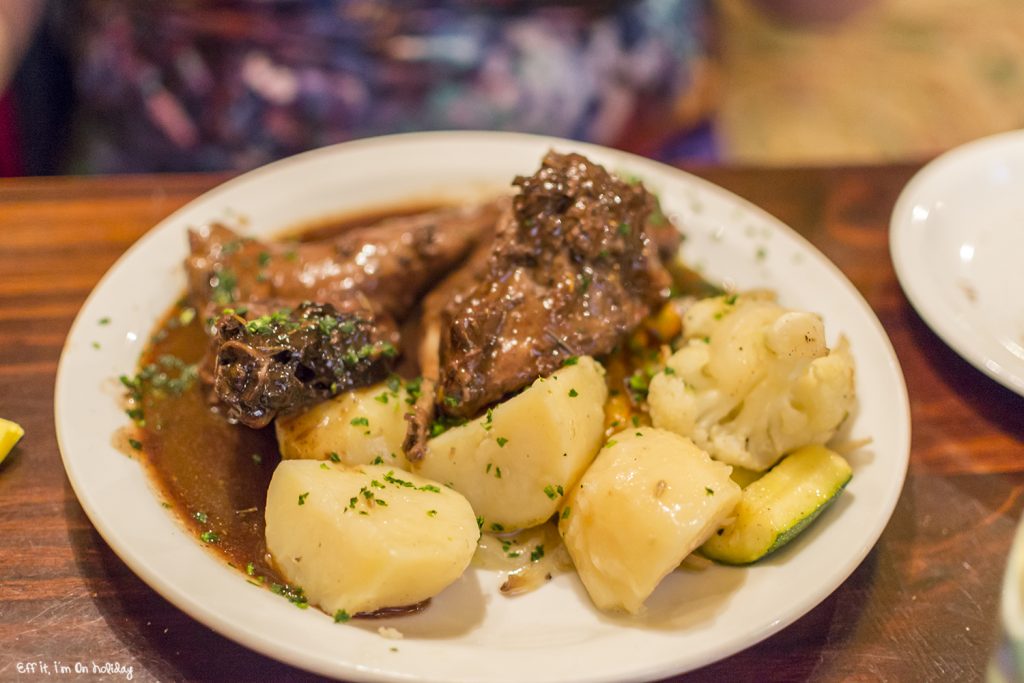 Rabbit meat is found in different Maltese dishes. Rabbit stew (Stuffatt al-fenek) is considered to be the national dish, while fried rabbit (fenek moqli) is also popular among the locals.
If you want pork meat you can try the stuffed pork (Falda Mimlija), filled with cheese, parsley, sausages and…a hard boiled egg.
As for the fish dishes – lampuka is consider to be the national fish, but you can choose different fishes and sea food like sea bream, sea bass, sword fish, calamari and octopus stew. I tried two dishes with swordfish and cooked vegetables. The swordfish was grilled and the vegetables were roasted. It was one of the best fish dishes I've ever eaten.
Bread and bread based dishes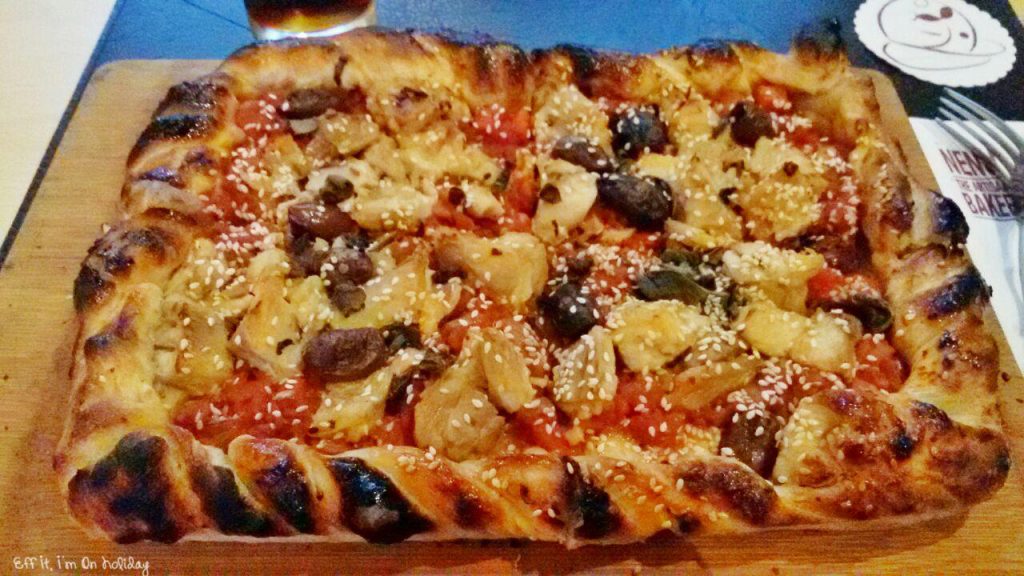 Ftira is sometimes advertised as the Maltese version of pizza but let me assure you, the only thing that ftira has in common with pizza is the flat bread base. I tried two versions of ftira: Ta' ŻeppiĊirwilla (Ftira base topped with thin sliced potatoes, sliced beef, tomatoes, garlic and parsley) and Tal-Baldas (Ftira base topped with thin sliced chicken breast, tomatoes, onions, fresh sage, black olives, white wine and olive oil).  If I had to describe these dishes I would call them a stew on a flat bread, and avoid referring to them as pizza.
Maltese bread (Ħobżtal-Malti) is a very consistent sourdough bread that has a nice crust. I had the chance to eat some bread made in a wood oven as part of the Bigilla starter and I loved it.
Street food
Unfortunately I didn't had the change to discover the Maltese street food as much I as wanted. I've only tried some pastizzi in Mosta, on my way to Mdina. Since it was early in the morning and I was a bit hungry, the smell that came from the bakery caught my senses. It was impossible to miss those treats.
Sweets
The Maltese cuisine has a lot to offer when it comes to sweets. I tried dates rolls, halva, cannolli con ricotta and local ice cream.
But what I enjoyed the most are honey rings. You can find them in almost every bake shop. They are made with marmalade, orange peel, different kind of spices and honey.
Drinks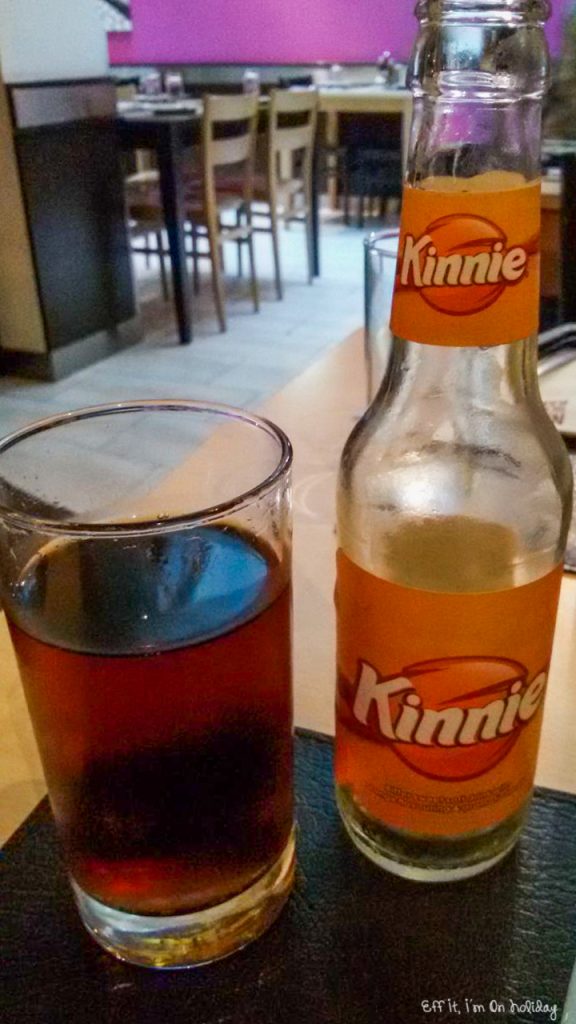 Cisk is the local beer and Kinnie the local soft beverage. Kinnie was advertised as the Maltese version of Cola, but that is not the case. The only thing in common with the cola products is the amber color, but Kinnie has a unique bittersweet taste.
Limuncell ta' Għawdex (Limoncello of Gozo) is the local version of limoncello, made with lemons from Gozo.
Likuri ta' Zeppi (Zeppi's Liqueurs)gained popularity with locals, but mainly with tourists. You can find these liqueurs at every restaurant and even at the airport.It is made from figs, melons, pomegranate, honey, carob, anise, but the most common liqueur the Bajtra Liqueur,made from prickly pears which is the fruit of the cacti called Opuntia. I don't drink alcohol, but I brought a few bottles to my friends when I got home and they all loved it, so I can say the liquor is pretty good 😉
The best places to eat in Malta
On both the main island and Gozo you can find a lot of places where you can have a meal that will satisfy even the pickiest eaters. I didn't had any bad experiences with the local restaurants. The food was good almost everywhere I ate, but some restaurants were outstanding.
Ta'Kris (Sliema) – Vlad recommended me this place and my Maltese friend said it's his favorite on the whole island. I had high expectations from this restaurant and let me tell you, it was one of the best restaurants I've ever eaten at. The food was great, the service was excellent and the whole experience was unforgettable. You will need a reservation should you choose to go. The restaurant is full all the time with people queuing to get a table. They mainly serve traditional Maltese dishes and they're some of the best you'll be eating in Malta.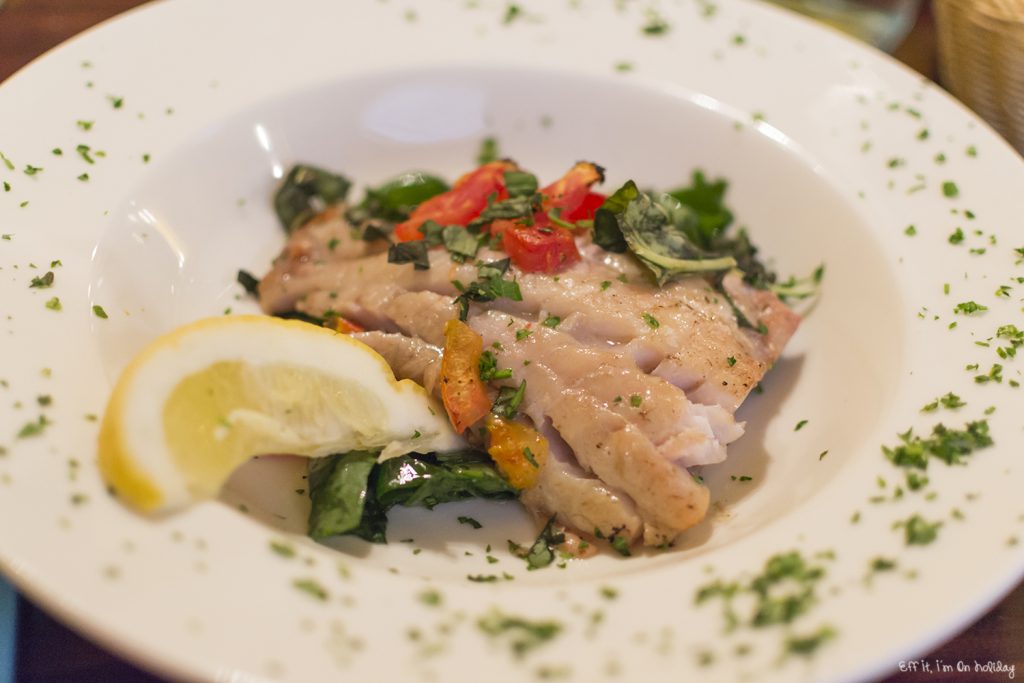 They have some fixed dishes and also a few daily specials, which are always great.
I've had pasta with rabbit sauce as a starter and the daily special with grilled swordfish and roasted vegetables. For desert I had Helu Malti – which is a selection of traditional Maltese sweets – halva, cannolli con ricotta, dates roll and a cone of ice cream. As a digestive we received some fig liquor.
Nenu the Baker (Valletta) located in the heart of the city, the interior of the restaurant has a homey feeling. The decorations that can be found inside are a statement of the history of Maltese cuisine.A great selection of ftira can be found at Nenu the Baker, some of them in combinations that are hard to imagine, especially if you expect ftira to be more like a pizza.
Fish restaurants in Xlendi- If you want to try fish dishes or sea food dishes Xlendi is the best place in Gozo.  There are many restaurants located in the Xlendi Bay with a spectacular view.Some of them have fresh fish displayed and you can pick one and have it cooked.
Fontanella Tea Garden (Mdina) – When in Mdina, it is impossible to miss Fontanella Tea Garden. One of the best tea gardens due to its view and therefore the most popular restaurant in Mdina. Situated on the barricades of Mdina, Fontanella Tea Garden offers a selection of cakes. I've tried the banana cake, which was delicious. I'll always remember its ambiance and breathtaking view over Malta (you can see the Mosta Dome and other landmarks).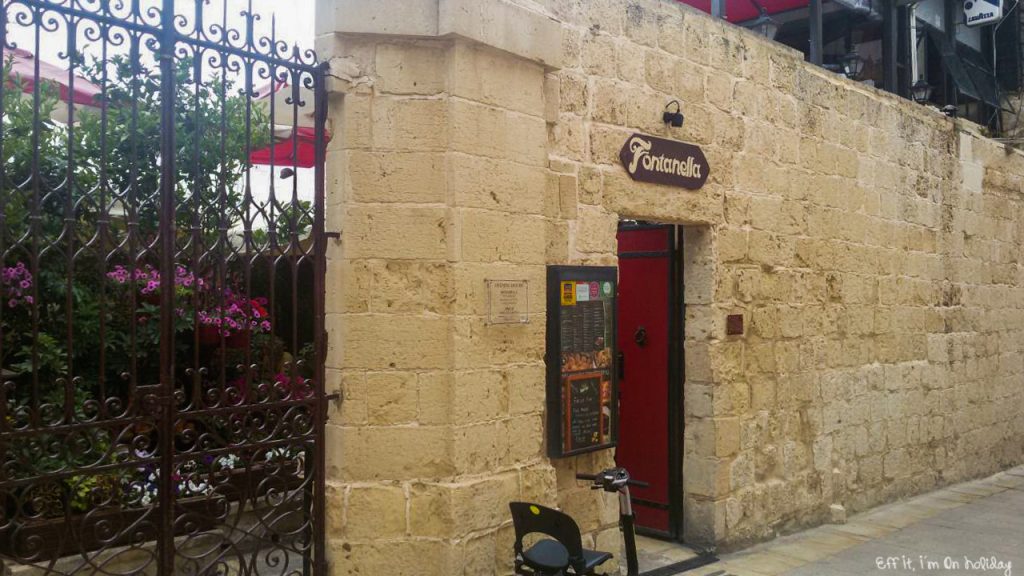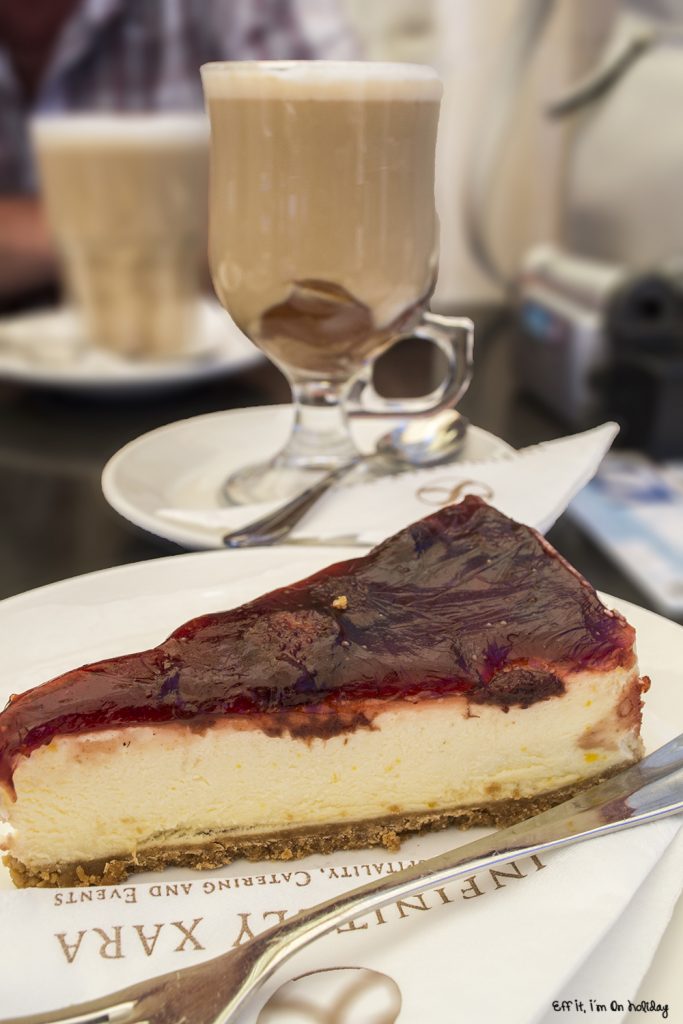 Don Berto (Birgu) – I chose Birgu as an alternative for the busy Valletta and stopped to eat here because of its nice view of the port and Senglea. Besides the view, the restaurant offers a semi-closed pizza (something between Calzone and a regular pizza) which I found interesting. We've also tried a Calzone and stuffed pork.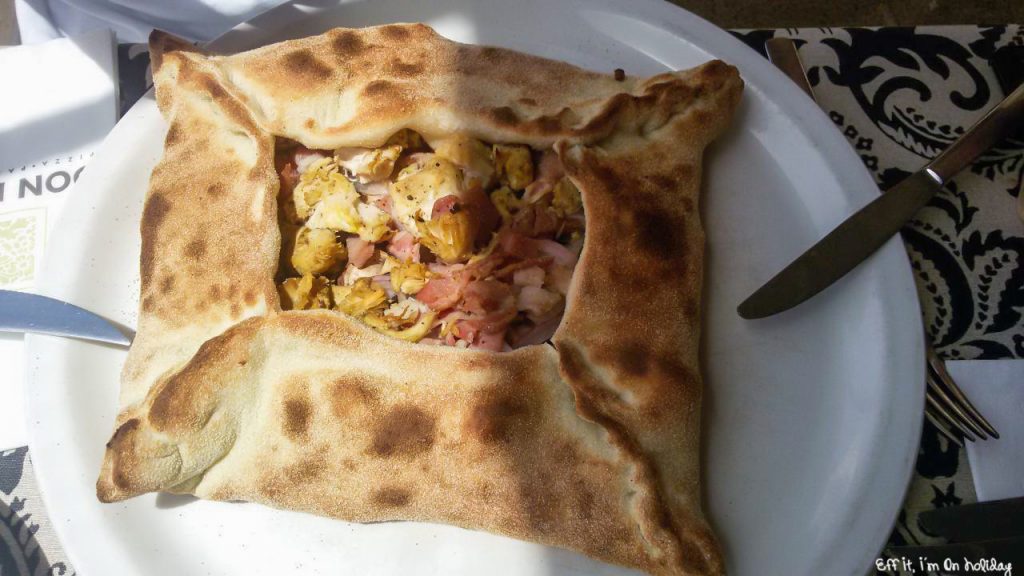 What to take home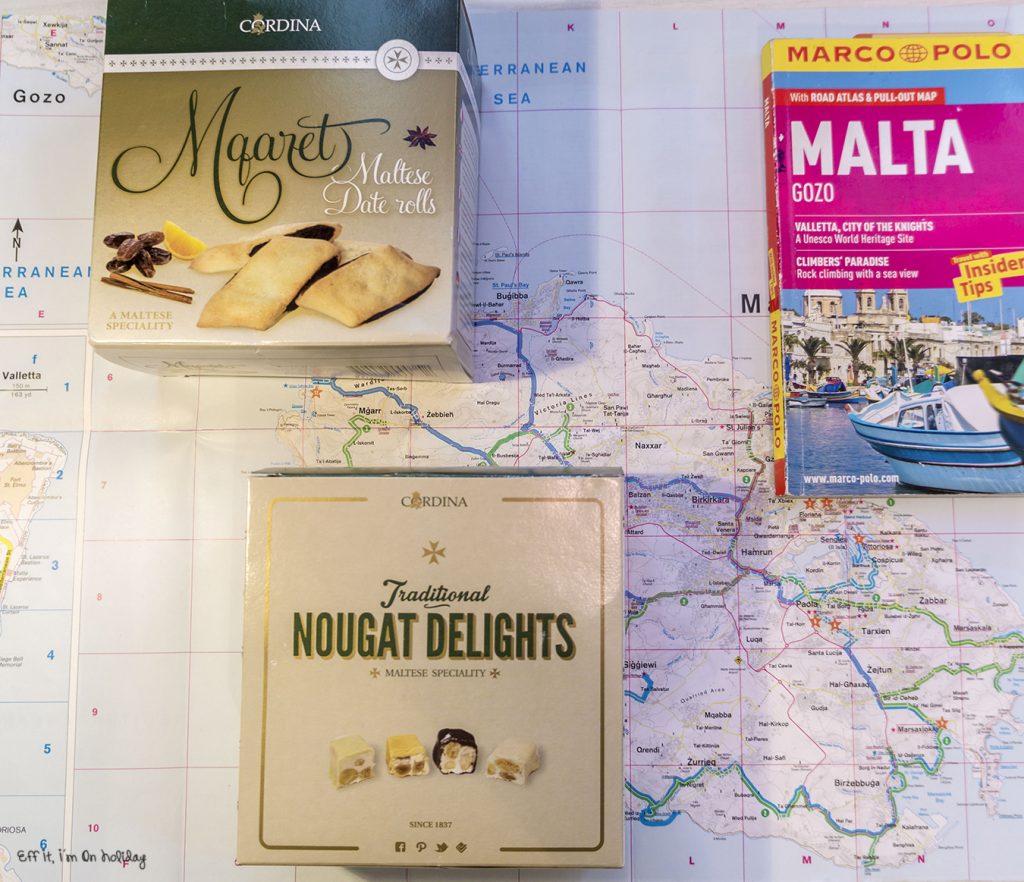 If you are like me and you consider food as a souvenir, Malta offers a lot of options for you.You can choose different kind of spices or even Gozo salt or Gozo honey. Honey rings, halva selections and date rolls can also be bought in order to take home.As for the drinks you can buy Limuncell ta' Għawdex (Limoncello of Gozo) or the Zeppi's Liqueurs.
Either you consider the Maltese cuisine as a mosaic of different cultures or a re-imagined version of different dishes you will be impressed by the unique dishes that are defined by history and tradition, in Malta you can have an unforgettable dining experience. Eff it, I'm not on a diet.
Vlad's note: Paul is Eff It I'm On Holiday's second editor. He will be the go-to person for all things food related, from delicious food in countries we're visiting to which restaurants you should check out and which you should avoid (we have a long list of those). If you'd like to find out more about him, check out our updated About page. (only took me about six months to finally publish it…)