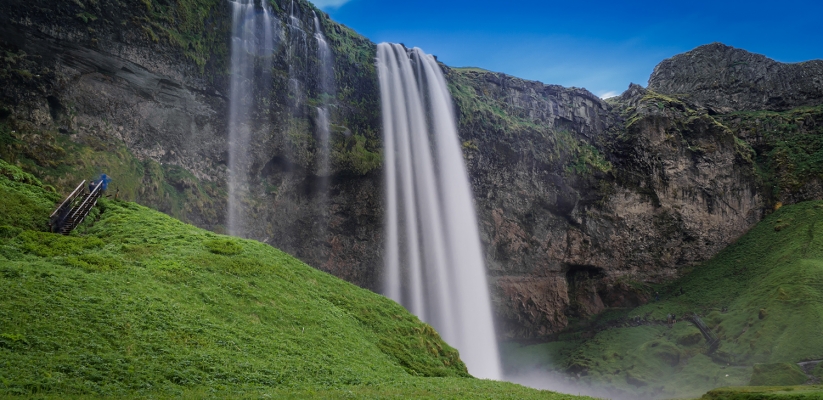 Southern Iceland: Chasing Waterfalls
"Hiii, you can't get rid of me!" said our guide from the Golden Circle Tour we did the previous day when she came to pick us up for the Southern Iceland Tour. We had the same guide on both tours, much to my enthusiasm, as I left the first day hoping our next guide would be just as nice. Hilda is very passionate about her job, as well as her country, and considering there were only five of us on the tour, it felt more like a friend driving you around and showing you beautiful places.
I was very excited to visit Southern Iceland and that was mostly because of one thing: the famous black beach. It's what I could picture every time I was thinking of Iceland and seeing it in the Sense8 opening credits made me want to go even more. Sadly, I didn't know much else about the area, but when I found this tour from Bus Travel and saw that we were going to visit two famous waterfalls, "don't go chasing waterfalls" started playing in my head. I booked the tour anyway. "please stick to the rivers and the lakes that you're used to". Here's how the tour went and how I left a piece of my heart there.
Holt Farm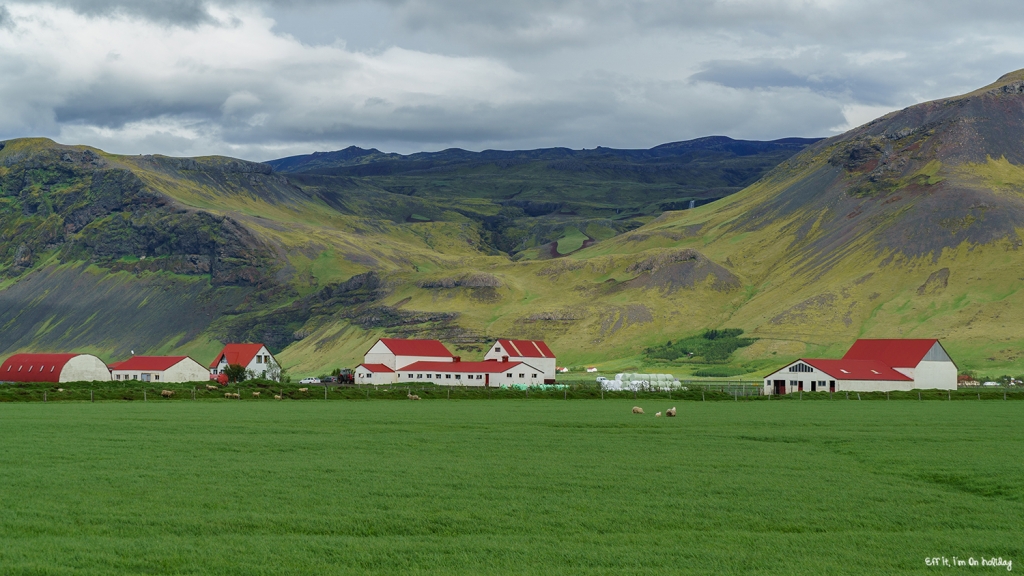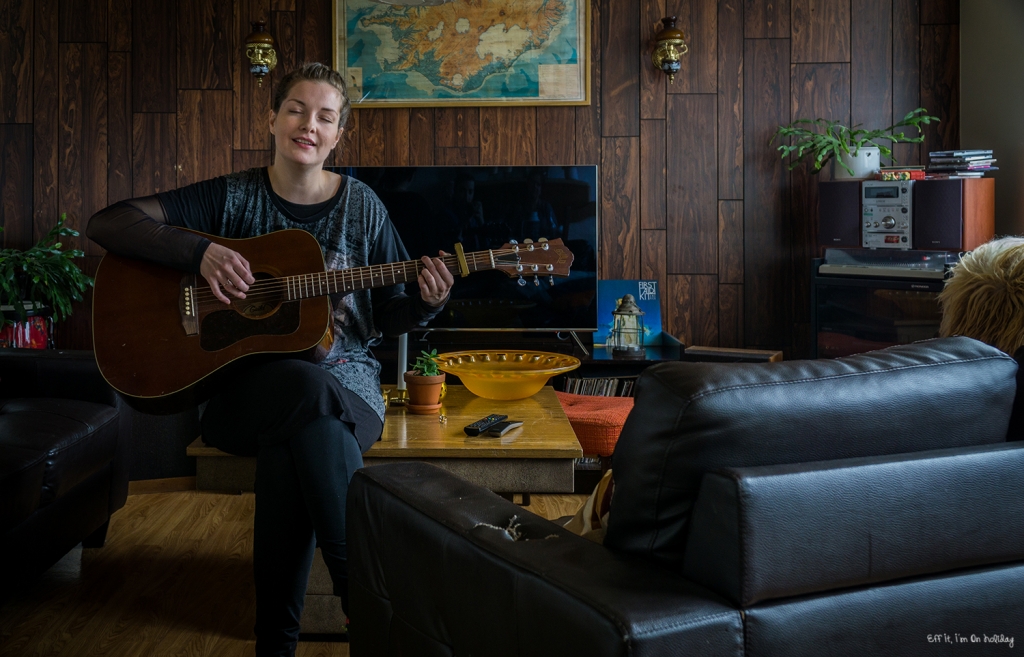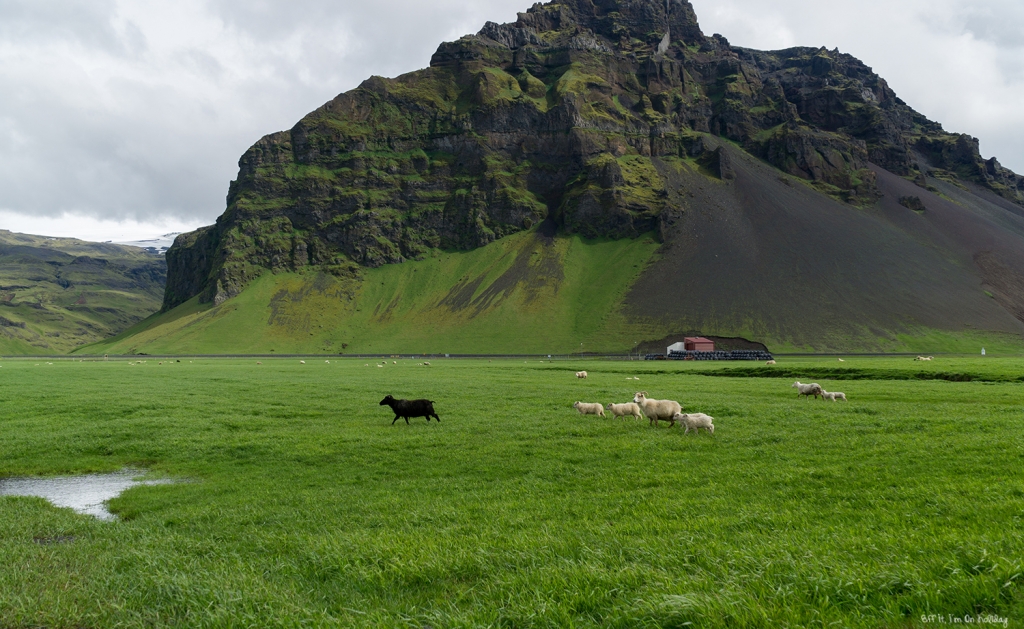 We were told we would stop somewhere for a coffee first, but I assumed it would be a gas stop somewhere, so I was surprised when I see the car stopping at a farm with a gorgeous view of the surrounding mountains. Inside, we met Valborg and her adorable little daughter. We got to try Icelandic pancakes (which, oddly enough, are similar to the Romanian ones), but the real MVP of making pancakes disappear was the little girl who was very excited her mom made a batch for her guests. 😆 We got to hear stories about living on the farm and the Eyjafjallajökull (try saying that three times fast) eruption – the one that disturbed air traffic all over Europe in 2010 – and how her husband has kept the animals safe. Valbog also has an amazing singing voice and played a couple of songs for us, I was in awe with how beautiful she sounded. She was also on The Voice of Iceland and you should hear the best cover of Halo ever, right here.
Eyjafjallajökull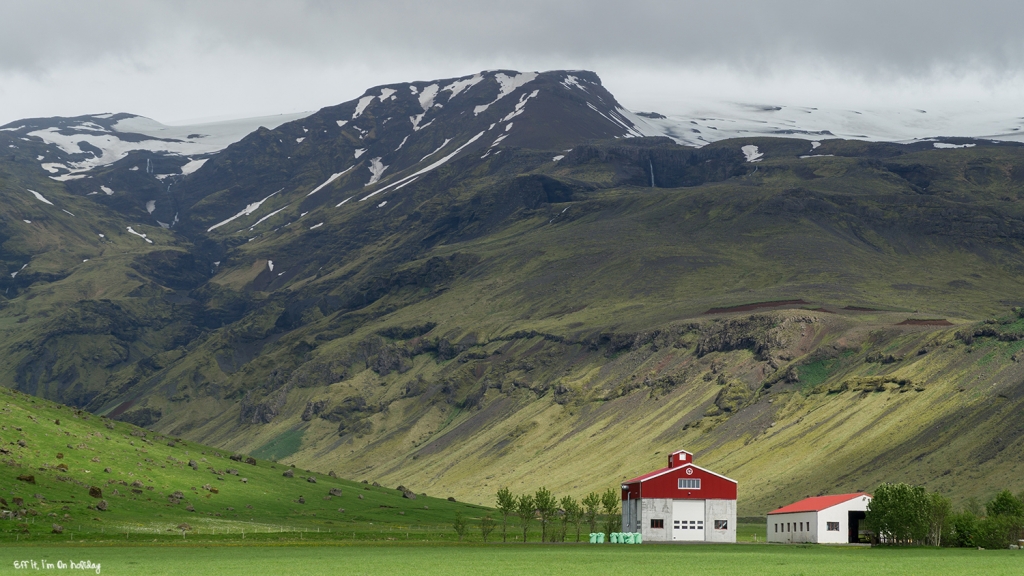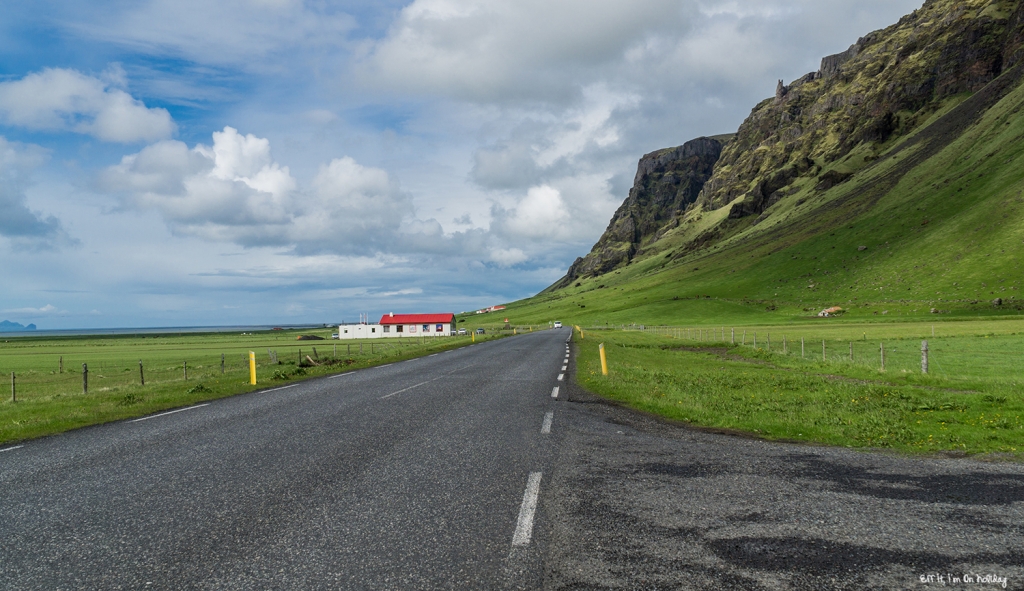 This name doesn't get old! (Honestly, I just copy-paste it every time it's mentioned in this post) Even though you couldn't really see the top of the Eyjafjallajökull volcano because of the clouds, we did make a quick photo stop after leaving the farm to take some photos of the mountains. I can't even imagine what it must be like to live with constant fear that a volcano or an earthquake could happen at any time, which would cause a lot of ash, as well as making the sea level rise. For Icelanders though, this is something normal and they are always prepared for when it happens. *shivers*
Skógafoss Waterfall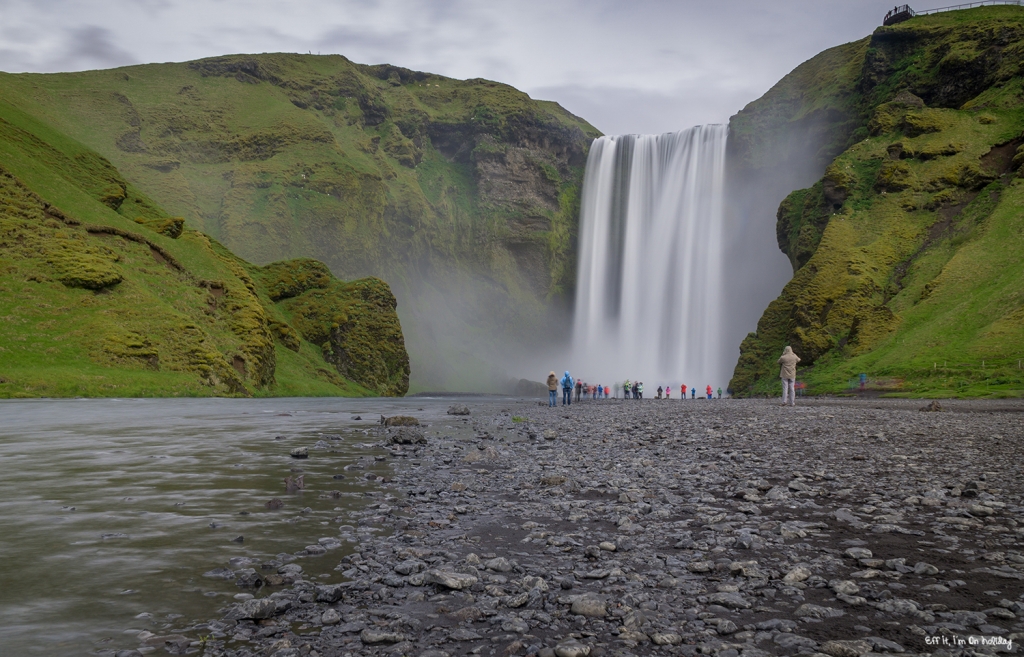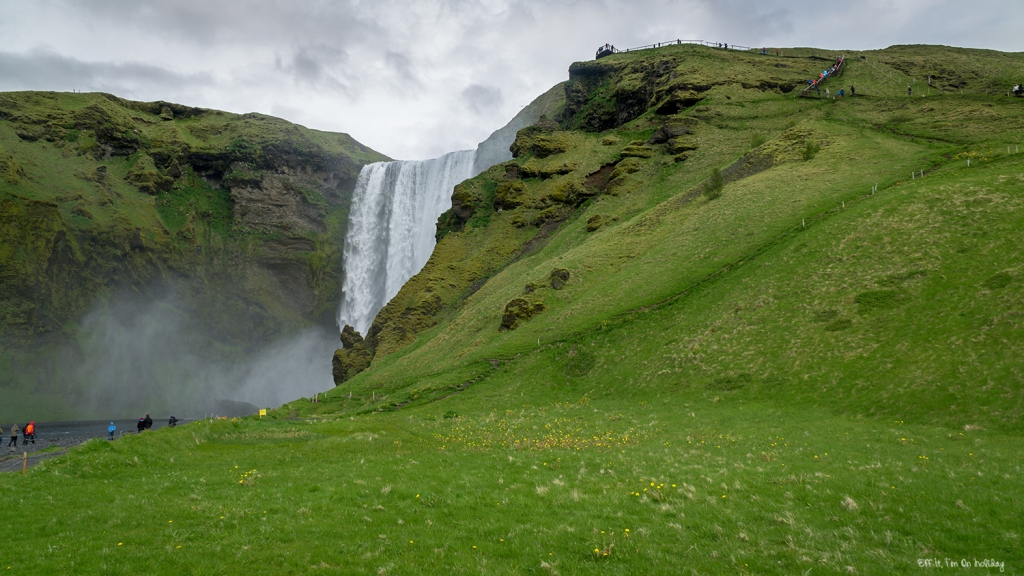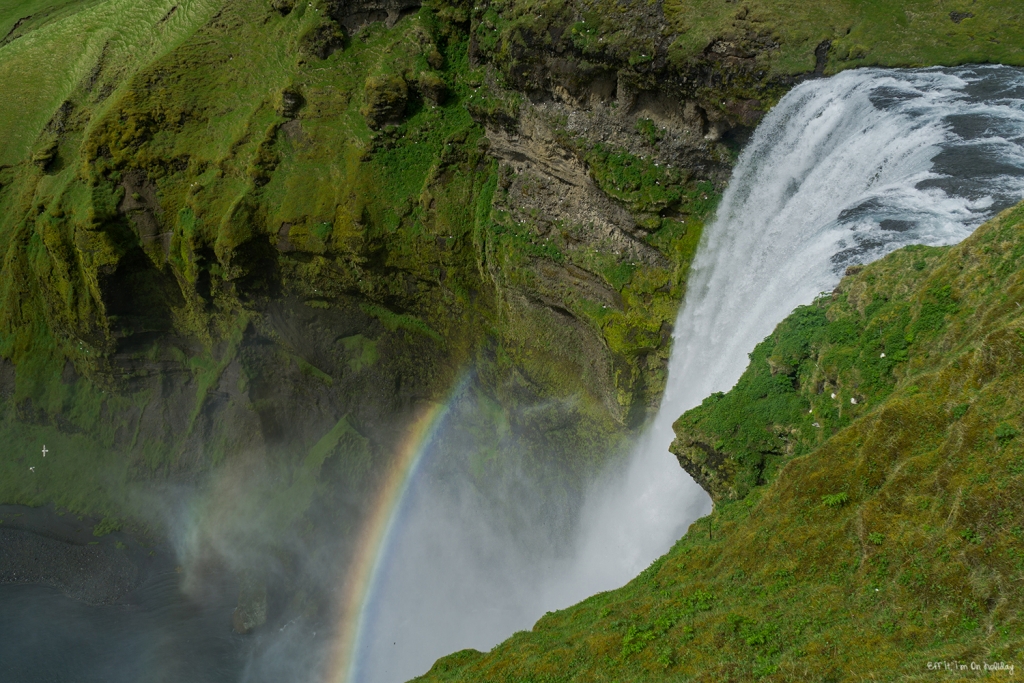 Okay, much to TLC's warning, we did go chasing waterfalls in Southern Iceland and this was the first we've stopped at. With a drop of 60 meters, Skógafoss is one of the biggest waterfalls in Iceland and even though you can't walk behind it, you can climb the way-too-many stairs to see it from above along with some very cool double-rainbows. And maybe you'll find the treasure too! Legend has it, a viking named Þrasi Þórólfsson buried his treasure in a cave behind the waterfall. Many years later it was found by locals, who only managed to grab one ring before the treasured disappeared again. Even though my heart was trying to jump off my chest after climbing all those stairs, I'm sad to say I couldn't find any treasure. Guess I'll have to go back to work then, huh? It wouldn't have worked anyway, I'm sure a chest full of gold would have been above the luggage limits of Easy Jet…
Vik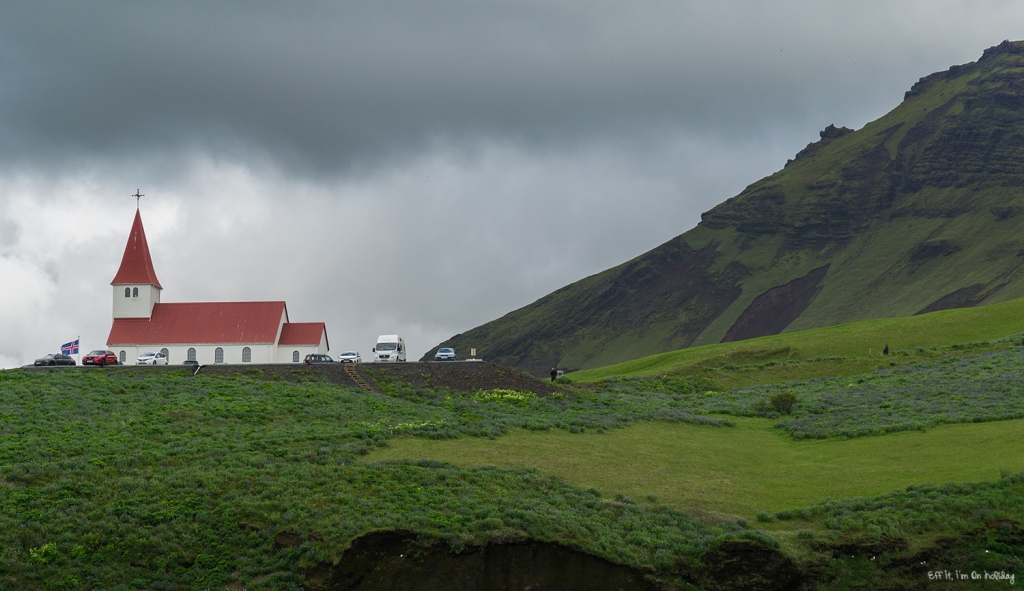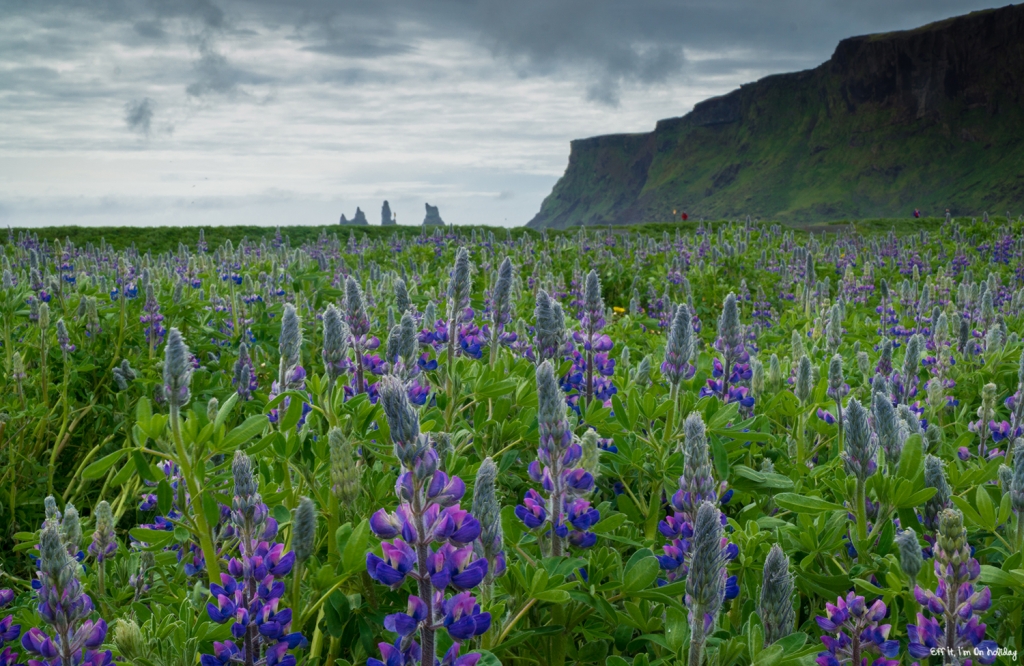 Vik is the usual lunch stop, you can find a restaurant serving burgers and hot dogs, as well as a souvenir shop. The town is known for its church sitting at the top of the hill. What's the big deal with that church, you ask? Well, in case of volcano eruption or the sea level rising (or both!), it is said that the church is the only place that will survive, so it's the refuge point. I was sad I didn't have enough time to visit the church as well, I had to choose between eating and going up the hill and for everyone's sake, I decided not to be hangry that day 😉 Oh well, I'll see it at the next volcano eruption. *knocks on wood*
Reynisfjara black sand beach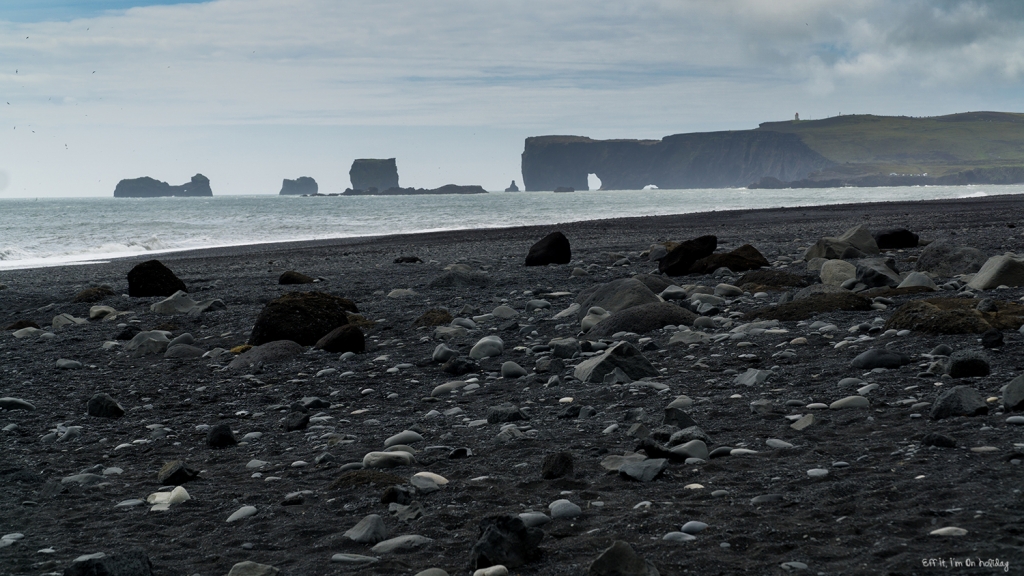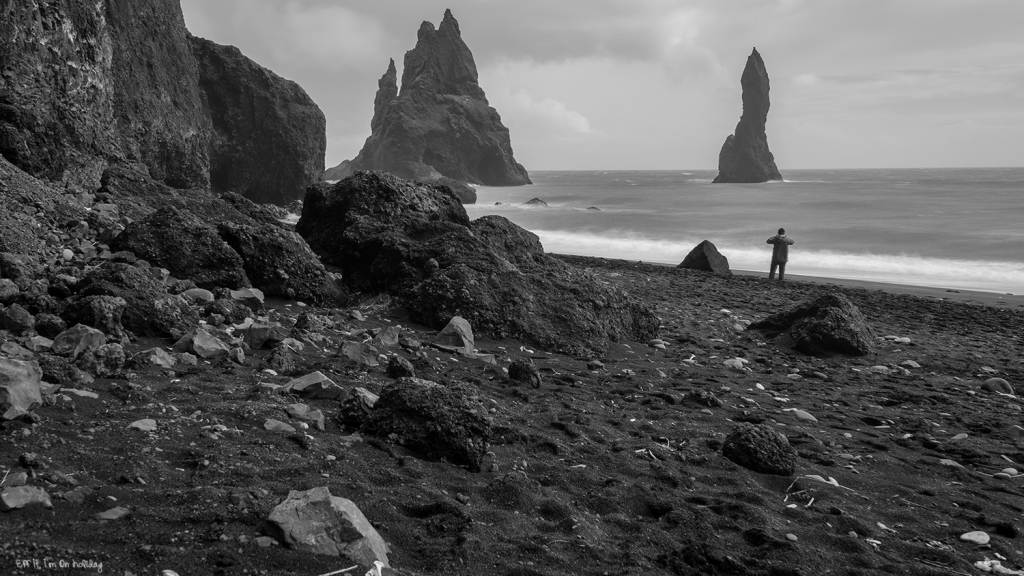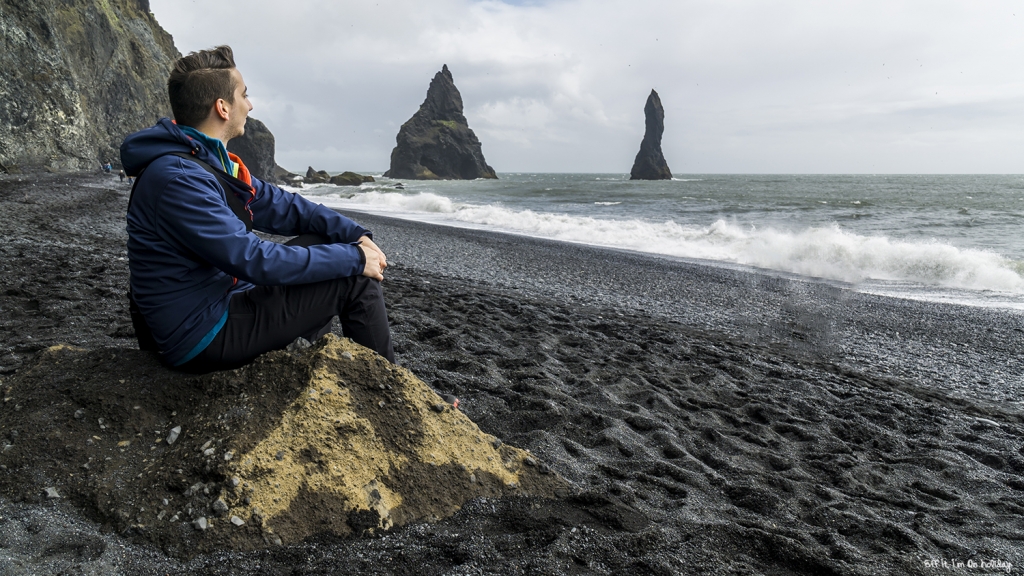 By far the most popular place on the Southern Iceland tour, it was the first time I've seen black sand. The waves and wind are so strong, it's highly recommended not to go near the water as you could be swept away (apparently this happened). This is what I've always pictured when I imagined Iceland and the feeling of walking on a place I've known about for ages was overwhelming. As with any place in Iceland, it has a legend to go with the breathtaking scenery. Do you see the two big rocks in the photo above? Legend has it, they were once trolls that were caught by sunlight and turned to stone. One of them must have been an ugly ass troll, as I keep thinking the one on the right has a penis shape. 😆
Sólheimajökull glacier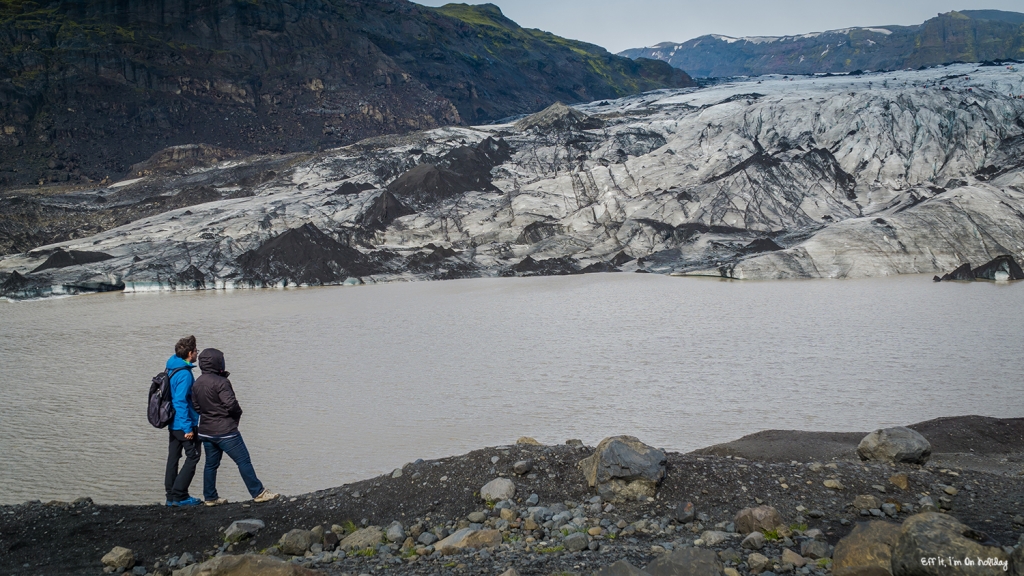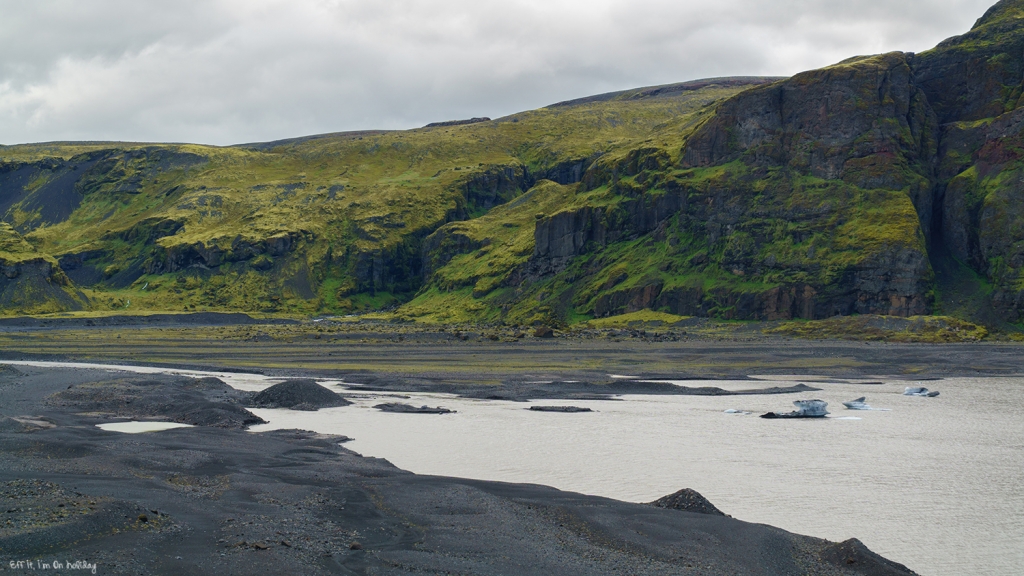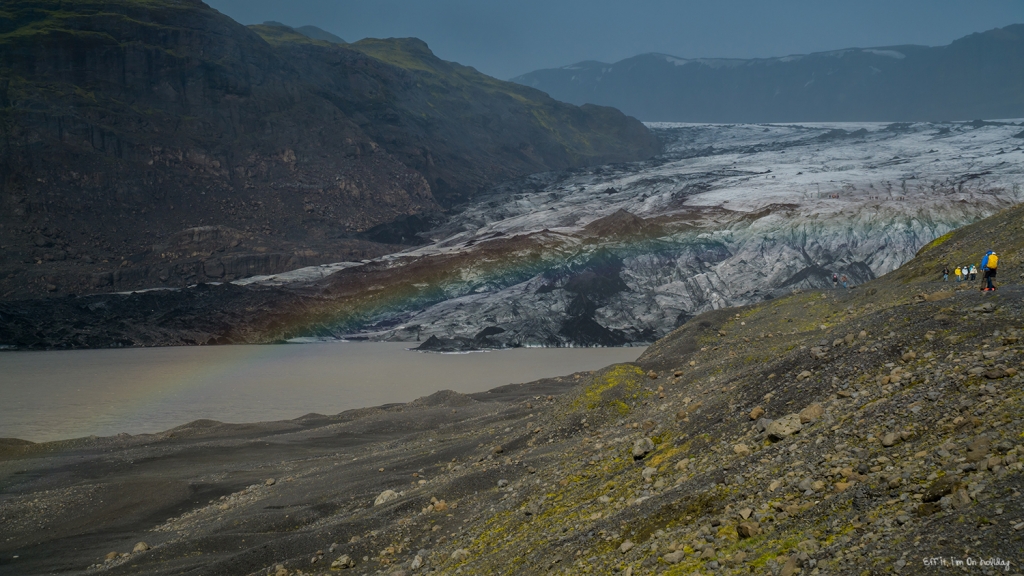 As the car drove further, almost as if it was being chased by dark gray skies, I was wondering what will the next stop look like. We were heading towards the Sólheimajökull glacier and I've read about how only a few years ago it used to be a lot bigger. Getting there and seeing it for ourselves was a heartbreaking wake up call, as our guide informed us that the glacier used to cover the whole valley (see in the first panorama) and the lake that we were seeing in front of the glacier wasn't there a few years ago. Still don't believe in global warming? Then don't go looking for the Vik cathedral after all the glaciers have melted. You can't walk on the glacier on this tour, as you need special shoes, you only see it from a distance, but it's enough to realize that someone should take an immediate action.
Seljalandsfoss waterfall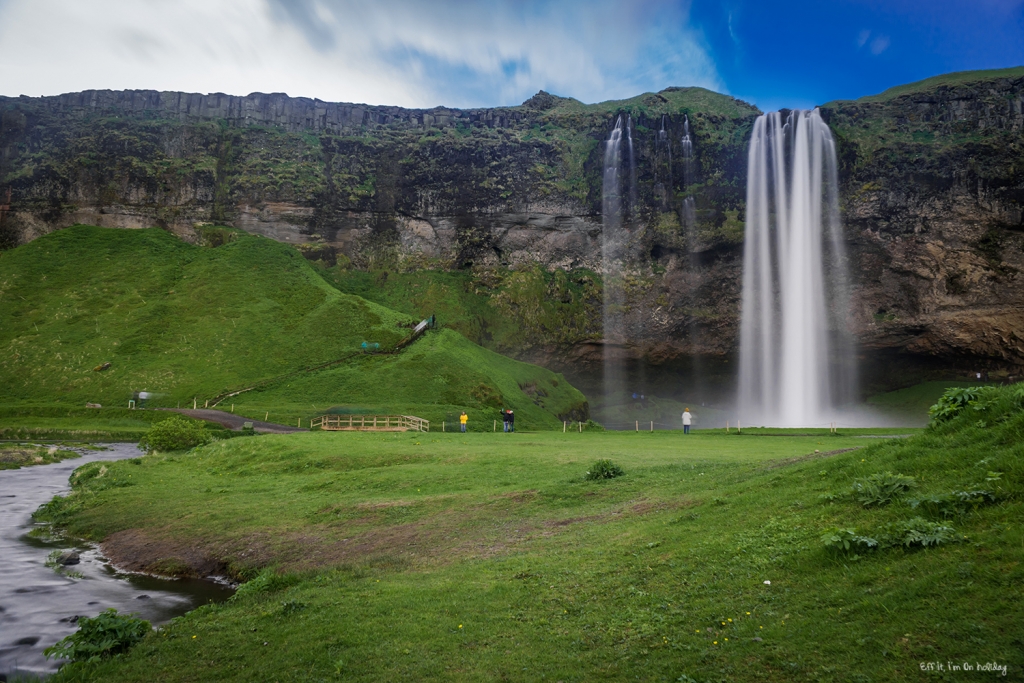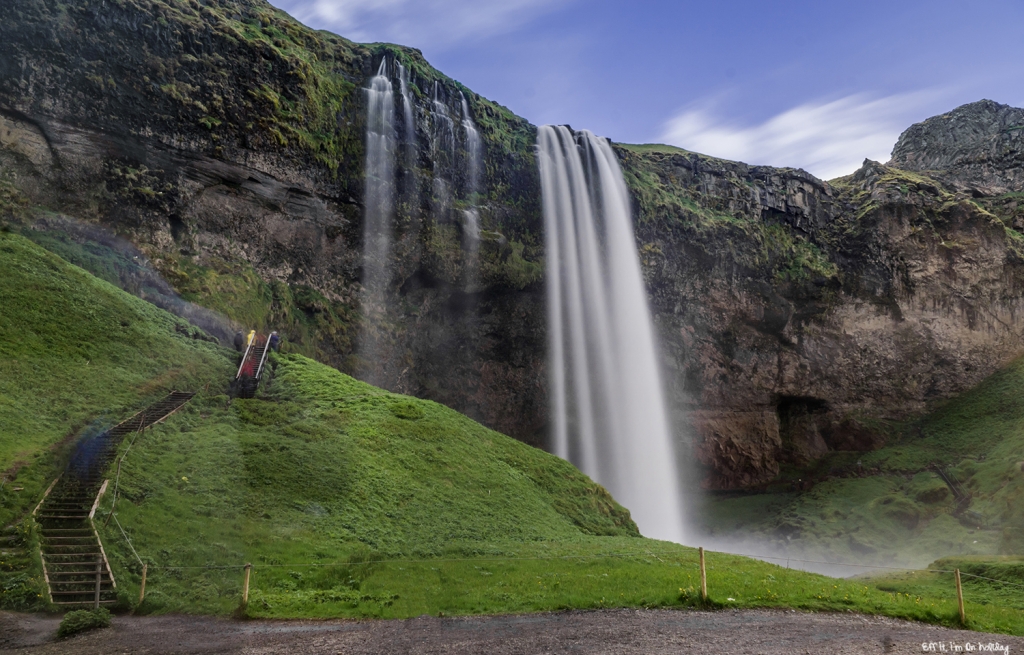 Our last stop of the day was the stunning Seljalandsfoss waterfall, which probably makes half of the images on Google when you search 'Iceland'. There's a good reason for it too. From distance, it looks like yet another pretty waterfall, but when you get closer, you'll realize you can actually walk behind it for a unique perspective…and a nice cold shower. It's refreshingly wet, as our guide has said it 😆 You need to be careful though, as it's very slippery and you could easily fall. I walked as close to the wall as I could, stopping only for a quick Instagram story behind the waterfall and managed to get wet only on my left side, while Paul was completely wet. 😆
We got back to Reykjavik in the evening after a long and exciting day in Southern Iceland and I realized that was the Iceland I was waiting to see and fall in love with, the scenery in this tour was what I was dreaming of when I was thinking of visiting Iceland and it's also what made me fall in love with the country. Along with the Golden Circle tour, the Southern Iceland tour from BusTravel is the best way to see the highlights of the country in a short time.
Have you ever been to Southern Iceland?
Disclaimer: We partnered with BusTravel Iceland for this tour, but all views, photography and desire to visit Iceland for the past 10 years are entirely our own.