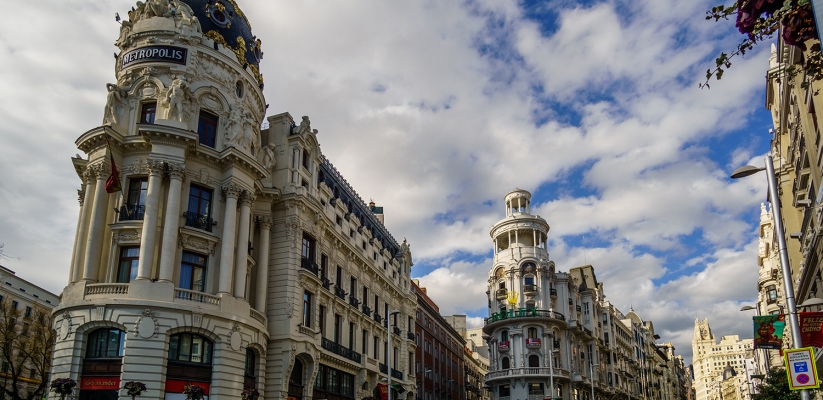 A Warm Weekend In Madrid
Although it wasn't planned, the end of January has found me, you've guessed it, away from home. Specifically, in Madrid. While I've been to Spain many times, I hadn't visited its capital before. Even though a weekend trip doesn't sound like enough to visit Madrid, I had just the right amount of time to see its main sights and wander on its streets, but as Spain is my favorite country, there can never be enough time on one trip. I'll definitely be back to Madrid in the future. If you're interested in spending a weekend there, here's everything you need to know.
How to get into the city from the airport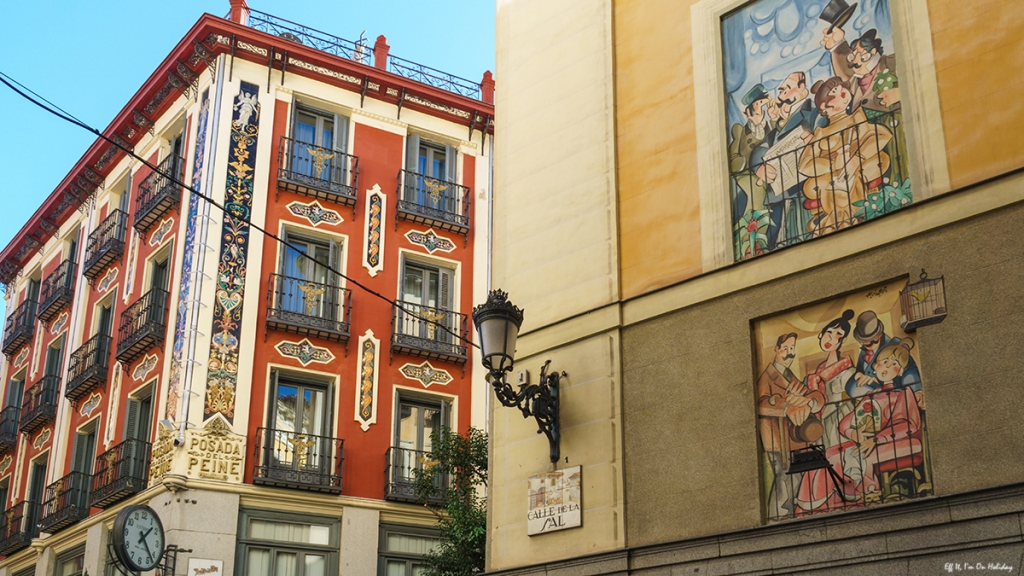 There is a metro line connecting the four airport terminals to the city (but you do need to walk a lot from Terminal 1 – if that's where you land – to the station). It doesn't go directly to the city center, but it's fast and easy, changing lines should be no problem. However, a one way metro ticket from the airport costs €7.5, because it includes the airport surcharge. But if you buy a Tourist Season Pass, which includes the surcharge and also the transportation for all metro and bus lines in Zone A, it costs €8.4 for one day, €14.20 for two days or €18.40 for three days. Be advised though, the city center of Madrid is very walkable.
If there are four of you though, it's worth getting a taxi from the airport (and avoid walking all the way to the metro station), they have a fixed fare of €30, which, coincidentally or not, costs just like four one way metro tickets.
Where to stay in Madrid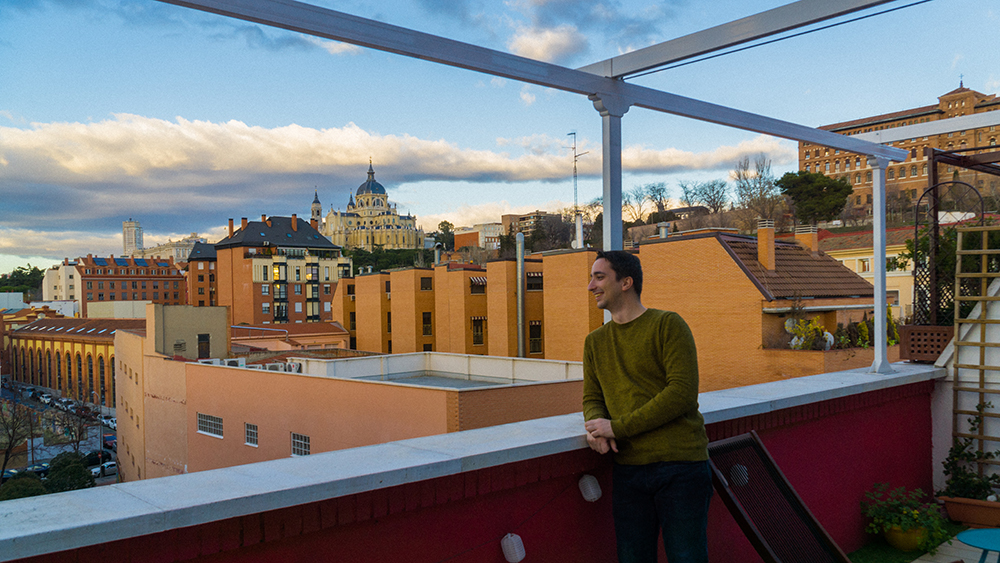 Because there wasn't too much time, I didn't want to waste any in traffic, so I looked for accommodation closer to the city center, which turned out to be more expensive than I had thought, for four people. That's when I turned to my trusty old friend, Airbnb, where I found a beautiful apartment with a gorgeous terrace overlooking the Royal Palace and Almudena. It was so beautiful, I wanted to live there forever. I'm hoping to return when it's warmer, rent the same apartment and just sit on the terrace with a glass of wine, enjoying the sunset. 😋
What to see in Madrid
Even though it may not seem like it, you get to see a lot of Madrid's main sights in one day. I arrived pretty late on Friday evening so I only had two days in the city, here's how they went. Mind you, I was with my 70 year old grandma, so it's not like we ran from one place to another 😉
Saturday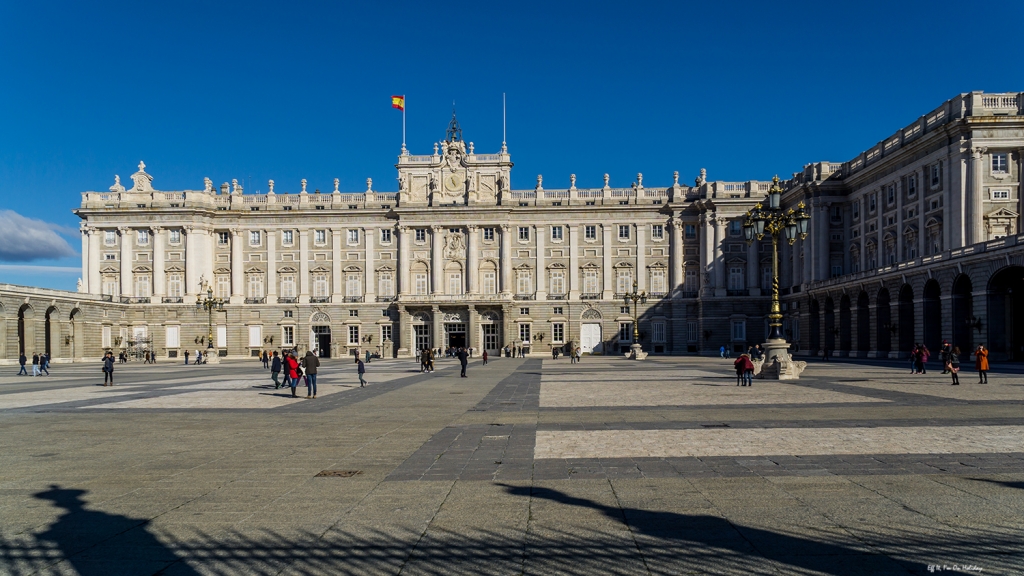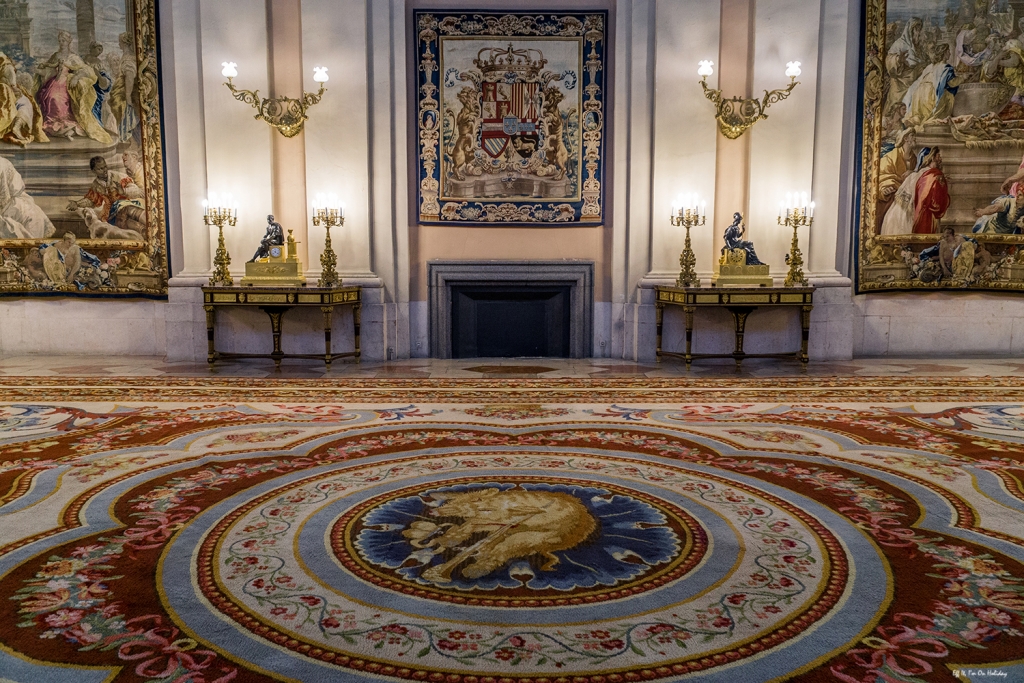 Your first day should start by seeing the most iconic places in the city: the Royal Palace and the Almudena Cathedral. Although the Royal Family doesn't reside in the palace, it is still used for state ceremonies and you can easily see why: it's absolutely breathtaking. You'll notice there aren't two rooms alike and each one is more impressive than the other. A ticket will set you back €10, a ridiculously low price considering how much tickets for any attraction cost in Barcelona. Photography is only allowed in the first couple of rooms, which I don't really regret, I could focus more on the intricate details of each room (here's a tip: look up! 😉 ).
Right next to the Palace is the Almudena Cathedral, which is easily one of the most interesting cathedrals I've ever seen. Sure, it's not as stunning as Sagrada Familia, or as impressive in size like the one in Seville, but I loved how colorful it is, from the moment I saw its green ceiling, I knew I would love it. Entry is free, but they suggest a €1 donation.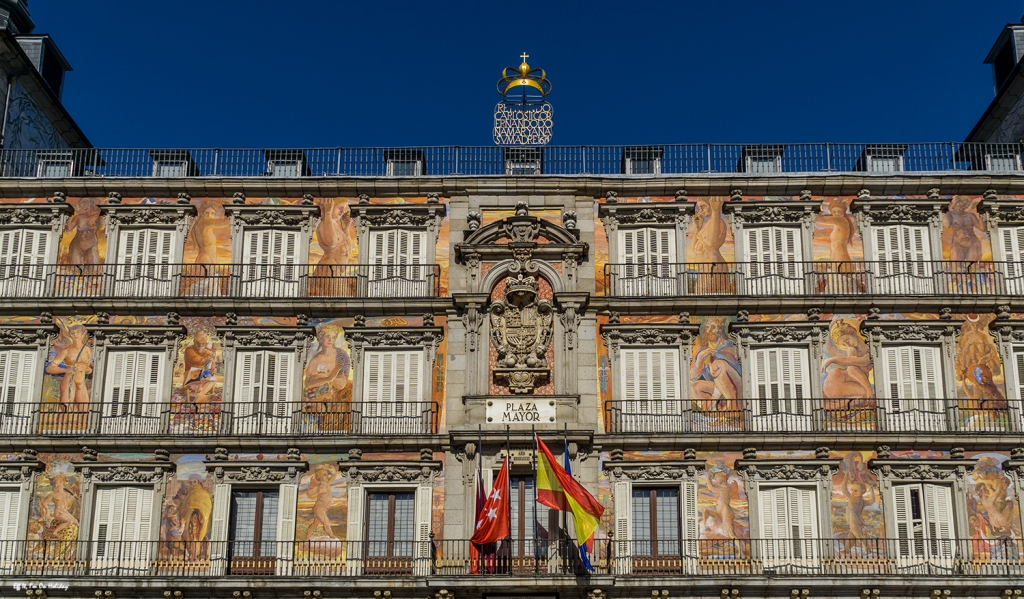 After you're done, walk for about 10 minutes and you'll reach Mercado de San Miguel, easily one of my favorite places in Madrid. Granted, it is a little touristy (just like Mercat de la Boqueria is in Barcelona) but it has a lot of different kinds of tapas, you can taste everything and maybe have a few glasses of wine too 🤪. A couple of minutes away from the market is Plaza Mayor, a rectangular square (I hate how that sounds too), surrounded by beautiful buildings and, probably, overpriced restaurants. It was also extremely crowded and noisy, which made me move away quickly.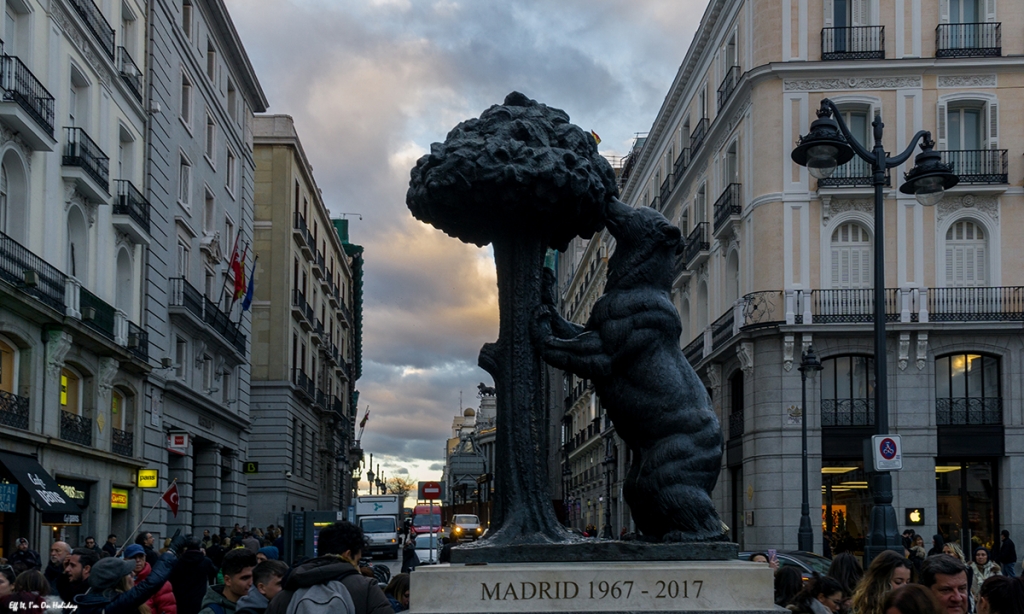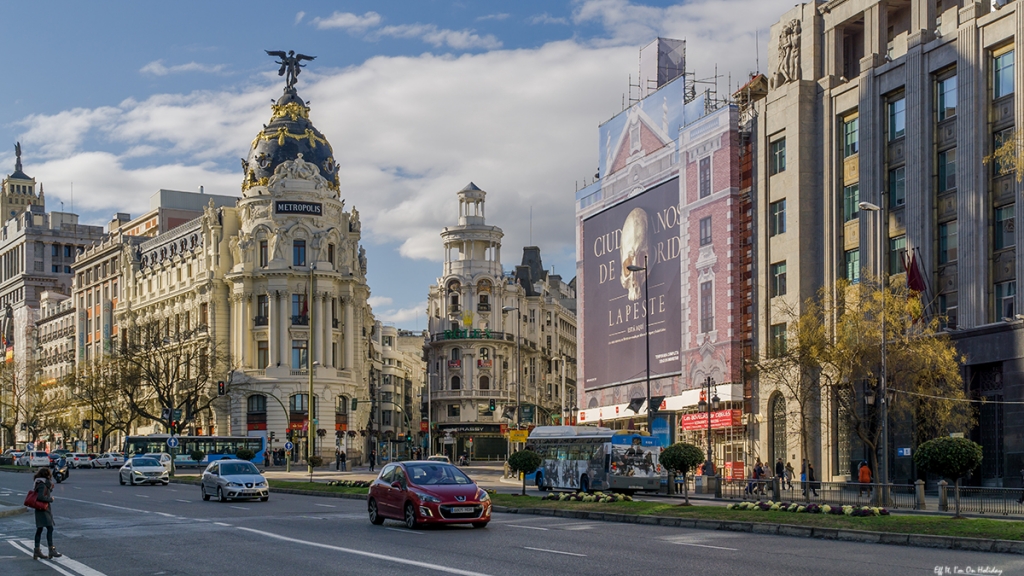 If I thought Plaza Mayor was crowded, it didn't compare with my next stop, a few minutes away, Puerta del Sol. This is where I realized the weekend in Madrid wasn't going to be as peaceful as the weekend in Valencia I spent last year. This is where you'll find the symbol of the city, the famous Statue of the Bear and the Strawberry Tree. Trying to escape the crowd, we headed to Gran Via, Madrid's well known boulevard where you'll basically find any store you want, it's a shopper's heaven. After a bit of shopping (who can resist a five story Primark?!), we headed back to the apartment to rest and find a place to have dinner.
Sunday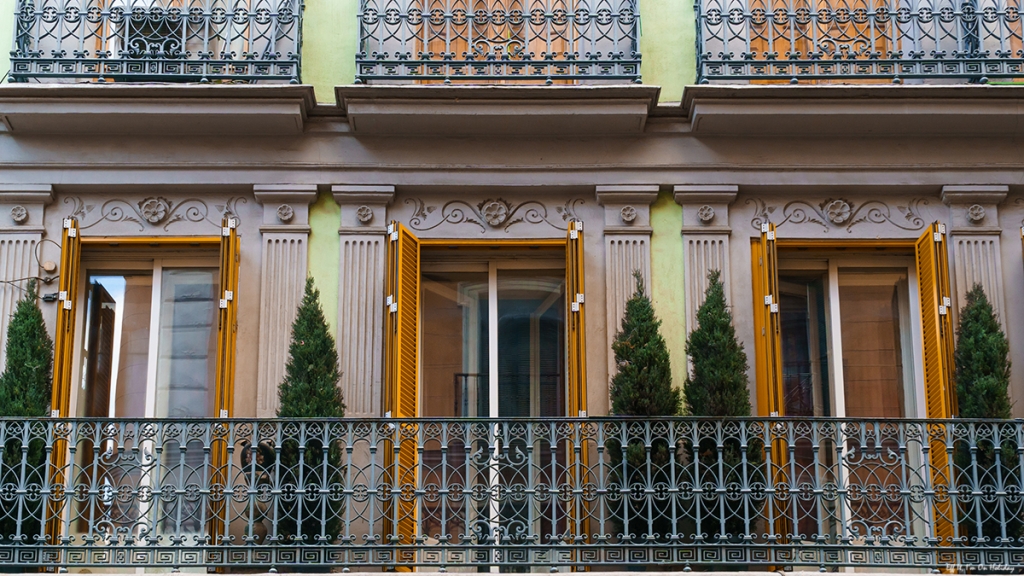 We started our second day by wandering in the Malasana neighbourhood, which was sort of accidental, as I wanted coffee from a place with great reviews. The area is full of charming buildings and it's lovely to just walk around, especially on a sunny day. This is what I love the most every time I come to Spain, it always puts me in a good mood just wandering on the streets, with no destination or tourist attraction in mind.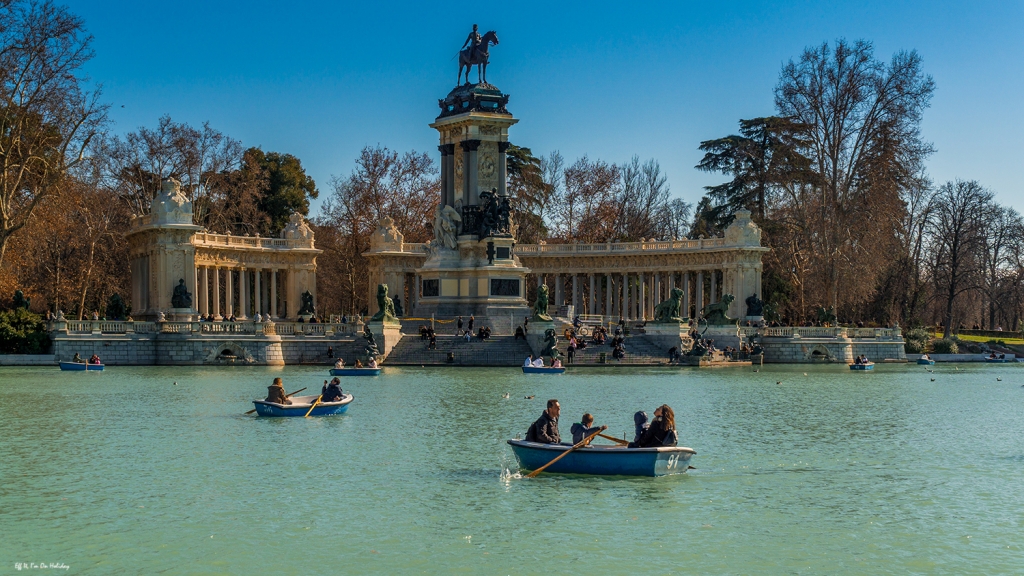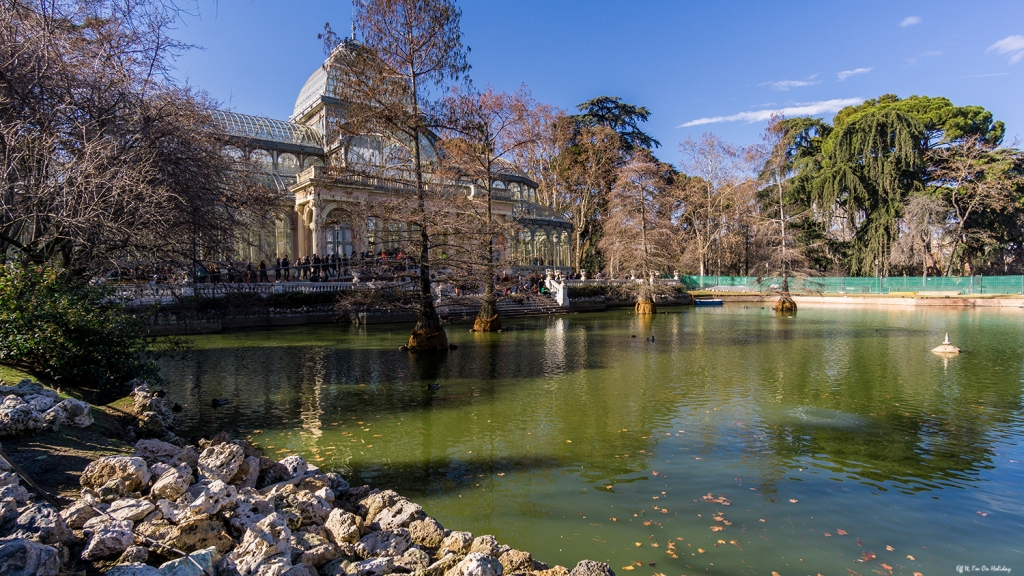 Once we reached Gran Via again, we walked towards El Retiro Park, where we spent most of our day. I've never had a gin and tonic outside in January, but there's a first time for everything, right? 😉 We found a nice terrace overlooking the lake and the Monument to Alfonso XII fountain, where we relaxed for a bit while buskers nearby were playing harp. The park is home to two gorgeous, yet extremely different from one another, palaces: Palacio de Velázquez and Palacio de Cristal. I've only visited the latter, which was free, but there was a long queue because they weren't letting too many people inside at once.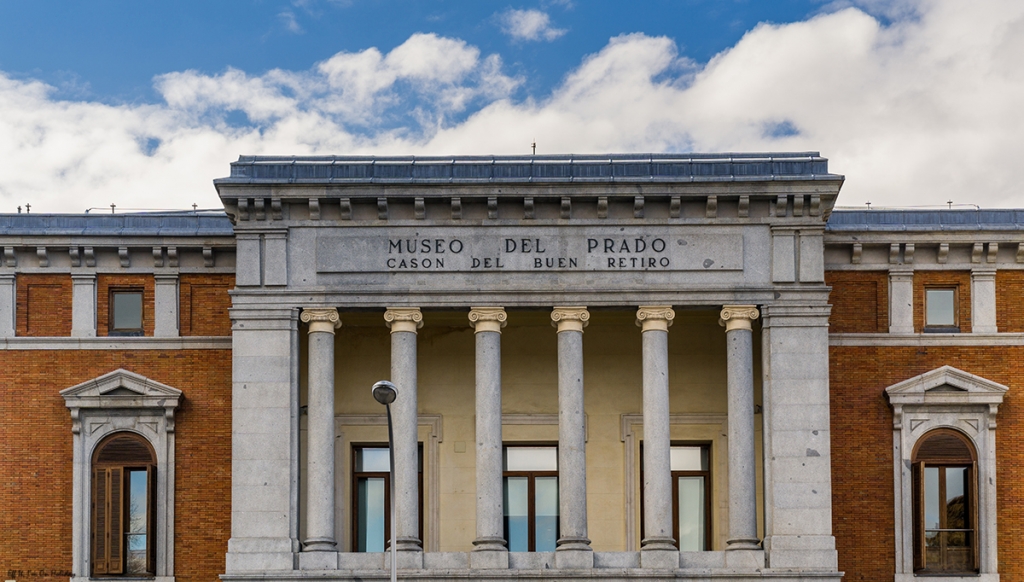 Right next to the park is the Prado Museum, which is considered to have the world's finest collection of European art. Sadly, we didn't have time to visit it and it was a beautiful day so we chose to walk around and then check out some other shops before leaving for the airport (Sfera is my newest favorite Spanish store).
 Where to eat in Madrid
Ok, I'm not claiming I'm an expert on this subject, but I can at least recommend you the places where I've been and liked: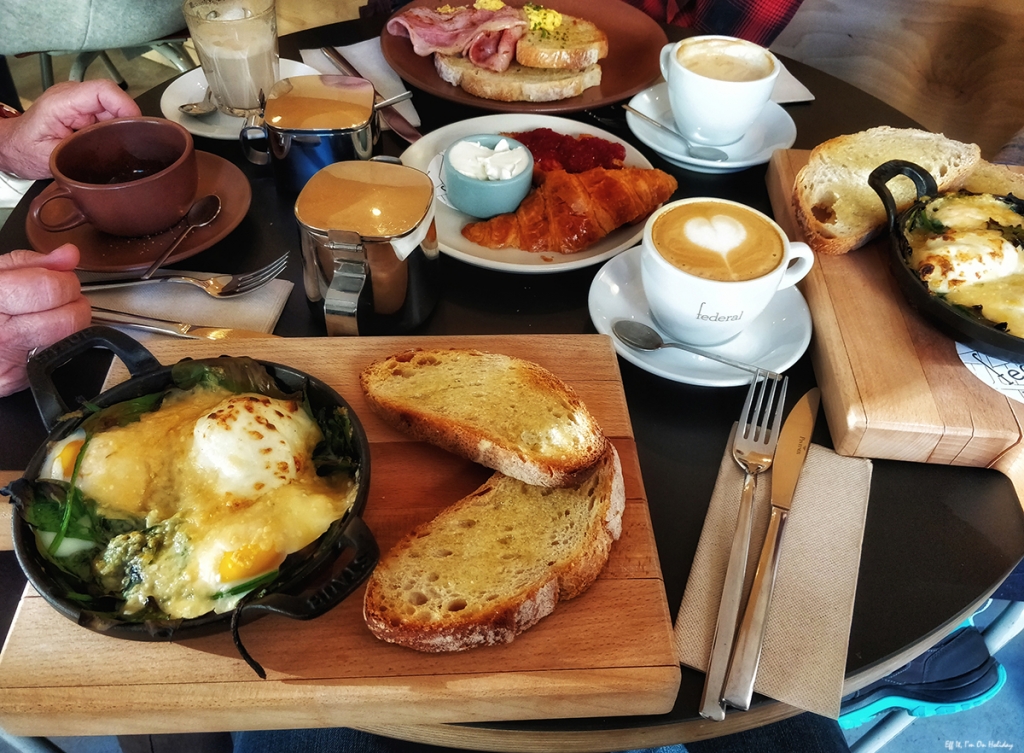 Federal Cafe – I can't stress this enough: it's the best breakfast I've ever had! Everything on their menu sounded delicious, but what I had (eggs florentine, flat white and raspberry croissant) kept me well fed until late in the afternoon. Should I go to Madrid again (I will!), I'll be the first one there in the morning.
La Rayúa – found more or less by accident, as finding a restaurant open for lunch proved to be extremely difficult. They serve traditional Spanish food, including the typical Madrid dish: cocido madrileño. You'll have to try it, but be warned: you'll probably won't eat anything else for the rest of the day (and maybe do a couple more reps at the gym to compensate)
HanSo Cafe – As I was searching for places to have good coffee in Madrid, one name kept popping up. Surpsingly not Star Wars themed (guess it doesn't stand for Han Solo, does it?), it has a cool hipster, yet cozy vibe. I've only had a flat white to go, as there weren't any tables available. But the coffee, as well as the biscuits were really good.
Do you think Madrid is a good destination for a weekend trip?