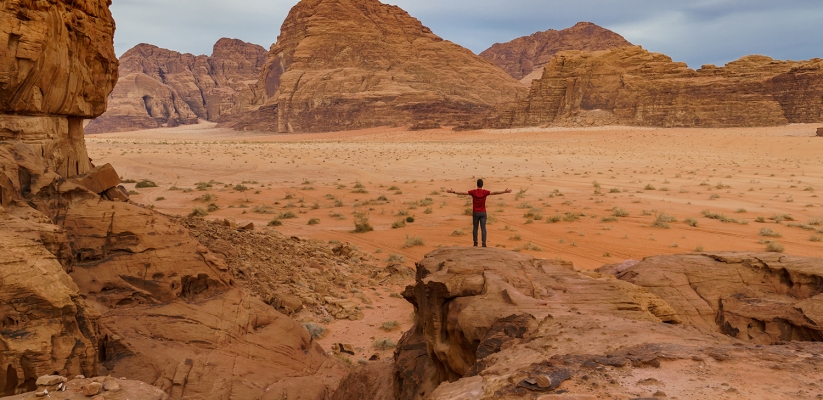 Journey Through The Wadi Rum Desert
As I sit in the back of a jeep speeding through the desert, I'm imagining Jeff Probst narrating like he narrates the first episode of every Survivor season: "eight strangers! On the adventure of a lifetime!". And it isn't far from the truth, the whole experience was so incredible, I'll always remember every minute of it. From walking barefoot in the soft soft sand to sleeping in the bedouin camp under the Milky Way and a thousand stars at Nights With Bedouin & Jeep Tours camp, it shouldn't be a surprise it has been one of my favorite travel days ever.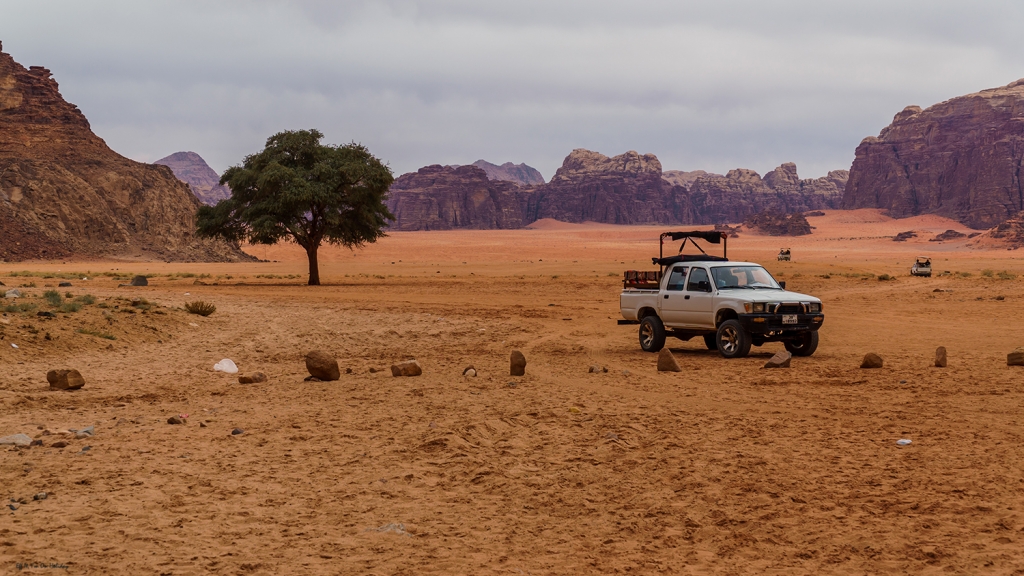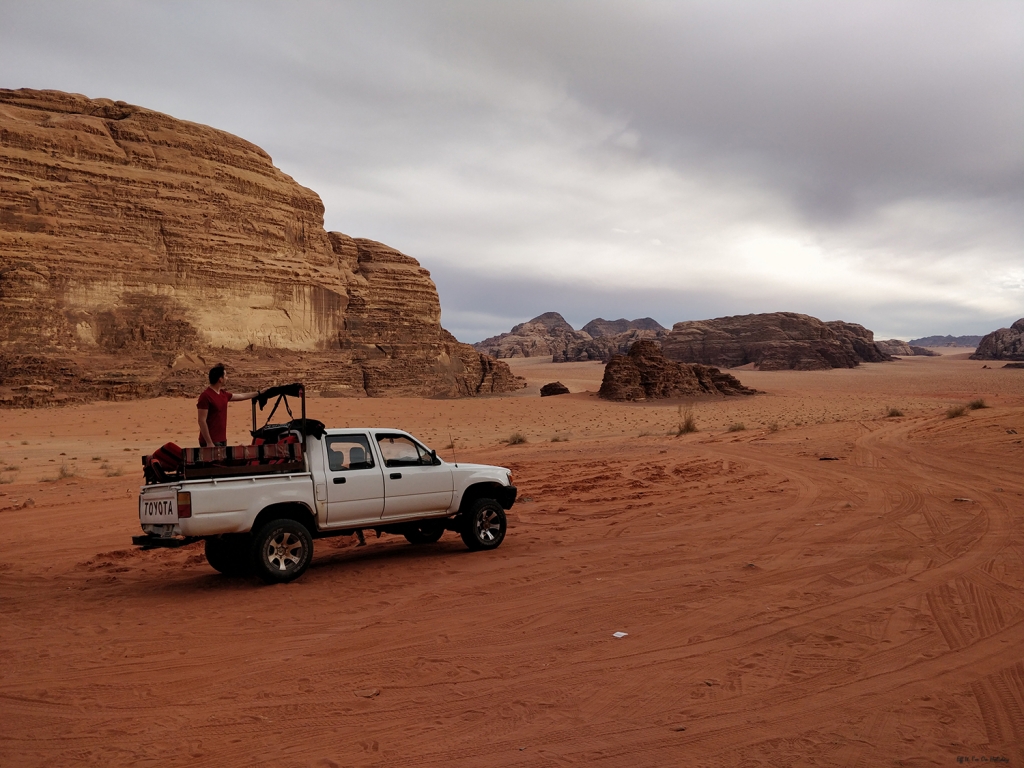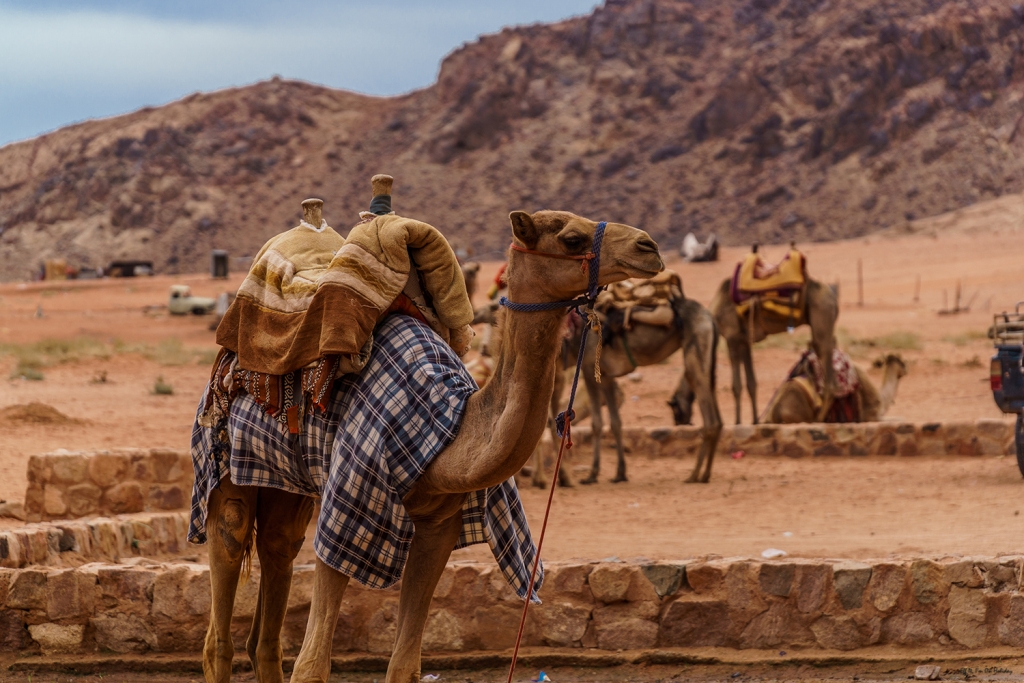 Our host welcomes us in Wadi Rum and after a quick introduction, we hop onto the back of the jeep and off we go. I call it a Jordanian jeep, or how my friend Hannah from Eat Sleep Breathe Travel (who has done part of the same tour that day), "that's just a pick up truck". 😂 Just as I was thinking "wow, this is so cool!", we make our first stop, to see some very old, very interesting petroglyphs, but I am mostly excited to see camels up close for the first time. The whole trip I refused to ride a camel, I found both camels and donkeys in Jordan to be treated poorly and I didn't want to cause them more pain. But here, I do get the chance to pet one of them and it's super cool, but the whole time I am cautious and worried she will headbutt me. Luckily, she behaves. 😜

Back in the car, the bumpy road takes us to what is probably my favorite place in Wadi Rum: a very narrow canyon which was recently flooded but now the water is mostly gone and we get to explore it for a bit. I would have never expected a desert to have such impressive canyons, I thought it was… like…you know….just sand. Climbing on rocks to go a little bit further, I feel like Indiana Jones, though I'm sure he has never stopped mid-way to take photos for Instagram.😂 Unfortunately, we don't have enough time to explore it as much as I would like, as it takes a long time for everyone to take photos in that one place.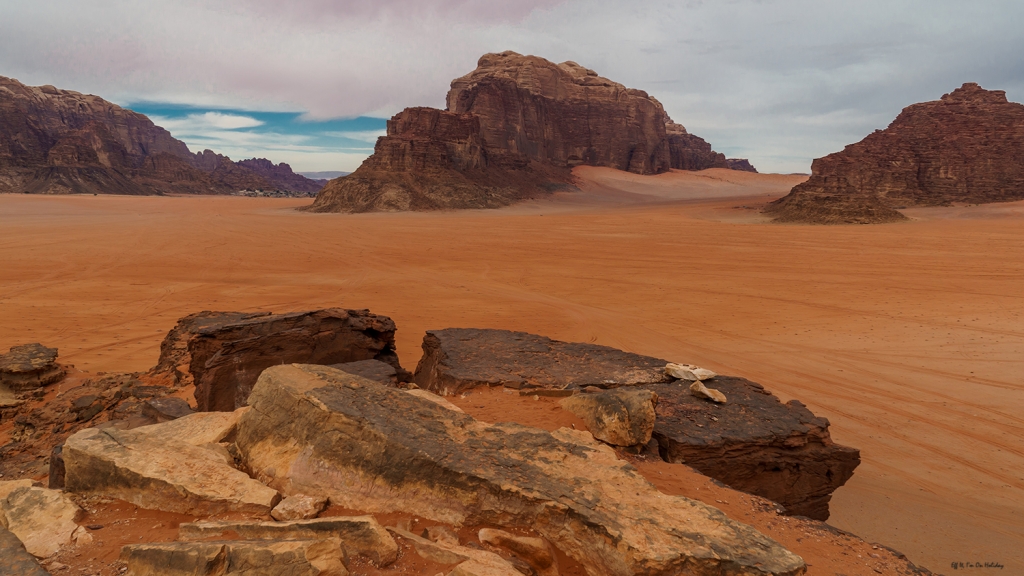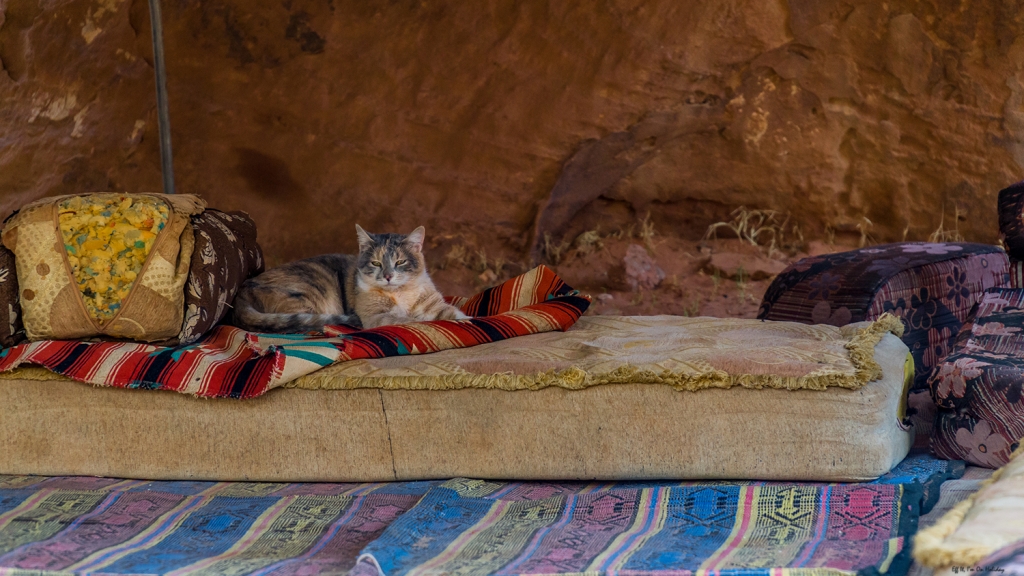 We make a short pit stop at a bedouin camp, where we are offered tea and time for a toilet break. And by toilet I mean "go behind that inconspicuous big rock and do your business". As I photographed at least one cat in every location we've been to in Jordan, it was impossible not to find one in the desert as well. Sitting between multiple colored blankets, she looks around like she owns the place. She probably does though, so I try not to disturb her, after all, I played with enough cats at Petra the day before to last for the whole year.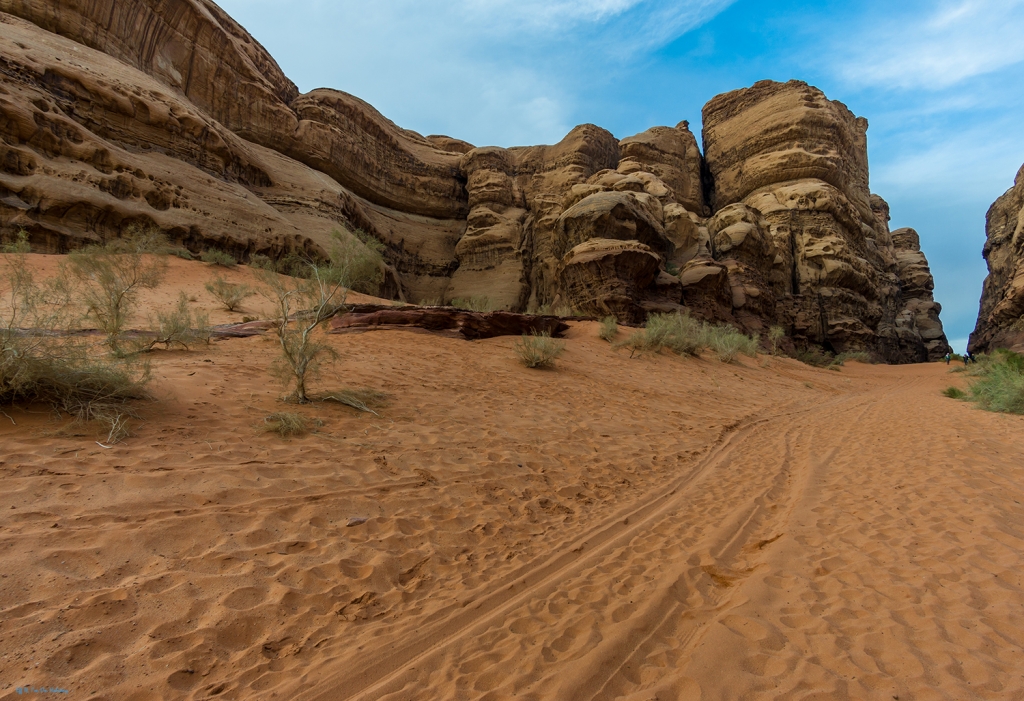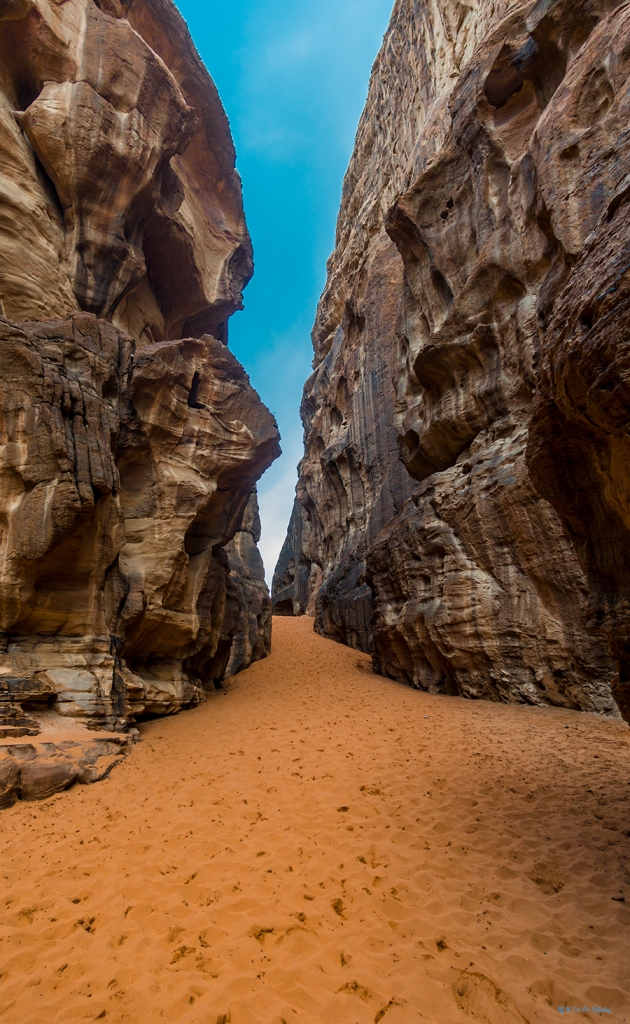 The driver informs us that we will stop at another canyon where we will walk by ourselves for 40 minutes and he will meet us on the other side. At first we are confused, because unlike the previous canyon, this one is very wide, a car could easily pass. But as we keep walking, we soon realize what he meant, as the path gets narrower and narrower and at some point, it's even blocked by some rocks that we easily climb. Although very impressive in size, I still would have loved to explore the smaller one more.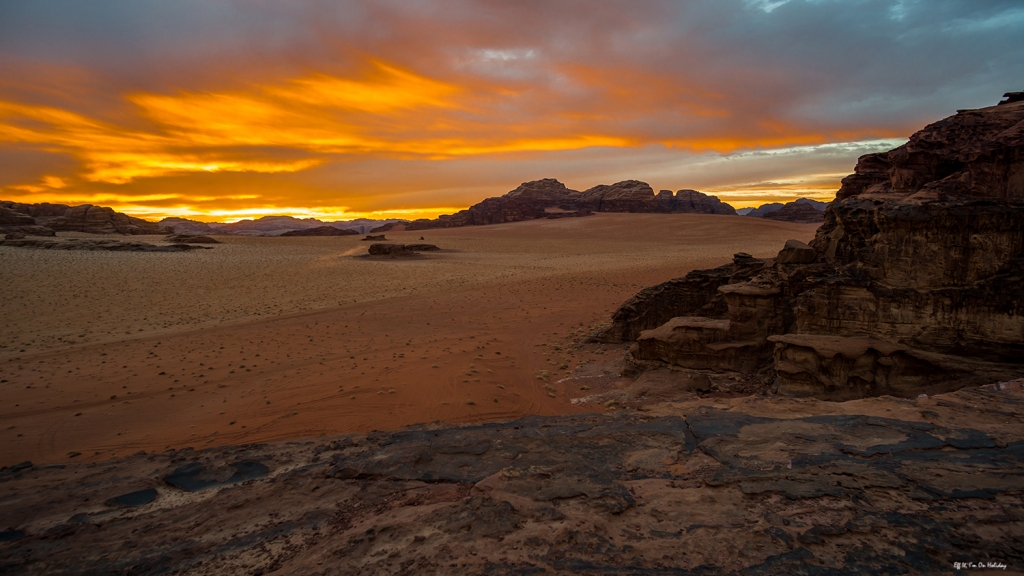 Our last stop of the day is one of the most iconic rocks in Wadi Rum, featured in countless photos and even some movies. Some of my friends decide to go up the rock to take photos, while I wait for them, hoping the sky will clear up to see the sunset. It isn't long until our driver screams "yalla yalla yalla" , as one of the rocks in front of us turned golden and he's calling us to rush to the car to get to the "sunset place" faster. We hop on the back of the car as the engine starts and we have to hold on for dear life, as it's the fastest he's driven all day. We jump out of the car and run the the viewpoint, to see the most breathtaking sunset I've ever seen. Everything becomes red, as the sky looks like it's on fire, the last rays of sun fighting to burst out of the clouds.
With the sun down, it quickly becomes dark so we call it a day and go back to the camp, seeing it for the first time. If the idea of sleeping in a tent doesn't sound too appealing for you, you should know that in Wadi Rum they have warm tents, with beds, blankets, light and even a small window. There's also a bigger tent nearby with toilets and showers, as well as a tent that serves as the common area.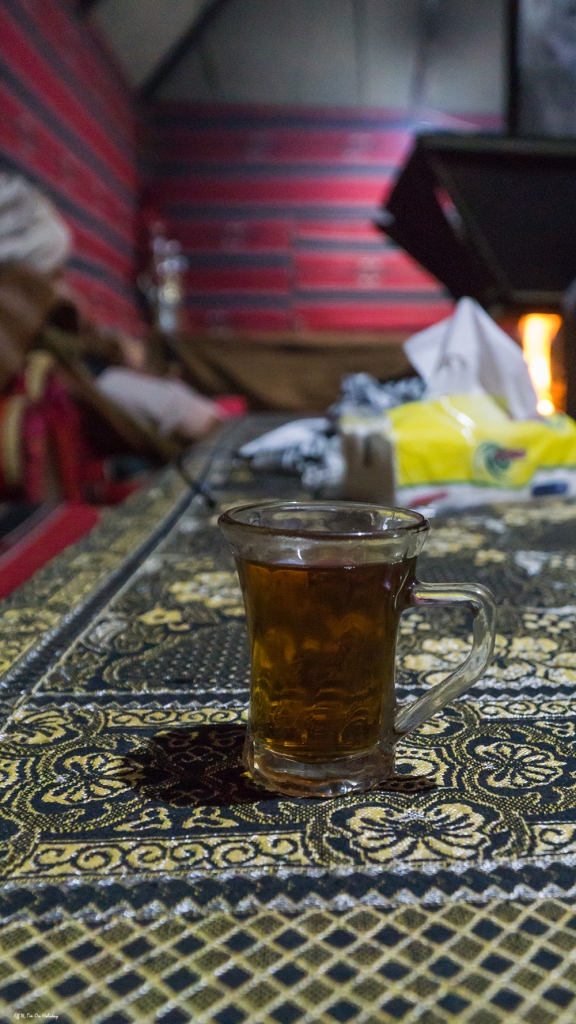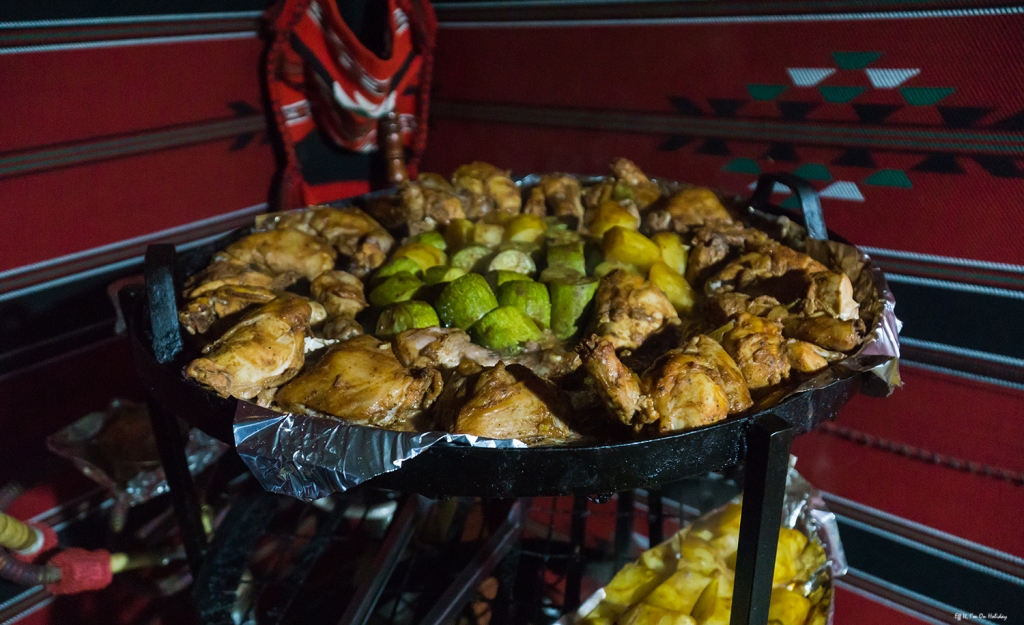 We all gather around the fire, listening to traditional songs, while drinking "bedouin whiskey" aka some very sweet, but delicious mint tea. Although it's very lovely and we feel very relaxed, there's one thing in our minds: 👏where 👏 is 👏 the 👏 damn 👏 food 👏 ? It doesn't take long until we're invited to watch how they take out the food from the oven….which was literally in the ground. We all drool at the first sight of the food: potatoes, vegetables, and chicken meat, all cooked under the sand. Inside the tent, we also find a few different salads, bread and rice. For a while, the only sound you can hear in the tent is the one from forks hitting the plates, as we're all starving after a long day.

Outside it's quiet and pitch dark so we all sit in the tent by the fire, with tea and good food, oblivious to the fact that the next days all of our clothes would end up badly smelling like smoke. At one point, I go outside and much to my excitement, I find out that the sky had cleared up and all the stars were shining bright. It's been a dream of mine for a long time to get the chance to photograph the night sky when there are absolutely no lights around and I quite like the result of my first attempt. We see shooting stars, identify constellations (thanks to an app, obviously) and realize that we're looking at the Milky Way for the very first time, it's a very surreal feeling. We go to sleep that night literally under a thousand stars.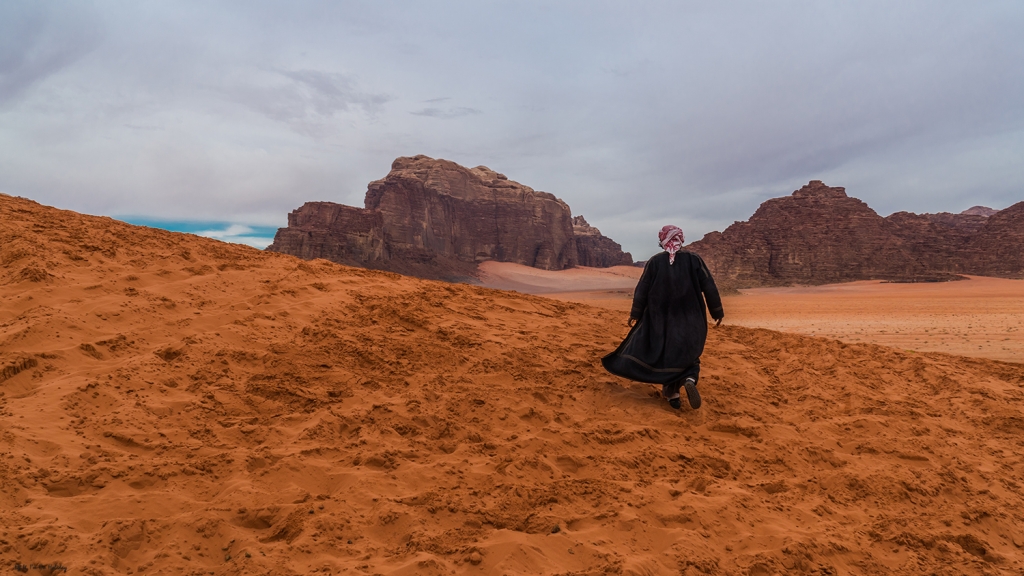 The next morning, after breakfast, we say goodbye to our lovely hosts and get back to our car to continue our road trip. Even though it's been only a day, it felt like we were gone for a while. I guess an action packed day does that to you. Or the fact that we didn't have any cell coverage the whole day.😂
Even now, long after the trip has ended, I still think about the day I spent in the Wadi Rum desert as one of the best travel days I've ever had. If you're visiting Jordan, you shouldn't miss this experience for anything in the world. Trust me, you won't regret it 😉
Disclosure: Some of the links in this post are affiliate links, meaning that if you click through and make a booking, I will earn a small commission, at no additional cost to you.