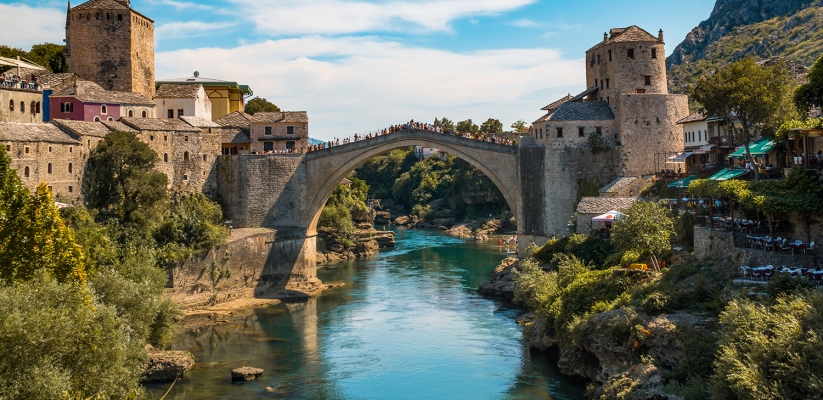 Day Trip to Mostar: Waterfalls and History
It's past 10 AM and I'm crossing the border back to Croatia. No, I didn't forget anything back at the apartment in Dubrovnik to make me have to go back. Do you remember that infamous meme from last year about Bosnia and Herzegovina not having a beach? Well they do in the town of Neum and even though mostly Croats live here, we have to cross three different borders between Croatia and Bosnia, just to reach our first destination on our day trip from Dubrovnik to Mostar.
As I've mentioned in my previous post about our day trip to Kotor, the best thing about having the tour with Dubrovnik Day Tours is that they are private transfers and can be tailored to your needs. Not waiting for a large group means more time for you to enjoy the sights properly. This is why our first stop of the day are the beautiful Kravice Waterfalls, which aren't included in the original itinerary, but it would have been a shame to miss them.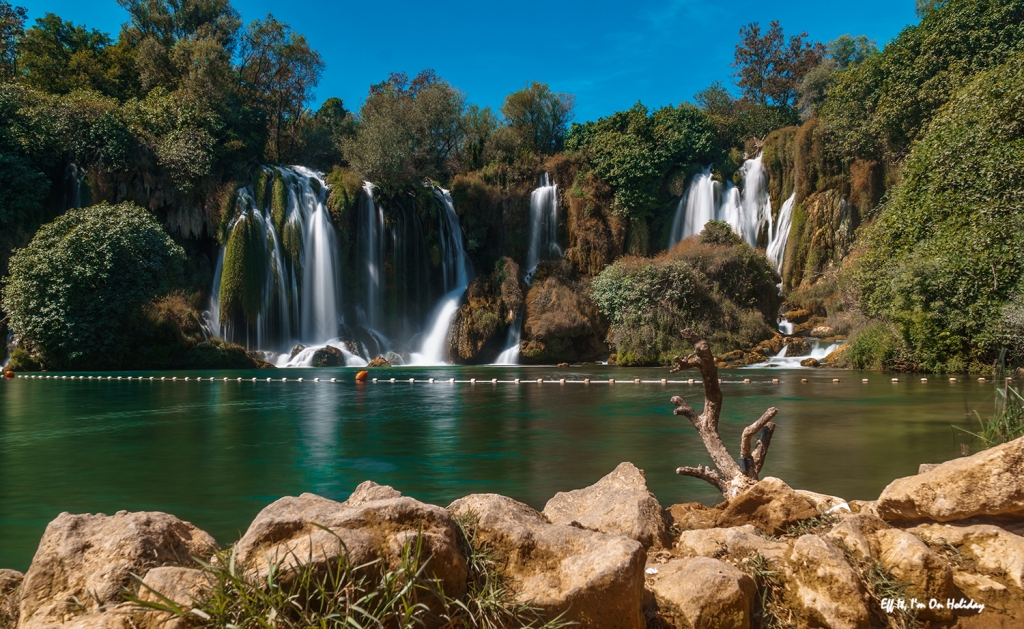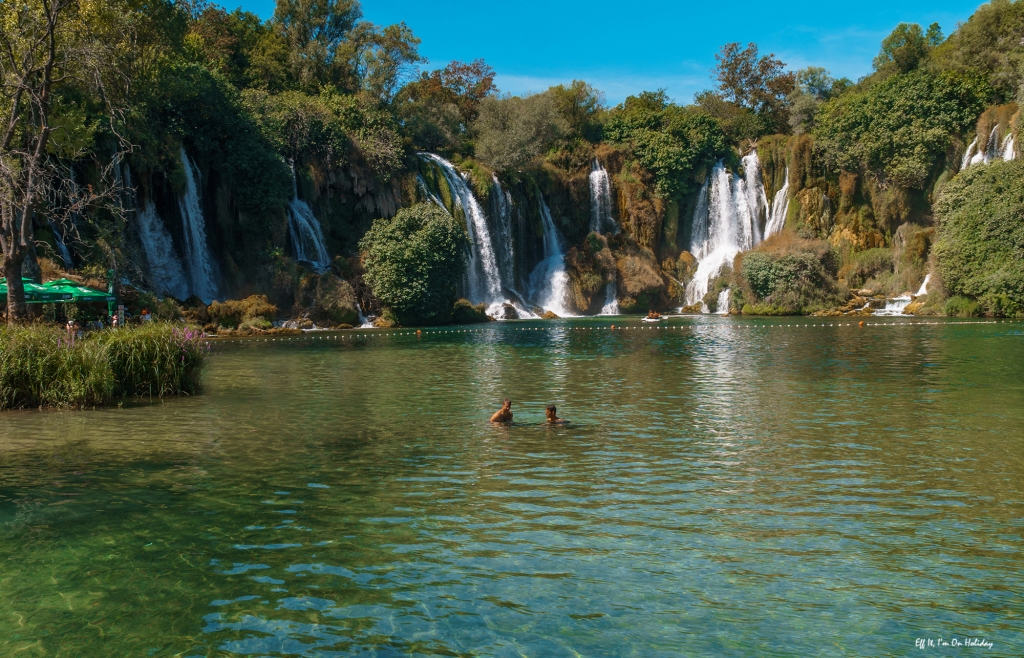 I have seen pictures of the waterfalls before, so I had an idea what to expect, but I am still blown away by their beauty, the scenery looks perfect, especially with its emerald waters. Some people dare to swim in the cold water (since it's allowed here, unlike Plitvice Waterfalls), but I'm too busy taking a thousand pictures from every angle. There are also restaurants where you can get something to eat and drink and I would have loved to sit down with a drink and just watch the mesmerizing waterfalls, but again, these photos won't take themselves 😉 .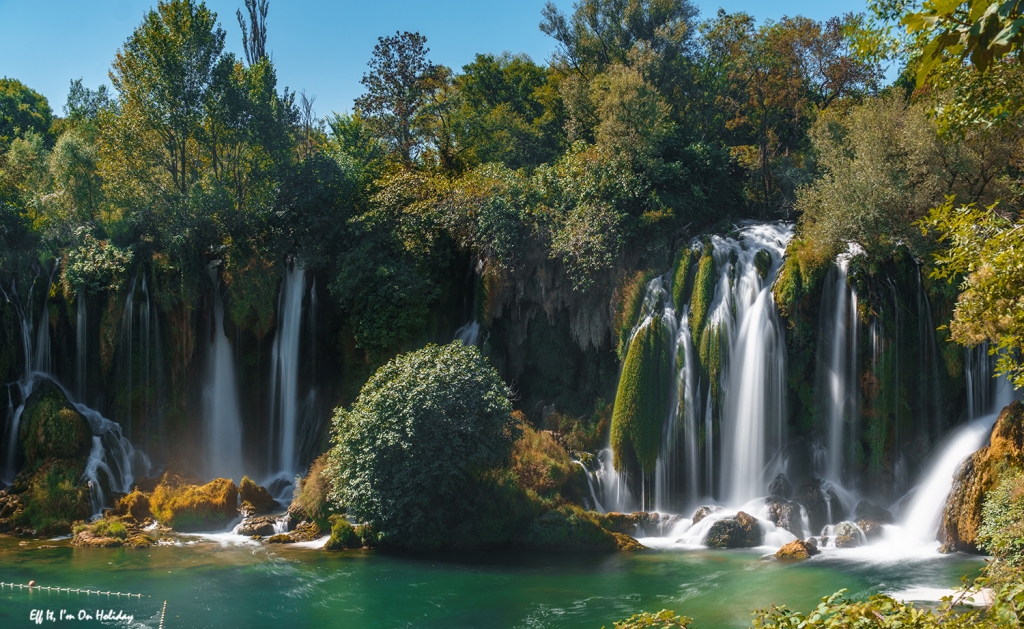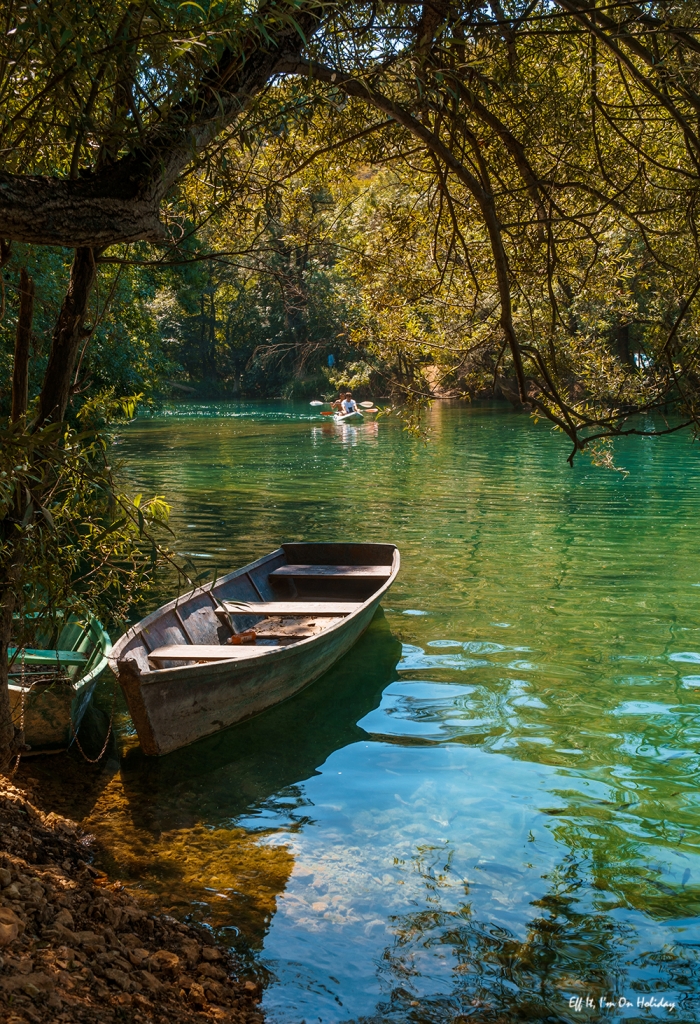 The name of the waterfall literally means little cow because years ago, a cow fell in the river and all the locals thought she died, but they found her happily at the bottom of the waterfall. 🥰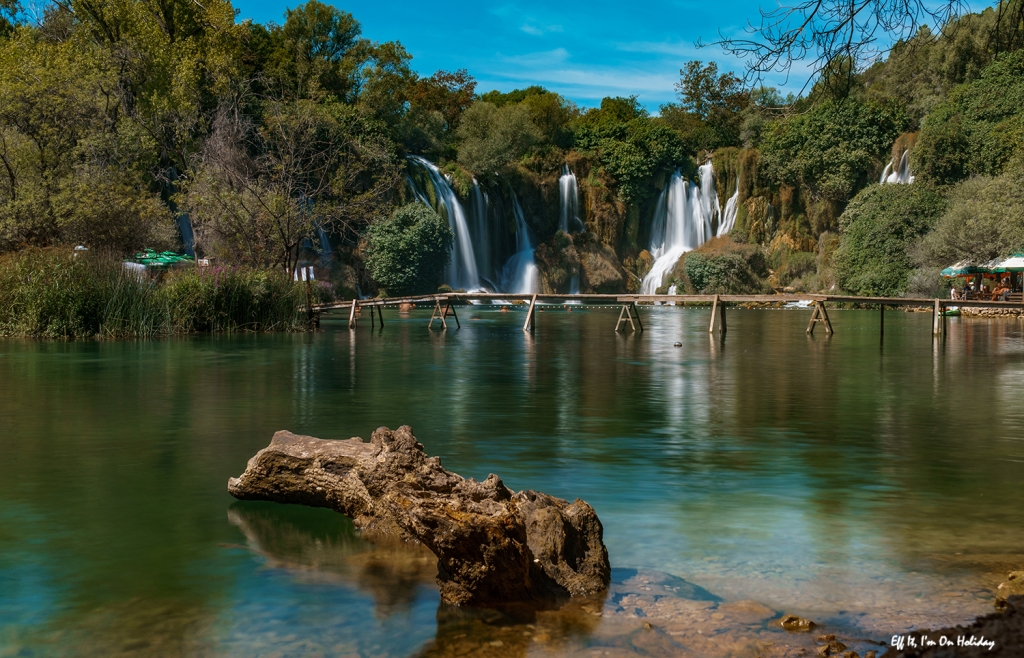 The entrance for the waterfalls costs between €3 and €5, depending on the season and you can pay in euros, Croatian kunas or Bosnian convertible marks, but no cards. The downside is that there is no public transportation, so you can either drive yourself, get a taxi (quite expensive though) or join a tour (as you can see, I opted for a combination of the last two).
Warmed up by the merciless sun, I can't wait to get back to the car and get to our next destination – the main stop for the day, Mostar. Bosnia and Herzegovina is a country with a tumultuous history and Mostar is no exception. So when we meet our local guide for a walking tour, I'm delighted to see how passionate he is about history and for telling us everything he can about the city.
We reach the old town of Mostar and hoooooly shit, is it crowded! To be fair, it's a very small part of the city and anything more than 10 tourists would make it feel like you're in a Japanese commuter train. As we make our way through the crowd (where's Moses when you need him?), our guide is telling us stories about the places we're seeing, like why one of the mosques in town is known as "the stinky mosque".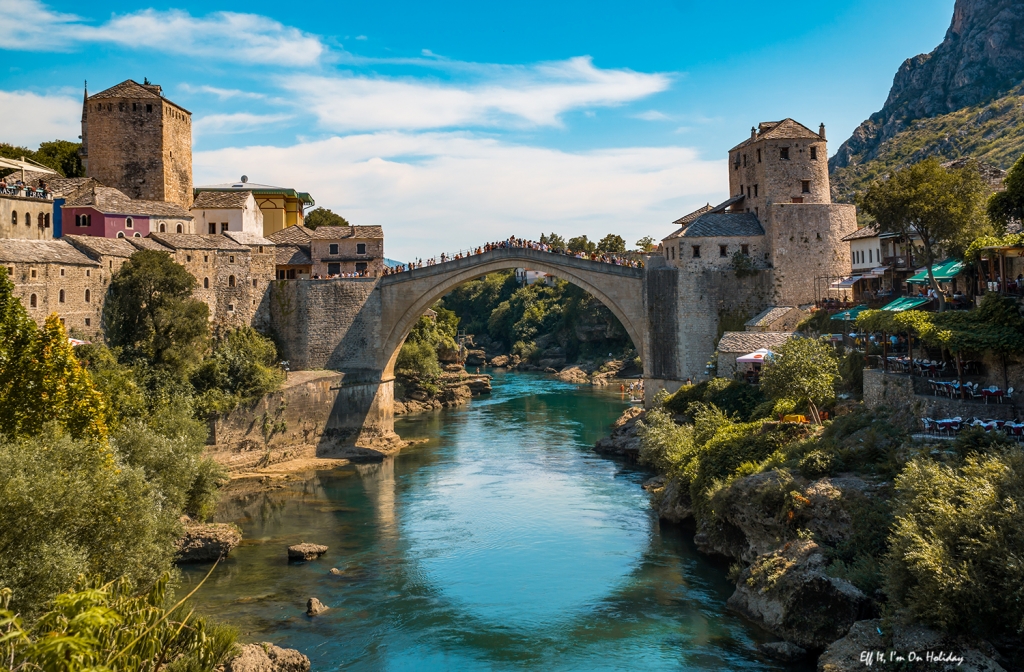 Slowly making our way from one story to another, we reach the famous bridge of Mostar, Stari Most (literally translating to Old Bridge), an UNESCO World Heritage Site…….aaaaaand it's technically only 15 years old. Commissioned in the 16th century by Suleiman the Magnificent, it took nine years to build and when it was done, it was the tallest man made arch in the world, of great importance for the Ottoman Empire. So how was it destroyed? Like all good things in this world: war. Specifically, in the Bosnian War, in November 1993. And to make things worse, it wasn't destroyed based on some strategical move, but because of its history, being built by Muslims, and what it symbolizes, multiculturalism in the country. Eventually, the bridge was rebuilt just like it was before and it opened in 1994, the reconstruction actually took less time than the original one and they used the same materials.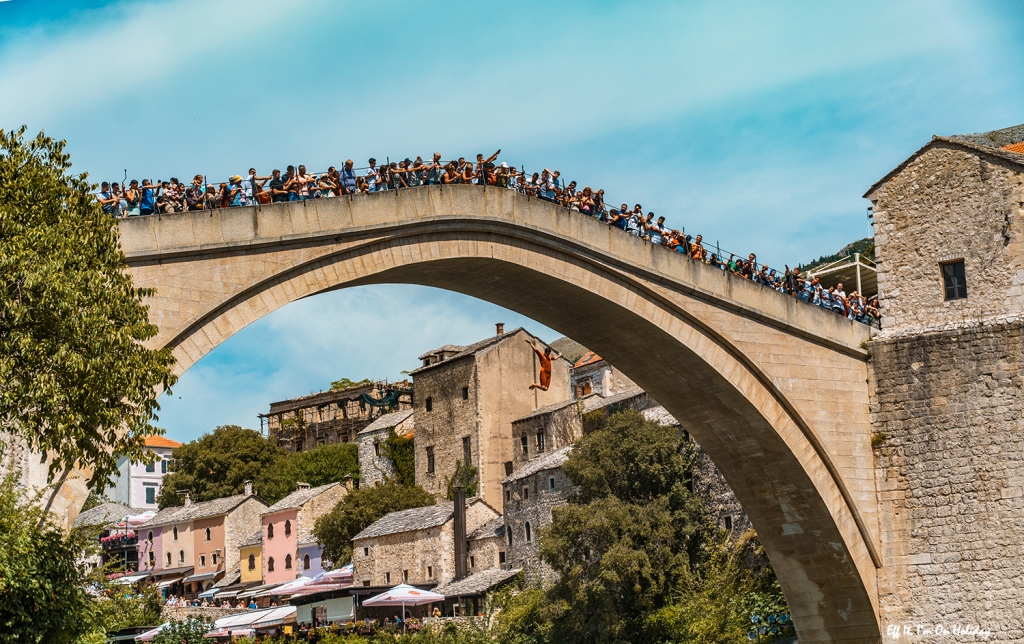 As I'm listening to the story and thinking where did we go wrong as humans, someone is jumping off the bridge. Ok, that sounds more serious than it actually is. People have been jumping off the bridge for hundreds of years, whether for fun or to impress someone. Nowadays, they also do it for money, tourists pitch in and watch a diver perform a death defying jump from the 24 meters high bridge. They also let tourists do it, if they think you're able, after some practice sessions, but there aren't many tourists who have done this. Gee, I wonder why. 🤔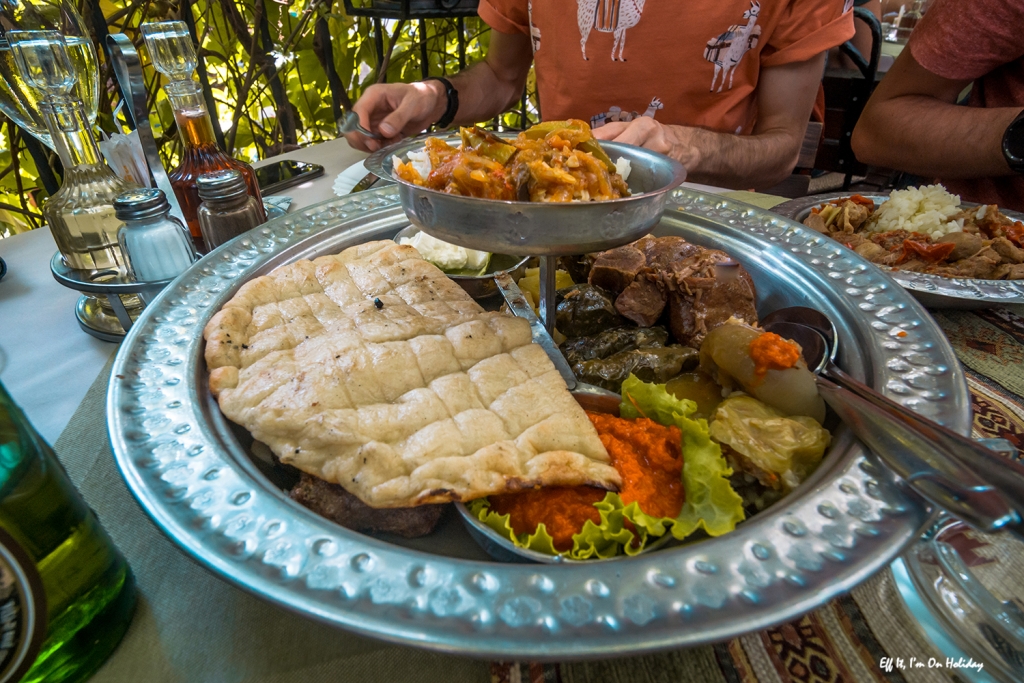 At the end of the tour, our guide takes us to a place he recommended earlier, with the best traditional Bosnian food. Luckily he made a reservation when we first passed it, because the restaurant, called Šadrvan, is packed with people. However, we don't wait long for the delicious (and cheap!) food, which makes us feel that if we were to jump off the bridge at that very second, a huge wave would cover the whole city.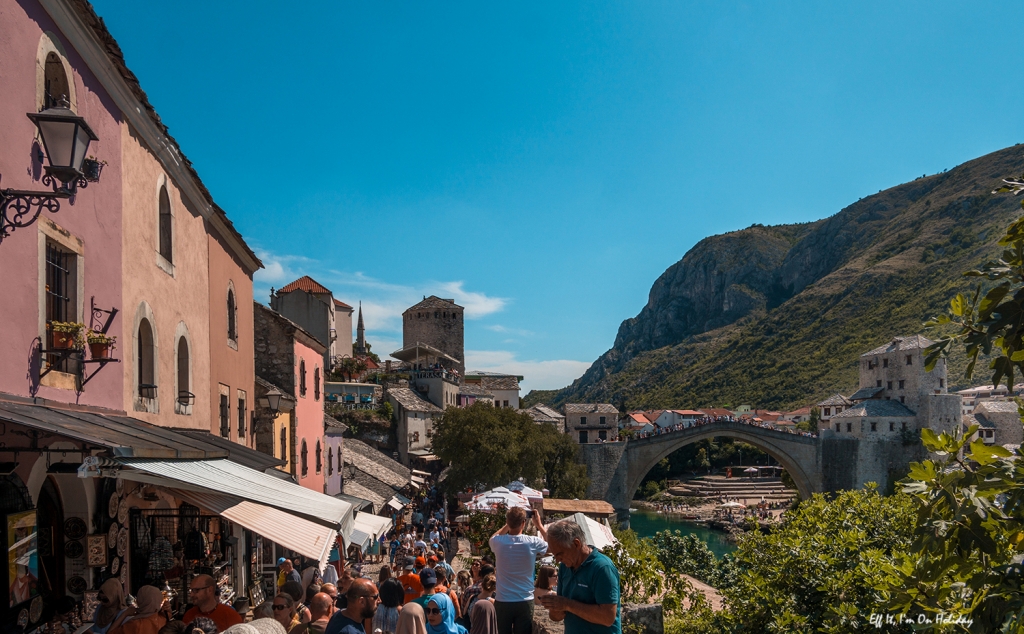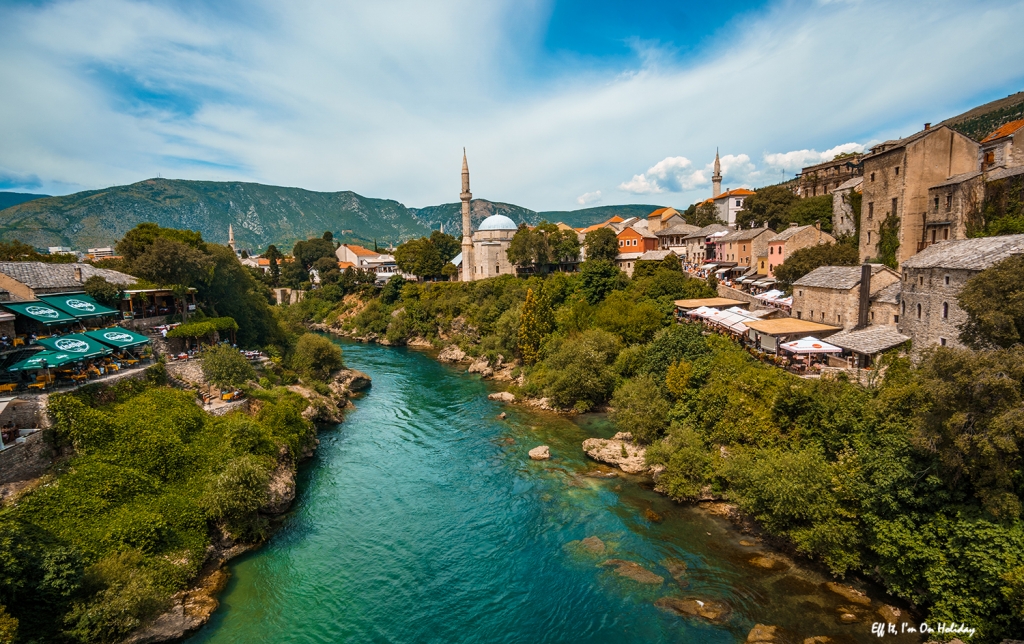 We have more time in the city so I end up doing everything else I've wanted. First we cross the bridge again, swim through a sea of tourists and get to the iconic Koski Mehmed Pasha Mosque, which is now a museum (meaning you don't need to cover yourself or take off your shoes). If visiting a mosque doesn't sound too appealing to you, then you should know that its back yard has the most beautiful view of Stari Most. 😉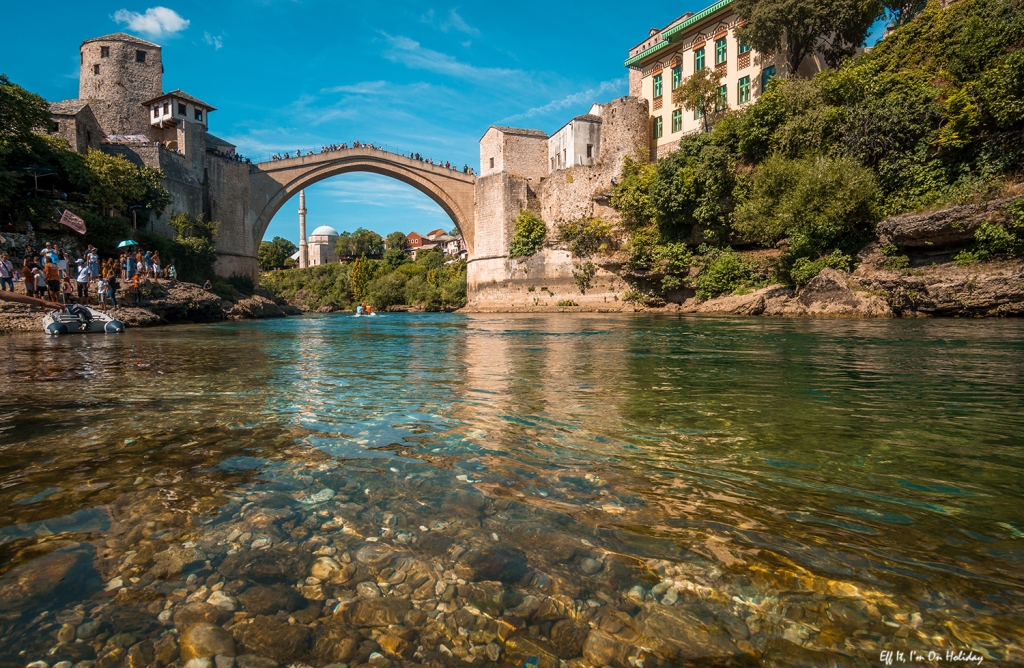 Next we stop to get supposedly the best ice cream in Mostar, before going back to the bridge. I've only had one ice cream in the city, so I have nothing to compare it with, but it is quite tasty. I want to get more shots of the bridge before we leave so I end up taking my shoes off and walk into the river, which is unbelievably cold. Luckily Paul has some flip flops in his backpack and by the time we get to the car, I'm beginning to feel my toes again. Worth it! 🤣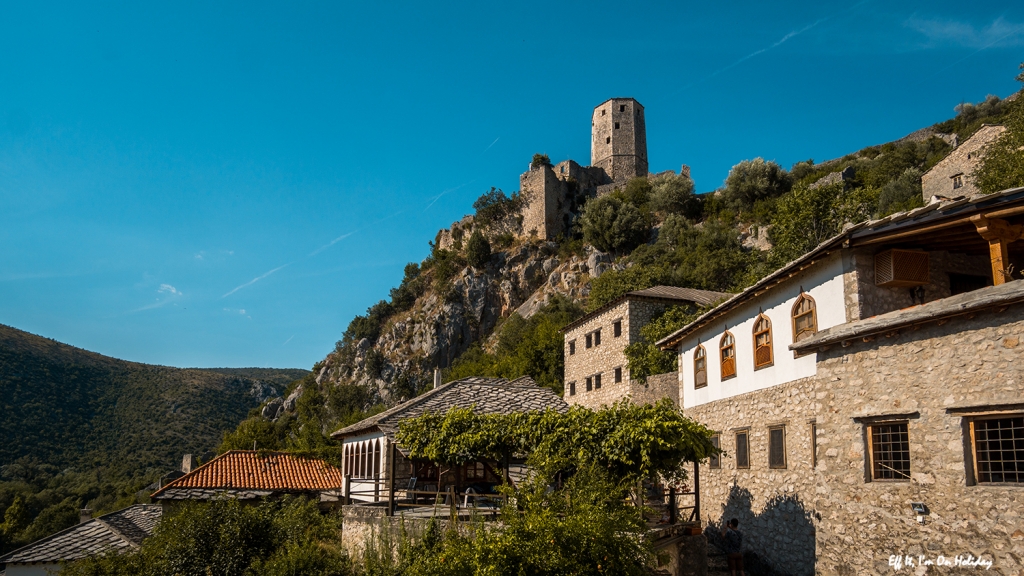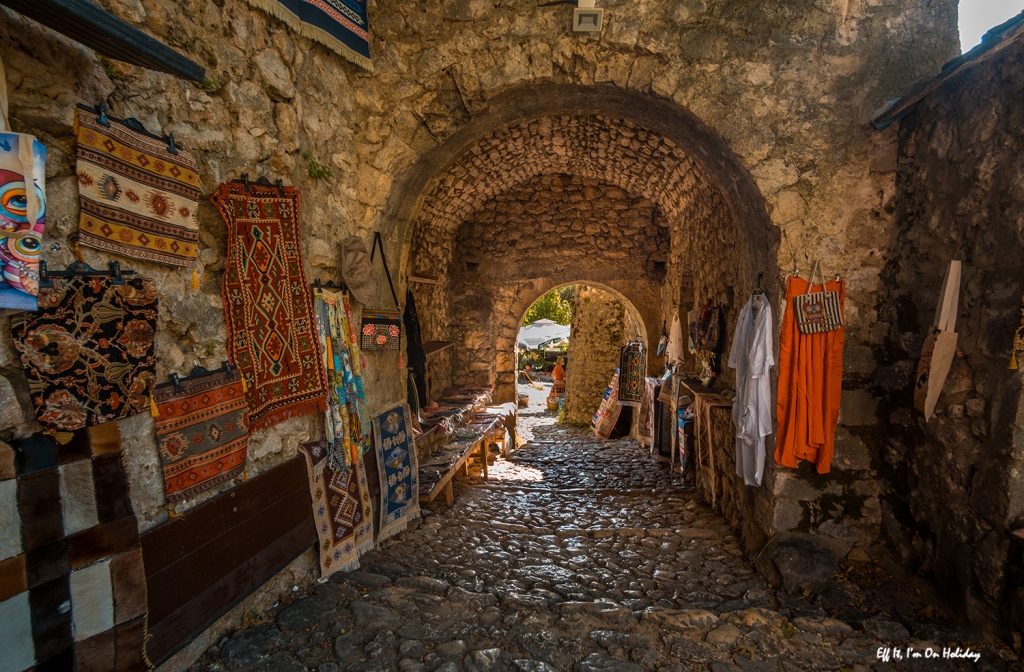 Our last stop of the day is Počitelj, a fortress town which feels more like a ghost town. We have a short stop here so we visit the mosque and wander around for a bit. Unlike Mostar, one thing is clear: it's a lot more quiet here, there barely are any tourists around. Which is a shame, because the town definitely has potential, which is why most tours that go to Mostar include it. If you're interested in Počitelj, John has a lot more information on his blog. We buy fresh fruit from local vendors and head back to the car for the journey back to Croatia.
After driving through Republika Srpska (why do they need so many consonants in its name?!), we reach the Croatian border and get back to Dubrovnik in time to wander around on its lovely streets, as the sun is going down and the city lights start to glow.
Have you ever been to Mostar? What impression did you leave with?
Disclaimer: I received a small discount from Dubrovnik Day Tours in exchange for a mention in this article, but all views are my own. As always, I wouldn't recommend something I didn't try and loved myself.