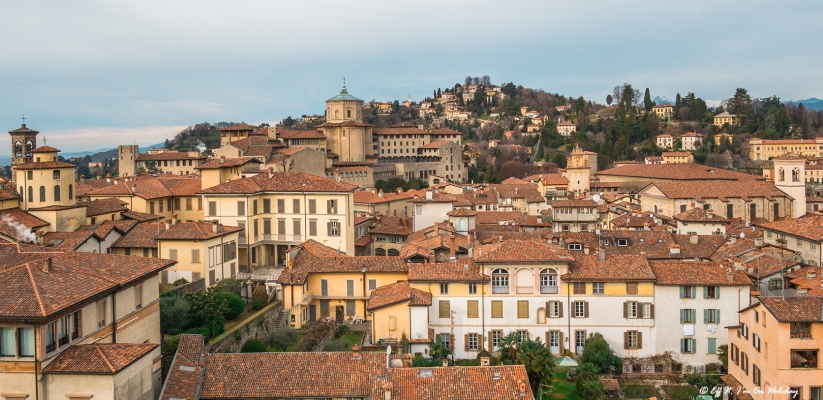 Weekend Guide to Bergamo, Italy
Bergamo is a city in Northern Italy, more commonly known as the gateway to Milan for low cost airlines like Wizz Air and Ryan Air, as most people land and then take a bus to Milan. Last year, we had the chance to visit the city and it was instant love. We had 24 hours before my flight to Thailand and since Milan can be quite pricy, we decided to check out Bergamo as well. This year we returned again, before a flight, but I loved every minute spent there. However, a weekend is enough time to see the city, at least the main sights, so read on to see why you should make Bergamo a priority in 2020.
What to see in Bergamo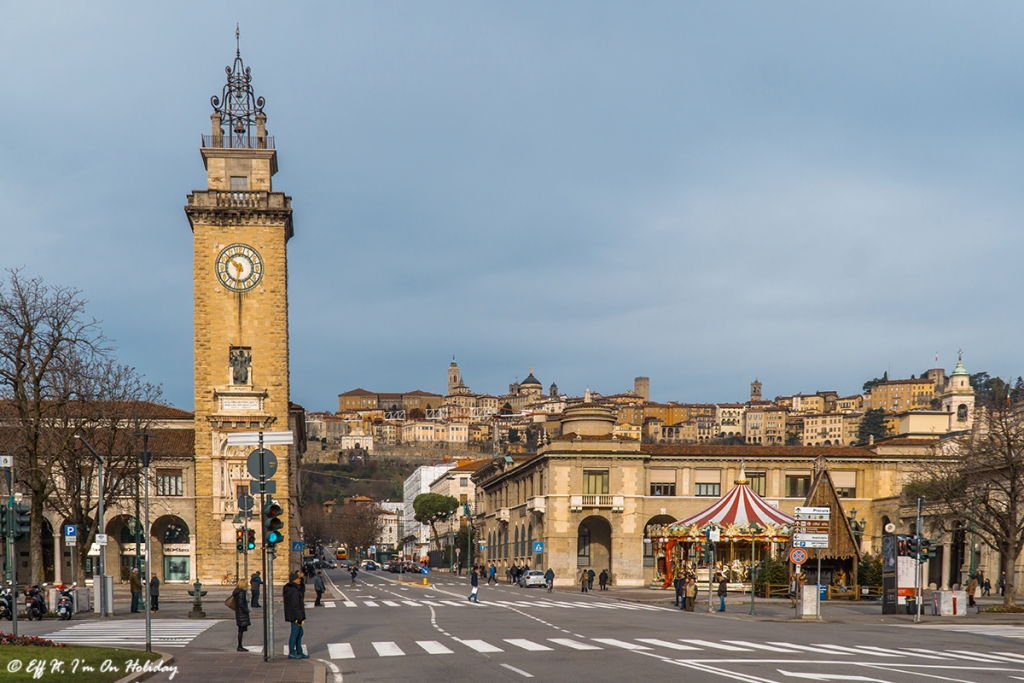 Bergamo is divided in two parts, the lower city and the upper city. The lower part is newer and your first taste of the city, since that's where the train station is. While it is a nice place, it is definetly overshadowed by the upper city, or Citta Alta, which is what makes Bergamo so special. Surrounded by Venetian walls built in the 16th century, it has become an UNESCO World Heritage Site in 2017. Since this is where you'll spend most of your trip, I'll talk about what you shouldn't miss.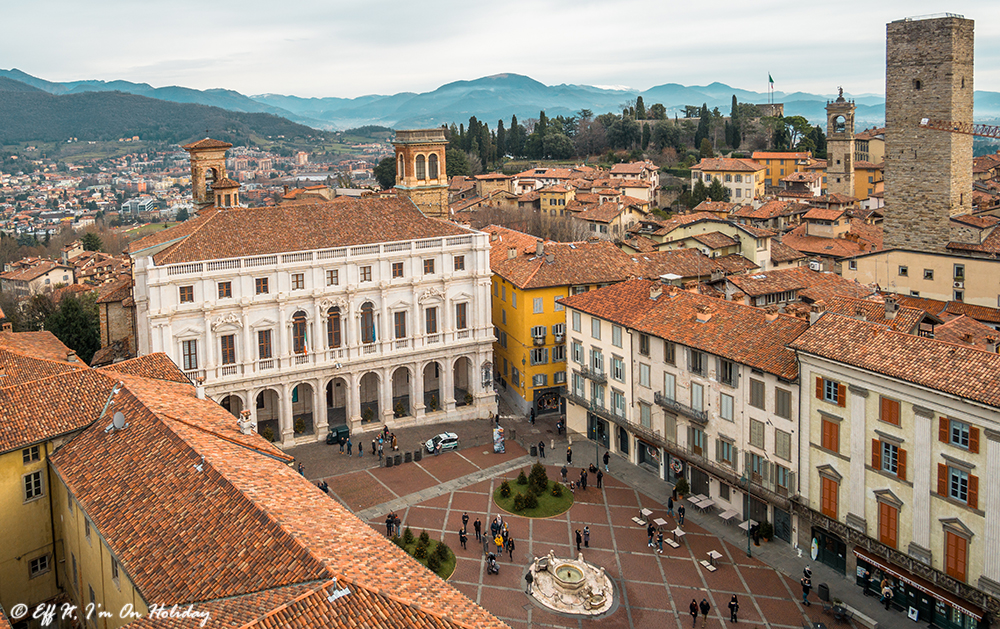 Piazza Vecchia – the heart of the old town, you can spend hours here admiring the architecture, drink coffee or eat all the gelato you can find. But you shouldn't stay too long, because a few steps away there is…
Cappella Colleoni – one of the most beautiful facades I've ever seen, built as a mausoleum for Bartolomeo Colleoni, who actually demolished part of the gorgeous Basilica of Santa Maria Maggiore to build his own personal tomb.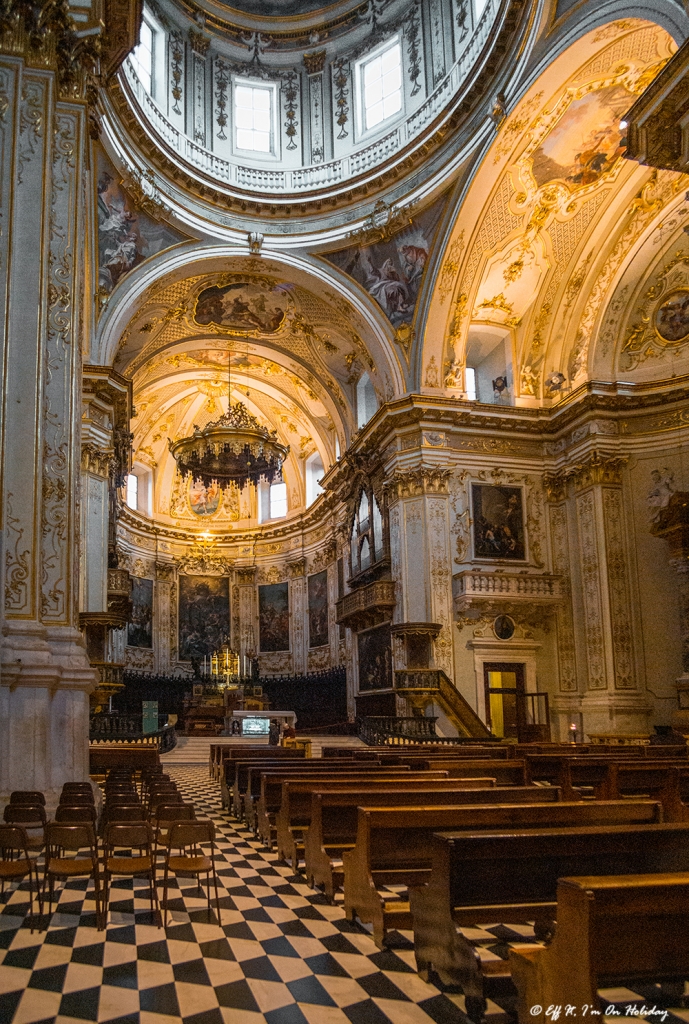 Right next to the Basilica, is the stunning Bergamo Duomo, the only cathedral remaining in the city – since there was another 9th century cathedral, which was destroyed by the Venetians in the 16th century.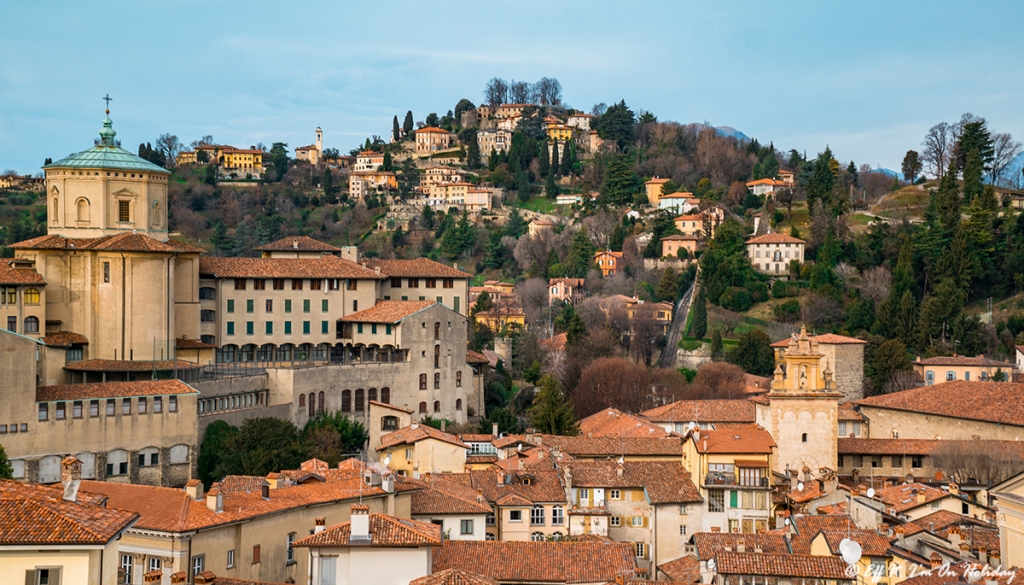 By this time you'll probably think it's time to move further away from Piazza Vecchia, right? Wroooong! You'll regret if you don't stop at Campanone, a tower with the largest bell in Lombardy, for amazing views of the whole town (including the lower city and the surrounding hills). You can go up the 230 stairs for a good cardio workout…or just take the elevator. 😉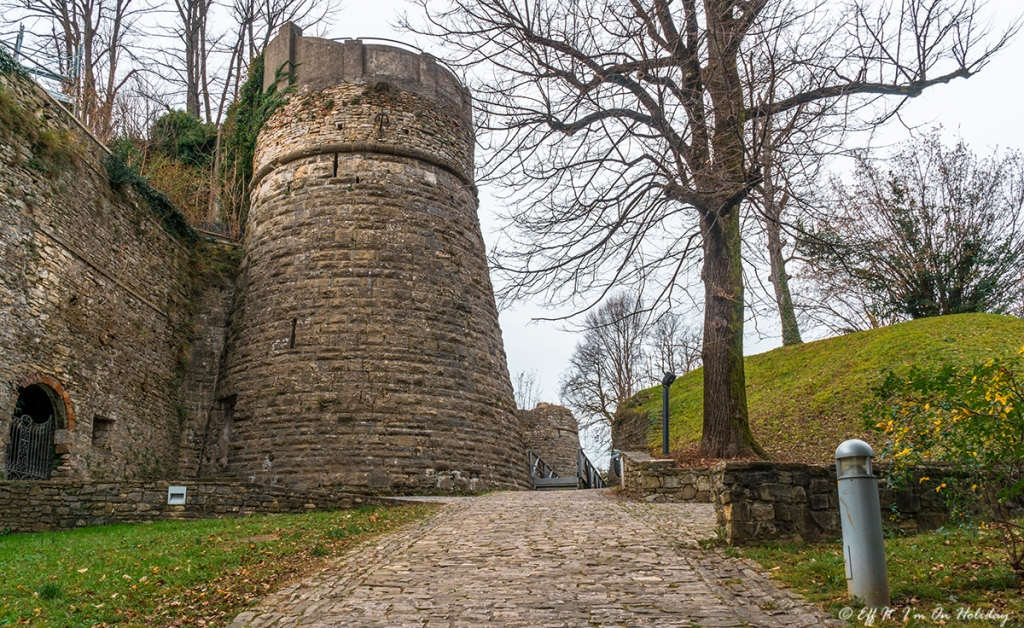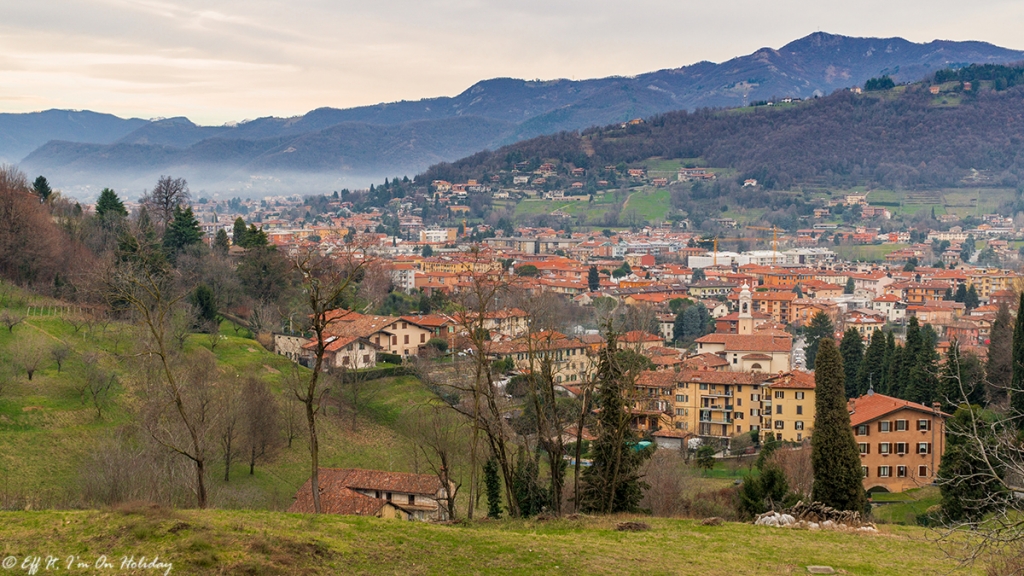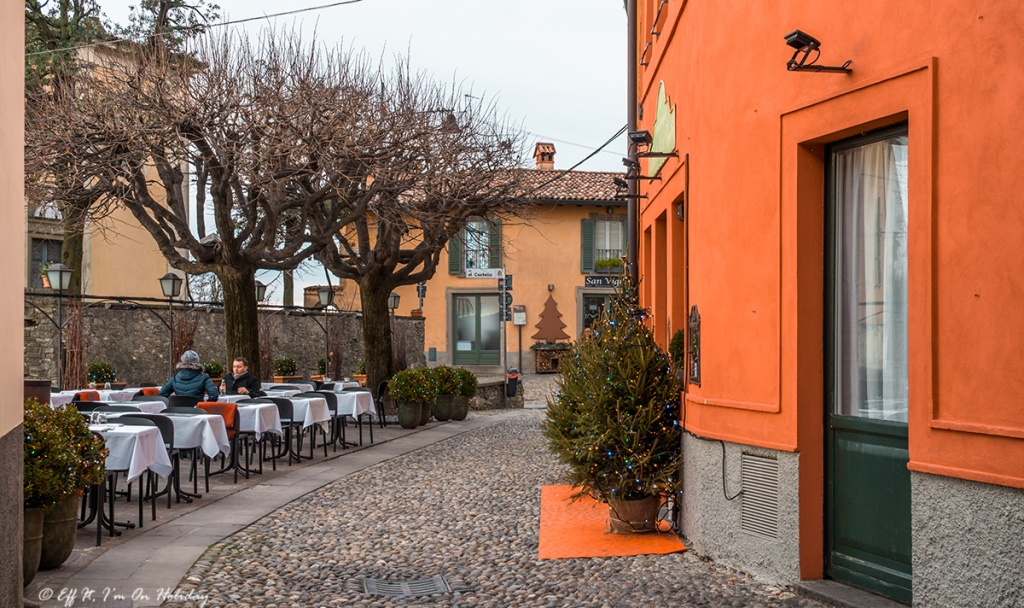 San Vigilio Castle – a quick funicular away is a castle with the perfect view over the whole Citta Alta and the Bergamo Alps, if you find the not-so-secret staircase in the walls.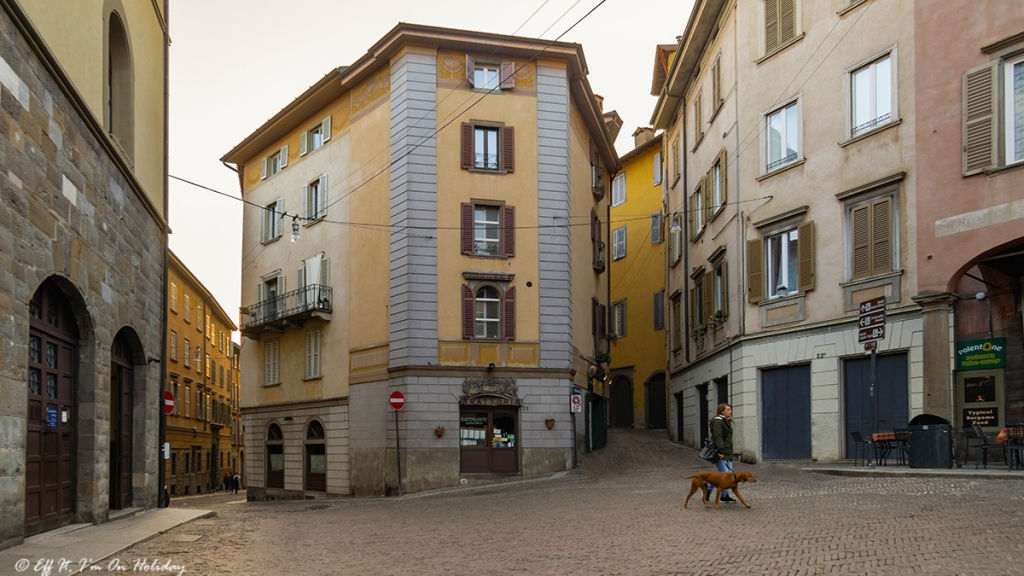 I firmly believe that despite all this, the best thing to do in Bergamo is to just wander and get lost on its alleys. Ditch the map and just go wherever your heart takes you. Stop for a cappuccino whenever. Take a left turn because a street looks photogenic (they all do!). Walk along the walls. It's a city best discovered on foot and this way you'll fall in love with it every time you visit.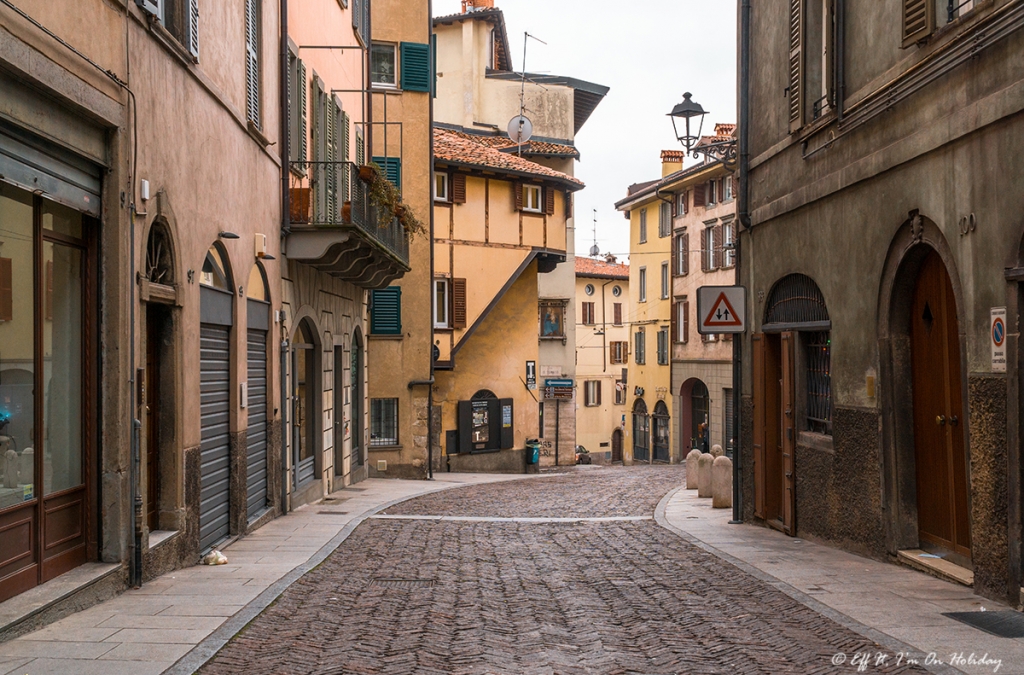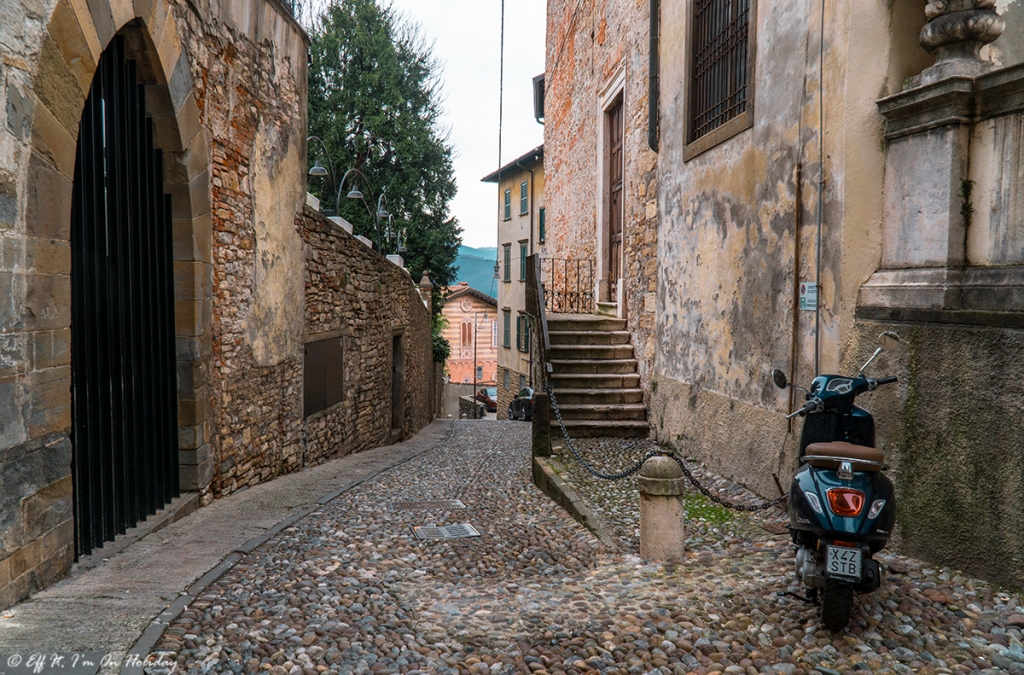 Getting around Bergamo
The good news is that Bergamo and especially Citta Alta are pretty walkable so it's best to get around using your two feet. But if you don't want to work out your feet by walking up the hill, you should know that there are two funiculars in Bergamo, one going from the lower town to Citta Alta, and another going from Citta Alta to San Vigilio Castle. A 1-zone ticket costs €1.3 and is valid for 75 minutes, so theoretically you can use the same ticket for both funiculars, if you're able to get from one to another without stopping for a hundred photos 😉
There is also a very useful 24 hour ticket for all public transportation options that costs €3.5 for the whole city or €5 to include the airport bus as well. For €7 you can get a 72 hour ticket (includes the airport bus, there isn't a city only version) and it's perfect for a weekend trip.
Where to stay in Bergamo
I've stayed in Bergamo three times at three different acommodations and each time I had the same criteria: it needs to be close to the train station. Also, make sure the property allows late check in if you arrive Friday night, a lot of properties in Italy only allow it for a fee or don't allow it at all. I've had a property that said I can't check in at the time I request….but still proceeded to reimburse my credit card 😐. Anyway, the properties I liked and can recommend are: Pixie Dixie & Moses Malone, B&B Centrobergamo (or B&B Le Grazie, same owner, same building) and Hotel Mercure Bergamo Palazzo Dolci (24 hour reception – very important sometimes!)
Where to eat in Bergamo
The owner of the first B&B where we've stayed at recommended us a restaurant where locals eat and every time I'm in Bergamo, I always eat there, at Il Circolino. Located in the historic complex of Sant'Agata, better known as the old prisons of Bergamo, they always have delicious food, good wine and very reasonable prices. However, sometimes you may have to queue if you don't have a reservation, but it's definitely worth it!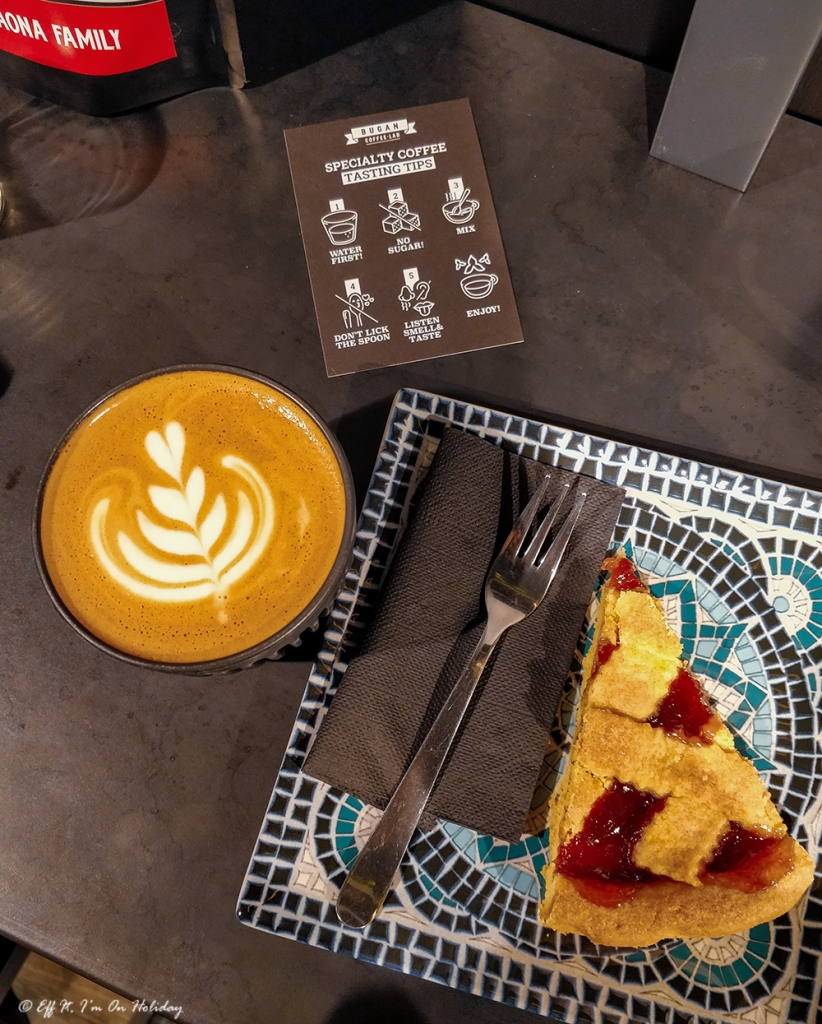 Italy isn't short of good coffee, but if you love specialty coffee like me, you don't need to look further than Bugan Coffee Lab. I discovered it accidentally the last time I was there (the monkey in the window caught my eye) and I'll definitely go again when I return.
What do you think, ready to plan a weekend in Bergamo?