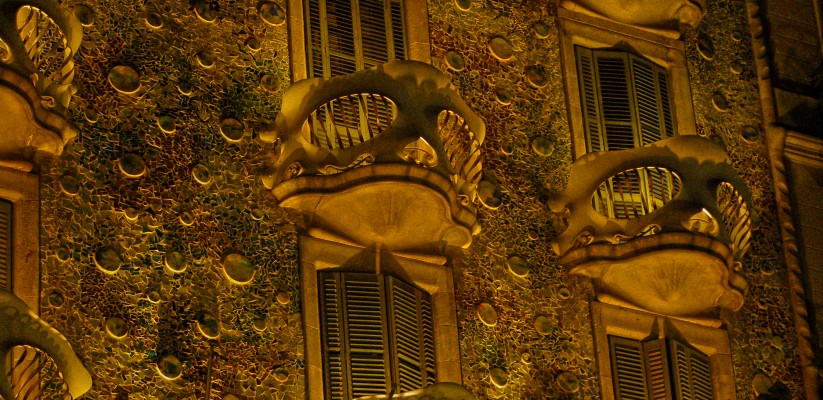 A Very Gaudi Tour in Barcelona
Fact: Barcelona is my favorite city I've seen so far. And it will most likely stay this way, since they say you never forget your first love. So this is why I was nervous about writing the first blog post about it, because I don't think words (or even photographs) can do it justice, you have to be there. Barcelona is a city with impressive architecture, unlike any place I've ever seen, and a lot of it has the signature of the famous Antoni Gaudí. If you don't know Gaudi, you'll most likely recognize his work in Barcelona from the colored tiles in mosaic patterns, interesting shapes or forms inspired from nature or religion elements. If you want to go on a Gaudi tour in Barcelona, below is a list of some must-see places in Barcelona that have one thing in common: the name of the Spanish architect.
Placa Reial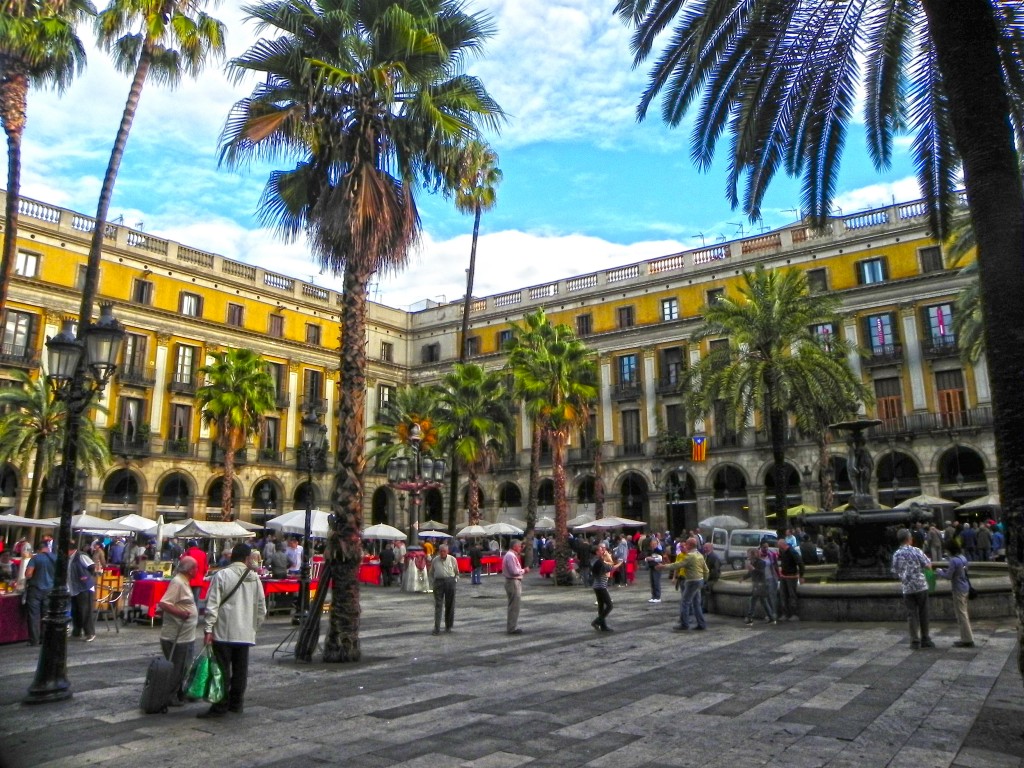 Why it's cool: Granted, Gaudi's influenced is minimal here, as he only designed the lamp posts , but it's one of my  favorites in Barcelona. Between the buildings, the fountain, the palm trees…..this just feels like the heart of Barri Gotic to me, even though it's not. There are restaurants all around and one time I saw an antiques fair there.
Where it is: Just off La Rambla street, between the Liceu and Drassanes metro stations.
Parc de la Ciutadella Fountain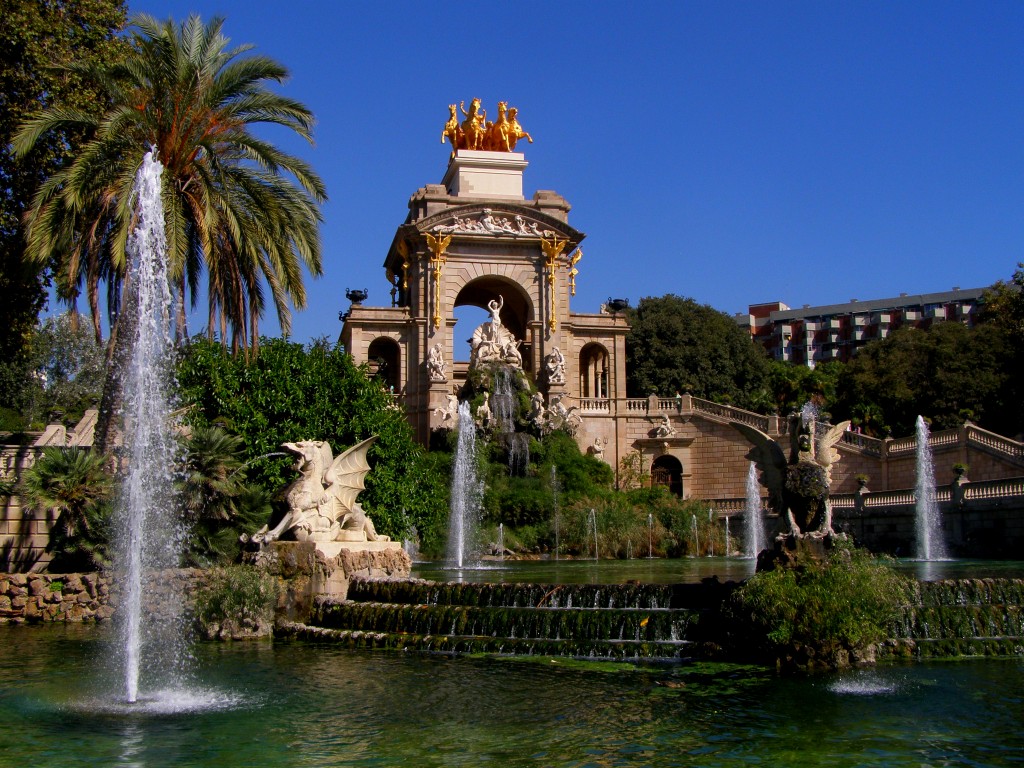 Why it's cool: Although it was designed by  Josep Fontserè in 1877, Gaudi was only an unknown student then, but he had some say in the project as well. Made to resemble the Trevi Fountain in Rome, this is a place that shouldn't be missed, especially in summer. The whole park is beautiful and you can see the Parliament of Catalonia as well as the Zoo.
Where it is: Arc de Triomf metro station, go past the Arch of Triumph, you can't miss the entrance of the park. Once you're in the park, you have to turn left and walk straight.
Useful info: The first time I visited, there was a nice little cafe outside, you could sit at a table and admire the beautiful view. Do go up the stairs for a better view of the park from the top of the fountain.
La Pedrera (Casa Mila)
Why it's cool: One word: rooftop! Controversial at its time for the undulating facade and forged iron balconies, it's famous for the rooftop with its chimneys, sculptures and skylights. Although you mostly hear people talk about the rooftop and its exterior, I want to add that I really loved the gorgeous atrium.
Where it is: Passeig de Gracia, very close to Diagonal metrostation.
Useful info: Ticket for one adult is €16.50. You should mentally prepare for long queues, I think that from all the places we've been in Barcelona, this is where we waited the most.
Casa Batllo
Why it's cool:  The stunning facade that's more different and better looking than any building you'll ever see. This is when I concluded that Gaudi was a genious. The exterior is divided into three parts that blend together perfectly. The first part at the bottom is made from sandstone with undulating lines, the middle has Gaudi's unmistakeable mosaic tile pattern, with balconies that look like skulls and at the top of the facade, the rooftop resembles an animal's back (dragon? 🙂 ).
Where it is: Passeig de Gracia (what isn't there?), right across the street from the metro station.
Useful info: Tickets are €21.50 euros and it includes an audioguide that I recommend because it is very informative. Just like at La Pedrera, there will be queues, but if you buy the tickets online, you can pay an extra €3 to skip the queue altogether. Do make time to go there once the sun goes down and the lights go out, you won't regret it. The way the balconies shadow the facade is almost creepy.
Parc Guell
Why it's cool: Built on a hill called Muntanya Pelada (Bare Mountain), a number of houses were supposed to be built there, but in the end only two were, one of them being the one in which Gaudi had moved in with his family. Now it has become a symbol of the city. The terrace with its mosaic tiles overlooks the city and Gaudi's salamander, also known as "el drac" is found in every possible souvenir. And if you say you saw el drac while there was no one around, you're either lying or you have connections! Between the calm of the park, the parrots in the palm trees, the beautiful scenery, colonnaded pathway….it's no wonder why I chose to spend my birthday there 🙂
Where it is: This part is a little tricky. We found the metro the most convenient way to get around Barcelona, but the closest stop isn't so close to the park. I'll just tell you how we got there: metro station Vallcarca (Line 3), walk on Avinguda de Vallcarca, then turn left on Carrer de les Medes where if you keep walking straight, you'll get to the park. Warning though, there are a lot of stairs!
Sagrada Familia
Why it's cool:  Helloooooooo? This is Gaudi's masterpiece! Asking why it's cool is like asking why you should travel. The construction began in 1882 and it still isn't finished, it's estimated it will be done in 2026, 100 years after Gaudi's death. And if you see it, you'll understand why it took so long. Its size is outstanding and the details of the statues on the facade will take your breath away. Although the construction stopped during the Spanish Civil War and a lot of Gaudi's models were destroyed, that didn't stop the people for finishing Gaudi's jewel.  The basilica has three facades, Nativity to the East, Passion to the West, and Glory to the South, yet to be finished which is said to represent one's ascension to God.
Where it is: In the beautiful neighborhood Gracia, at the metro stop called, you guessed it, Sagrada Familia. Can't be missed. Also, take some time to explore the surroundings, it's such a calm area. This is where we've stayed, we rented a nice apartment that I totally recommend.
Useful info: Ticket prices start from €14.8 online, you can add audioguide and a visit of the towers, that was my favorite part, as the interior of the basilica was dusty and….not good for my allergies.
Want even more Gaudi?
If you want to see even more places by the famous architect, here are some that you may like. I haven't been there myself, but if I were to go back again to Barcelona (and I will!), I would start here:
Palau Güell
Colonia Güell
El Drac de Gaudí at Finca Güell
Casa Museu Gaudí