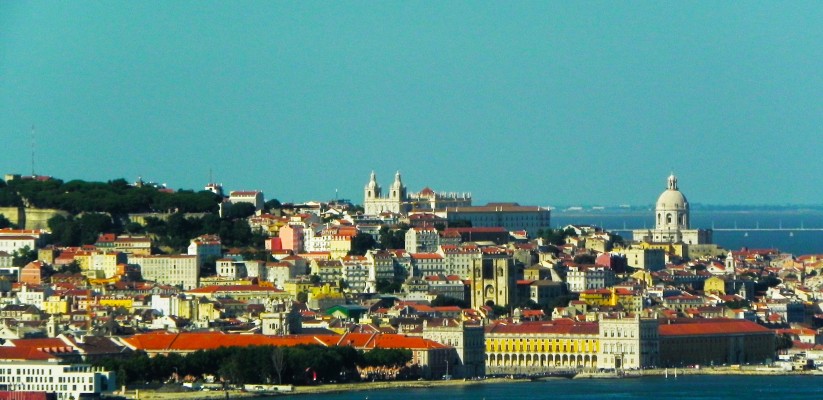 10 Things You Need To Know Before Visiting Lisbon
So you've decided to go to Lisbon. Congratulations, you're in for an unforgettable trip! Or you're on the fence, not knowing whether to go to the capital of Portugal or someplace else. Or you've never ever heard of Lisbon (HOW?!). No matter which side you're on, the series I'm starting today will convince you to pack your bags and head to the westernmost capital in continental Europe.
Before I talk about what you can do in Lisbon, I'll start with a list of 10 things you need to know about the city.
1.  Lisbon is the second-oldest capital in Europe (after Athens), built on seven hills, just like Rome and other cities. Its rich history goes from occupation by different conquerors (the Moors being the most known), to the great explorers in the 14th and 15th centuries (I'm sure you've heard of Vasco da Gama), and the Great Earthquake in 1755 that destroyed a large part of the city that had to be rebuilt. Some buildings survived the earthquake and if their walls could talk, you would be in for some unbelievable stories.
2. The official language is Portuguese, and while there may be similarities to Spanish, they are two languages of their own. So before you go off and say gracias, keep in mind that it may offend people and the word for "thank you" in Portuguese is obrigado, or obrigada if you're a girl. So if an old lady hits you with her cane after you've told her gracias, well…you've been warned!
3. The water you're seeing? NOT the Atlantic Ocean. For the geographically challenged, it's not the Mediterranean Sea either. It's the Tagus River (Tejo in Portuguese), the longest river in the Iberian Peninsula. After the Belem area, it flows into the Atlantic Ocean indeed so if you take a day trip from the city, you'll be able to go to the beach and swim in the ocean.
4. The Lisboa Card will help you save a lot of money. Public transportation is included in the price as well, Lisbon may be a small city, but not all sights are close to each other. Details on what is included can be found here.
5. With the Atlantic Ocean nearby, the temperatures are always mild. The summers aren't too hot and you won't be freezing in winter. This being said however, keep in mind that August is the hottest month of the year so if that's not your thing, try coming in July (perfect weather, but very cold water) or September (like I'm doing this year).
6. Lisbon is home to many architectural styles, from the Romanesque Sé cathedral to the Gothic ruins of Convento do Carmo. But a style you may not have heard of is the Manueline, a sumptuous Portuguese late Gothic style, that you can see in the Belem Tower or the Jeronimos Monastery. The Baroque style is also represented by a lot of gold, that architects used to create masterpieces. When the gold was gone, however, after the earthquake, a return to simplicity was in order and thus appeared the Pombaline style, found in the Baixa neighbourhood.
7. Accommodation is affordable. I can't talk about other prices (such as restaurants and shops) because everyone has a different definition of cheap, but when it comes to accommodation there are a lot of places offering affordable rooms. If you're staying for more days (or have a larger group of friends) consider renting an apartment, as it may be more convenient for you.
8. Whenever I go somewhere new, I like to find out where can I see the city from above, I feel like it's an important part of the trip, as it gives me a different perspective on the place I'm visiting. In Lisbon, you don't have to look too much, there are a lot of viewpoints (or miradouro), perfect for admiring the Portuguese houses.
9. If you're visiting Lisbon, you cannot leave without riding one of their yellow trams, that are both old-fashioned and magical, you'll feel like you went back to another century (in the good way, of course). The famous 28 line goes all around town and it's the perfect way to see the city. You can hop on and hop off at any time.
10. Get lost. Seriously, Lisbon is one of those places where you'll be fascinated to walk aimlessly and admire the beautiful houses on picturesque streets.
I hope I'll convince some of you that Lisbon is well worth a visit and in the next blog post I'll talk about all the things you can see in the city. It's going to be a lengthy one 🙂