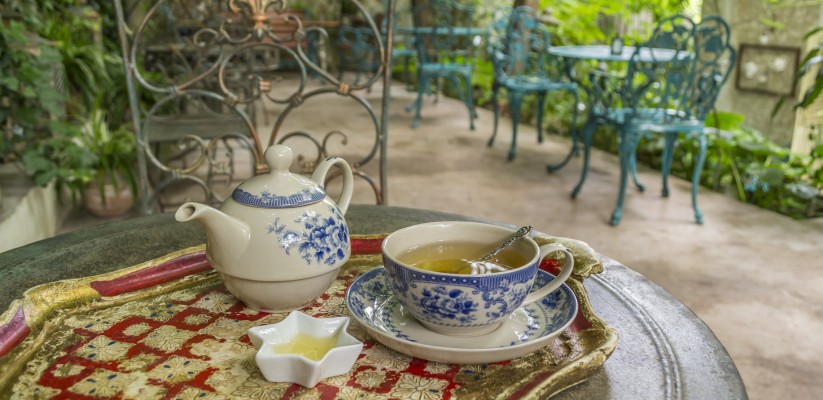 The Serenity of Infinitea
As I sat in the beautiful garden of Infinitea, I tried to pinpoint the first time I was there, but I simply couldn't remember. It comes as no surprise though, since it's a cozy place that I visit with a smile whenever I have the chance. The serene atmosphere makes it a perfect place to catch up with friends and talk for hours on a carefree, relaxed afternoon. Located in the most elegant neighborhood of Bucharest, Cotroceni, with magnolia trees and one house more impressive than the other, let me show you why this tea house is my favorite spot in town.
The rooms
The moment you walk in, you'll feel the need to take off your shoes and make yourself comfortable, because you just know you won't leave for a few hours. The chic furniture and the quirky decorations (hello dog butler!) bring the room to life, making it more special. If you are stopping by in winter, you can warm up with a cup of hot tea and enjoy a good book or a nice conversation. If you are visiting in summer however, you can choose to stay inside and have the whole place to yourself because everyone else will be in….
The garden
The quiet and charming garden is, in my opinion, what makes Infinitea better than the other tea houses in Bucharest. You can escape the summer heat because the trees will protect you and create an oasis for you to have a good time. The turquoise iron chairs and tables blend perfectly with the rest of the garden and the unique decorations with tea cups and kettles on the walls will delight you.
The tea & the food
Obviously, you didn't come just for the location, you also want to enjoy a cup of tea. You can choose from a large variety of tea (green, black, white, yellow, fruit) and whichever the choice, you can be sure you'll be happy with it, each time I order something else and I've never been disappointed. They come in two sizes, small and large, and the small one (pictured) is enough for two cups. You can also choose to serve the tea cold, perfect to cool down on summer. However if you don't feel like drinking tea, they also have lemonade, orange juice, coffee or water. The price for tea depends on which kind it is, varying from 10 Ron to 25 Ron (€2.2 to €5.5). If you are feeling hungry, you can try a homemade quiche (18 Ron – €4) and for your sweet tooth you can't leave without indulging in a mouthwatering chocolate mousse (18 Ron – €4) or some cookies.
Location
Getting to Infinitea can be a bit tricky if you've never been before. From Unirea, you can take the metro two stops to Eroilor. From there, I found it's best to walk to the tea house, so I've attached a map.  The place is always full, so you'll need a reservation, you can contact them on their site.

Whether it's winter or summer, Infinitea is the perfect place to spend an afternoon with loved ones, enjoying a cup of tea and letting the hours pass by. Would you like to go?