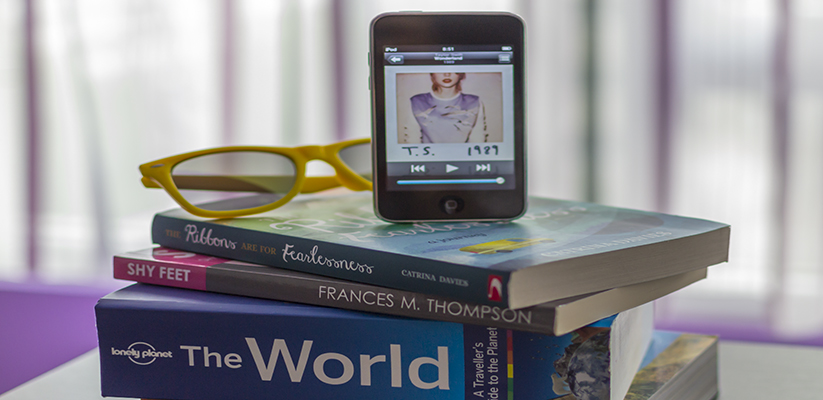 Songs From My Travel iPod
This week I wanted to try something a little different. Since I am going to Barcelona in a couple of days (fingers crossed it won't rain the whole time!), I wanted to tell you about something that I never leave the house without and that's been with me on every trip abroad I took: my travel iPod. It's my secret to sleeping on flights or making long train rides more enjoyable. Despite the occasional glitches and tempting newer models, it's always there with me, in my pocket or in my backpack. Before every trip I update it and this time, I have Apple Music to thank for allowing me to discover a lot of great artists. Here are 10 songs that I've recently added on my travel iPod and will most likely listen to on my way to Barcelona, neatly arranged in a YouTube playlist.
Curious to see what I think about each song, what my favorite lyrics are, or what other songs you need to listen to from each artist should you have liked any of the songs on the playlist? Well keep reading then. 😀
Colors by Halsey
"A hypnotic new voice emerges" was the Apple Music description of Halsey's debut album Badlands and it was enough to catch my attention. I loved the album from the first time and this song was by far my favorite. It's not even a single but in my opinion it's her best one, I've been seriously obsessed with it and listened for a few days straight.
Favorite lyrics:  You're ripped at every edge but you're a masterpiece
Also listen to: Ghost, Roman Holiday, Strange Love
Better Love by Foxes
I'm so happy I got to see Foxes live this summer, she has an amazing voice and I got to hear new songs for the first time, like Better Love. What makes it even better is that it's composed by Dan Smith from Bastille, who even sings on it.
Favorite lyrics: When you lay me down I forget that all I want is a better love
Also listen to: Feet Don't Fail Me Now, Glorious, Holding Onto Heaven
Oceans by Seafret
Hidden between all the crap that YouTube recommends me, I found this great song from a band I knew nothing about. I admit, I clicked on it because Maisie Williams (Arya from Game of Thrones) was in the cute video, but the plays from my travel iPod can confirm that I like the song more than the video. 😉
Favorite lyrics: We hide our emotions under the surface and tryin' to pretend but it feels like there's oceans between you and me
Also listen to: Atlantis, Be There
Good Times by Ella Eyre
While this is not a new song, I recently added it on my travel iPod after the release of Ella's debut album, which I had high hopes for and didn't disappoint a bit. In fact, this is the song I listened a lot, especially while packing, before the trip to Northern Europe.
Favorite lyrics: We're getting by, we've done it before, all the nightmares that I've learned to ignore and you, you've been there too
Also listen to: Comeback, Typical Me, Alone Too
Fight Song by Rachel Platten
A catchy song with a great message about believing in yourself, from a singer to watch out for, I'm sure she's going to become really popular soon enough. I'll be happy to act all smug and say I knew her when. 😉
Favorite lyrics: I might only have one match but I can make an explosion
Also listen to: Lone Ranger, Beating Me Up
Fire by PVRIS
Ah, the only rock song on this list. There was a time when I listened to nothing but rock music, but nowadays I'm really picky when it comes to rock music. This is another song that I discovered on Apple Music that went straight on my travel iPod. Pronounced Paris (spelled with a V to find them easier on search engines), I love their fresh sound and how easily they can blend a post-hardcore melodies with pop elements.
Favorite lyrics: It's hard to find life in something that's already died.
Also listen to: St Patrick, White Noise
Let It All Go by Birdy & Rhodes
I didn't know about Rhodes before, but I knew Birdy and it was love at first listen, their voices blend perfectly together and created this awesome song.
Favorite lyrics: Who says truth is beauty after all? And who says love should break us when we fall?
Also listen to: Wings (by Birdy), Breathe (by Rhodes), Blank Space (by Rhodes, a haunting Taylor Swift cover)
Different Colors by Walk The Moon
Walk The Moon is such a fun band and while a lot of people know their hit single Shut Up And Dance, not many heard more than that. Different Colors is a song that recently came on shuffle on my travel iPod and made me ask myself why don't I listen to it more often, because it managed to make me smile after a day at work.
Favorite lyrics: Been under this spell, oh, but we're coming awake, so we'll be rude, we'll be loud, as long as it takes
Also listen to: Shut Up And Dance, Anna Sun, Portugal
Wild by Troye Sivan
I just love a good choir in a pop song and the two seconds choir in the beginning of Wild sold it for me and when Taylor Swift tweets about it in all caps, you know it's the real deal. 😉
Favorite lyrics: Leave this blue neighbourhood, never knew loving could hurt this good
Also listen to: Fools, Bite
On My Mind by Ellie Goulding
Ellie Goulding has recently become one of my favorite singers, but when I heard her new song, On My Mind, I was disappointed to say at least. So why have I listened to it 50 times (no exaggeration) the day of its release? It's just so damn catchy! I've actually listened to it every day since, but I do admit that I hope the other songs on her album will be better.
Favorite lyrics: You were talking deep like it was mad love to you / You wanted my heart but I just liked your tattoo
Also listen to: My Blood (my ringtone and favorite song from her), Joy, Burn, Love Me Like You Do
Did you like any of the songs above? I'd love to hear what you listen to when you travel.