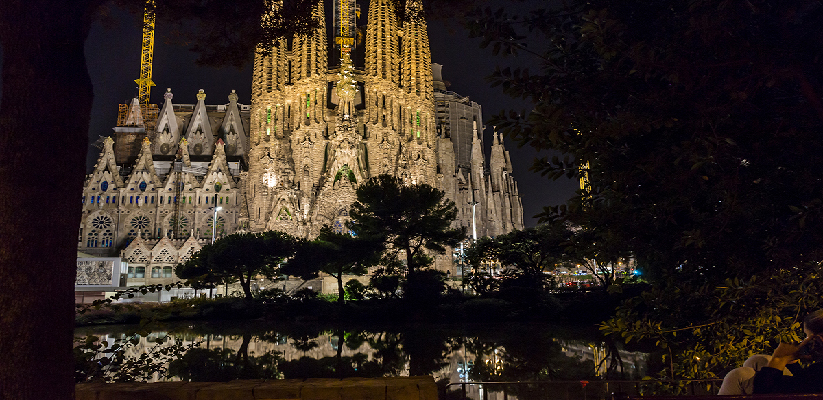 An Apartment With A View In Barcelona
I recently went back to my first love, Barcelona and had the chance to see the city through different eyes, the ones of a more experienced, grown up traveler. But one thing hasn't changed over the years: the way I feel for the city and how beautiful it is. Because it was my birthday trip, I wanted everything to be memorable, from the accommodation, to the restaurants where we ate. So I turned to AirBnb for the first time and found a bunch of good choices, but one stood out in terms of quality, comfort and cost. What better way to start the day than in an apartment where you can have breakfast on a terrace overlooking the gorgeous Sagrada Familia? Sounds like the perfect place to stay in Barcelona, doesn't it?
Rooms and facilities
The apartment is spacious enough for four people, having two bedrooms, one with a large double bed and one with two twin beds, as well as a living room where you can have a meal or watch some tv. I admit, we only turned on the tv once, on the first day, and that was only to see what was on. Truth be told, there's no time to watch tv when you're in a city with so many interesting sights and things to do. 😉 There is also a fully equipped kitchen and you can easily cook your meals to save some cash. With a supermarket right across the street, we bought groceries and had a hearty breakfast every day. It has a spacious bathroom and I loved that there was enough room for the toiletries from all four of us. Another positive aspect is the excellent wifi connection which allowed me to share a lot of Instagram photos while I was there.
The best thing about the apartment however is its lovely terrace with a view of Sagrada Familia. From the minute I saw the pictures, I knew that this was the place I wanted to book. Sadly, because it was cold or rainy every morning, we had breakfast only in the living room, but it would have been great to stay at the table on the balcony and have tea or coffee before setting out to explore the city.
The only flaw of the apartment is that it's on the 4th (technically 5th) floor with no elevator, so going up and down the stairs (especially with luggage) can be quite the work out. But we were greeted in the evening when we first arrived with a lovely bottle of wine and four very much needed large glasses of water.
Location and price
Minutes away from the apartment: Sagrada Familia (left) and Hospital de la Santa Creu i Sant Pau (right)
Located 3 minutes on foot from Sagrada Familia and the metro station, you can quickly get to any point in the city thanks to the excellent metro system. The neighborhood is filled with restaurants, cafes and shops, some of them surprisingly good, so if you're hungry and don't feel like going too far one night, there are plenty of choices nearby.
The rates start from €90 per night for four people and they require a minimum of 2 nights.  In addition, you need to consider a €45 cleaning fee and the Airbnb service fee (charged for all bookings). We ended up paying €35 per person per night, because it was my first booking. If you don't have an Airbnb account yet, sign up here and get a €18 discount on your first booking (I get a little credit for my next booking as well, everybody wins! 🙂 ).
I definitely recommend the apartment if you are planning a trip to Barcelona, it's great for both families with kids and small groups of friends looking to relax in a lovely and comfortable place after a whole day of walking on the streets of the city.