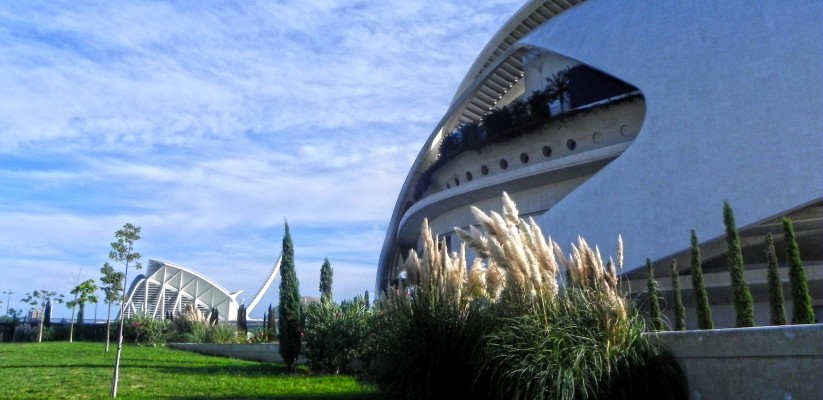 Sunny Spain: Valencia
Spain and Portugal are my favorite summer destinations and it's no surprise these are the countries I've seen the most of. Between the beautiful cities, the breathtaking landscapes, lovely languages and mouthwatering cuisine, I'm only surprised I don't go there more often.
I'll start with Spain and one of its lovely cities on the Mediterranean Sea shore, Valenica. Confession: before I arrived and started exploring the city, I've always viewed Valencia like Barcelona's uglier little sister. I take all of that back now, it's a city with its own charm and beauty. Below you will find what is worth seeing in this city, as well as some helpful tips.
Fun fact: Whenever I plan for a trip, I look for the closest metro (or in some rare cases, bus) station to the attractions I want to visit, so naturally, I had a list like that for Valencia as well. Except I haven't even seen their metros, we only traveled by bus and tram. If you want to get on a bus, you have to signal this to the driver by putting your hand out. You should do this in advance so the driver has time to stop. When you get on (front of the bus), you need to validate your ticket. You can buy one from the driver, but if you're planning to use the bus more days, you should consider getting a pass. When you want to get off, you have to press the stop button, if no one else did. You may use all doors to exit, except the one in the front.
City of Arts and Science (Ciudad de las Artes y las Ciencias)
If you search Valencia on Google Images, more than half of the pictures are from the City of Arts and Science. This is, as the name clearly suggests, the house of arts and science. It consists of five main elements, the Palau de les Arts Reina Sofía (a beautiful opera house), Hemisfèric (an IMAX theater), Umbracle (which is just a parking, but on the terrace there is a landscaped walk with many species of plants from Valencia), Príncipe Felipe Science Museum (probably the science museum where I had the most fun – it had a Marvel exhibition), and the Oceanográfico (the largest aquarium in Europe). Warning: this WILL take all day! As far as I've seen, there are no tickets for all the main sights, just combinations of two. A good idea would be to go to a later show at the Hemisfèric so you'd see all the beautiful buildings by night as well.
Turia Gardens
If you go to the City of Arts and Science, it's impossible not to see the Turia Gardens. Built on the Turia river, Valencia always suffered from floods, particularly in 1957 when a lot of people lost their lives. It was then decided to divert the course of the river, and thus the Turia Gardens were born, a 9 km long park where you can talk a walk on a sunny day. Because the apartment we've rented was nearby, we saw the gardens daily. The people of Valencia like to go there for jogging, I was a bit jealous 🙂 Although the gardens don't close, I didn't feel quite safe after dark. Here is a map with the best areas of the gardens.
Plaza de la Reina
This felt like the heart of the city for me. It was filled with tourists, lots of cafes and restaurants. Here you can visit the city's Cathedral, a 15th century Gothic building which is said to house THE Holy Grail from The Last Supper. You can also climb the 200 stairs of El Miguelete Tower for a lovely view of the city. If you want a quick snack, here you can find Cerveceria 100 Montaditos where you can eat many different types of small sandwiches, each for one euro. The atmosphere is nice, and I found it quite fun that you have to order at the bar and then wait for them to call your name. 🙂
Torres de Serranos
This is one of the gates of the city and you can climb on top for an even better view of the city than at El Miguelete. Nearby you can find a store called Casa de los Dulces with many types of sweets, you'll want to buy everything.
Bioparc
I cannot recommend this place enough, this is THE BEST zoo I've ever seen. Because unlike many other zoos, animals don't come to your city, but you come to their habitat. You won't see cages, all the animals have enough space that is well cleaned. At one point, I was even afraid I might find a lion casually walking on the alleys of the park. 🙂 This is where I was really close to a lemur for the first (and so far, last) time. And the meerkats are always funny.
Beaches
It is impossible to go to Valencia and not go to one of its beautiful beaches. I mean, why did you come to Valencia in the first place? We've visited Valencia at the end of September and it was warm enough to take a bath in the Mediterranean sea. Be careful though, the first time I've been to Spain, also at the end of September, I managed to get a sunburn because I thought it's not hot enough for sunscreen. Anyway, we went to the beach one morning and maybe we weren't at the one most preferred by locals or tourists because there was no one else there, I quite enjoyed that. You can find here a map with all the beaches.
You may be interested in seeing the following places as well:
Plaça de l'Ajuntament, a lovely square surrounded with beautiful buildings, including the city town hall.
Estacion Del Norte, a train station with an impressive architecture.
Museo Taurino, if you've always wanted to see a bullring without actually going to a bullfight (it is free and closed on Mondays, though I don't remember why we couldn't see it at all when we were there).
Mestalla Stadium, if you're a football fan and want to see the stadium, the tour is very well organized, but be careful, you have to buy the entrance tickets from the official shop across the street.
Museum of Las Fallas. Before going there, you should know something about Las Fallas Festival. Held every year in March, the people celebrate the end of winter and the beginning of spring with an explosive festival. Each neighborhood builds something called falla, floats with giant sculptures, that are displayed all over the city. The festival ends with a giant bonfire where every one is burned, except some pieces that are saved and taken to the museum. Though the festival is so much more than the fallas, as it involves music, traditional costumes and fireworks, you can get a taste of that at this museum.
Valencia is a fairly small city, if you have more time, you could rent a car and take day trips to discover other places nearby. This is exactly what we did and I will write all about it in my next post. Until then, I wish a very happy new year and leave you with one of my favorite pictures from Valencia – a sleepy owl.