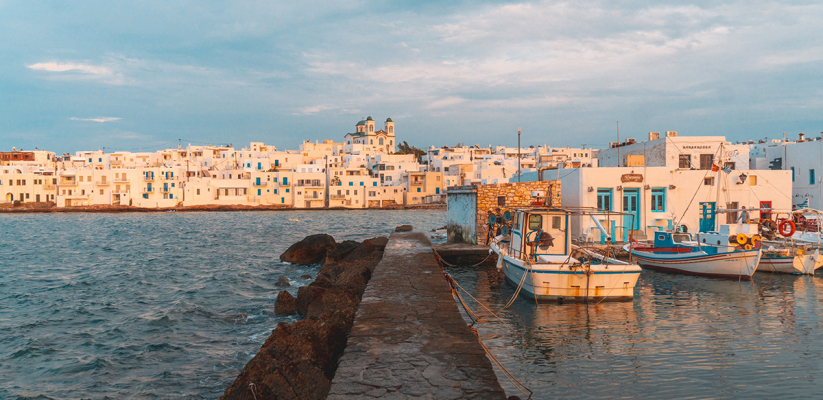 Greek Summer part 1: Lovely Paros
When the pandemic hit in early 2020, I had a lot of travel plans for the rest of the year, as well as a general idea on what longer trips I wanted to take in the following years. So naturally, after months of cancelled trips and postponed dreams, I became more anxious about travel – specifically planning something, getting excited and being let down by another cancellation. This is also one of the reasons my blog took a step back during this time and even now, more than a year and a half later, although being vaccinated I can't make travel plans like I used to (looking at you, USA 😒).
However, in September last year, I was able to hop on a plane and visit a few Greek islands in the Cyclades and I loved them a lot, despite being nervous something will go wrong up until I passed customs check in Greece. At the time of writing this, my only trips in 2021 have also been to different Greek islands and they were perfect escapes for a relaxing summer. So in the following weeks, I'll be posting a five part series on the beautiful places I've seen in Greece. And what better way to kick things off than the lovely island of Paros, my favorite island in Greece.
How to get to Paros
Let's start with the basics, you'll obviously be interested in how to get to Paros. The island has an airport, but the only flights are from/to Athens or Thessaloniki with Olympic Air. However, it's a lot easier to fly into Santorini or Mykonos and then catch a ferry. From Santorini to Paros, the ferry takes between 2h30 min to 3h30min, while from Mykonos to Paros, it takes between 45 minutes to 1h30min. You can use the site Ferryhopper to check schedules from different companies and book tickets. We booked all our ferry tickets in advance from Seajets, and they were okay for the most part, except one time when a ferry was cancelled and we weren't informed. We were lucky there was a ticket agency right below our apartment, where we asked about the ferry one day before departure, as that's how we found out. Thankfully they rebooked us on a different ferry and even received a refund as the new tickets were cheaper.
How to get around Paros
Just like with almost every island in Greece, the best way to get around Paros is by rental car. Supposedly there are also some buses that take you around the island, but on both trips to Paros I haven't actually seen any. All ferries that come to Paros will stop in Parikia, the capital of the island, and there are a lot of rental agencies not far from the port. We rented from Avis the first time and from Hertz the second time and both times we didn't have any issues. It's best to rent a small car, because the roads in Paros are quite narrow and sometimes parking is limited. I can say that both in June and September, it was a pleasure to drive in Paros, as the main roads weren't busy at all and the views were beautiful. Some people also rent ATVs and drive them on the road. As a driver, I hate those people. 😂 These things are very slow and many roads in Paros have only one lane and overtaking is prohibited, so if you're stuck behind one of them….gooood luck!
Where to stay in Paros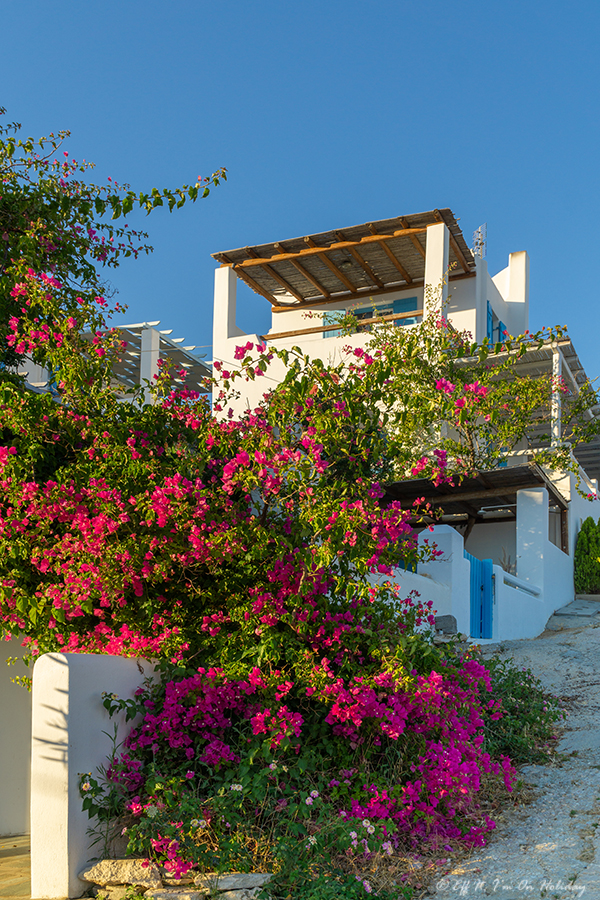 If it's your first time in Paros, I'd recommend to stay in Naoussa, a town in the north of the island, known for its charming alleys, vibrant nightlife and many many restaurants with delicious food, as well as bars where you can have one too many cocktails. 😉 However, if you're renting a car and staying in Naoussa, make sure to check the parking conditions beforehand, as a lot of accommodations don't have dedicated parking spots and you'll park wherever you find an empty spot.
The second time we stayed in Paros we had a longer stay, so we rented a gorgeous villa, Irene's House, in Piso Livadi, a quiet fishing village in the eastern part of the island and it was perfect for us. We started each morning having coffee on the terrace, looking at the sea, before exploring other parts of the island. It's also ideal if you want to work remotely, as it has everything you need and the wifi connection works flawlessly, even on the terrace. Piso Livadi also has a few great restaurants where you can eat fresh fish and seafood, as fishermen deliver daily straight from the port to the restaurants.
What to see in Paros
Your time in Paros will most likely be split between charming towns and relaxing beaches and that's how I'll group them here as well.
Naoussa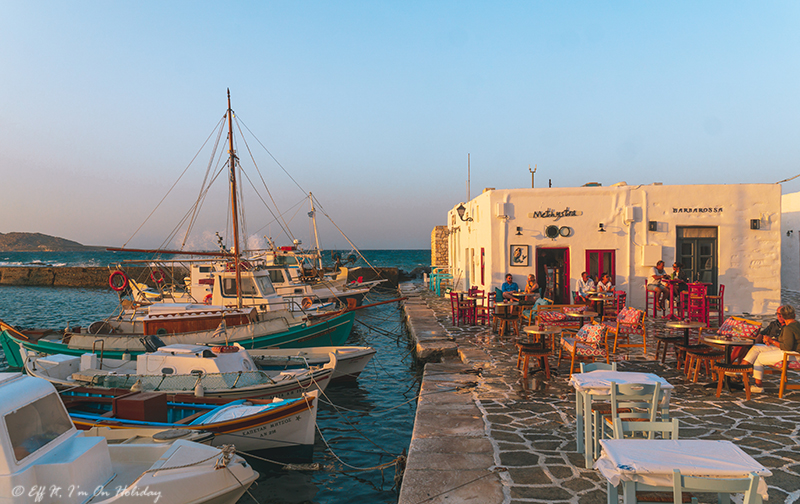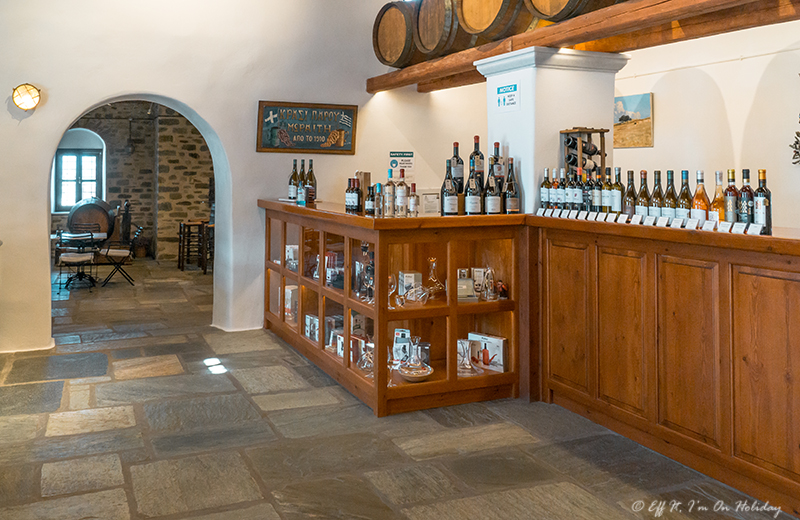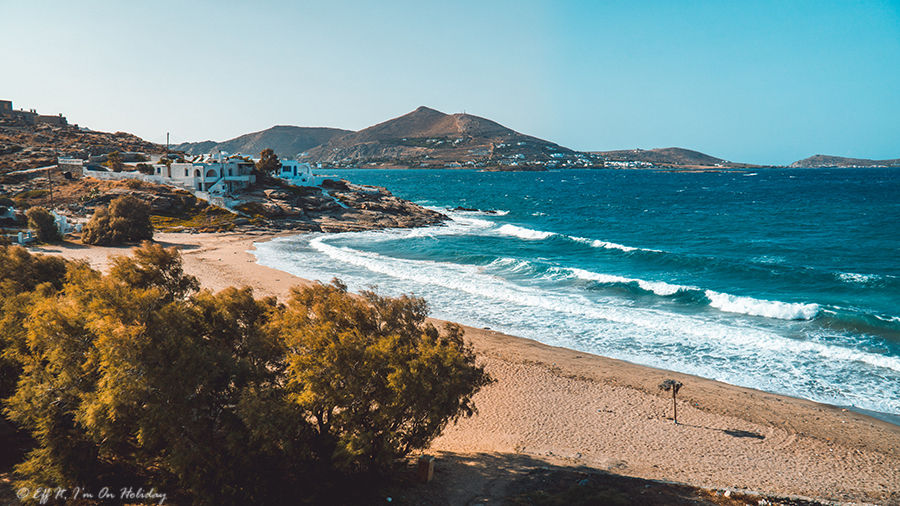 Naoussa has got to be our favorite place in the Cyclades and I can't even put my finger on why that is. We just had such good relaxing vibes while we were there, wandering on its lovely alleys, watching the sun set from the beach, taking photos of the port during golden hour or having cocktails at colourful bars. The closest beach to the city center is Piperi Beach, which I loved mostly for its name. 😅 A few minutes from the city center (by car) there is the Moraitis Winery and you can take a tour of the winery and sample very good wine made in Paros. We even took a few bottles home with us. 😉
Lefkes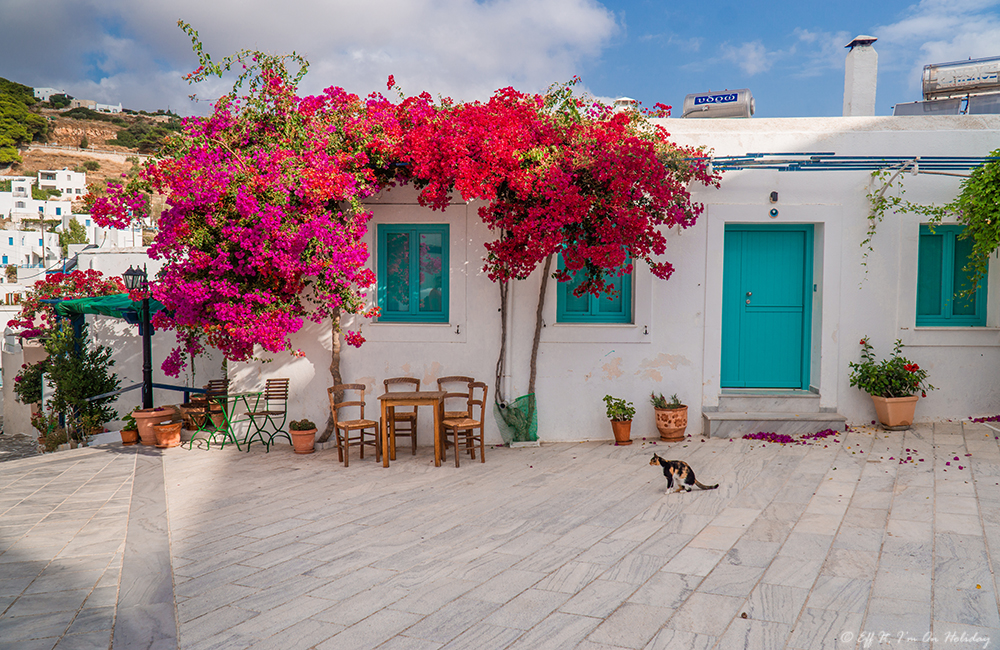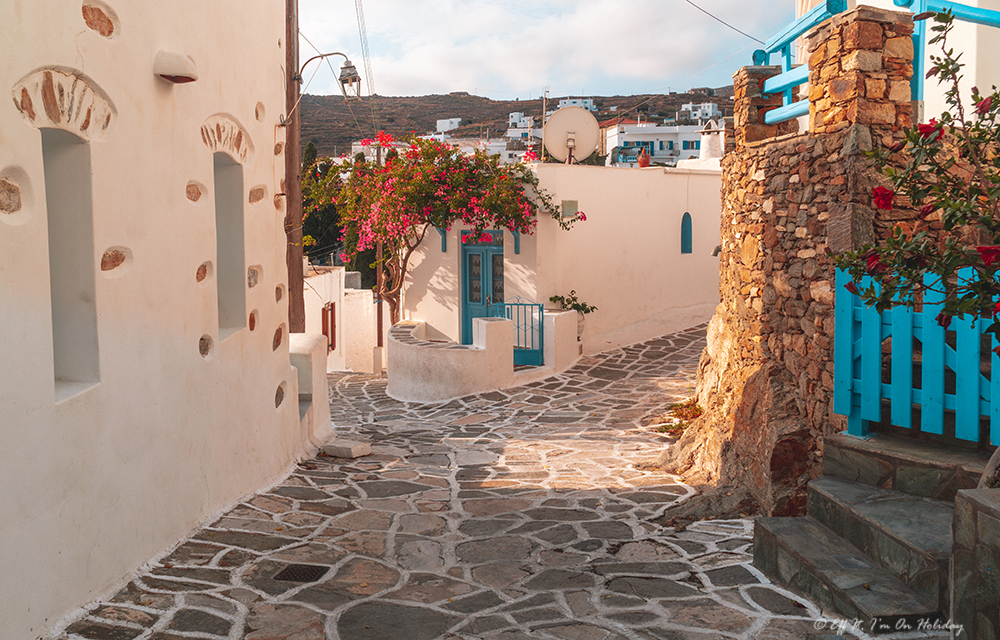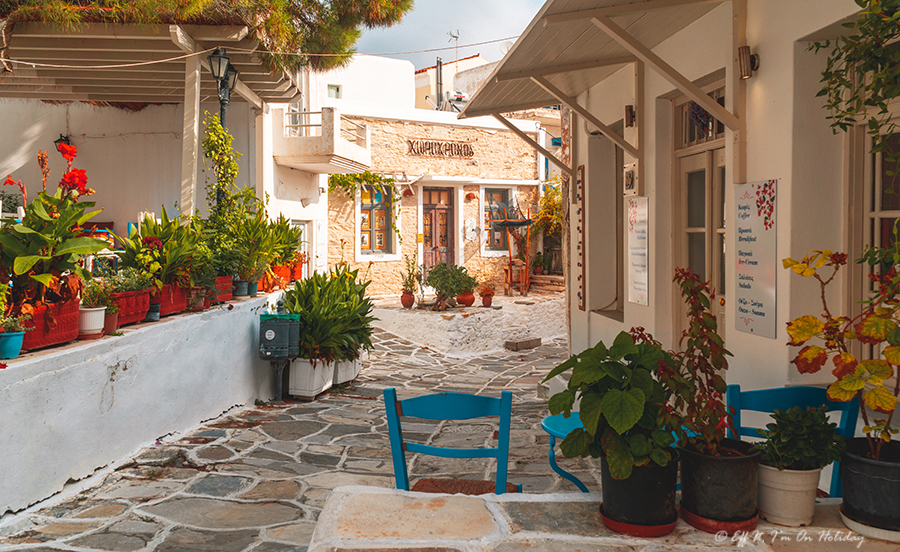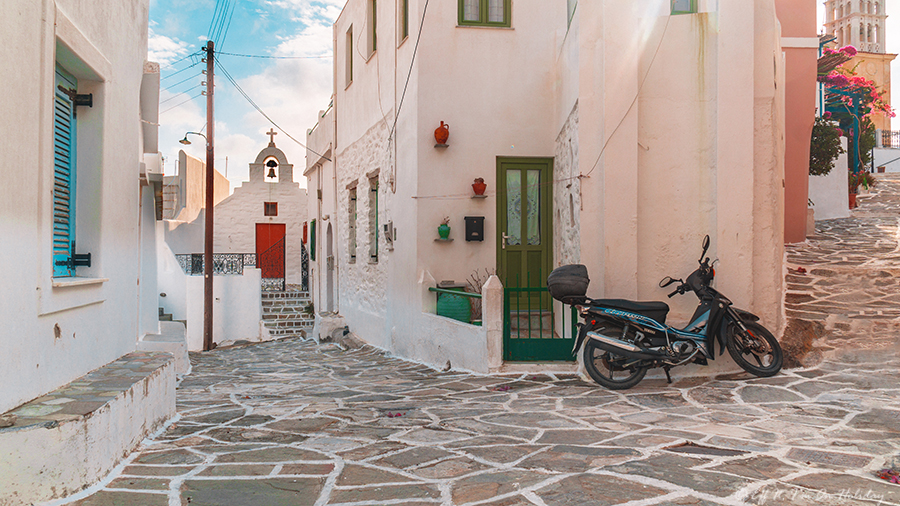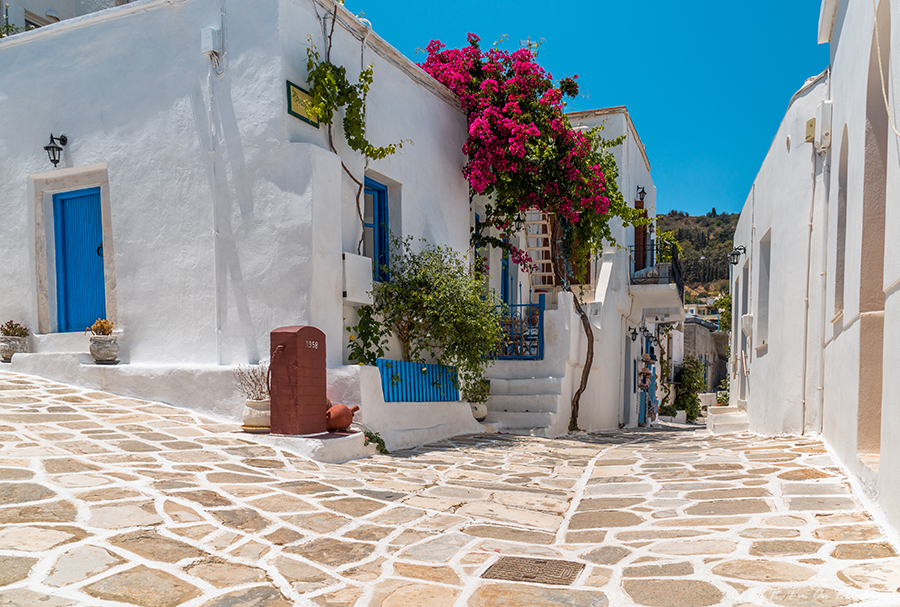 Lefkes is a must see for anyone going to Paros. It's an adorable little village where you can wander on its streets, visit the cathedral and admire the views surrounding it and stop for a coffee in a delightful square. You should visit in the morning, so you have the streets mostly for yourself, as later some tour buses show up.
Parikia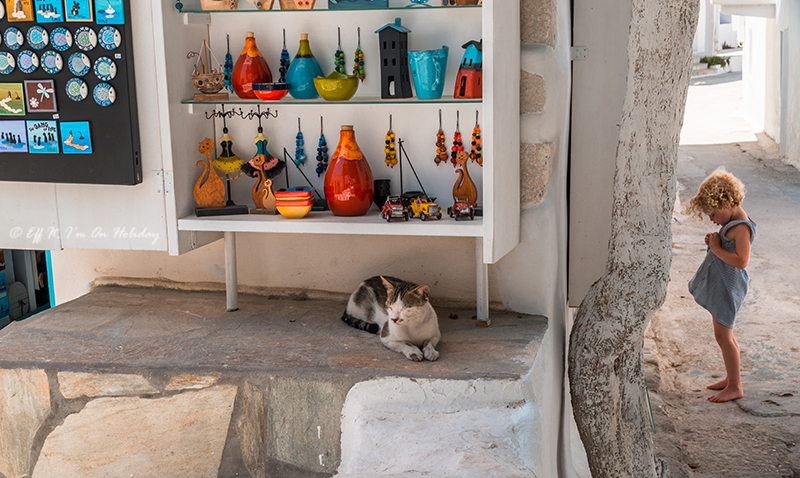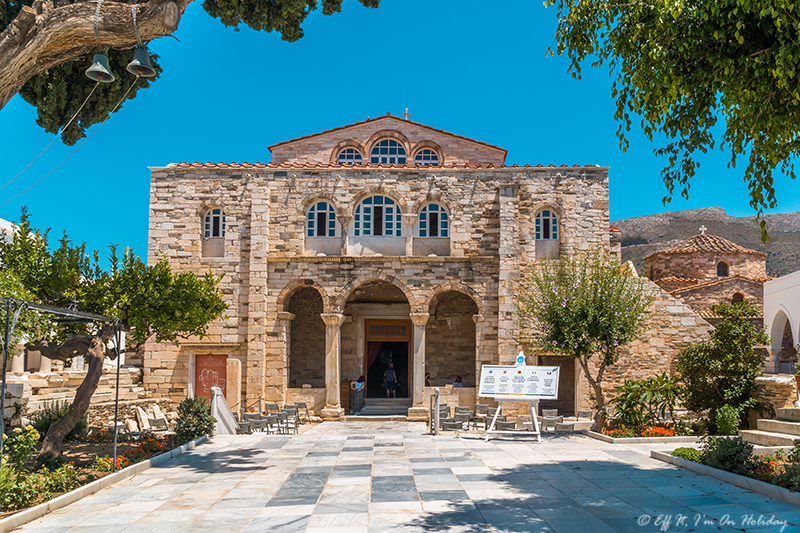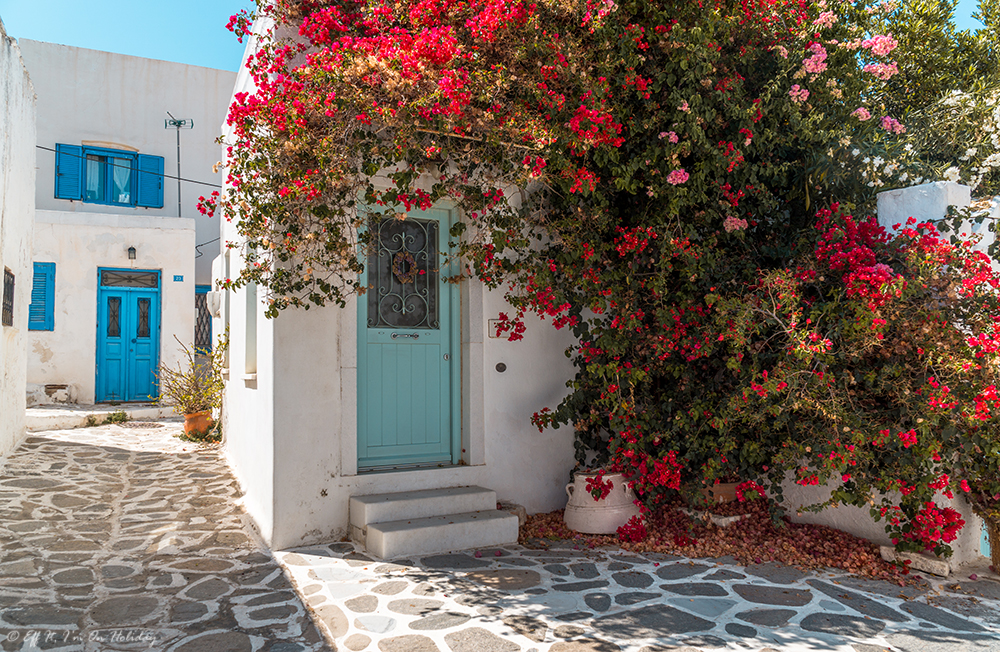 The capital of the island has it all: picturesque alleys, beaches, many restaurants, a Venetian castle and even an impressive 4th century church. However we visited around noon, it was very hot and most places were closed. Good for photos, not good for pretty much anything else. 😅
Piso Livadi & Drios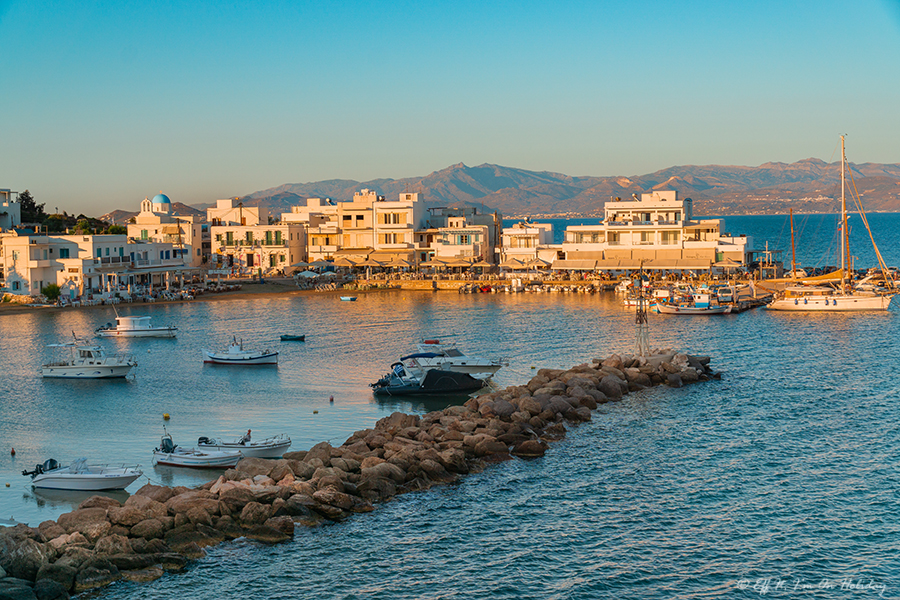 As I've mentioned earlier, we stayed in Piso Livadi for our second time on the island and we loved it, but there isn't much to do there. You can take photos of the port and eat delicious food. There are also a couple of beaches and they are nice, but unless you're staying there, I wouldn't necessarily recommend them as a must stop. The same goes for Drios, a neighbouring fishing village.
Marpissa
I could talk about how you should stop in Marpissa because it's a beautiful typical Cycladic village or how there are four windmills in the main square, but to be honest, the reason we visited was entirely shallow: we saw some photos of a house with pink doors and thought it looks pretty. 😊
Kolymbithres beach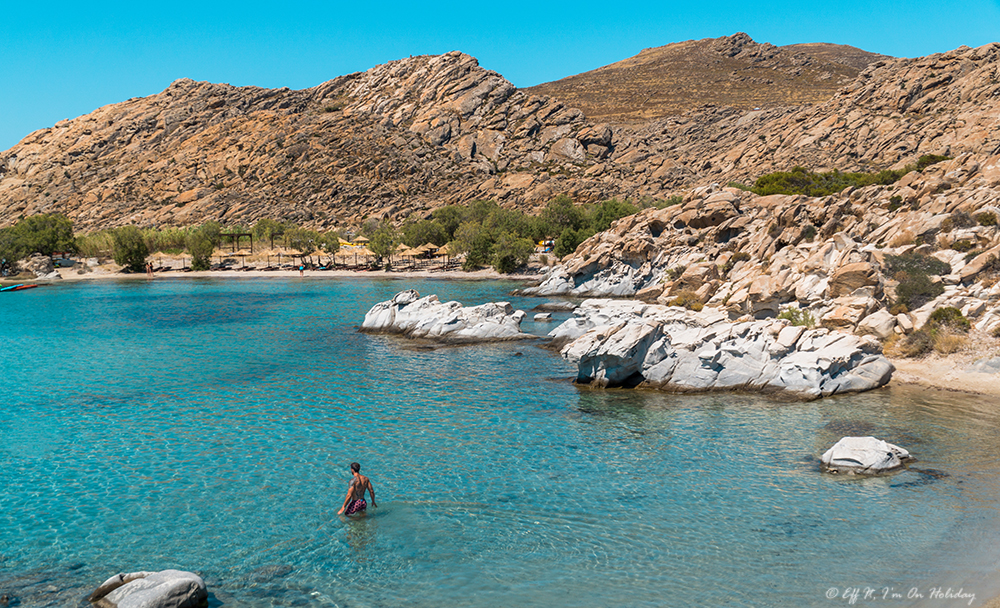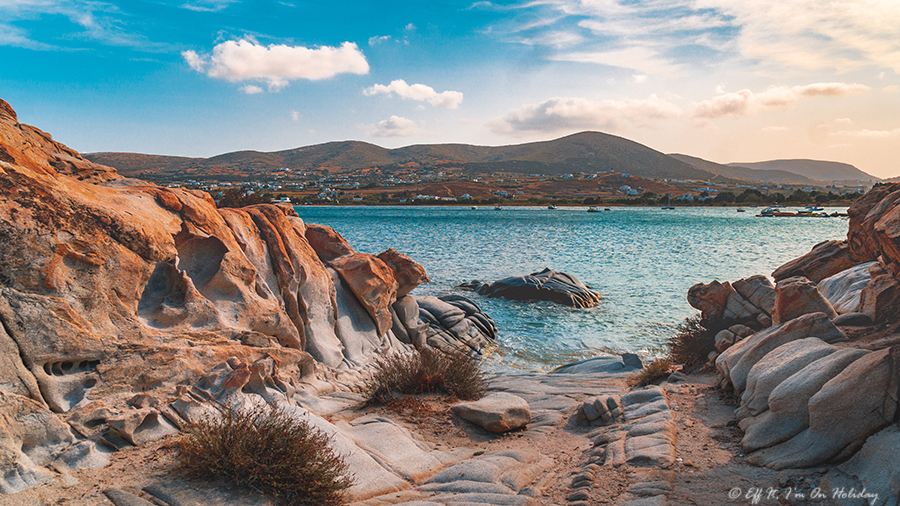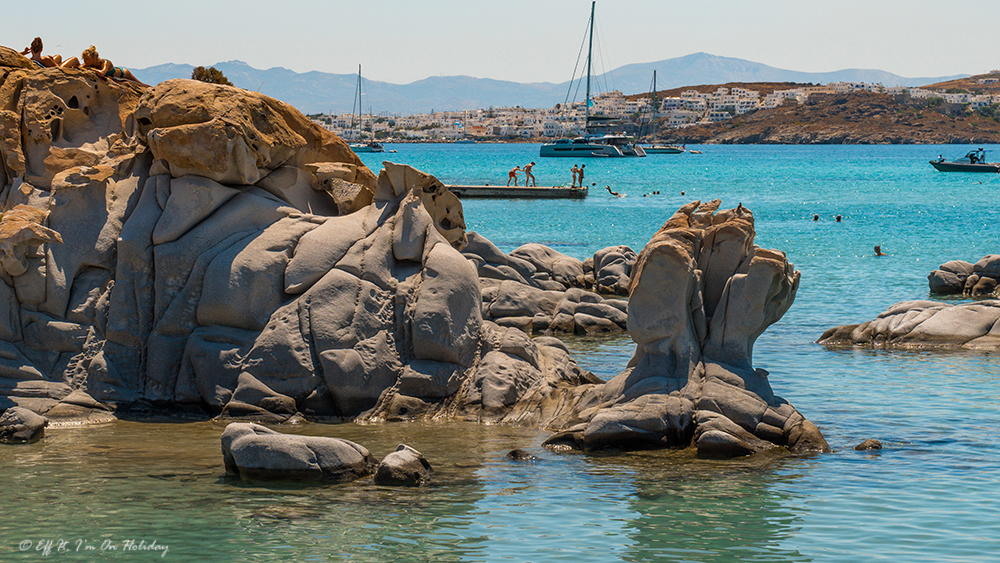 Moving on to beaches and I'd like to start with my favorite beach not only in Paros but in Greece, Kolymbithres. The beach is an mix of golden sand and interesting rock formations, which create little bays, so the whole area doesn't feel crowded at all. The water is a beautiful turquoise colour and it's probably the cleanest water I've ever seen, you don't even need snorkeling glasses to see all the enchanting fish swimming around. The drive to the beach along the sea is probably the most beautiful on the island, and actually my favorite.
Santa Maria beach
Santa Maria was recommended to us by our host in Piso Livadi and she was right, it's a very beautiful beach with clean water and sunbeds (albeit the most expensive ones, 35 euros for two sunbeds and an umbrella) and a beach bar with many cocktails or, if you're driving, a huge fruit salad that comes in a watermelon half.
Golden beach
We only went to Golden Beach once, and although the beach was nice, we couldn't stay for more than five minutes, the wind was so strong that sand was blowing everywhere and it felt like being stabbed with tiny needles.
Other beaches that were on my list that we didn't get to visit are: Tripiti, Glifa and Boudari. You can read more about the beaches in Paros on Allane's blog, who also loves the island, I actually found about it from her: Top 5 Beaches On Paros.
Where to eat in Paros
You can't go wrong with where you'll choose to eat in Paros, everywhere we went the food was delicious, at some restaurants we even went multiple times. But here are the places I've tried and recommend:
In Naoussa: Statheros Restaurant (delicious fish and seafood, they have a few tables on a small beach, but it depends when you get there, as it can get too sunny to sit there without sunglasses), Sante cocktail bar, Itria cocktail bar, Cafe Karino (great coffee), Ragoussis Bakery (soooo many yummy sweets).
In Piso Livadi: The Sailor, Markakis Restaurant, Ouzeri Halaris (get the grilled tuna here, it's so good, we actually went back another day to order the same thing), Mango (delicious pizza and cocktails, we went here almost every evening while we were in Paros)
Siparos Seaside Restaurant – excellent food and gorgeous view, close to Santa Maria beach and Naoussa.
Kima Restaurant (in Drios) – beautifully presented delicious food and amazing view of the sea (I just wished the servers would have been friendlier)
So this is my small guide on the beautiful island of Paros. Stay tuned for part 2 on my Greek islands series. 😀