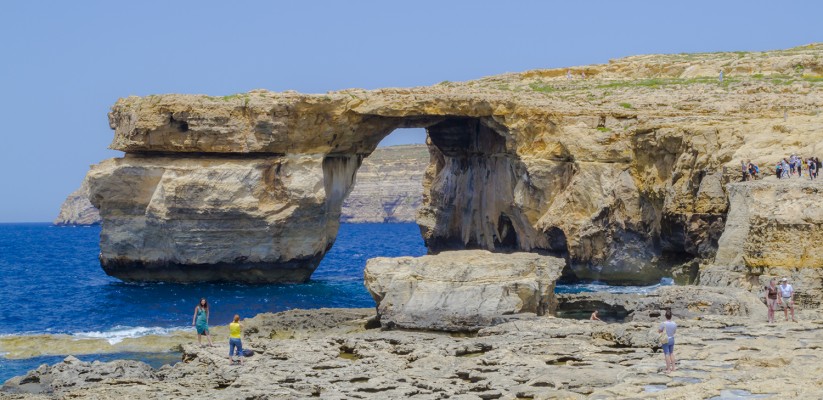 How I Spent A Day On The Island Of Gozo
They say the early bird catches the worm, but what does a traveler who wakes up with the sun get? A whole day of exploring the gorgeous island of Gozo. Malta isn't short of stunning attractions, making it impossible to get bored, and as if that wasn't enough, they had to have another two islands that are every bit as interesting as the main one. Gozo, the second largest island, located a short ferry ride away, is more rural, focused on fishing, agriculture and crafts. Since we only had one day, we decided to go the easy way and take the hop on hop off bus, rather than spending time waiting for buses and figuring out routes.
We visited most of Gozo's highlights on a perfect sunny day and I liked it so much that when I'll go back to Malta, I'll definitely be looking for accommodation in Gozo. Curious? Here's what made me fall in love with this island.
Let me start by saying that waking up at 5 AM while you're on holiday is NOT fun, even though I AM a morning person. But since we've seen a couple of days before how crazy the ferry station can get, we decided it would be best to take the first ferry, which also meant taking the first bus. From Sliema (where we were staying) to Cirkewwa (where the ferry station is) is little over an hour with the 222 bus. If you're ever curious as to what it's like to stay inside a freezer, you should definitely visit Malta, because the buses love the AC so much that I had to bring a hoodie every time, even though it was super hot outside. Luckily, early in the morning the temperature was fine and I could nap until I reached the destination. Come to think of it now, I started to miss the AC in Malta, considering how there are 40 degrees Celsius in the buses back home….
One coffee and one ferry ride later, I was in the city of Mgarr, a small fishing village with many boats just like in Marsaxlokk. We bought our bus tickets and if we had more time to kill we would've visited the Parish Church, a replica of Mosta's Rotunda. We hopped on the bus, got our headphones and started the tour. After learning a bit about Gozo (and wondering if I got enough sunscreen), it was time for the first quick stop, 15 minutes at the Savina Creativity Center which is said to be a feast for all senses, a place where you can buy local products, anything from candles to jam and other sweets. I got a few spices in cute little jars and one of them will probably last a lifetime because it's so spicy that even an eighth of a teaspoon is too much.
The first real stop was at the Ġgantija Temples, one of the oldest free standing monuments in the world, a large megalithic complex dating from 3600 BC which was declared an UNESCO World Heritage Site. Not only it is a fascinating history lesson, but it also offers some great views of Gozo from the garden.
Since this was the first time we were on a hop on hop off bus, we didn't realize we may not find any seats on the upper floor when we returned. Luckily, the distances are short and we stopped at the Calypso Cave in no time. This is only a 10 minute photo stop, but you are free to spend more time and take the next bus. Since it was very crowded, we settled on taking a few photos of the splendid Ramla Bay with its empty beach that was calling my name.
A lot of people got off in Victoria, the capital of Gozo, but we decided to make that our last stop and head to the Ta' Pinu Sanctuary, an imposing church renowned for its miraculous healing powers, the walls in the back being filled with letters from people all over the world expressing their gratitude and devotion.
Perhaps Gozo's most famous area, the breathtaking Dwejra Bay with the Azure Window and Fungus Rock was our next stop. A Game of Thrones filming location (the place where Daenerys got married to Khal Drogo), it is a stunning area to take photographs, swim in a natural pool or go diving. We spent a lot of time here admiring the view, drinking a delicious coffee and tasting the Maltese prickly pear liqueur (made with the juicy pulp of the cactus plant).
After this, we thought that nothing could surprise us, but Gozo really wanted to be sure we will come back one day. As we stopped at the Xlendi Bay, thirsty and a tad sweaty, we noticed a lot of people eating some delicious looking fruit salads so we each got one and sat down by the water. Luckily, the vendor understood that I don't want kiwi, otherwise the story wouldn't have had a happy ending 😉 We explored the caves for a little bit, before carefully running on the rocks to catch the bus back to Victoria.
We wandered on the streets up to the citadel which was under renovation so there was a lot of dust, but we managed to see the Cathedral of the Assumption right before it closed, and it turned out to be my favorite cathedral in Malta. I can't wait to go back and revisit the citadel after it's finished, it would have made a lovely afternoon of walking on its narrow streets and looking at the island from above. Instead, we got back to the bus, not before I bought a lovely owl pendant from a Romanian lady. It's always surprising to hear your own language when you're abroad, isn't it?
We took the ferry back with what seemed to be a billion chatty old people, but at least there was wifi. On our return to the main island we were welcomed with a bus strike and delays, so we waited for a while until the right one arrived, to take us straight to the hotel. It had the AC turned on on full ice cube mode. Oh, joy!
Tour details
The ferry ride from Malta to Gozo takes about 25 minutes and costs around €5, paid at the booth in Gozo (you don't pay anything when you leave). A ticket for the hop on hop off bus costs €20, but ask around, we got a nice discount and paid only €15 at the booth in the ferry station from Mgarr. However, someone was complaining that they paid €25, because they bought the tickets from a booth in another city so be careful about that. The buses come every 45 minutes and that gives you plenty of time for exploring at each stop. You can see below a map of the route and click on it for a bigger size.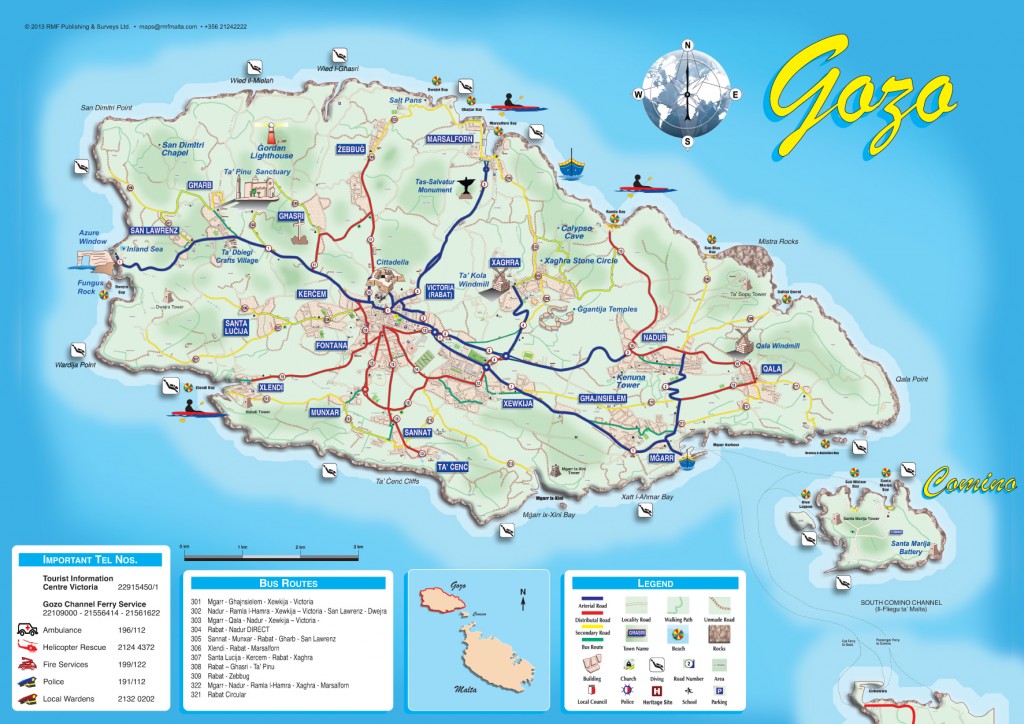 Despite waking up early and some minor hiccups, I had a blast on my day in Gozo and I eagerly look forward my return.
What do you think, does Gozo look just as beautiful as Malta?
Pin it: