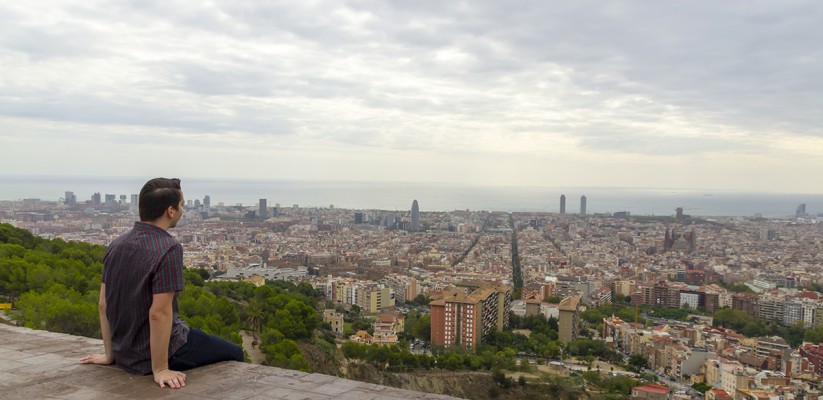 The Thing About Barcelona: Memories From A Third Visit
I didn't know much about the world. My first trip abroad to Paris opened my eyes, but it was the trips that followed that truly made me curious about discovering new places. In fact, the first time I'd heard about the city I would later fall in love with I asked why should we go there of all places. Even now, a month after I returned from my third visit, I still don't know what to say if someone asked me why visit Barcelona. I could say that it's a beautiful city with gorgeous architecture, but so is Rome. I could say it's a city where it's impossible to be bored, but so is London. I could try to describe the way I feel every time I visit but that wouldn't be too helpful, would it?
I struggled a lot to write this post. Mainly due to work taking all my time and energy, but also because I didn't know how to put in words a trip that made me look back and see how much I've changed and grown since the first time I visited Barcelona. A trip that was both spontaneous and planned. A trip where I felt the need to splurge, while still being budget conscious. A trip where I visited new places and revisited old ones I've loved. A trip when I didn't care it was cloudy, rainy or chilly. Because I was in Barcelona and for a few days, nothing else mattered. So here are some of my favorite moments from this trip…
Having drinks with a view
'View' was the watchword of this trip. In addition to having an apartment with a view, I also wanted to celebrate my birthday with cocktails in a fancy place….with a view. That's how I found Eclipse, a sky bar at the top of the W hotel on the beach. I only wish we had gotten there earlier, as the view would have been much better at sunset. Although we went for cocktails, I ended up with what turned to be my signature drink on this trip. A glass of Cava. Okay, more than one actually. The bar was full of people and you could easily see why, the drinks and the food were great and the view was amazing.
Revisiting Sagrada Familia
The first time I visited Sagrada I remember there was a lot of dust in the air and my allergies didn't let me enjoy it as much as I was supposed to, so I was determined to see how much it has changed since. We had tickets for a certain time but we first stopped to eat at an Italian restaurant across the street because we were starving. I know, I know, restaurants near main attractions are supposed to be bad, but this one was quite good. That or we were too hungry to care. No, it was really good. Chugging down a glass of Cava and eating the last slice of pizza we rushed to the entrance and we were there right on time. For the towers however we had about an hour to kill so I got to sit and look at all the details and sculptures. I was fascinated by the ceiling and the way the light reflected through the stained glass. It truly is a marvelous construction, one that you definitely need to see in your lifetime. The towers however…not worth your time and money, you wait a long time for the elevator and the view from the top isn't all that great.
Wandering in the city
As we were traveling with a couple of friends who haven't been to Barcelona before, we wanted to show them a lot of places. So we ended up walking more than our feet were used to. We've seen a lot of the city's most beautiful places, we stopped at cozy cafes and got lost on the streets of Barri Gotic. For me, it was nice to see familiar spots, but still explore new areas, like Bunker del Carmel that offers spectacular views over the city. Sadly though, it was cloudy when we visited, the view would have been even more stunning on a clear day. There were a lot of other places that I wanted to visit and revisit, but with limited time, I don't mind that I didn't get to them, I was happy I was there. It's not like I won't go back to Barcelona at some point 😉
Eating delicious food at Barcelona's best restaurants
Saving the best for last. One thing I knew I wanted to do in Barcelona was eat at great restaurants. Like I said before, it was my birthday trip and I wanted to splurge a little. When I found Viana, the second highest rated restaurant in the city on TripAdvisor, I immediately knew we had to go there and everyone agreed. There are only a few tables so a reservation is a must, but we didn't know that. However, we were lucky because someone didn't show up and we got their table. They open in the evening and while I'm not one to usually have dinner at 11 PM, everything from the food and the drinks to the atmosphere were just perfect. The friendly waiter recommended us a restaurant in El Raval for lunch the next day called Cera 23. It felt like a replay of the previous night (we even ordered the same drinks!), but we didn't mind, because it was perfect once again. We didn't have much time to eat before rushing back to finish packing and leave for the airport so we arrived at the restaurant minutes before it opened, it was a strange feeling, haha. Both restaurants deserve a special post so stay tuned for my next one.
Have you ever visited Barcelona? What was your favorite moment?