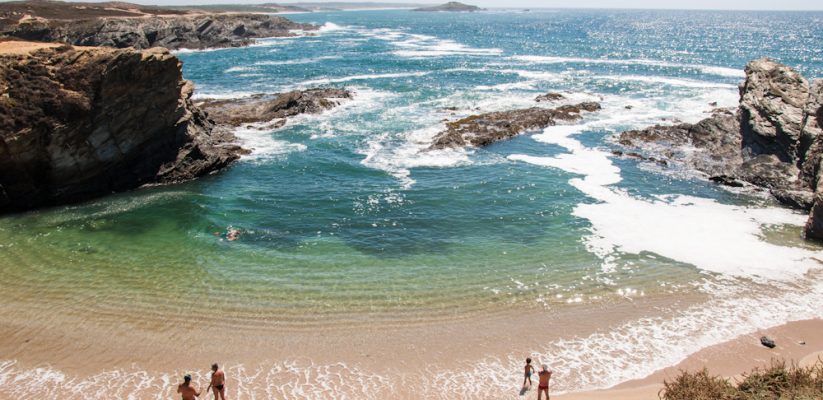 An Interview With A Portuguese Foodie
If you're a regular reader on the blog, you'll know that I love Portugal. I would seriously go every year and still find new places to go, or even revisit the ones I've seen before and not get bored. Not only is the country insanely beautiful, but their cuisine is amazing too. Portuguese blogger Zara from Backpack Me (one of my favorite blogs) wrote a helpful guide for any foodie visiting Portugal so I figured it would be great to invite her to have a chat about all her favorite Portuguese dishes.
First of all, if you had to convince someone in two minutes or less to visit Portugal, what would you say?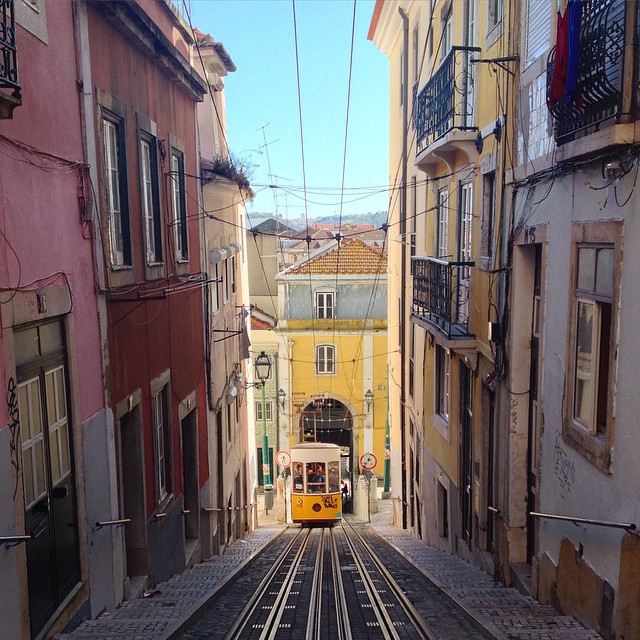 If you like to take is easy, and you'd rather do that under the warmth of the sun and close to the ocean, Portugal is the place for you! Our country is small enough so that it can be explored in a relatively short period of time, yet its diversity of landscapes is so rich that it will amaze you day after day. People will welcome you with arms with open. If you come with an open mind too, it won't be long until you feel at home in Portugal.
What are the top 5 Portuguese dishes that a first time visitor must try?
Narrowing down Portuguese food to 5 must try dishes is not an easy task! But, to sample a little bit of everything, I'd say a first time visitor to Portugal should taste:
As a little snack, I'd love to see everyone embrace the local bacalhau culture and eat some Pasteis de Bacalhau. Salted codfish, known as bacalhau in Portuguese, is to Portugal what burgers are to the USA, what pasta is to Italy or what sushi is to Japan. The fish is salted and dried for preservation. As such, the texture is a little fibrous and the flavor might be a bit of an acquired taste. Pasteis de Bacalhau, made with cod, mashed potatoes, eggs and herbs, are the most common type of cod fish fritters. The final nuggets of bacalhau goodness are a little crispy on the outside and perfectly soft on the inside. I'd say this is a good appetizer for those getting into Portuguese cuisine.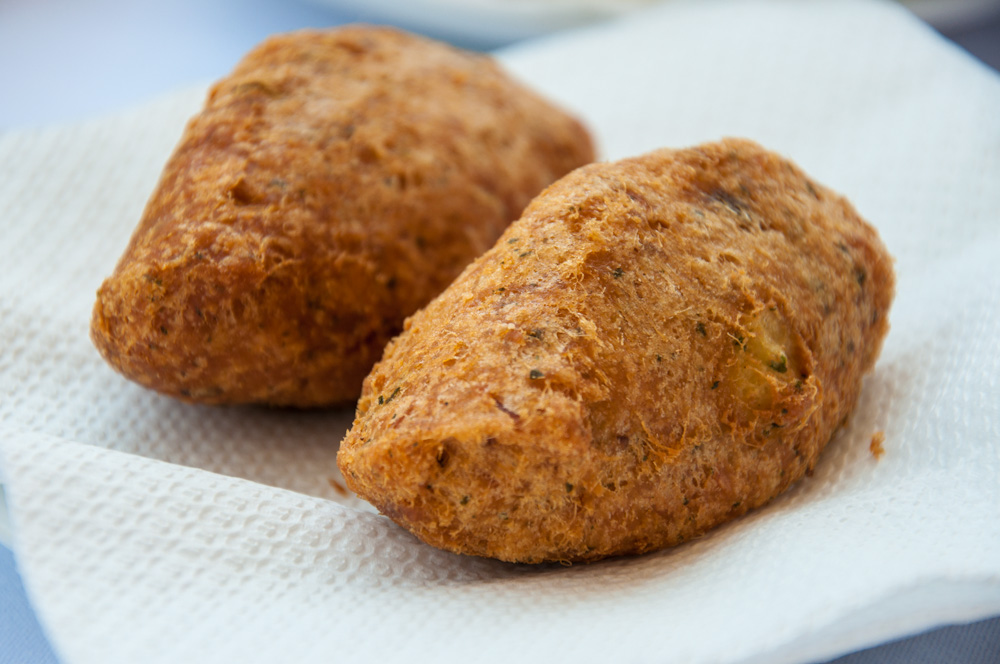 Seafood is an integral part of Portuguese cuisine. In my country, you are truly spoiled for choice. As such, I'd say keep it simple and order grilled fish. Any grilled fish! It is always good cooked over charcoal, served with simple sides of potatoes and veggies and a generous splash of virgin olive oil.
Because eating a simple fish might not always do justice to the fertility of Portuguese waters and the local love for seafood, treat yourself to a Cataplana de Mariscos. After all, there is no other dish in the world like this one! Cataplana is a Portuguese cookware item from the southern region of Algarve. It resembles a wok, but with a lid that is also shaped like a wok. A variety of seafood is cooked inside, with tomatoes and onions. This feast is steamed up and no pinch of flavor escapes the cataplana. The result is scrumptious!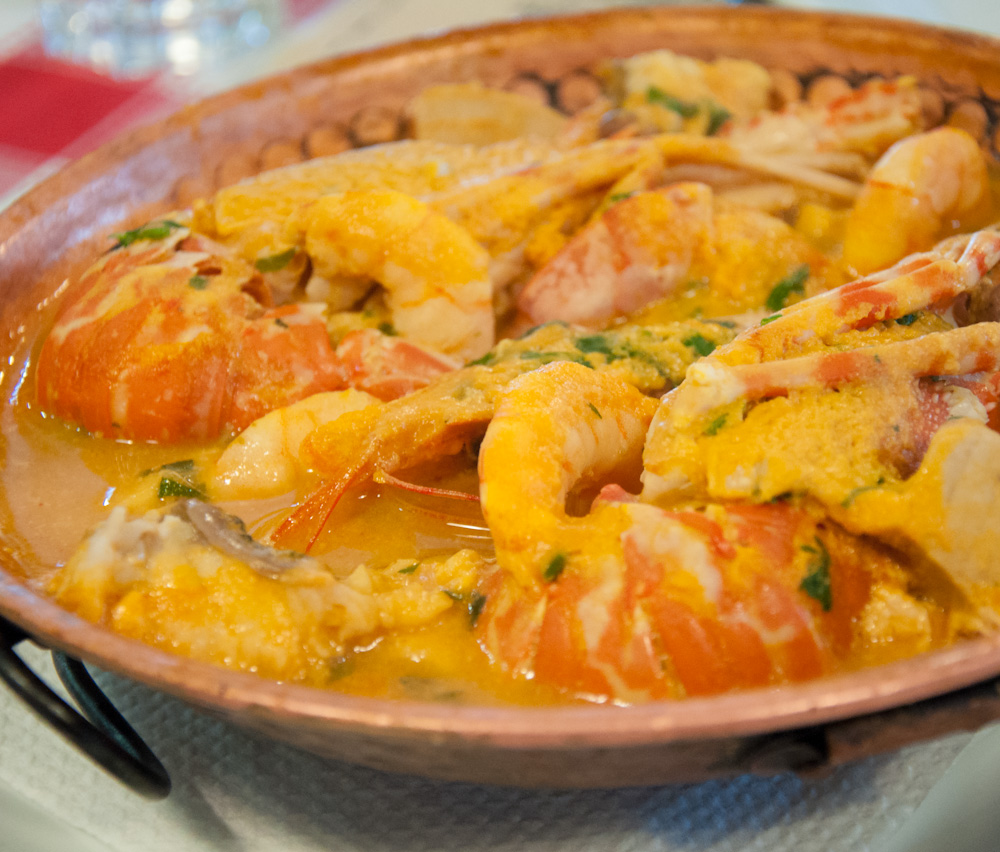 If you are familiar with the chain Nando's, you might have come across the concept of Portuguese grilled chicken. OK… now forget everything you might have learnt at Nando's before and be ready to get your hands dirty with the most succulent chicken ever. Grilled over charcoal, like all good things in Portugal, the meat is smoky on the outside, but remains juicy on the inside. Ask for your Frango no Churrasco with a nice rub of piripiri. The red chili infused oil will give it the extra kick this dish needs to take it from good to awesome. And fries, of course… you need fries with this!
Pasteis de Nata. The famous Portuguese custard tarts, also known as Pasteis de Belem, are a given when in Portugal! You may have tried them before somewhere in Asia but, let me assure you, they do not taste the same in Portugal. The crust is flaky and the filling of custard with a pinch of cinnamon is really smooth. Good luck sticking to just one of these!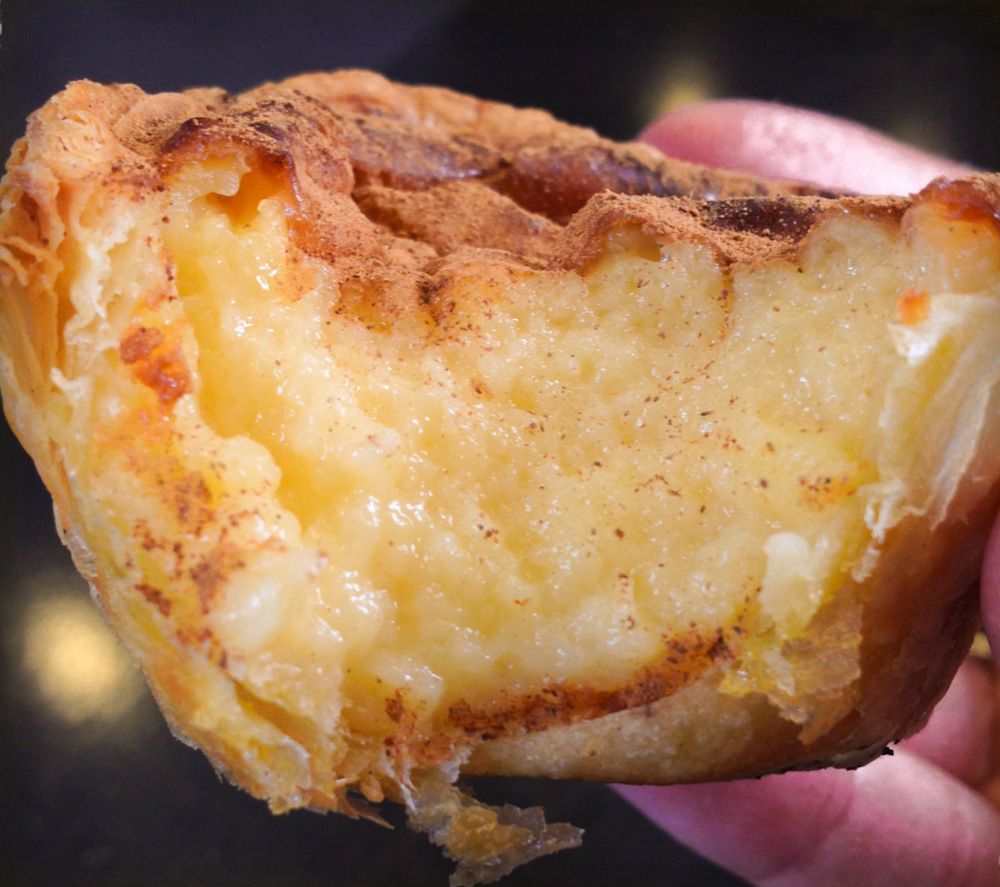 Is there a Portuguese dish that sounds strange but is absolutely delicious?
There are actually many Portuguese dishes that sound weird but taste great! Most of them involve organs or funny creatures. Snails are a good example! During the summer months, snails are an extremely popular snack, particularly around Lisbon and the South. While the British might be enjoying tea and scones as a mid afternoon snack, in Portugal, people aredrinking ice cold beers and going to town with snails ! The tiny snails are known in Portugal as caracois. They are cooked with garlic and oregano and when the season arrives, you will know! Not only because you'll see full plates of this delicacy in outdoor cafes, but also because establishments hang bags full of snails by their window shops.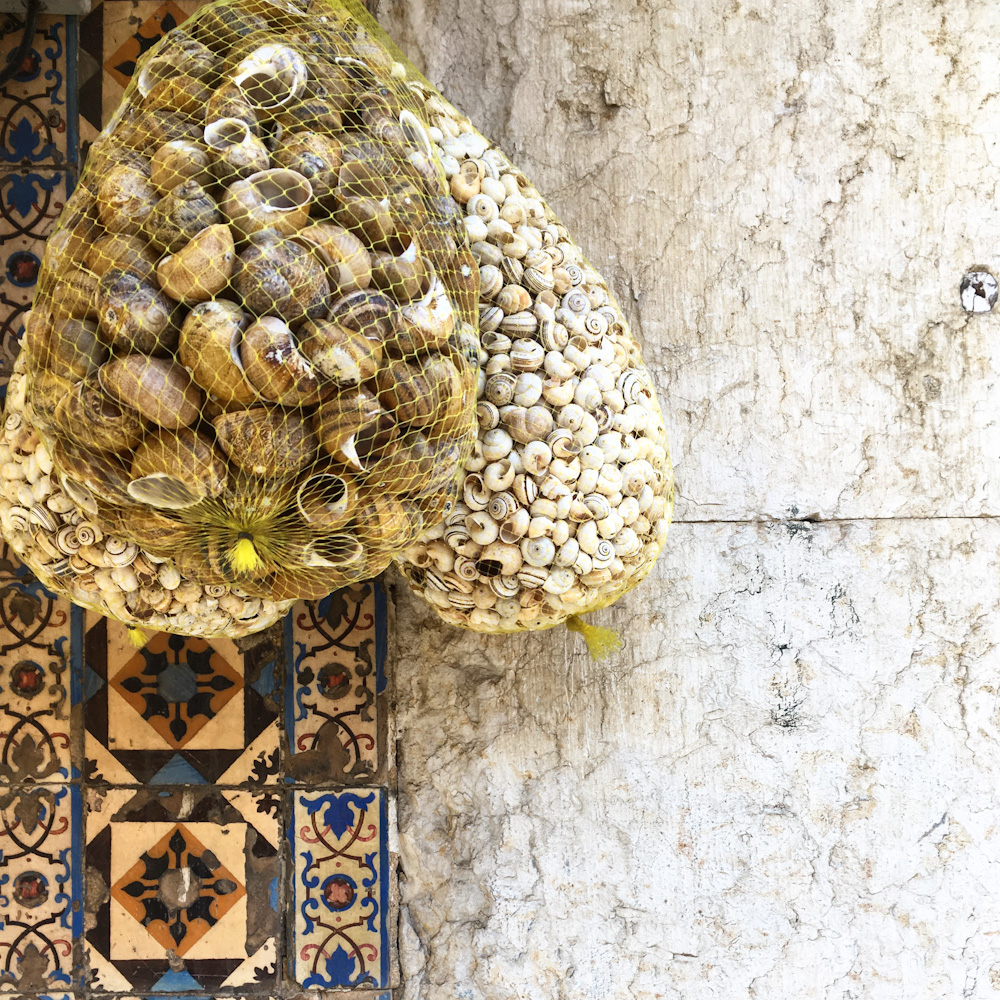 As someone who travels a lot, what food do you miss the most when you are abroad?
The one craving that often lingers until I set foot in Portugal, is the codfish one. My favorite dish in Portugal is Bacalhau com Natas, a recipe that involves shredded and creamy potatoes baked in the oven. This is the one dish that I always have to eat when I go back home.
Where would one find the best food in Portugal?
 As someone from the north of Portugal, I could be controversial by saying that the south has the best food. The Alentejo region, in particular, has an incredible food culture. And the wines from this part of Portugal sure match its food! Still, I would say the best place in Portugal for food tasting would have to be Lisbon. In the capital, you can try food and typical regional products from all over the country, in all their glory and authenticity.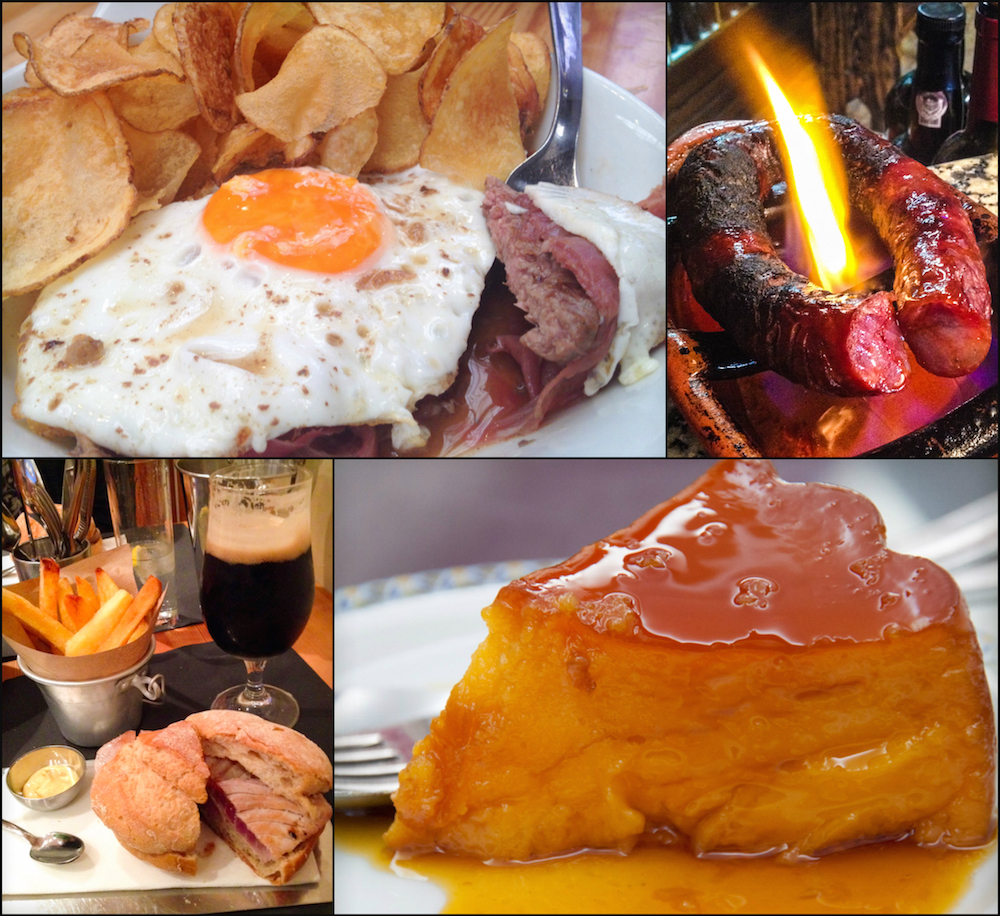 What inspired you to write such a comprehensive guide about food in Lisbon?
 I think Portugal has an outstanding culinary tradition. People in my country love food and talking about food! Yet, abroad, people don't seem to know much about what Portuguese food is all about. Once upon a time, Portuguese people traveled across the oceans searching for spices… that should give you a good idea of how seriously we take cooking and eating.  While traveling, I have heard comments along the lines "Is Portuguese food similar to Mexican?" or " You guys eat Paella and that kind of stuff, right?" These kind of statements would at the same time puzzle me and sadden me a little too. So I thought:. who better than me to share a little loving for Portuguese food with others travelers? The only reason why Portuguese food is underrated is because it's rather unknown. I travel, I eat and I am Portuguese… it's almost my duty to make sure other people who also love exploring new places and food open their minds and mouths towards Portuguese eats!  Even though food books are often a little pretentious, I wanted to make sure Lisbon in 100 Bites wouldn't come across as pompous. Just like Portuguese cuisine, this guide to food in Lisbon is down-to-earth and yummy. Over all, I hope people will be a little more adventurous and have fun with food when they travel to Portugal!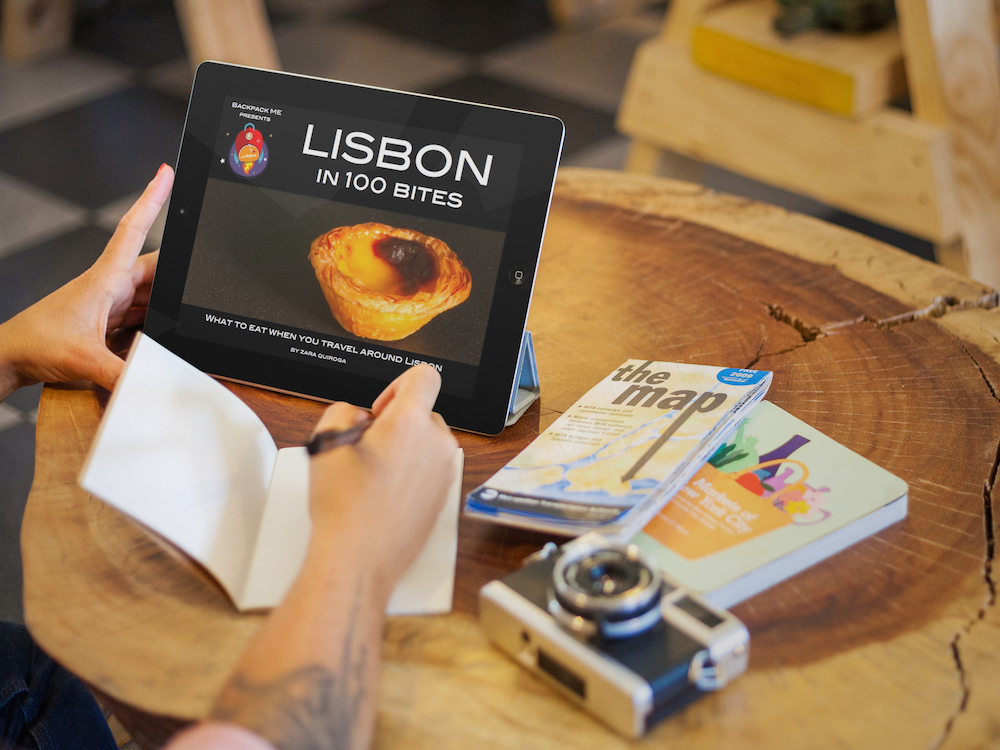 About Lisbon in 100 Bites
Lisbon in 100 Bites is a guide to the best eats in and around Lisbon! The goal of this eBook is to serve as a starting point, for those who are new to Portuguese cuisine. This is not a listing of "where to eat" but, instead, an introduction to those items and dishes that are representative of what a visitor is likely to come across around Lisbon. This Lisbon foodie guide can be downloaded instantly, as an unpretentious and elegant PDF. Readers may use it to plan their travels to Portugal, or even carry it with them through the streets of Lisbon, on their phone or tablet. You can buy the book here.
About the Author
Zara Quiroga is a Portuguese travel and food writer. In 2011, she cofounded the travel website Backpack ME, where she shares inspirational and practical content from her travels around the world with her husband from India. She regularly writes about food and about eating as a way to connect with new cultures. She has published several popular articles about Portuguese food, for Backpack ME and other travel publications.