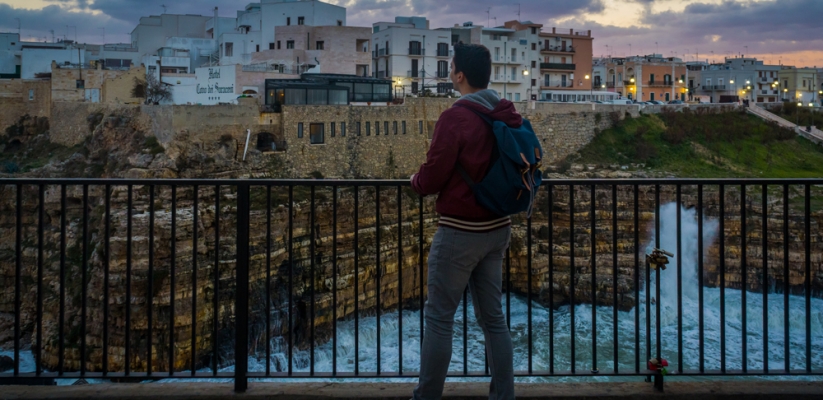 A Relaxing Weekend In Puglia, Italy
It was a casual Friday night, working hard on my blog…. Ah, who am I kidding? I was having a glass of wine and half-watching Netflix on one screen, half-scrolling through Facebook on the other, when I saw a picture of a town full of cute white houses with conical roofs. Naturally, I added that place on my ever growing wishlist so several months and one Wizz Air promotion later, I had booked tickets to a region in Italy called Puglia. An hour later I was regretting the decision.
Reading about Bari, the capital of Puglia and the city I was flying into, I found a lot of bad reviews about it, so my first though was "oh god, what have I done?". Impulse buying is not my thing, I usually analyze and overthink everything, so I was worried I'd made a huge mistake. Luckily, Bari is well connected to other cities in Puglia, so I quickly made an itinerary. Here's how it went down, you should get a cup of coffee or something stronger (I won't judge), this is going to be wordy.
Friday – the adorable trulli of Alberobello
We landed in Bari and we quickly took the airport bus, then caught the first train to Alberobello, without having to wait in any station. It wouldn't have worked better even if we had planned it! The train seemed to be used mostly by commuting high-school students, playing cards and chatting about who knows what (my Italian is very limited), but it didn't matter, I was happy to be back in Italy. As the train was slowly making its way to Alberobello, I was watching all the olive trees and poppies race behind me, worrying about the dark clouds that weren't announcing any good news. But finally, we arrived to very few rain drops.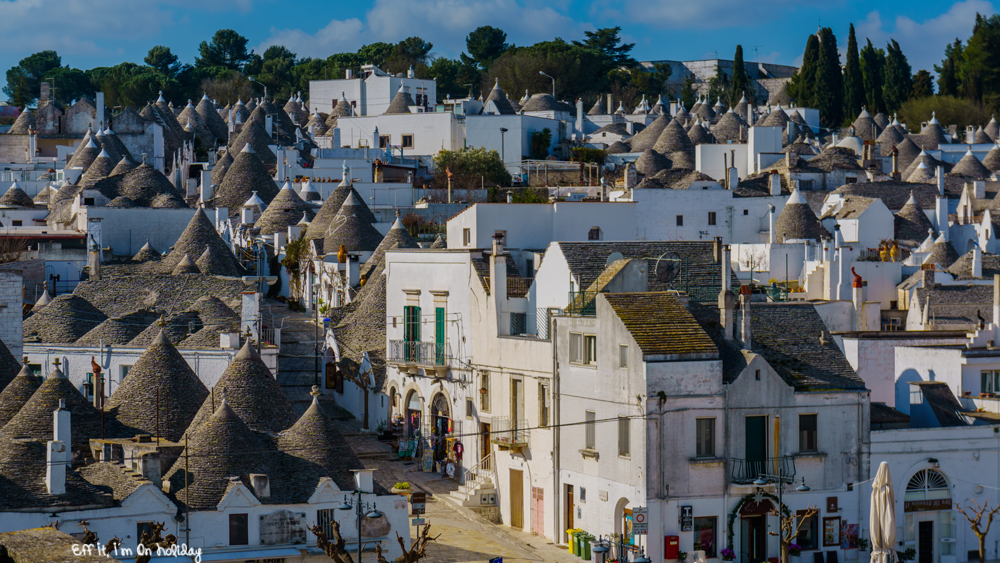 Alberobello is a town 60 km away from Bari, famous for its white stone houses with conical roofs, called trulli. An UNESCO World Heritage Site, the trulli in Alberobello are built with dry stone, making them easy to be demolished and to help the owners avoid paying taxes. Some roofs have different symbols, such as crosses or hearts, depending on the beliefs of each family that lived in the house. Nowadays, some of them are turned into little shops selling souvenirs or local products. The best part? You can go inside and people will invite you to try some of their snacks or liquor. You can even say they're trulli amazing. I know, I know, I'll see myself out.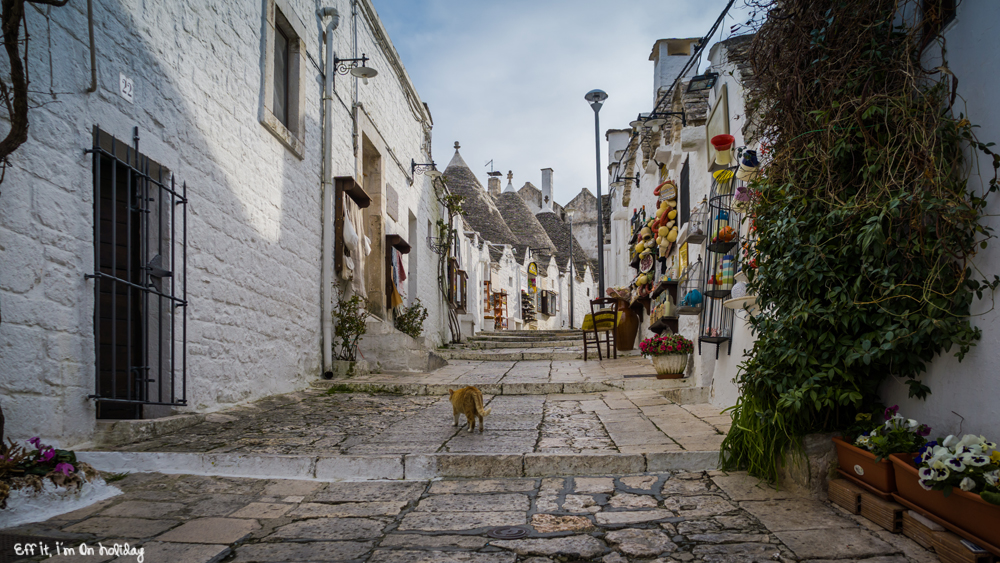 I don't know what it's like in summer, but in off season it's very quiet and you can walk on its streets without seeing a single soul. Especially if you get there in the afternoon when all the restaurants are closed. "Look, there's a group of tourists on a walking tour!" I said enthusiastically as I realized we weren't the only ones there. It wasn't until later that I realized they were all old, dressed in black and following a hearse. Oops! 😖 Not my finest moment……moving right past that!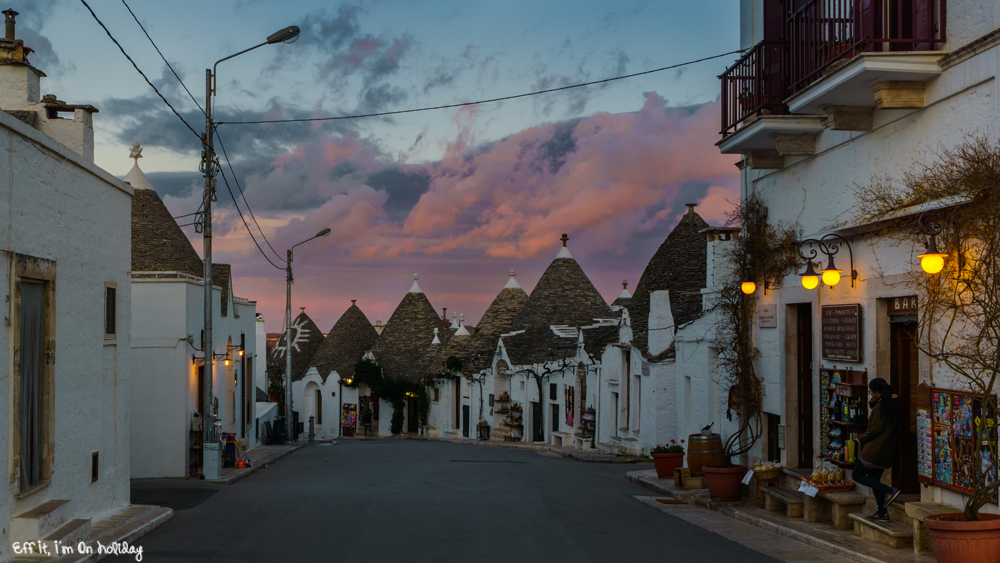 Alberobello is a small town and can be easily seen in a couple of hours, but it would be a shame not to spend the night in a trullo for an authentic feel of the town. We had a very small trullo, but everything was efficiently organized and every corner was well thought out, even the bathroom that was big enough for only one person at a time (thank god I'm not overweight!) and had a folding toilet to shower without getting the toilet wet. You haven't lived until you've seen one of these! 😂
Saturday – the windy Polignano a Mare
As there are no good trains on Sundays to Bari (there is one at 5 AM and one at 2 PM – making it impossible to catch our flight), on Saturday we went back to Bari, check in into a hotel, then catch a train for a day trip to Polignano a Mare, famous for that restaurant in a cave you've seen all over Pinterest. Sadly it was closed when we visited. Because we totally would have eaten there, no doubts about it! It wasn't way beyond our budget, nope! The return journey to Bari seemed shorter, even though it takes the same amount of time, but with less kids and new friends we've adopted in the Alberobello station, we got to Bari in no time.
This may come as a shock if you know my travel style, but I had no idea what to see in Polignano a Mare. I've seen some pictures, I've read some articles long before the trip but that was it. Luckily, there's a map of the town with all the important sights right outside the train station, you can't miss it. With a plan in mind, we set out to see the city and its people. Wait, where are all the people? Damn it, is this town deserted as well? Not that I complain though, fewer people means better photos and a happier introvert 😉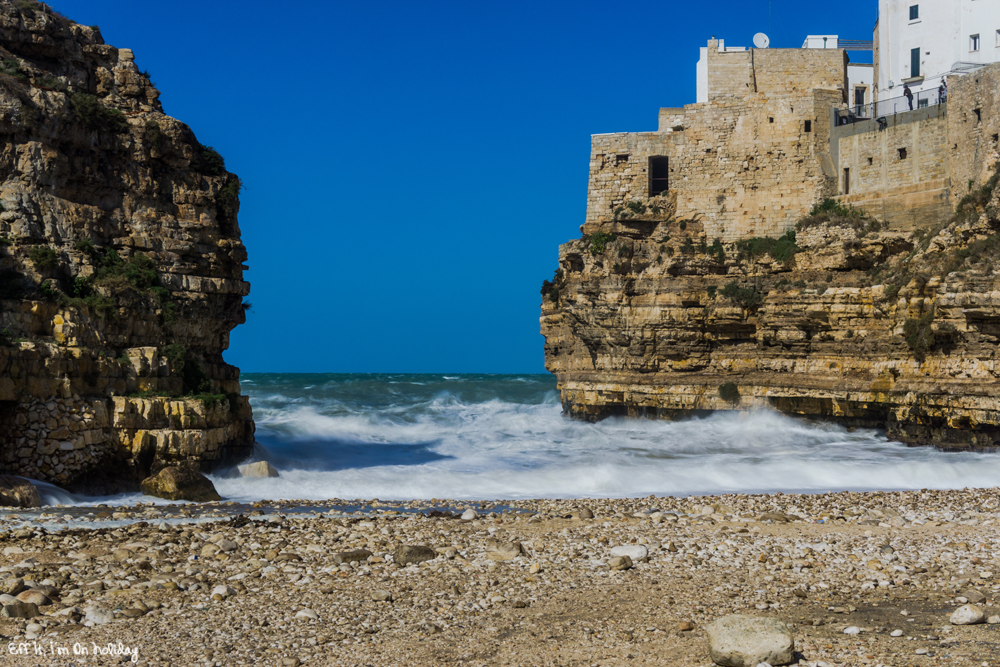 We walked through Piazza Aldo Moro, a cute little square surrounded by trees to Ponte Lama Monachile, the bridge that offers you a breathtaking view towards the Lama Monachile beach (such name inspiration, wow!). And when I say breathtaking, I mean that quite literally, as the wind was blowing so hard, I actually found it hard to breathe at some point, while waiting for a huge wave to crash into the rocks. Pictures taken, hair ruffled, we stopped for a gelato because why not. The small cafe had many different flavours, but I settled on only one, much to the surprise of the seller, who tried to compensate by serving me a very large scoop.
Satisfied with our choices (well, at least I was), we descended the steps to the beach, where in summer it's full of people relaxing and swimming, but now it was impossible to do anything because of the wind. We were still a good hundred meters away from the beach when we felt the first sea drops hitting us. I didn't get too close to the water as I was afraid all that salt would damage my camera and I tried to take some cool long exposure photos. The sea was not impressed and the wind would shake my tripod as if it was telling me to leave. Rude!
Just like in Alberobello, there aren't many open restaurants between noon and 7 PM, but we found one and realized where everyone was hiding. Called Pescaria, it served fish and sea food dishes exclusively and it was packed with people, we barely managed to find a table. The menus inside were only in Italian (there was an English one outside), but when I saw they had an octopus panini, my eyes became cartoon-like wide. I happen to know the word octopus in six different languages (it helps that latin languages have similar words) and it didn't matter what else was included, but when we left, I checked out the English menu to find out what had I eaten, as it was extremely delicious: chicory and figs. Two things I hate. Well it was a good thing I didn't know, huh?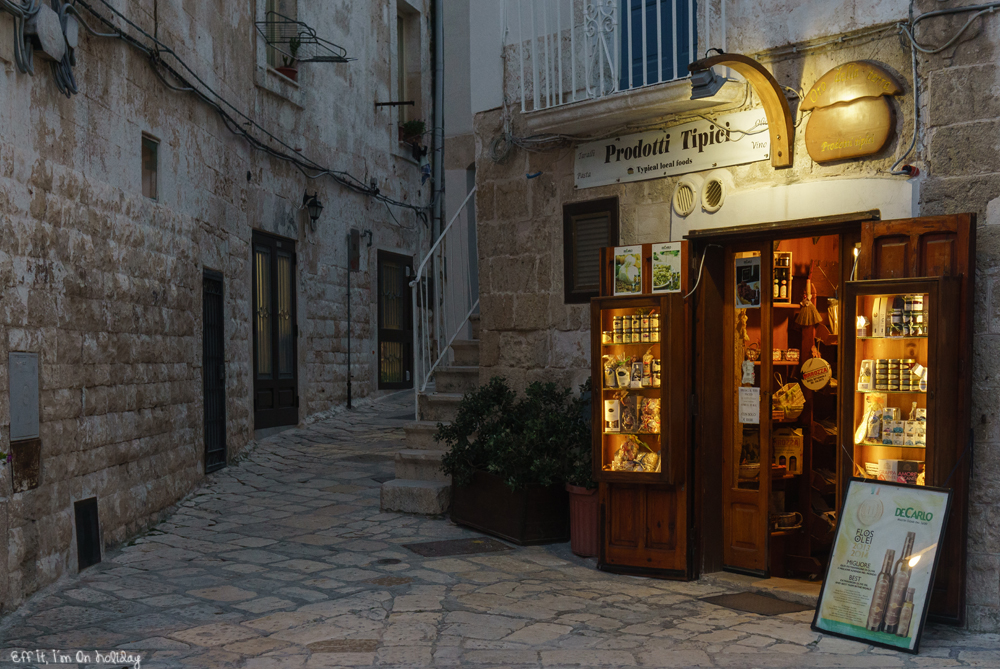 By the time we finished eating the restaurant had emptied and we continued to explore the old town, which was still completely empty (where did everyone go???). As it reminded us of Malta, especially Valletta and Mdina, we loved wandering on its narrow alleys with charming old buildings, clothes hung to dry dancing in the wind, cute details on every building, cats sleeping, completely oblivious to our presence.
The streets are a labyrinth, but you can easily get to one of the viewpoints where you can admire the quarrel between the dramatic cliffs and the angry sea. We waited the sunset at a cafe with quirky design and even though the view over the sea at sunset was a bit underwhelming, at least the coffee and tiramisu were good. 😉 By the end of the day I had so much salt in my hair and on my skin that I could have probably rubbed some lemon on my arms and do tequila shots. What a missed opportunity!
Sunday – just Bari
When we got back to Bari on Saturday, we found a crowded and noisy city, the complete opposite of what we had seen till then, so my first thought was "let's eat a pizza and go back to the hotel room". On Sunday morning however we were determined to see as much as we could of Bari before our flight, thinking we may have underestimated it. It is the capital of Puglia after all. This time we found a quiet city and as we walked towards the port the only people we'd seen were a few joggers.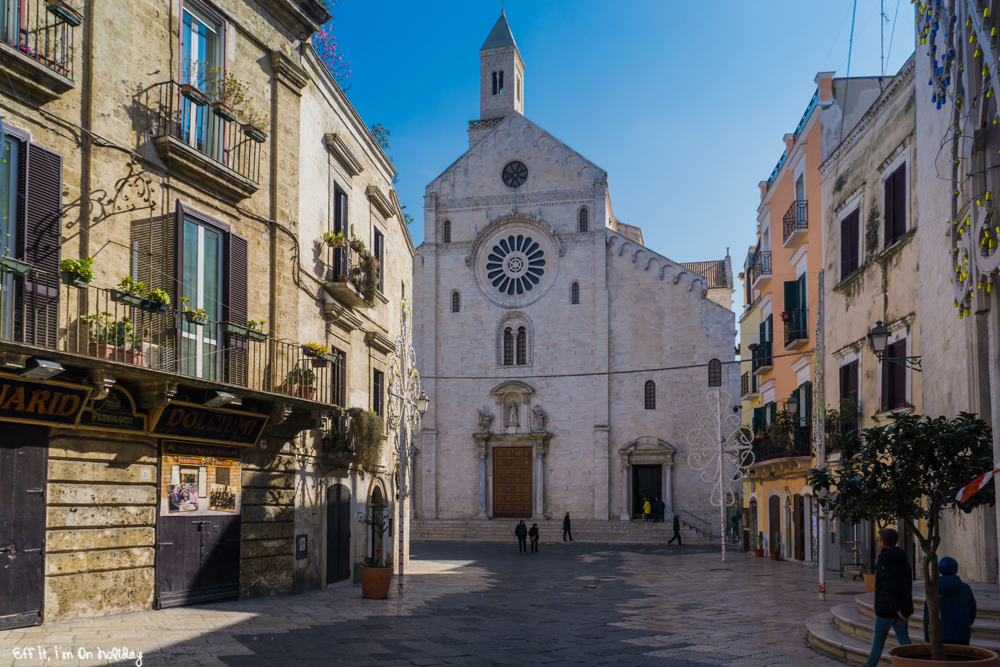 Wandering on the empty streets of its old town, I realized that it doesn't say anything to me. It seemed rather dirty but I didn't have any strong feelings towards it, I haven't quite liked the city, but I haven't hated either. It was a city that I probably wouldn't want to revisit.
The good thing about Bari however was that at its kilometer zero marker there was a banner with many cities from Puglia so I already know where I want to go next: Lecce, Trani, Ostuni. Even Matera, although this one isn't in the Puglia region, but right at the border.
I came back home from Puglia relaxed, ready for the week ahead, without any salt on me but with a backpack full of Italian pasta. 😀
Would you like to visit the Puglia region?