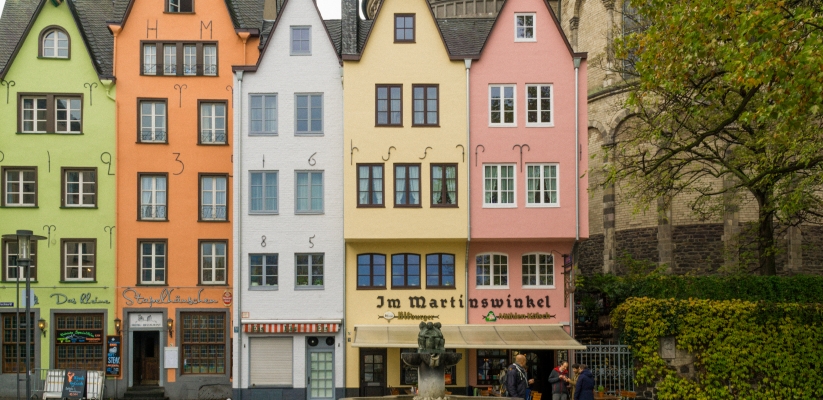 Escaping Karneval Madness In Cologne
A minivan comes to pick me up at 5 am. I get in, hoping it's my taxi. I did not wake up this early to get murdered or worse…robbed. But what am I doing that early on a Saturday? I came to Germany on a business trip and since I'm staying for two weeks, I figured it's time I finally visited John in Cologne, after all these years of him nagging me to go. He must have started to think I must be allergic to Germany.
So here I am at 5 in the morning waiting for my first train of the day. Oh yes, I have to prove I really want to go Cologne, by taking three different trains. When I change the first train in Heidelberg, I start to see the first people dressed up for the infamous Karneval in Cologne. On the 11th day of the 11th month of the year, at 11:11 begins the fifth season of Germany: Karneval season. I gotta tell you, you haven't lived until you've seen a middle aged woman dressed in a unicorn onesie. 
John advised me to sit by the window but I fall asleep for a bit as soon as the last train of the day leaves from Frankfurt Airport. I wake up in time to see beautiful towns along the Rhine River and I get wide eyed like a kid seeing all the presents under the Christmas tree. With each town, castle or stunning cathedral I pass, I become more and more excited. Save, pinned on Google maps, bucket listed and told all my friends. I need to come and visit all these beautiful towns!
As the train approaches Cologne and stops in a few towns along the Rhine, more and more happy people board the train. By that I mean people in costumes, carrying cans of beer. This is gonna be an interesting day, I tell to myself and as soon as I walk into the train station I realize that was an understatement, as it was packed with people in cool/ridiculous (or ridiculously cool?) costumes, and they obviously had a little too much to drink for 9 in the morning.
Just like me, John is a planner and he had the whole day well thought out, but escaping the Karneval madness/drunkies proves to be more difficult than imagined. Trains are delayed because there's a ton of people trying to get in and out. "So you live in Cologne but didn't dress up? Aw, you shit," some guy approaches John and proceeds to ask for directions after that nice opening line. Obviously he was talking in German, but scheiße is one of the few German words I do know. 😂
By now I must have painted a pretty vivid picture of what my first contact with Cologne was. We manage to get on the third train and when we get off in Deutz, John's neighbourhood, it feels like we are in a completely different city, even though it's just across the river from the main station. I can see why he loves living here, the streets are truly charming and it's a lot more quiet.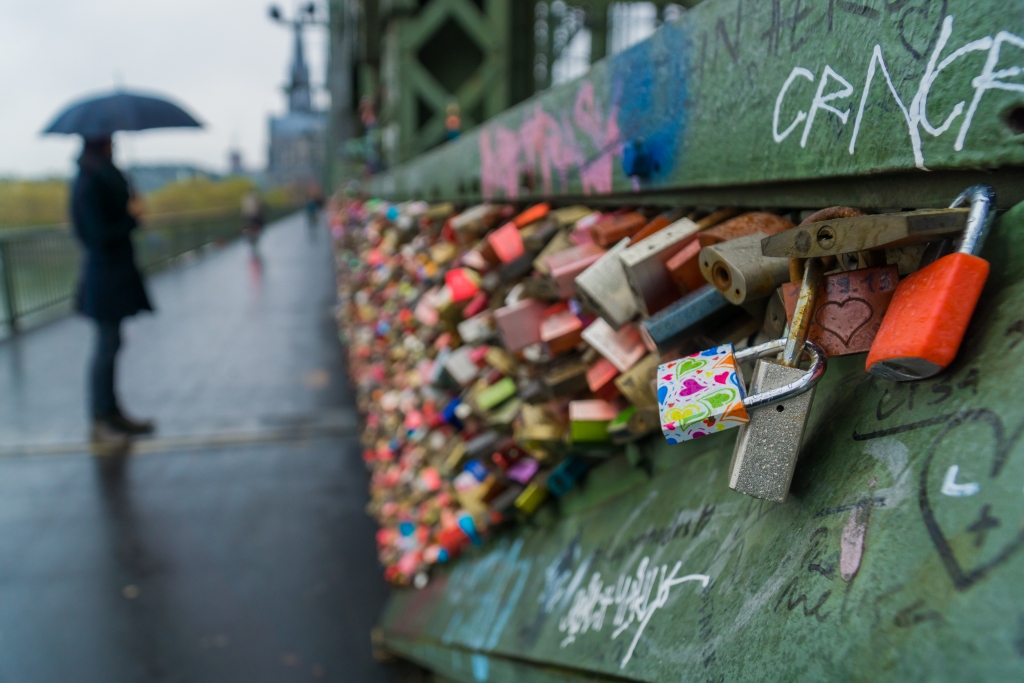 The plan is to avoid the Karneval "Jecks" as much as possible, as neither of us wants to deal with them. I think it's a good idea to visit the Cathedral on the inside since it would probably be safe from costumed people. At worst, it would be full of people pretending to have contact with God. 😉 As we cross the Hohenzollern Bridge, I admire the hundreds of love padlocks tied to it, seems like no bridge is safe from them now. A group of drunk, loud and obnoxious teenagers passes us and we soon realize that we ventured into the Old Town for nothing, as the Cathedral is understandably closed.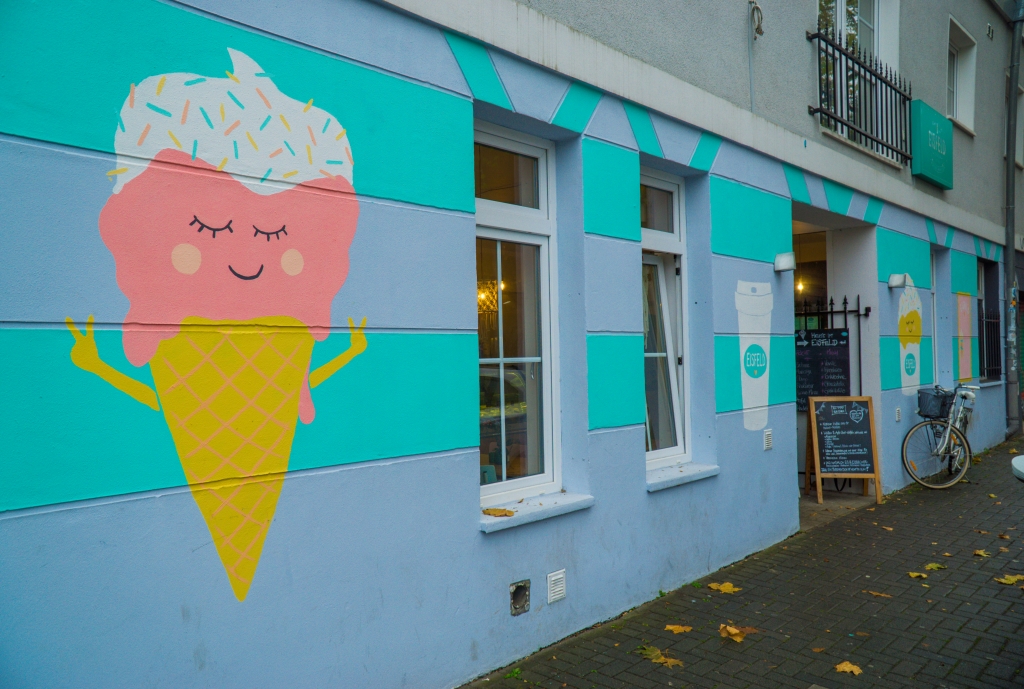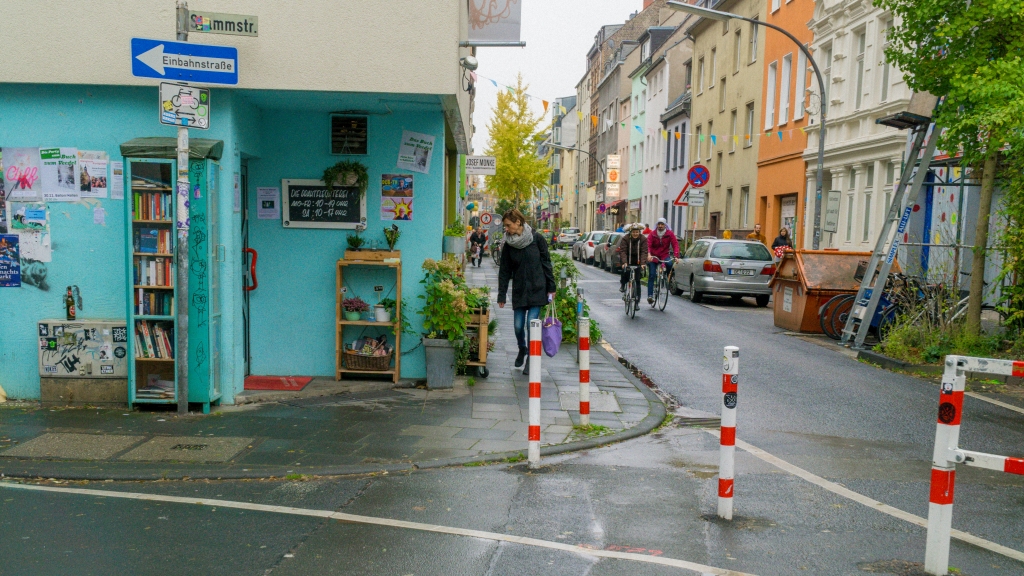 We spend the rest of the day exploring the hip(sterish) neighbourhood of Ehrenfeld, and as I admire some of the best street art I've ever seen, we pass by a group on a street art walking tour. I make a note that it would be fun to do next time I visit the city, when hopefully it will be warmer and less rainy. Low key one of the reasons I wanted to come to Cologne was to finally, oh finally, have a decent cup of coffee, as the rest of the coffee I had on this business trip was piss. John warned me that Cologne is not as hipster as Berlin, but I did find an article indicating places serving specialty coffee in Cologne so we hide in one of them after brunch. Koffeebud is a quiet little place serving literally the best coffee I had all week, as well as delicious cakes (mmm, that moist cheesecake! 😍). I'm told this is something that Germans love, getting together for "kaffee und kuchen" so I guess it's something like the Swedish fika?
We joke that we should queue for a pub, go in wearing regular clothes and then just complain, like "well this is unacceptable! Miss, please stop dancing on our table! And can you turn down the music, I can't hear my friends!" 😂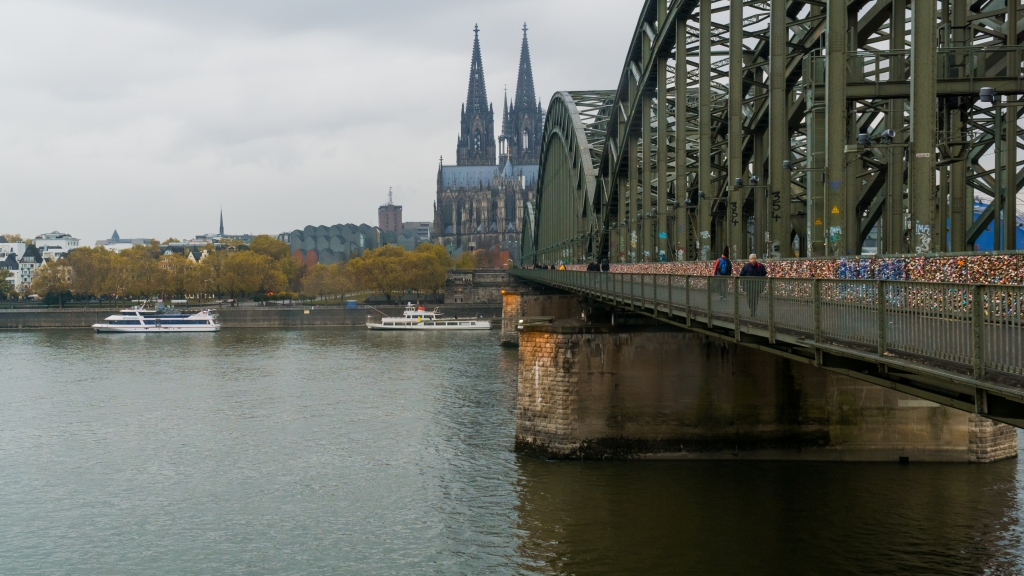 We start the second day by visiting the imposing Cathedral (or Kölner Dom) but there is a service so we decide to come back later. Unfortunately the light rain from before had turned into a full on, get-your-underwear-wet kind of shower (getting flashbacks from my last day in Berlin) so we seek refuge in the souvenir shop across the street. When it seems to be safe to go outside again, we venture again into Ehrenfeld for brunch at a restaurant that was completely booked yesterday.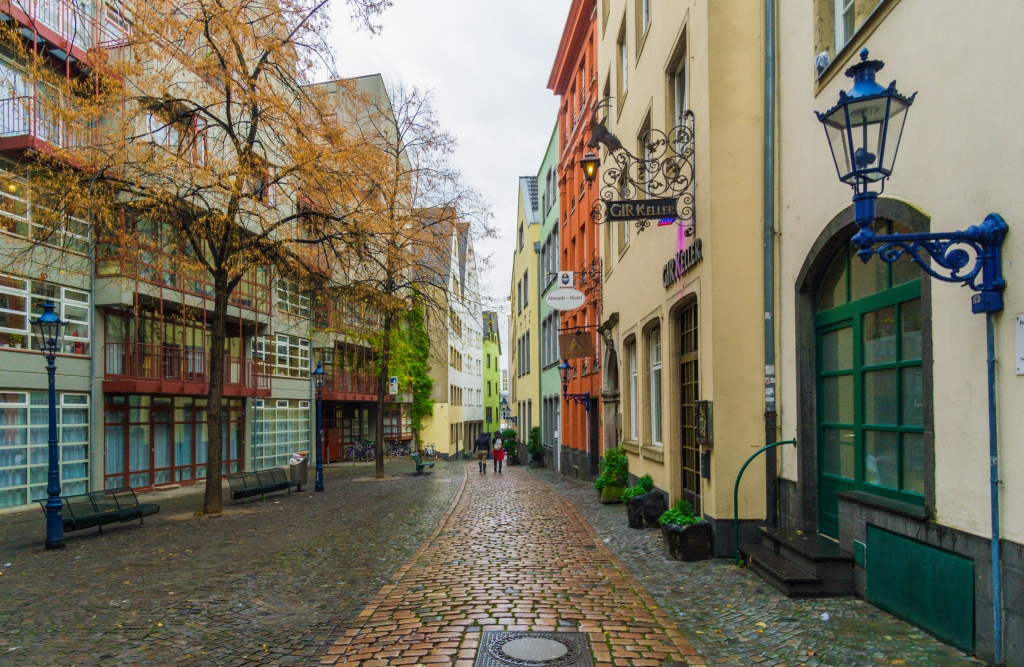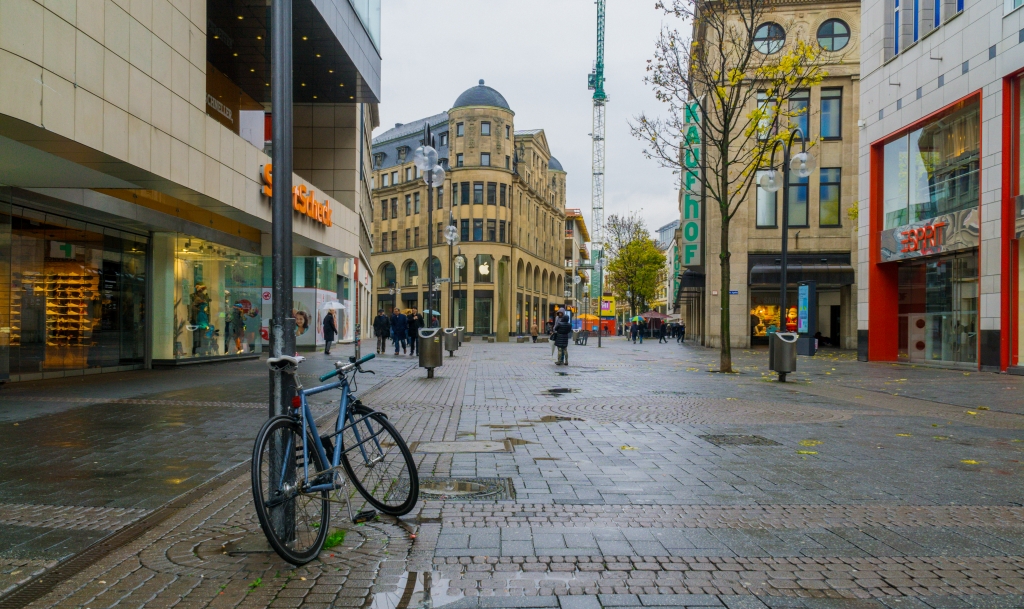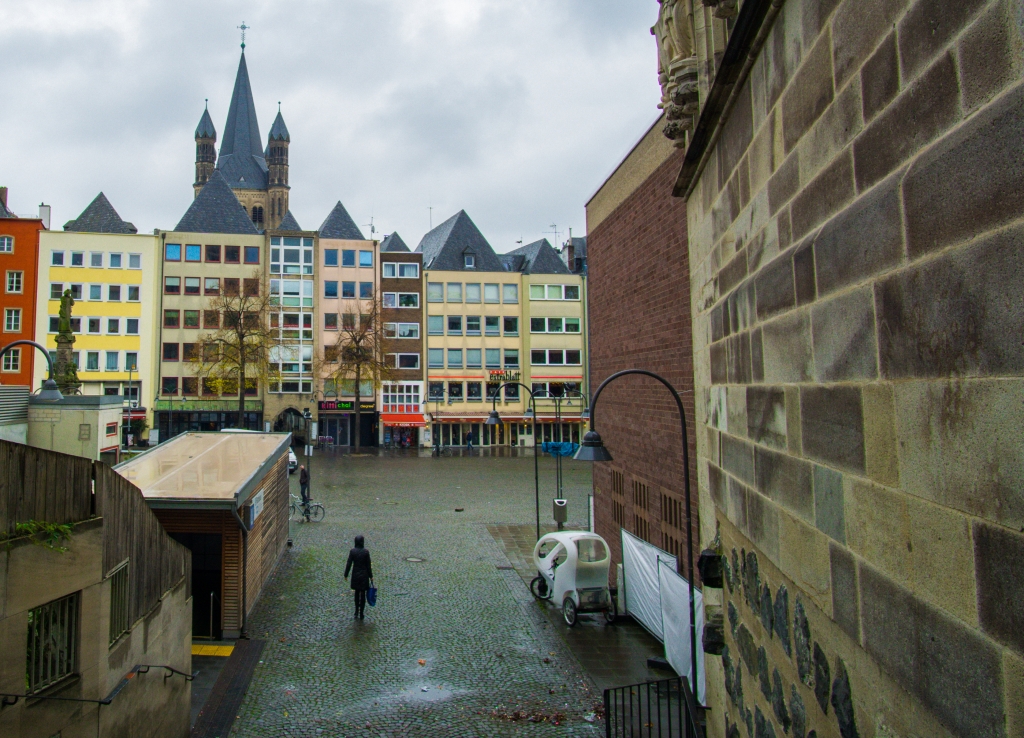 I finally make it to the Old Town (or Altstadt) and it is extremely quiet, there are only a few people here and there. I guess most people in Cologne have either died or have their heads buried in a toilet somewhere, wishing for the former option. I wander around and I realize that Cologne isn't really how I pictured it. I mean, there is one place that looks exactly how I imagined, Fischmarkt (cover photo), with charming colourful houses, but it's pretty much the only part of the city looking like that. As the city was heavily destroyed during WW2, they haven't really taken into consideration what it used to look like and that's why in many parts of the city you can see buildings that look completely different to the ones next to them or are just plain concrete blocks. (Then again, Bucharest hasn't been destroyed during the war and it still looks like that….yay communism and corrupt mayors!)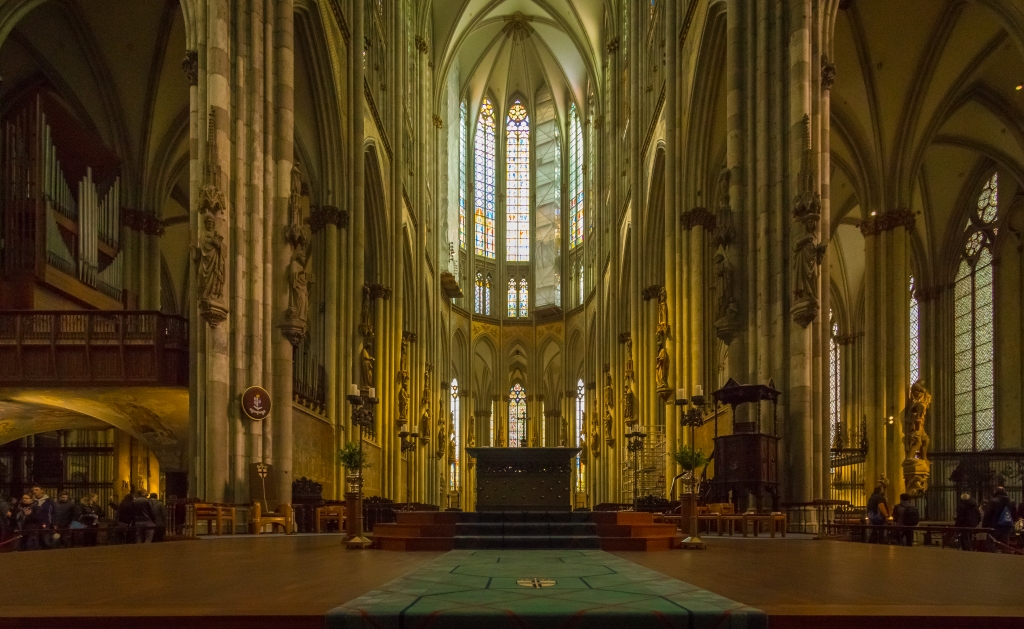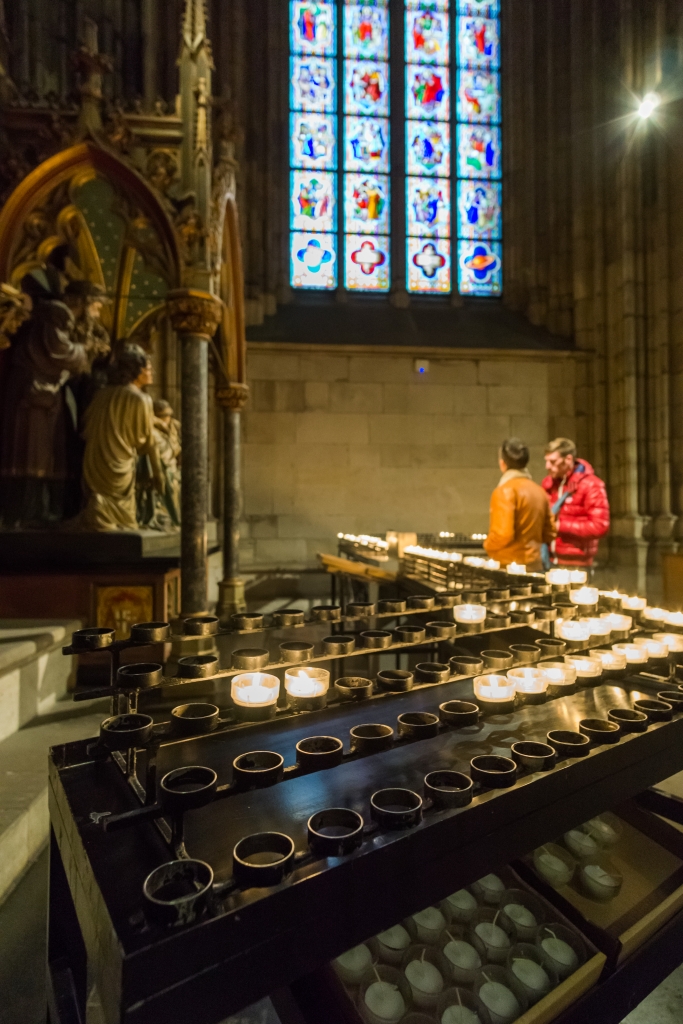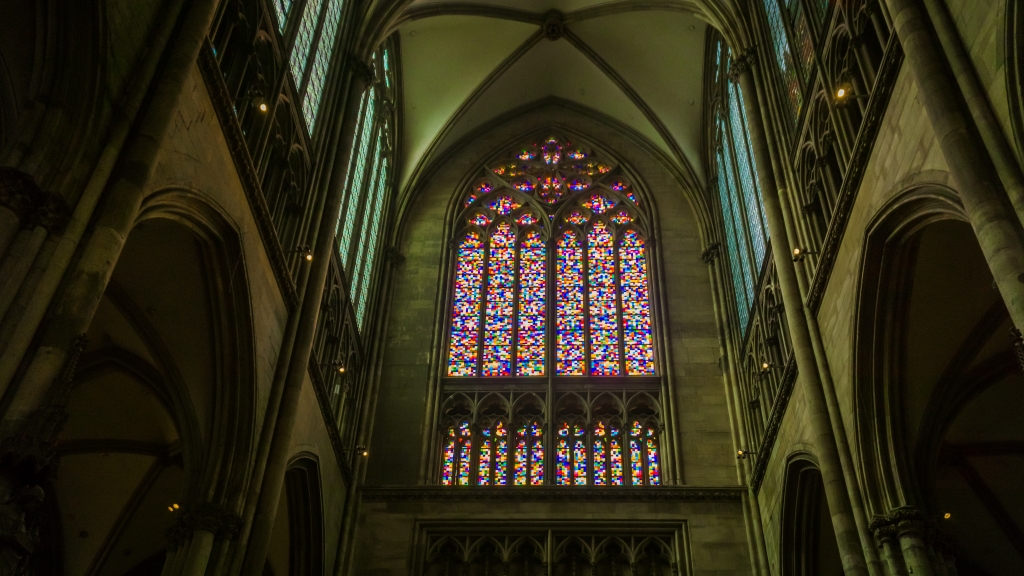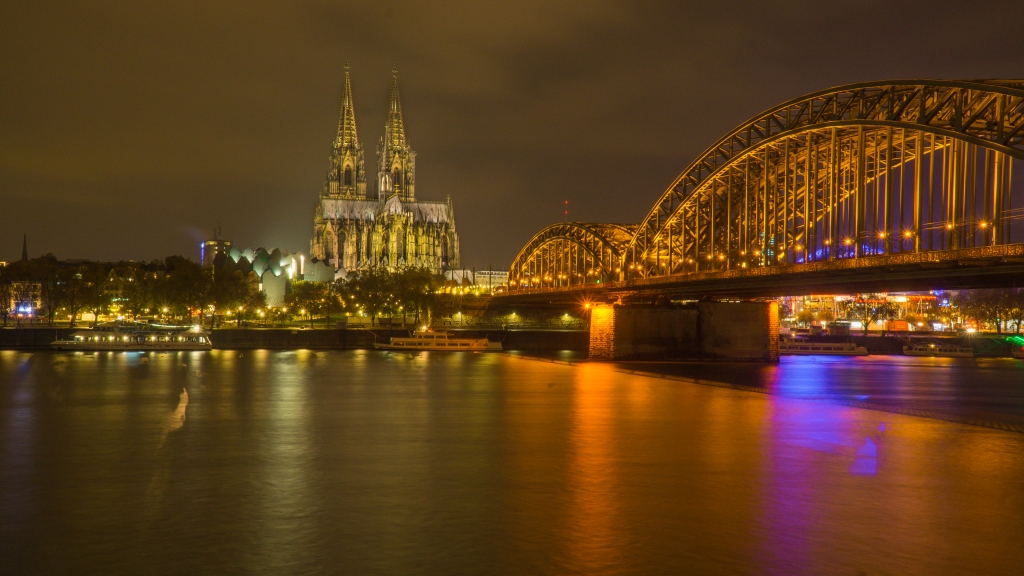 I return to the Cathedral and I'm in awe with how marvelous and imposing it looks both on the inside, with its colourful stained glass, and on the outside, with the largest facade of any church in the world. There are photos outside showing pictures from the war and what an impact it had over the city, but the Cathedral, although damaged, it hasn't been destroyed, as the twin spires helped Allies pilots know exactly where they were.
For my last few hours in Cologne, I take advantage of the shy sun and small bits of blue sky to wander in the Belgium Quarter, before finding as/if Record Store Cafe, a nice place that tries a little too hard to be hipster. When we are about to leave, I see a guy coming in with something white on his shoulders, but I figure he must have really bad dandruff, after all, it was almost sunny when we went in, right? Well guess what? There's sleet. Or hail. Either way, it is cold.as.fuck, I barely make it to the subway before turning into an ice cube.
I make it to the train station in time and find my seat by the window on the train. It's already dark so the charming towns along the Rhine are hidden now, so I start writing this post while listening to Ms Swift's Reputation and thinking…"I must come here when it's warm".
Have you ever been to Cologne? Did you like it?