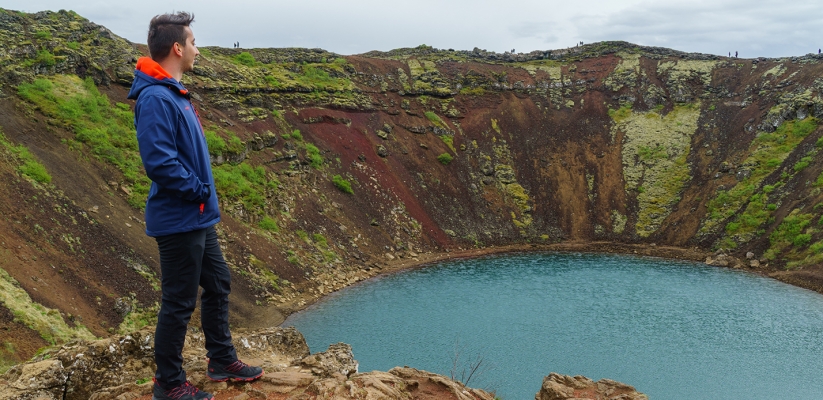 Golden Circle Tour – The Perfect Intro to Iceland
It has finally happened, I visited Iceland! *waits for the applause to finish* Thank you, thank you! If you're a regular reader, you'll know that it has always been a dream destination of mine. If not, let me tell you the story of a guy who had to do a paper on Northern Europe in high school and a colleague suggested writing about Iceland. "Pfff, Iceland, what is there to write about?" he asked ignorantly. Well a quick Google search and a hundred pages later, it's been his dream ever since to see that breathtaking scenery Iceland has. Yes, that guy is me (thank you, Captain Obvious!).
What's been stopping me all these years was the fact that nor me, nor my friends drive (shocked sounds all around) and everyone recommends driving yourself around the island. When I'd finally decided to go this year, I figured I would take those big tourist buses and at least I'd see the sights I wanted. Wrong! Enter BusTravel. When I found them, I realized they were exactly what I needed: smaller groups and a more intimate tour (not that intimate, jeez!), giving me enough time for photography – just like the one I did last year in the Scottish Highlands.  Luckily, they are one of the few companies that have daily tours so I made a schedule of what I was interested in, considering the time and budget I had. And then came the opportunity to partner with them and I started counting the hours until I set foot in the land of fire and ice (2208 hours to go, 2207 hours to go…)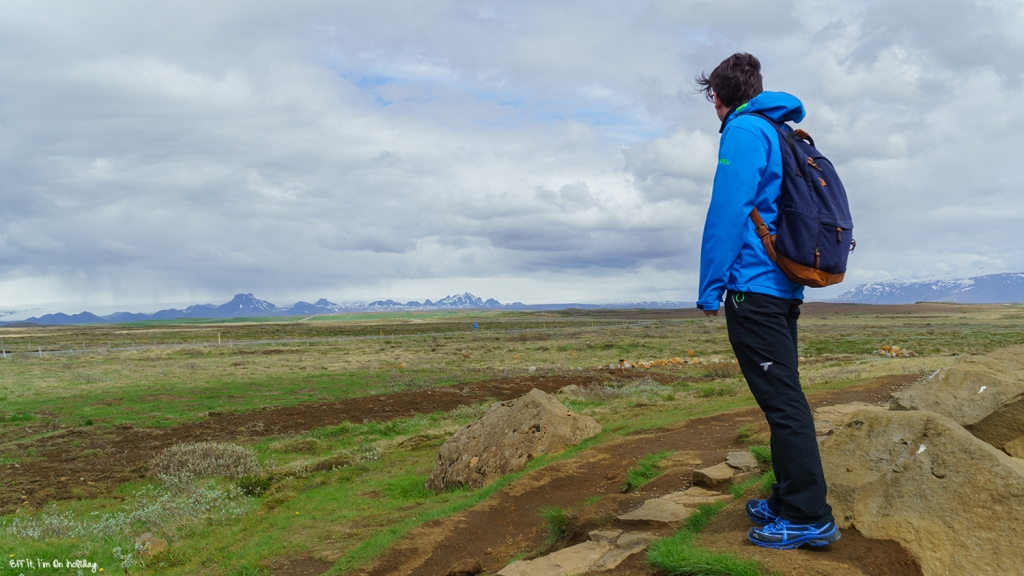 The first tour I did with them was the Golden Circle tour which turned out to be the perfect introduction to Iceland. It had a little bit of everything and even though I had read about all of the sights, seeing them in person was as thrilling as receiving presents from Santa when you were a kid. That feeling of excitement had only increased during the following days (and the weather got nicer too!), but if you have limited time or it's your first visit to Iceland, the Golden Circle tour is an absolute must. I've bored you enough already, let me show you what I'm talking about.

After a very rainy day in Reykjavik, we left the following morning to mostly blue skies, though, as we would soon find out, extremely windy. While we were leaving the capital behind us, our lovely guide, Hilda*, told us some general information about Iceland and we found out that Iceland has only 330000 people, and two thirds of them live in Reykjavik or the surrounding area, while no one lives in the middle of the country. Icelandic is a very complicated language (I couldn't remember any of the names, I have stars on Google Maps for each place we've visited), but it's also a very descriptive language. For instance, Reykjavik means smokey bay (reykja – smoke, vik – bay), named by the vikings who saw the geothermal steam and thought it was smoke.
(*not her actual name – which is Ragnhildur Lövdahl – try saying that three times fast! I found it interesting how usually in Iceland there can be more than one last name in the same family, as kids have different last names than their parents, formed from the first name of the father (sometimes mother) and adding dóttir for girls or son for boys)
While we were driving towards our first stop on the Golden Circle tour, I was watching the beautiful mountains rushing behind us, my thoughts ranging from "holy shit, I'm in Iceland!" to "OMG it's so pretty!". So yeah, you could say I was pretty excited!
Thingvellir National Park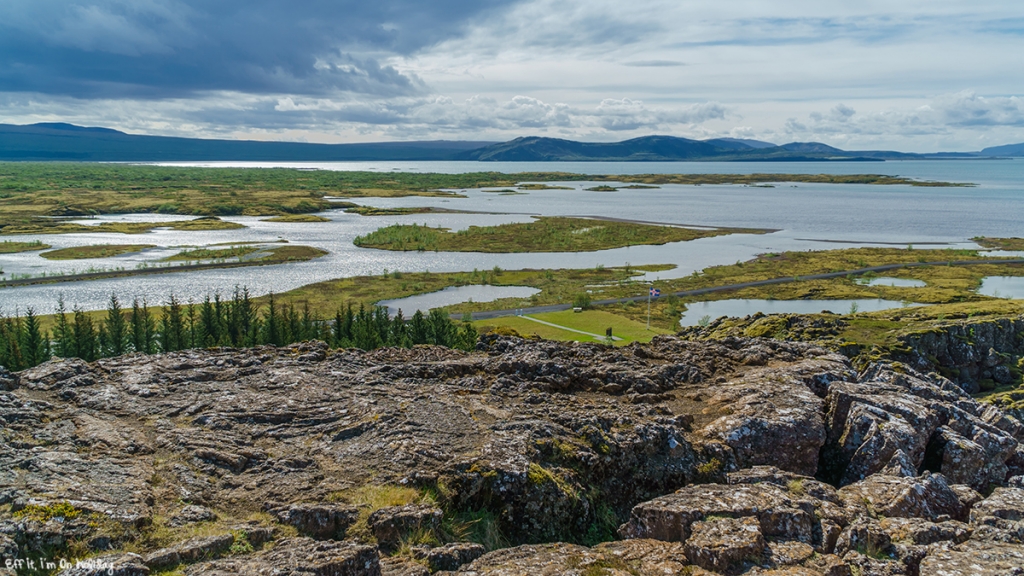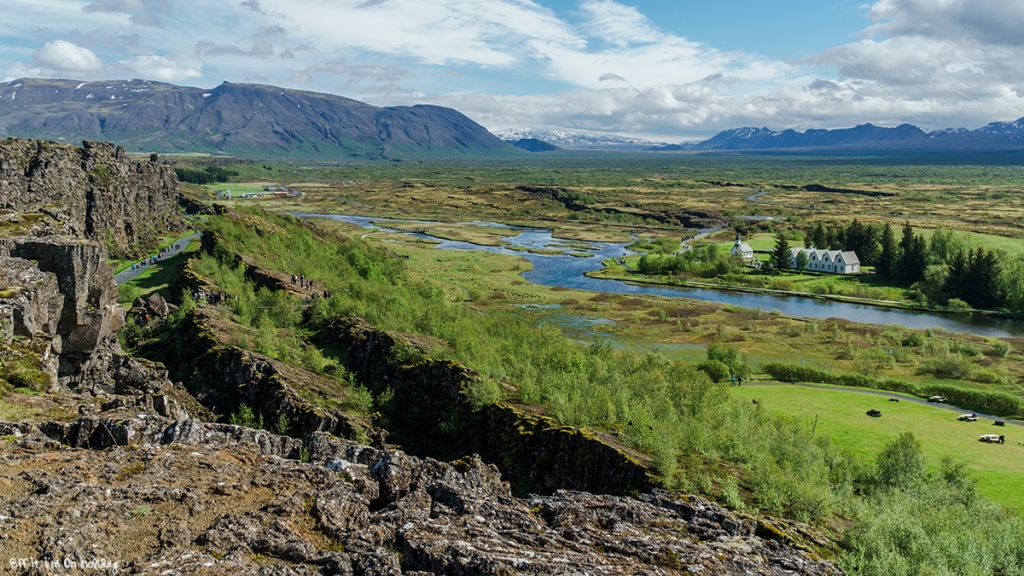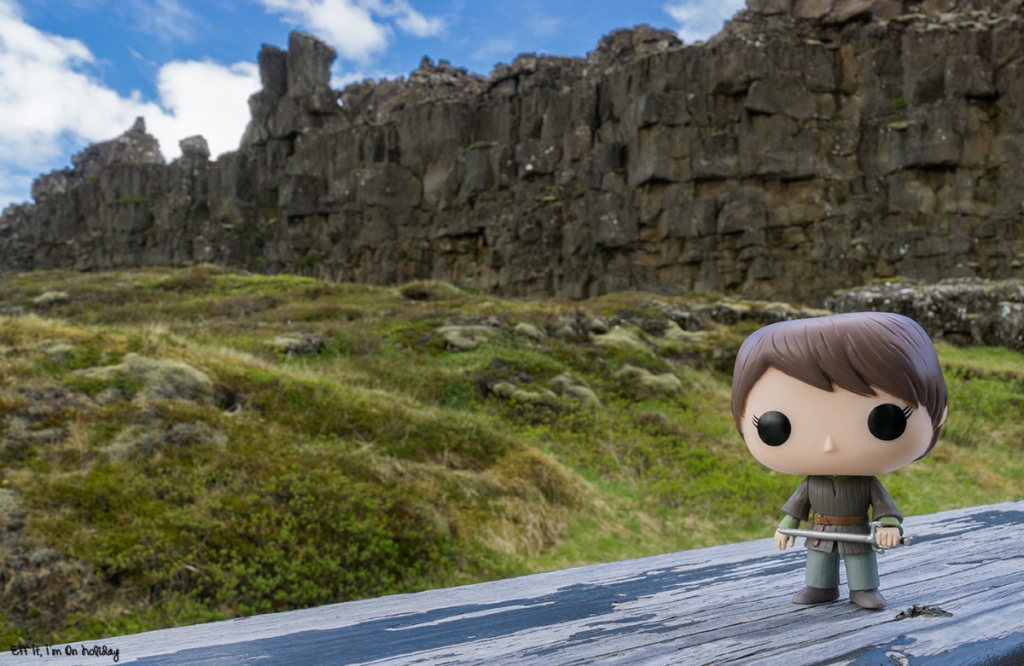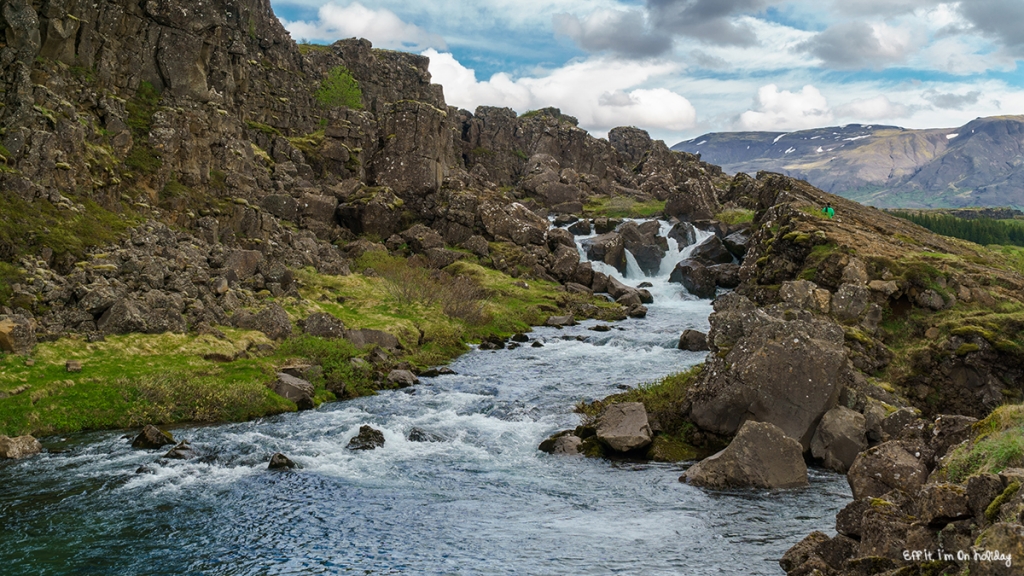 The first stop was the gorgeous Thingvellir National Park (Þingvellir, as it's written in Icelandic), which is an UNESCO World Heritage Site, but also the most important place in the country, where all major events took place, from forming the first parliament in 930, to the declaration of independence from Denmark in 1944. While its history is very interesting, the scenery is even more impressive. The park is home to the largest lake in Iceland, Þingvallavatn, a man-made waterfall, Öxarárfoss, but most exciting of them all, the continuation of the Mid-Atlantic ridge, where you can see the separation between the North-American and Eurasian tectonic plates. Contrary to popular belief, you can't stand with one foot on each plate, unless you're a giant with very very large feet. But you can snorkel between them or search for Game of Thrones filming locations (but more about this next week).
Efstidalur Farm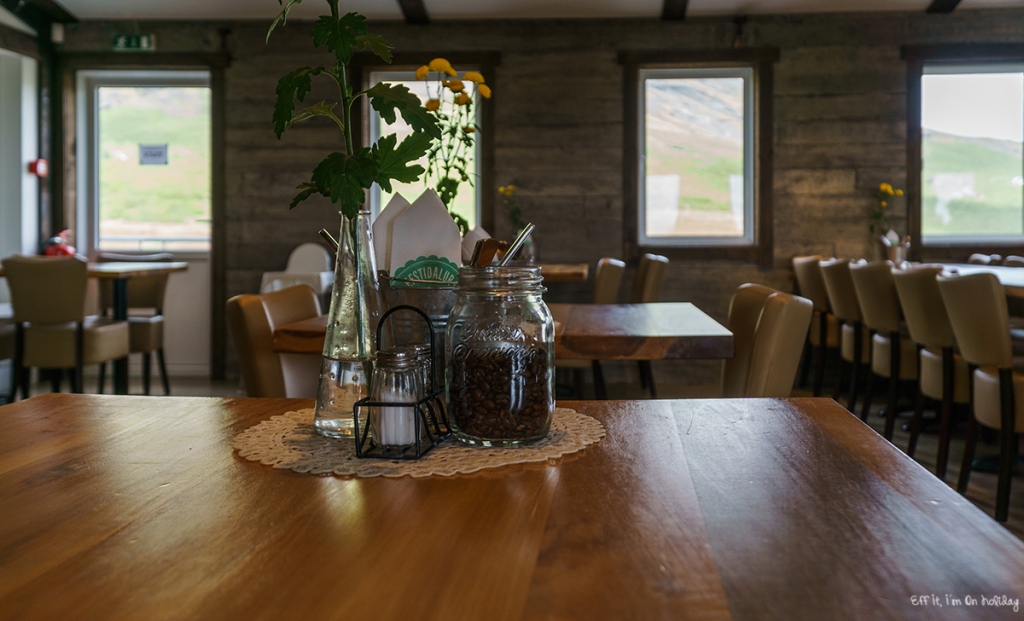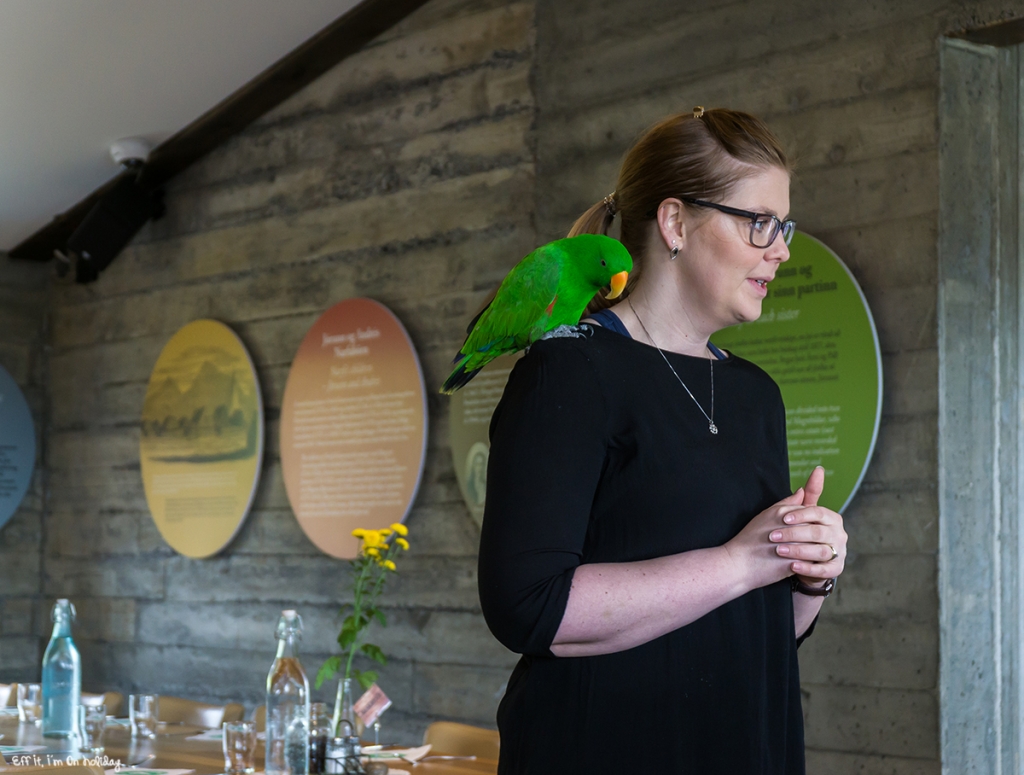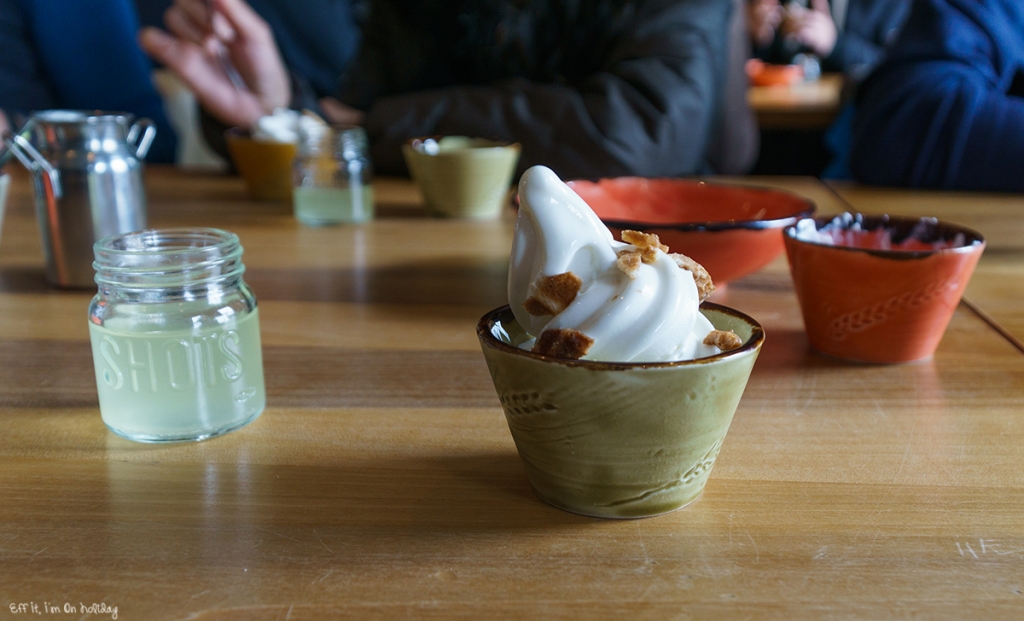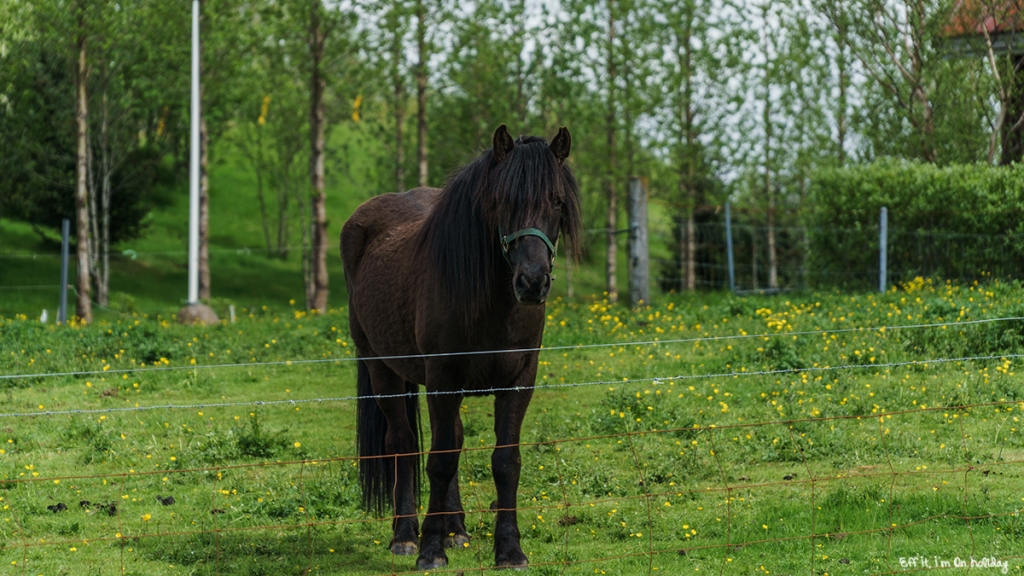 Here's one that's not in the guidebooks. After leaving the Thingvellir National Park with our hair ruffled by the ruthless wind, but with little hearts in our eyes, just like that one emoji, our second stop on the Golden Circle tour was the Efstidalur Farm, owned by the same family for over 160 years, where we tried delicious dairy products from the farm, as well as the best ice cream in Iceland. We were told the history of the place, but honestly, I was too distracted by the parrot on the lady's shoulder. 😆 At the end, I had time either for a coffee or to see the adorable Icelandic horses up close and even though the smell was excellent, you can see in the photos above what I chose 😉
Gullfoss Waterfall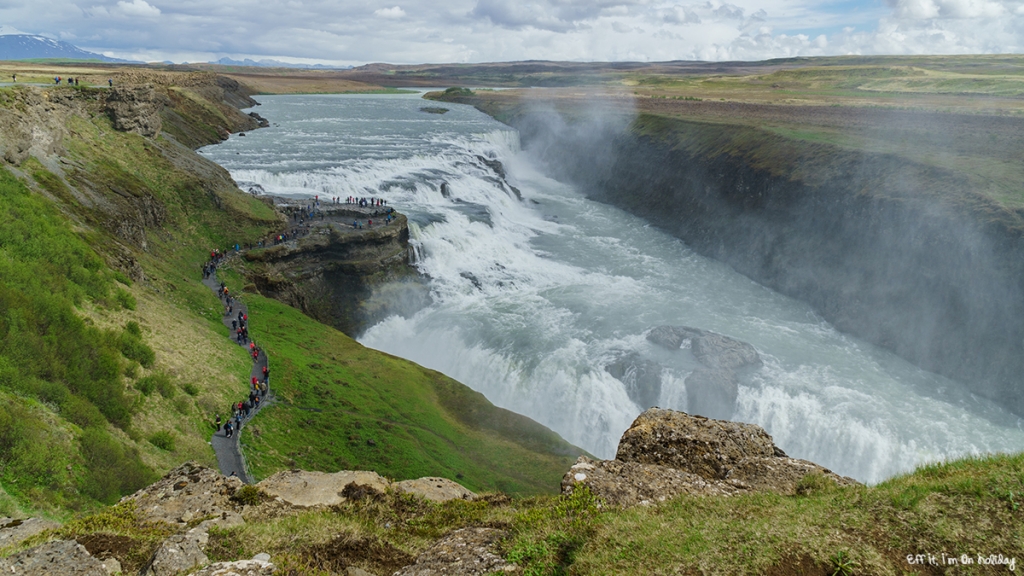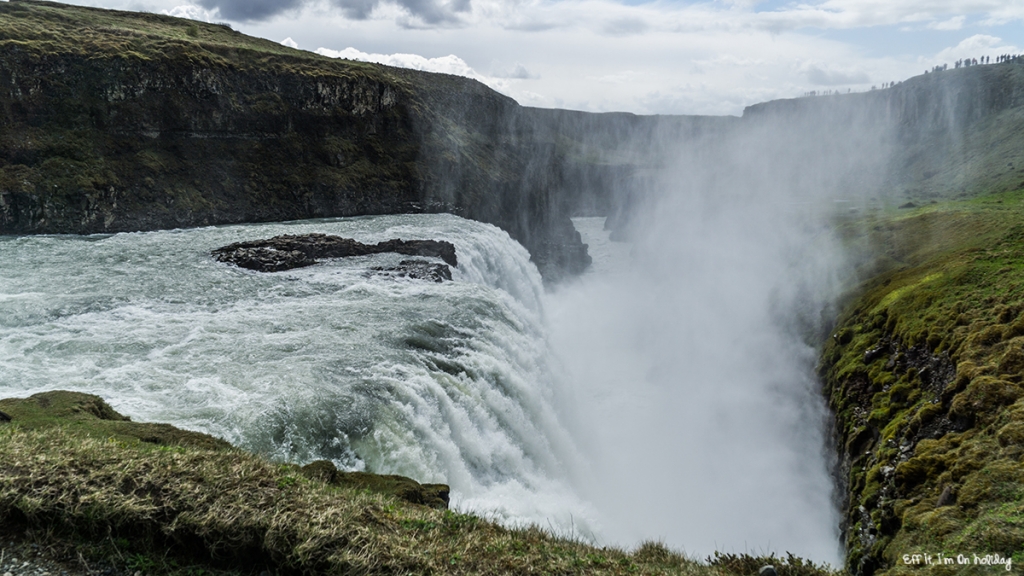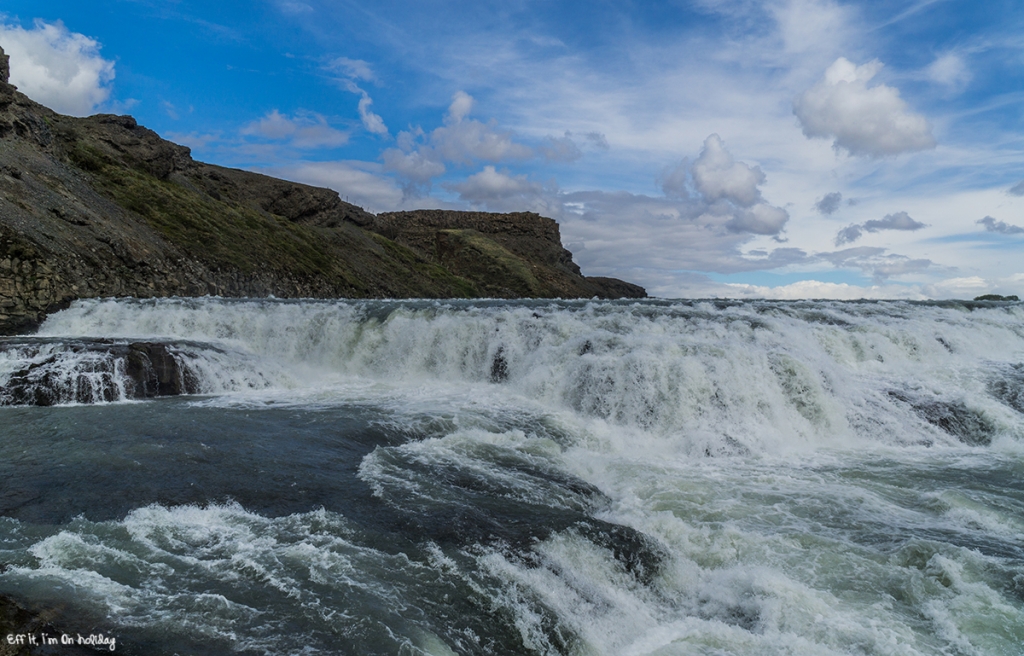 The first of the many waterfalls we've seen in Iceland and the one that prove to be the most difficult to photograph, as I had to wipe my lens every 5 seconds. "Foss" means waterfall so Gullfoss means Golden Waterfall (is it because it's on the Golden Circle tour? Or is it the other way around?). As I've said, Icelandic words can be complicated, so we remembered the names of the other waterfalls we've seen as something-foss. 😂 With a drop of 31 meters, and a gorgeous gorge that I could barely see because of the steam, it's one of those places that you need to see with your own eyes.
As much as I wanted to see Iceland, read about it, and seen many pictures, I thought that my hopes might be too high and I might get disappointed. Nope, the country still blew my mind on each step of the way.
Geysir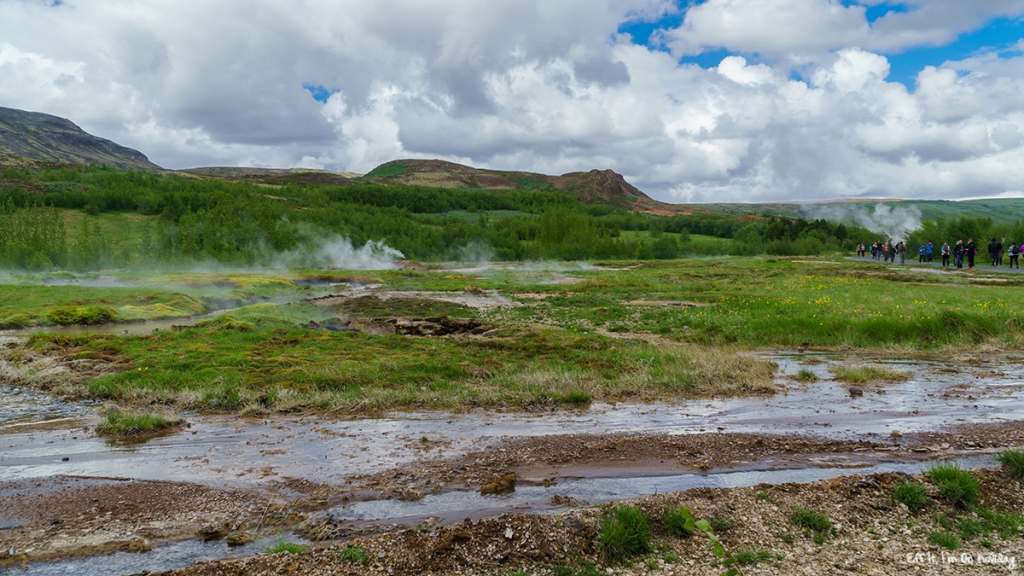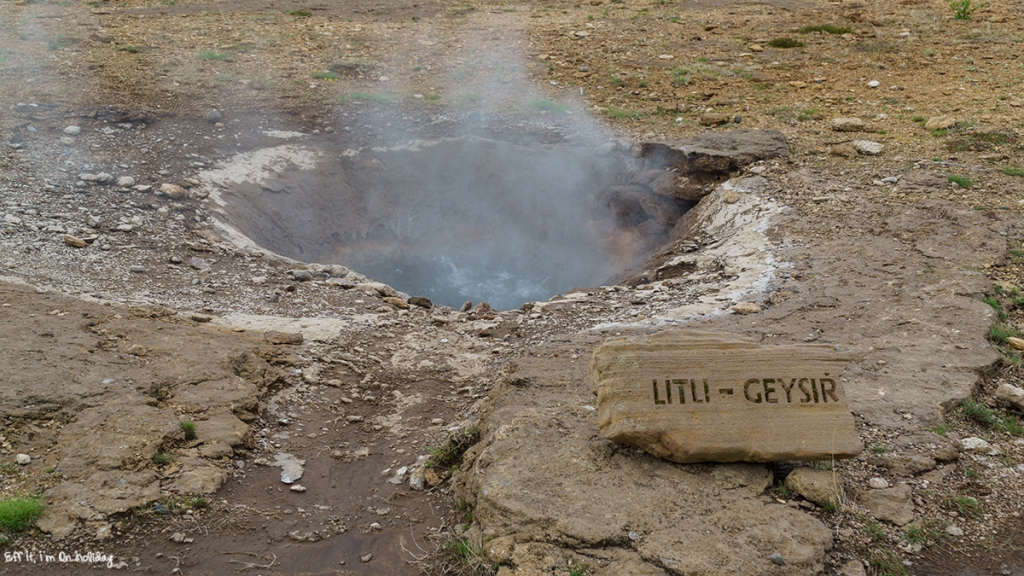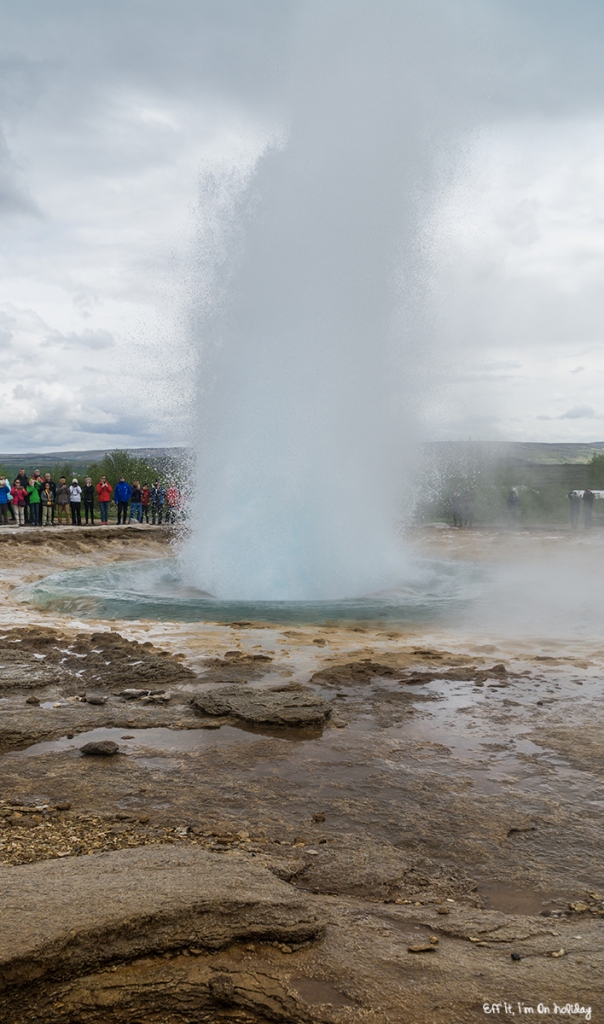 Geysir (or The Great Geysir) is actually where the English name geyser comes from. Dormant these days, it still covers the area with steam and a very sulphurous smell. However, its little brother, Strokkur, errupts every few minutes to 20 meters high spouts. It's very impressive to watch, but you need to be careful where you stand based on where the wind is blowing. I wanted to take better photos so I moved to a different side of it and let's just say I got a very nice shower that day 😛
This is also where we stopped for lunch, there are three different restaurants and souvenir shops. We tried something traditional for the first time – Icelandic meat soup, which is made with lamb. Very delicious and just what we needed to warm ourselves up (summer in Iceland means average temperatures of 12C). But the funniest thing happened there. We were over 4000 km away from home, we figured there weren't too many Romanians around. That changed when the guy at the counter answered us in Romanian…. 😂
Faxi Waterfall
But you said all waterfalls are named something-foss, I hear you cry! Oh wait, it's actually called Faxafoss, phew!. I was pleasantly surprised by this, because I had never heard of this waterfall, there's no mention of it in my Marco Polo guide, nor was it on the map of the tour, so if it wasn't for BusTravel, I wouldn't have seen it (or find out about it). In fact, we were the only ones there! On warmer days you can sit at the picnic table for a meal with a wonderful view, but when I visited, I managed to take literally five photos before rushing back to the car because of the strong wind.
Kerið lake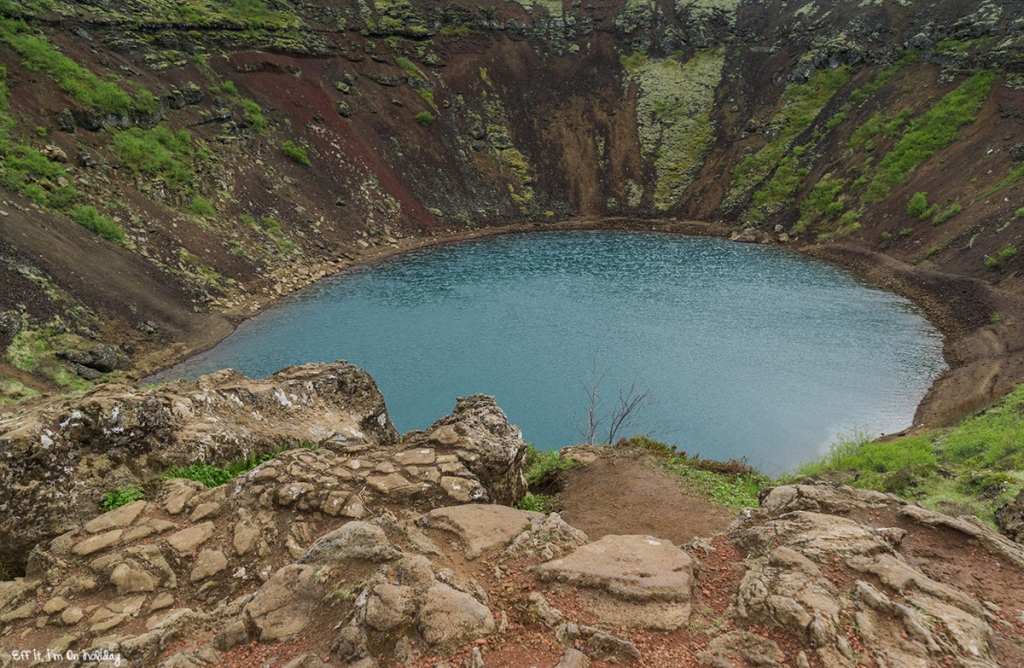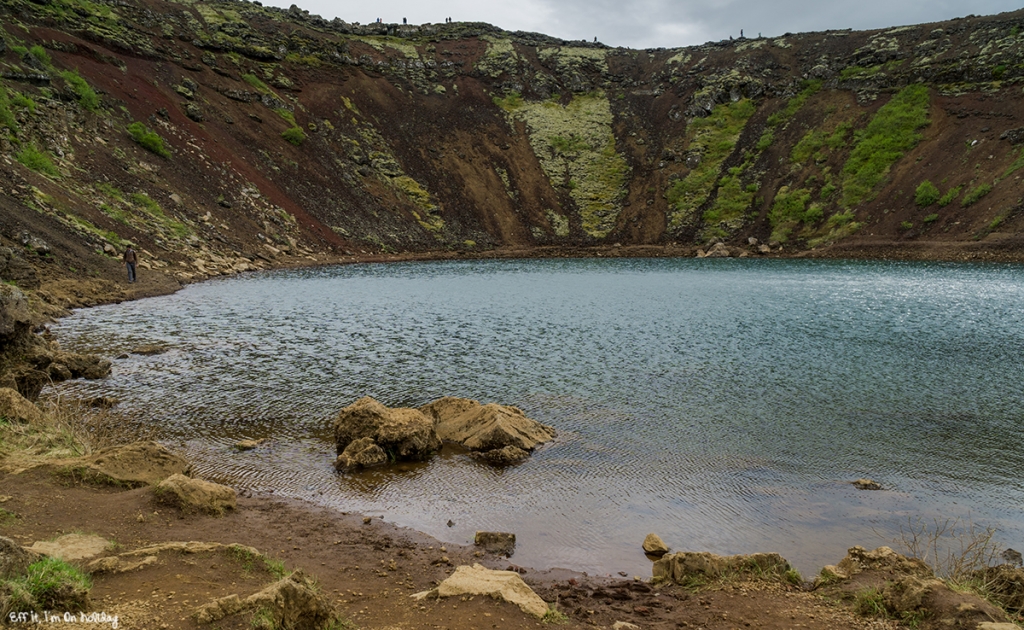 The last stop on the Golden Circle tour was the Kerið volcanic crater lake, formed over 3000 years ago in a collapsed magma chamber at the end of a volcano eruption. The colors of the red soil around it, mixed with the green of the moss and the blue of the lake will leave you speechless. You can walk around it, until you reach a point where you see its round shape perfectly, then make your way down to the lake, for some great photo ops. There's a 400 ISK (about €3.6) admission fee, which is included in the tour.
As I've said, Iceland has been my dream for so long and now that I've actually been there it feels surreal. The Golden Circle tour proved to be the perfect introduction to this beautiful country, visiting places I've read about many times, with some surprises along the way. The rest of the tours were more and more impressive and this has been the first post in a series of many and I hope that by the time I finish writing them, you'll go from "this is nice" to "where can I book a flight to Iceland?"
Would you like to tour the Golden Circle in Iceland?
Disclaimer: We partnered with BusTravel Iceland for this tour, but all views, photography and desire to visit Iceland for the past 10 years are entirely our own.