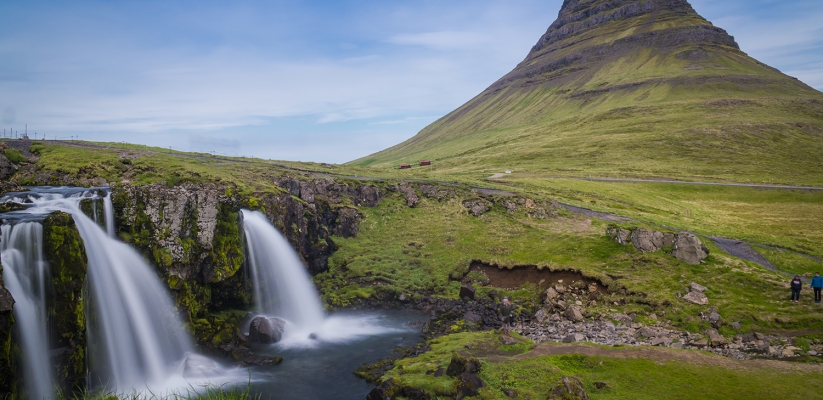 The Secret Life of the Snaefellsnes Peninsula – Our Last Day In Iceland
It was our last day in Iceland (before a long day of tranzit) and I'd be lying if I said I wasn't tired. But when the car came to pick us up for our last tour, I had a bittersweet feeling, obviously I was going to miss Iceland, after a decade spent dreaming about visiting. However, I was probably the most excited I've been the whole trip as we were about to visit a gorgeous area, one that I urge you to visit when you go to Iceland (which, after all my posts, will hopefully be soon). Without further ado, our last day in Iceland was spent in the Snaefellsnes Peninsula, thanks to a recently added tour from BusTravel. The scenery is incredible and you get to experience -literally- everything Iceland has to offer less than a couple of hours from Reykjavik. And again, there were only six of us on the tour, so it felt really intimate and we got to enjoy the sights at our own pace.
Vatnaleið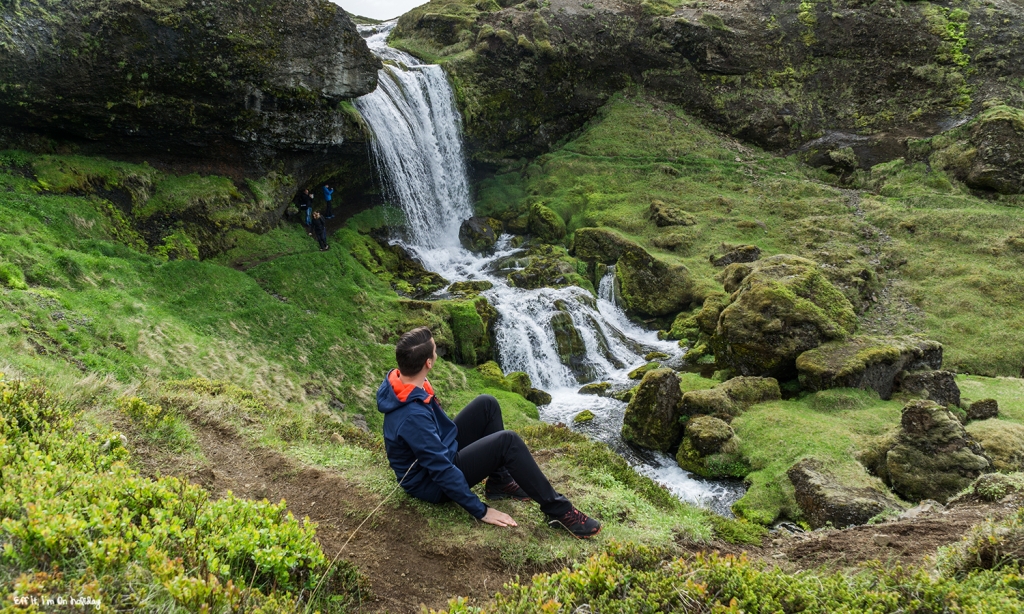 After a quick stop for breakfast at a cafe (where we found yet another Romanian waitress 😆 ), we stopped at a beautiful waterfall where there was no one else around. It's not difficult to imagine why though, Google doesn't show anything at that location and there are no signs, Vatnaleið is probably just the name of the road (as you may recall from my Golden Circle post, waterfall names usually end with foss, which means waterfall).  This is one of the benefits of these tours, you get to visit places that you wouldn't otherwise.  The waterfall is so remote, not even our guide knew its name, but the area is stunning, the water flows into a huge lake and there are mountains everywhere. You can even walk behind the waterfall, but the wind was so strong (something I should have gotten used to by then) that after a few photos, I rushed back in the car.
Grundarfjörður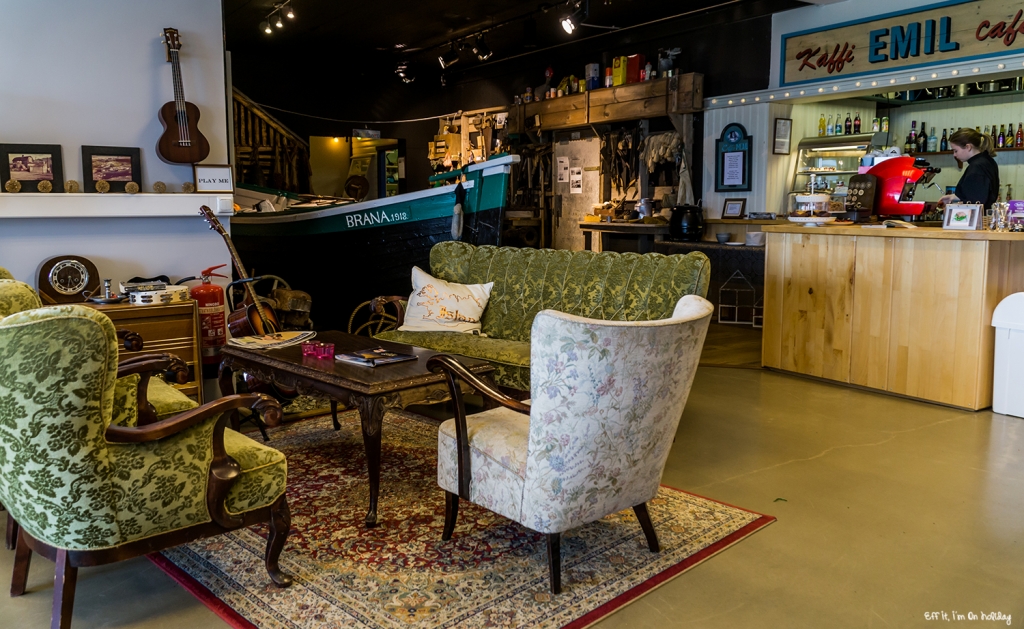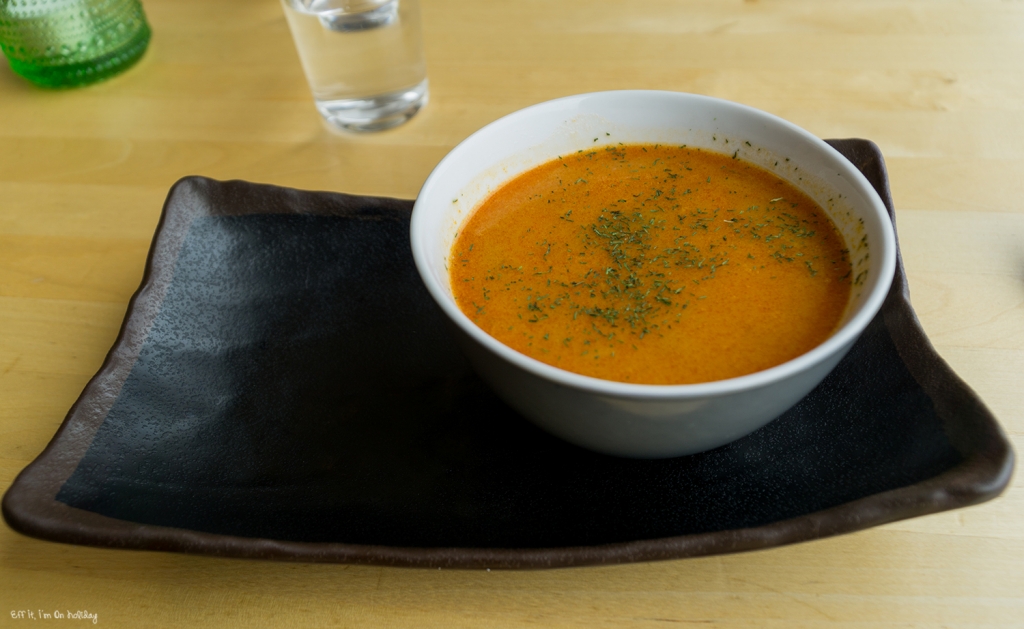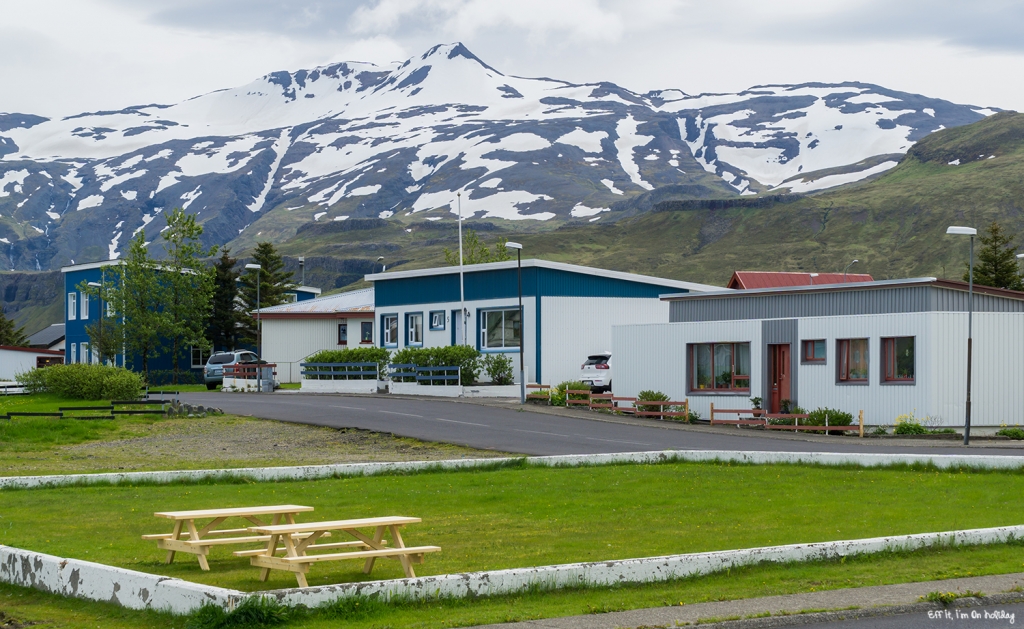 Half an hour later, we stopped for lunch in a lovely village called Grundarfjörður. I know what you must be thinking. Yes, they kept us well fed on this tour 😛 We went to Kaffi Emil where a fish soup was included in the price of the Snaefellsnes Peninsula tour (they also had vegetarian options). I couldn't imagine leaving Iceland without eating any fish so that soup came at the best time. And it was incredibly delicious, little bit spicy, but perfect for my taste. Served with homemade bread and Icelandic butter, you won't need anything else. *wipes drool off face, continues writing* But we did get some cakes and coffee, mostly because the atmosphere was so cozy, we didn't want to leave.
Kirkjufellsfoss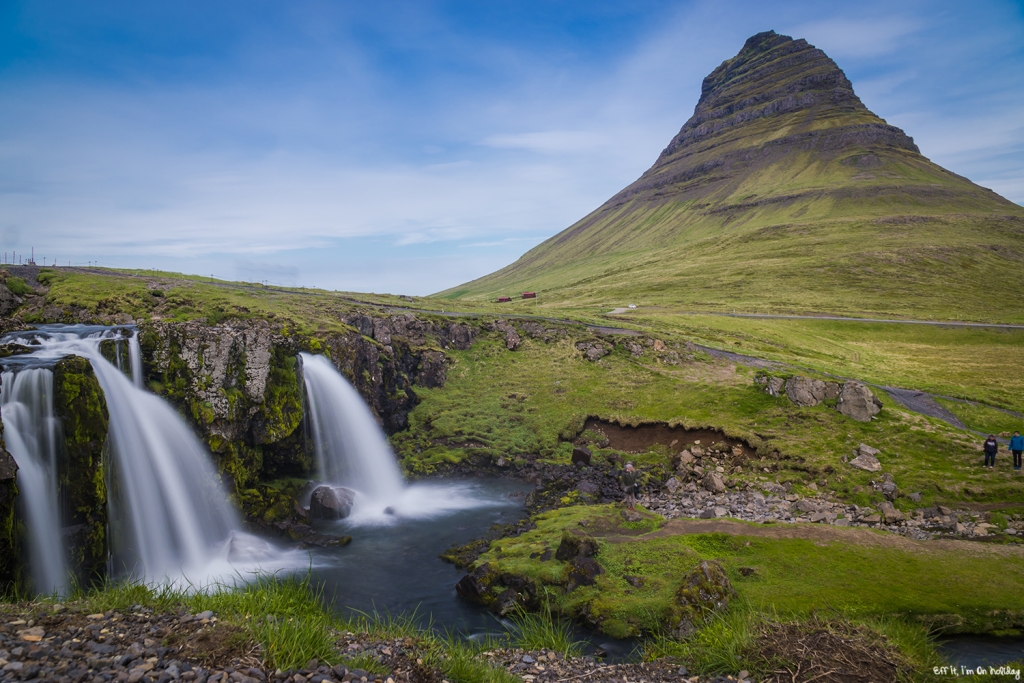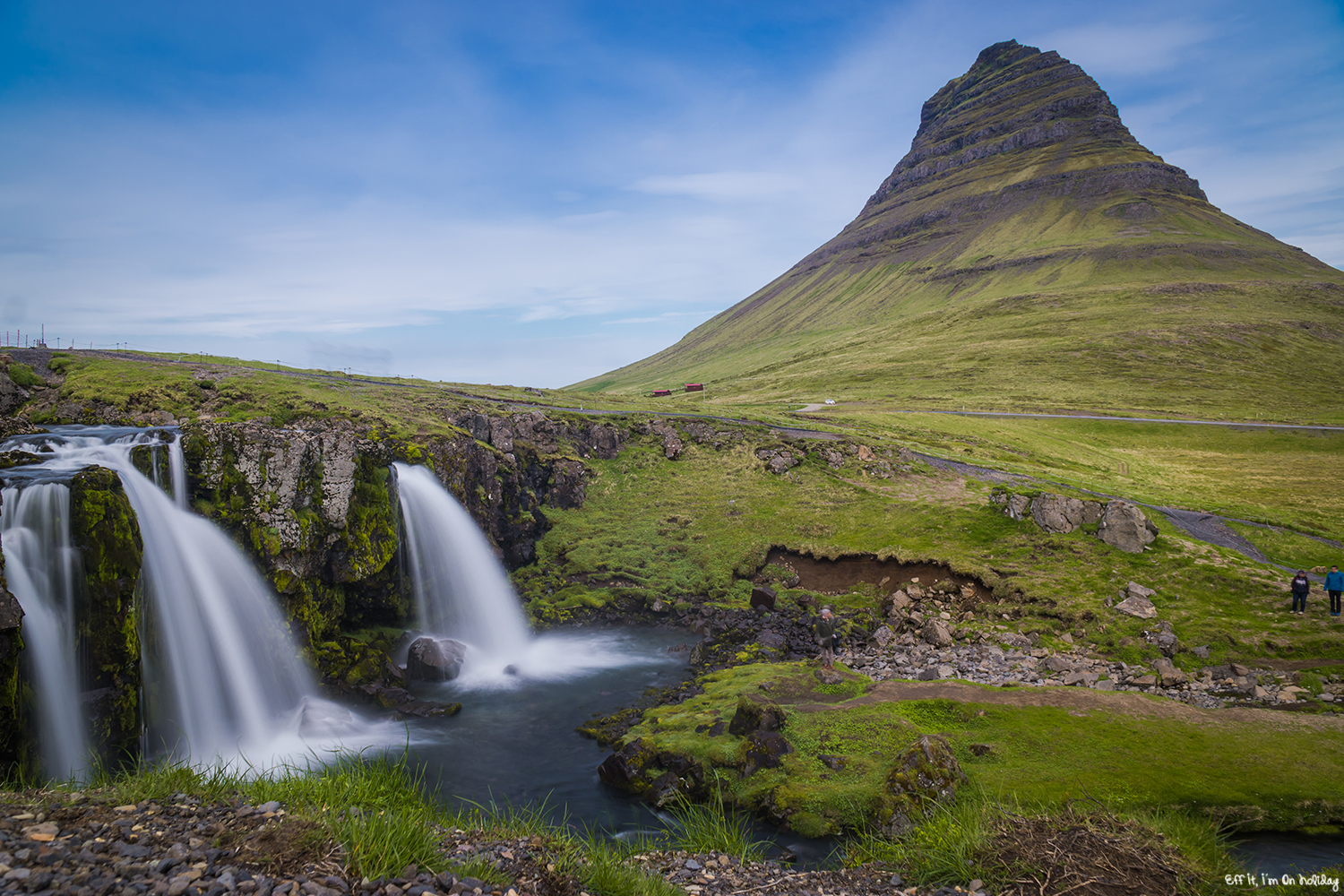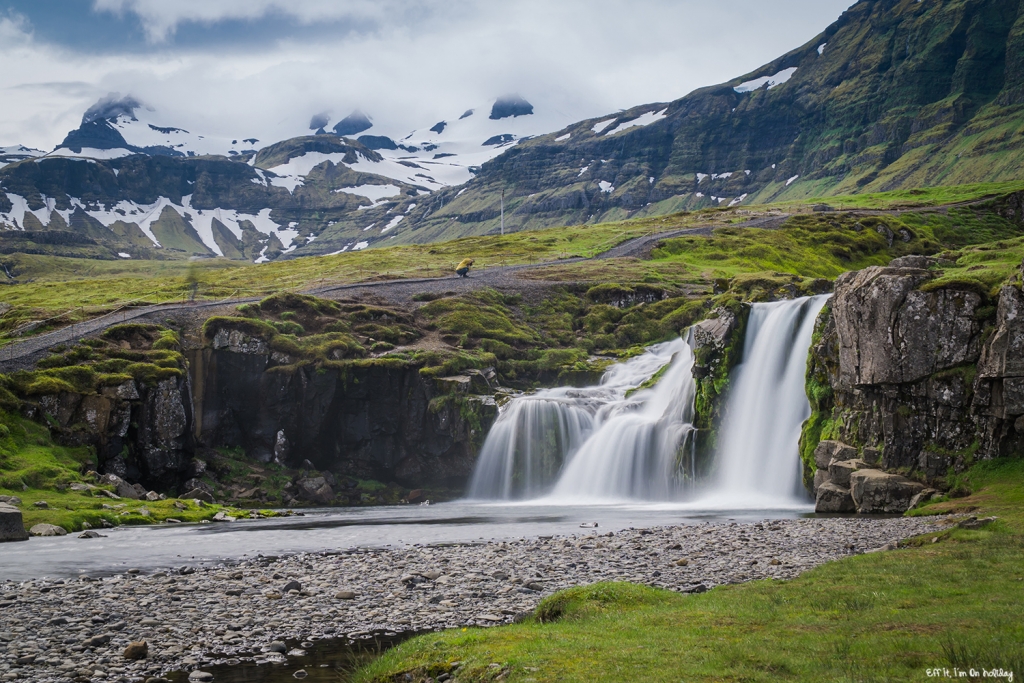 If the name Snaefellsnes doesn't tell you anything (BTW, I know, I can't pronounce it either), you surely have seen pictures of Kirkjufellsfoss and Kirkjufell, the symmetrical mountain also known as The Lonely Mountain. If you still can't put your finger on it, then you should know that the movie The Secret Life of Walter Mitty was filmed throughout the Snaefellsnes peninsula and Kirkjufell was one of the locations. If that still doesn't ring a bell, please leave my post open in a tab, go on Netflix to watch the movie (it's one of my favorites!) and then come back. I won't go anywhere, I promise, I'll grab a good book and wait for you.
Djúpalónssandur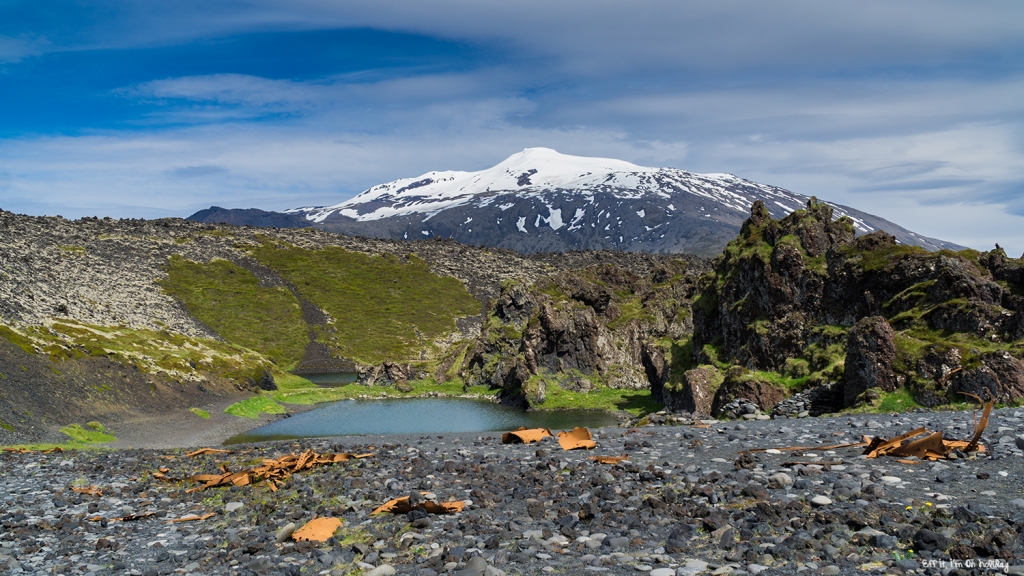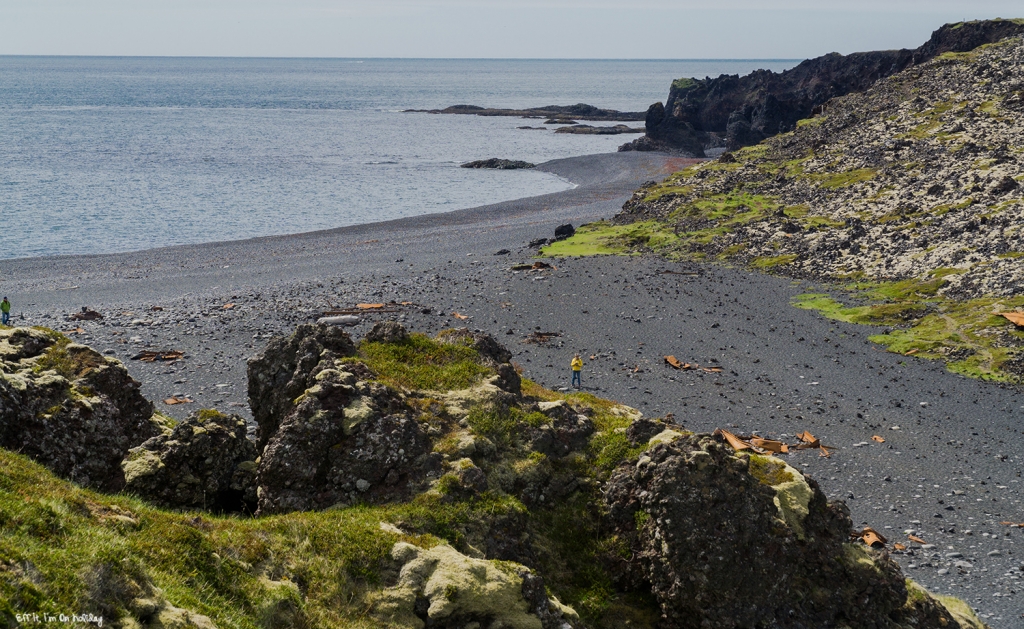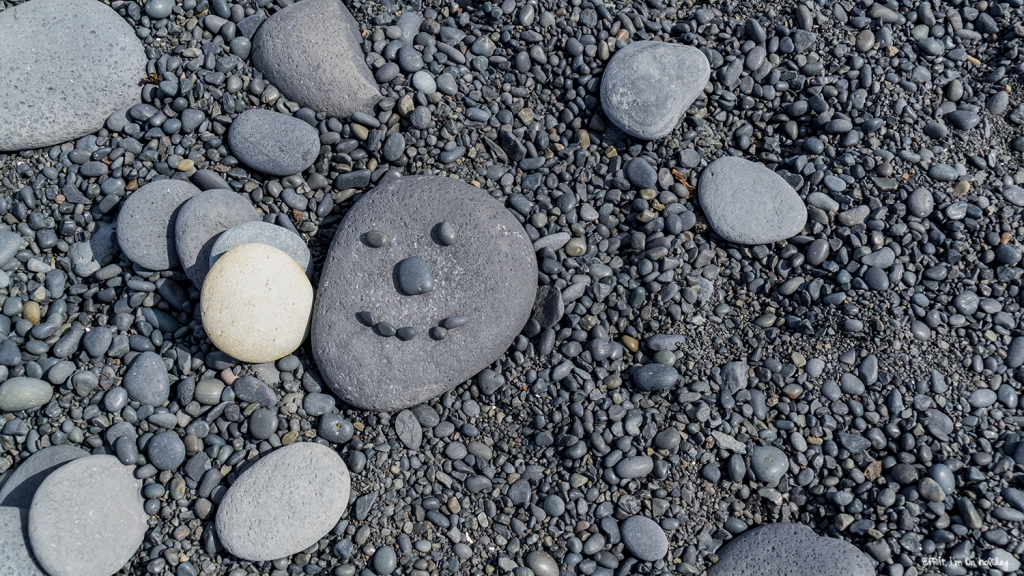 A quick power nap later (until our next stop, not until you came back to this post) and we got to Djúpalónssandur, probably the most remarkable place on the Snaefellsnes Peninsula tour. You walk between interesting lava formations, one of them having a large hole in the middle, giving you a perfect view to the Snæfellsjökull glacier. The Djúpalónssandur beach is different than the ones featured in the Southern Iceland tour, as it's made with lava pebbles. That ghastly name of the beach actually came from a lagoon right behind the beach, called Djúpulón, meaning the Deep Lagoon, making the name of the beach in English as The Deep Lagoon's Sand. You'll most likely see rusty chunks of metal all over the beach and you'll wonder if the Icelandic cleaning crew is on holiday somewhere warm. In fact, they are remains of a British trawler (called The Epine GY7) that crushed into the rocks in 1948, when 14 men lost their lives and some were never found.
Although in most tours we did in Iceland I didn't mind the time limit in each place, Djúpalónssandur is the one place where I wish I could have stayed more. It's also where I got to see for myself how cold the Atlantic Ocean is in Iceland in June. 😆
Hellnar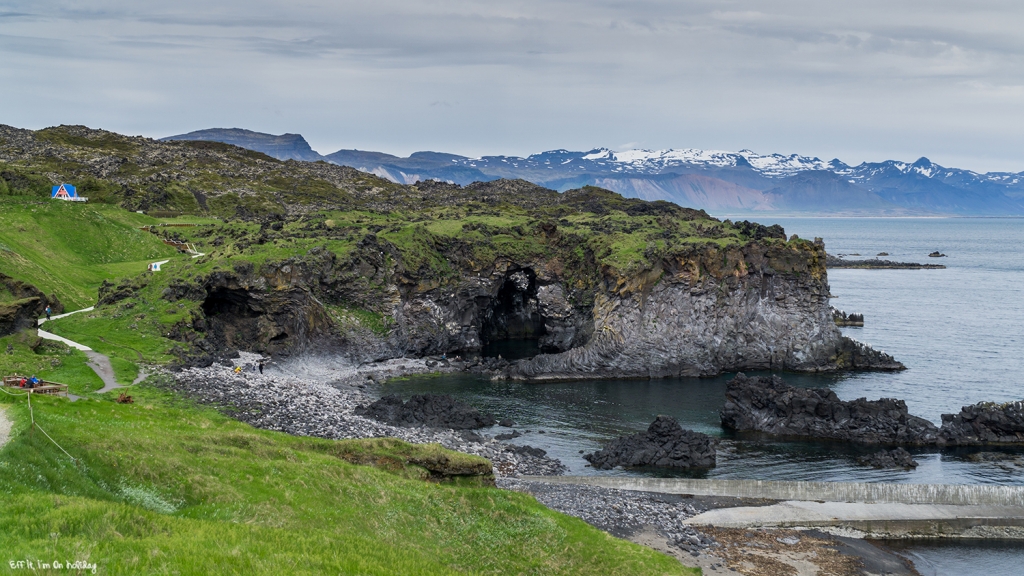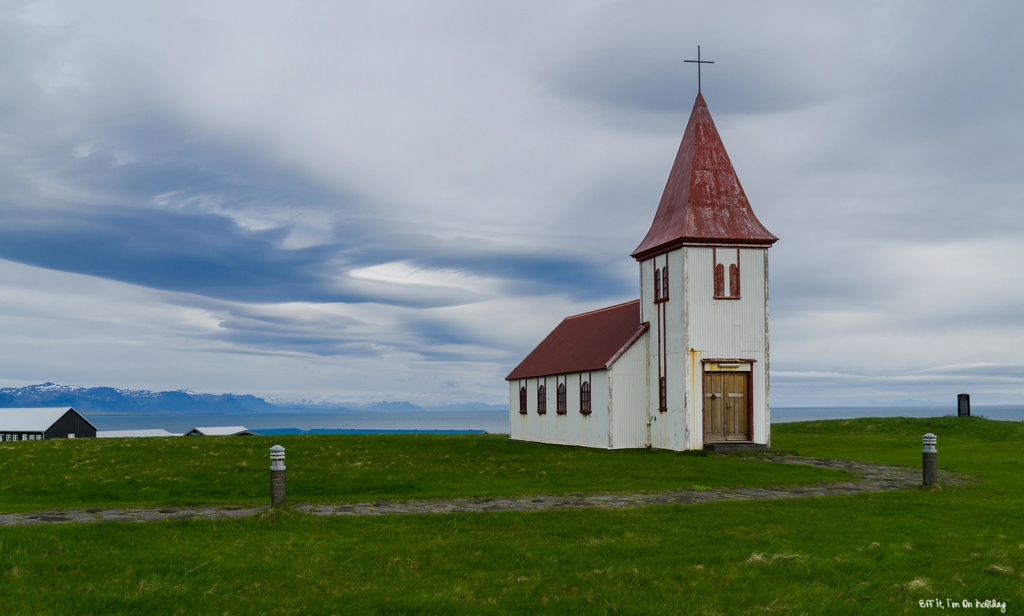 Although we stopped in the Hellnar village for a quick photo op and see the interesting rock formations, formed in different volcano eruptions, I noticed a church up the street, and remembering how I regretted not photographing
the church in Vik
, I rushed up a steep street for a couple of photos. Was it worth feeling like my heart was going to jump off my chest and take a nap on the lawn in front of the church? I don't know, you tell me 😉
Arnarstapi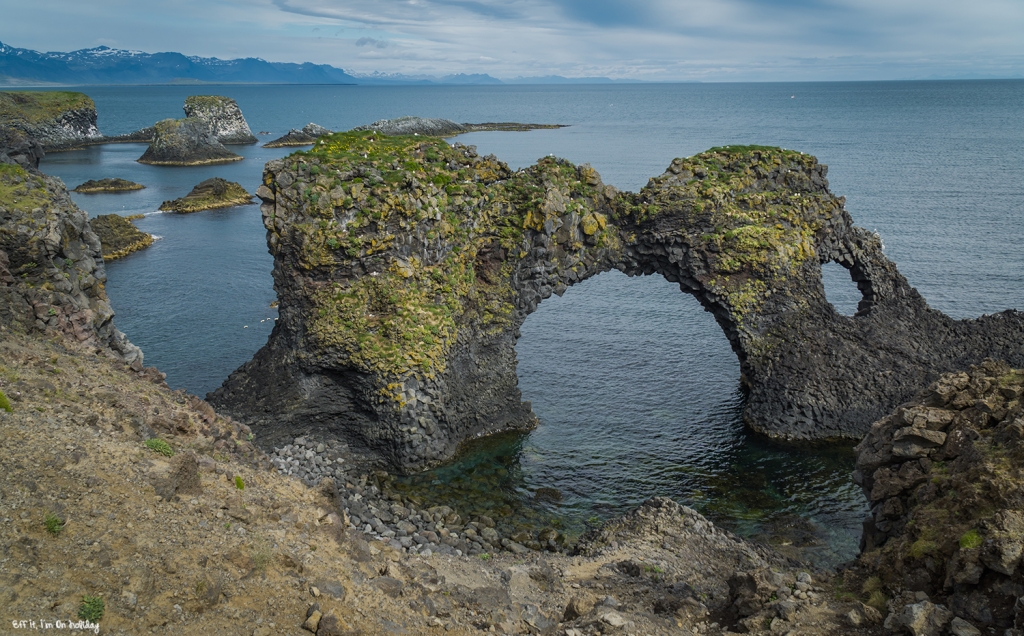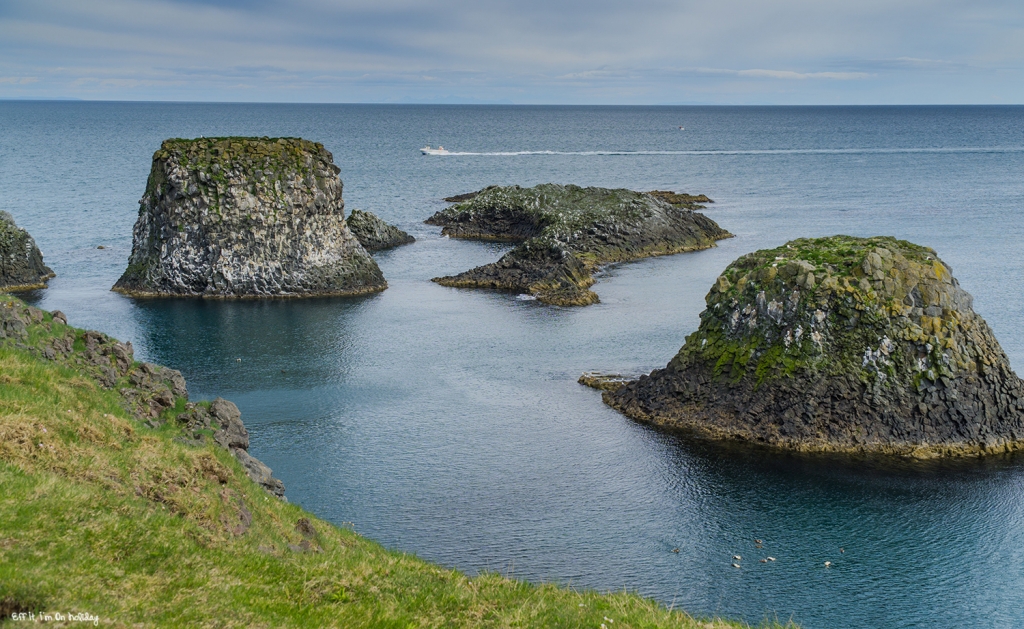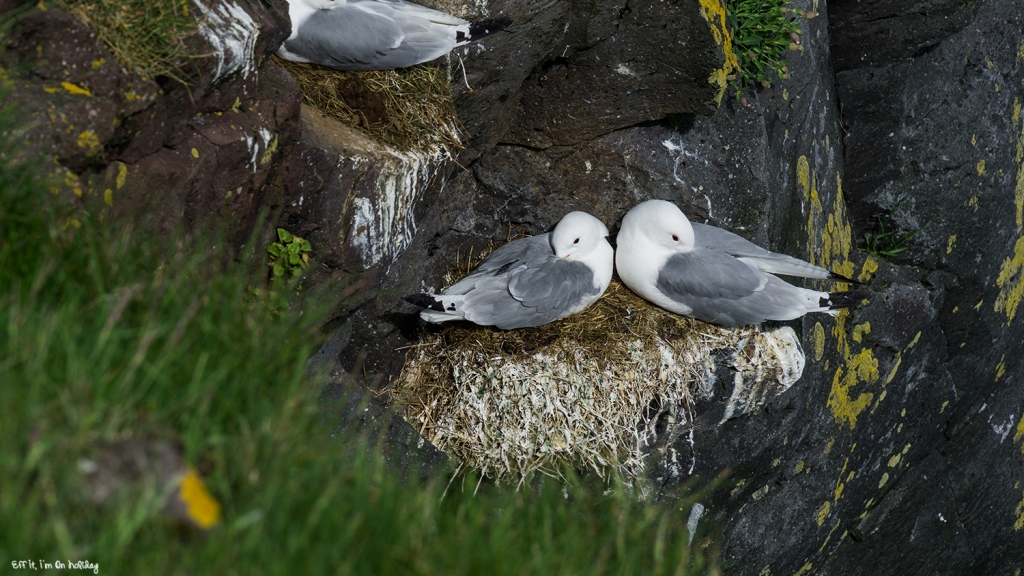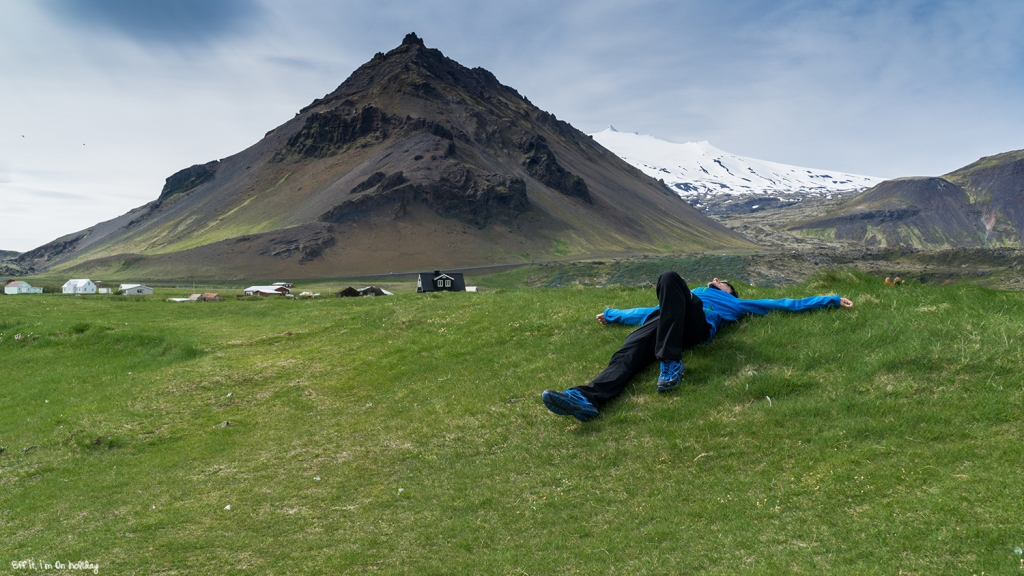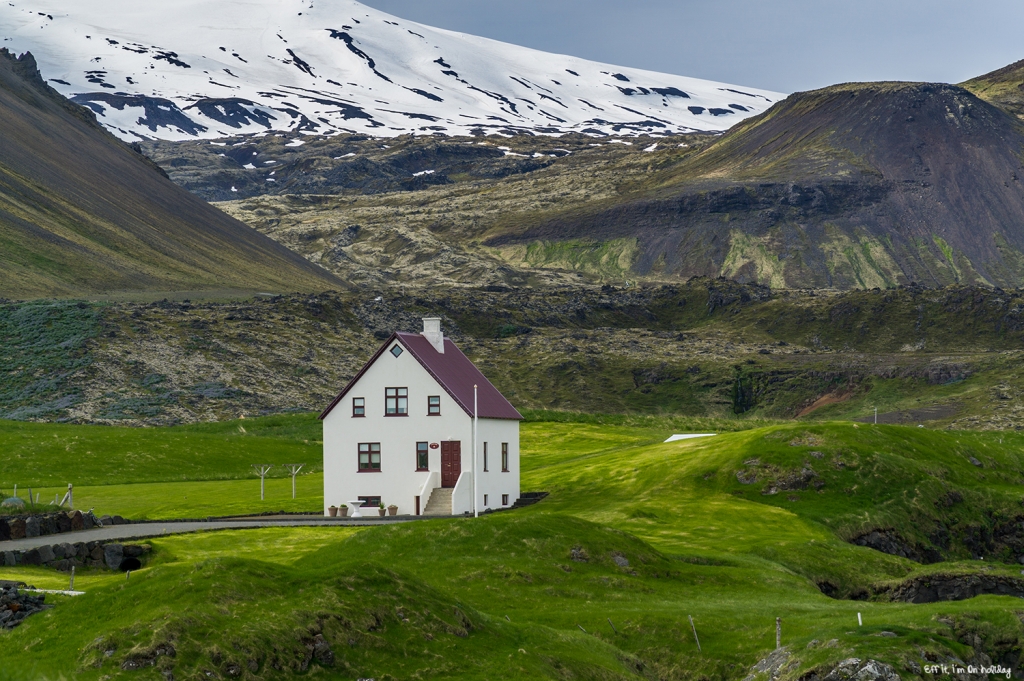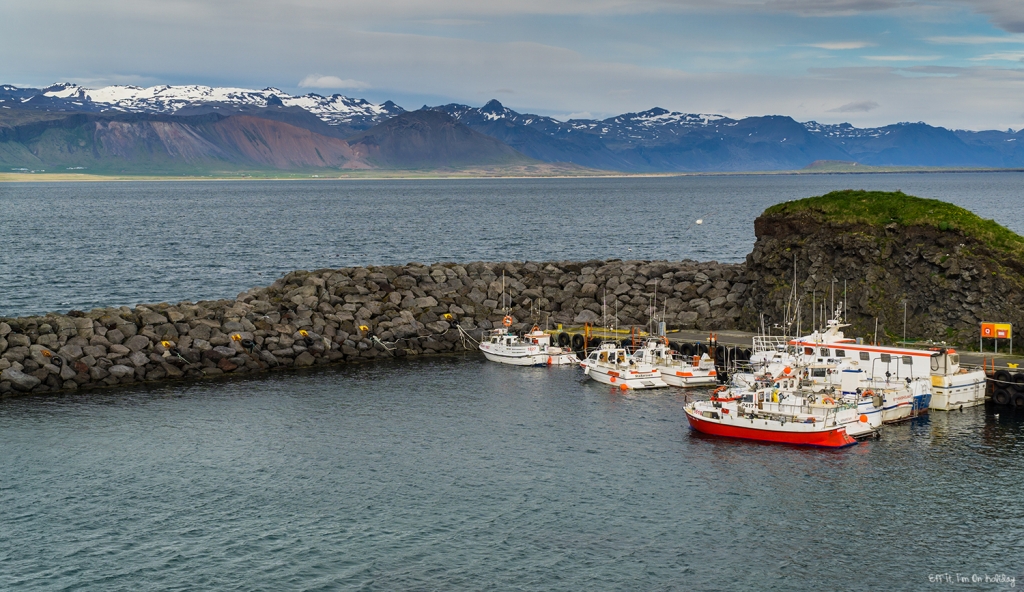 Arnarstapi is a village with jaw-dropping scenery. There is a short trail, that starts with the statue of Bárður Snæfellsás, the settler and protector of the peninsula, half troll, half man. There is also a 2.5 km trail to the village of Hellnar, but we've only walked the path from the statue to the port of Arnarstapi, admiring the impressive basalt columns of the cliffs, marveled at the imposing Gatklettur
, 
a natural arch, home of many seagulls, and….avoided the huge holes in the ground. From the port you get a great view of the Stapafell mountain, as well as the Snæfellsjökull glacier, if it's sunny. There's also a white house I loved and all my friends on Facebook made fun of me when I said that I want it to be my future home. Regardless, there actually are 
vacation homes
that you can rent in the area, and they're all super lovely. 😍
Ytri Tunga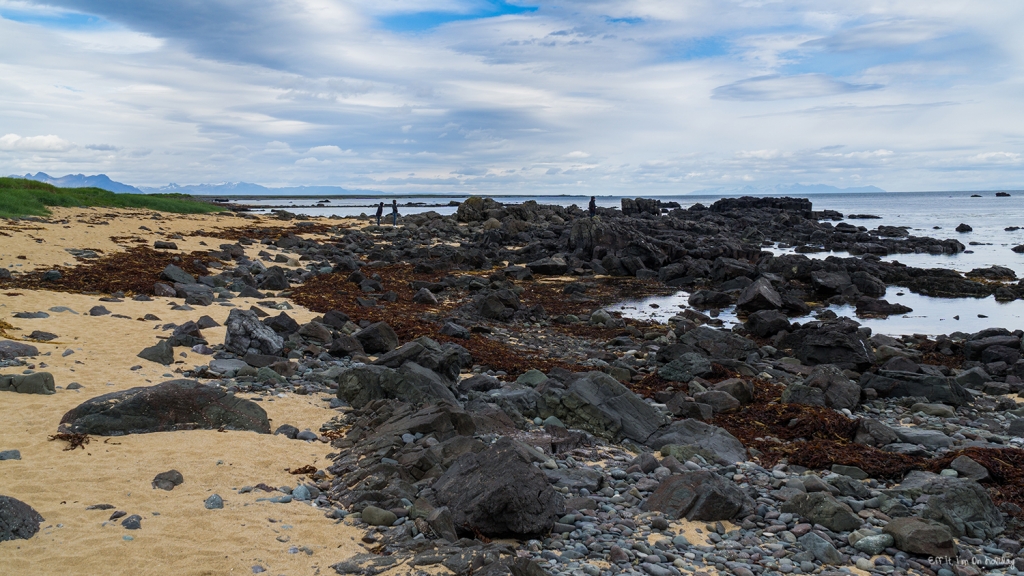 After a black sand beach and a lava pebble beach, it was time for our last stop in Iceland….a yellow sand beach? Huh, kinda underwhelming. Well what if I told you it's actually a seal colony? That would certainly make it more interesting, as I love seals! Funny enough, I loved the beach but was a bit disappointed to see the seals so far away, especially since the first photo on Google shows them chilling on the beach. Surely, at a different time of year. So I had to settle to see them up close through binoculars. Still, it was exciting to see them in their natural habitat, even though the 105mm reach of my lens proved to be insufficient.
Would I recommend the Snaefellsnes peninsula? A million times yes! Although it seems like we've seen a lot, we've barely scratched the surface, there were tons of other waterfalls to get wet under, mountains to climb, or caves to explore. Next time I'm in Iceland, I'll probably want to return and stay for a few days, maybe have more chances at better photos, since the light was a bit too harsh and the wind made it impossible for me to set my tripod anywhere.
Is the Snaefellsnes Peninsula the best part of Iceland?
Disclaimer: We partnered with BusTravel Iceland for this tour, but all views, photography and desire to visit Iceland for the past 10 years are entirely our own.