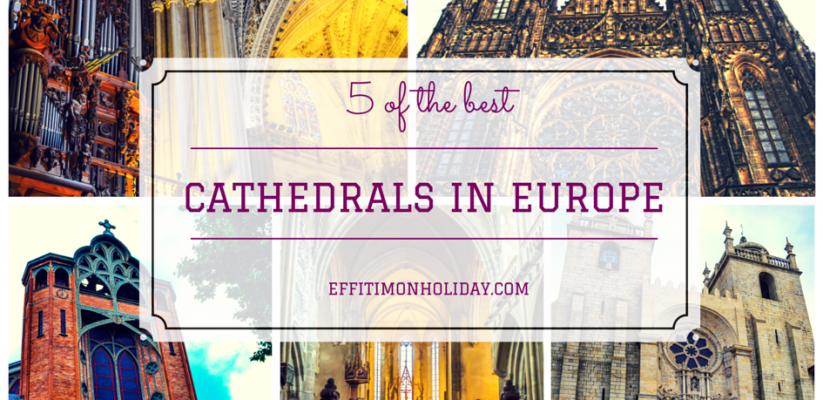 5 Of The Best Cathedrals In Europe
Have you ever visited a city in Europe without passing by a magnificent cathedral? It seems unlikely, since there are over 1000 cathedrals all over the continent, one more beautiful than the other. The author Robert Louis Stevenson once said that "mankind was never so happily inspired as when it made a cathedral" and you don't have to be a religious person to appreciate their breathtakingly beauty and complex architecture. For me, visiting a cathedral is better than spending hours in a museum, because I find them true works of art.
Here are some of the ones I've loved the most, in no particular order. It was tough choosing just five, and while writing this post, I must have changed my mind a dozen times.
1. Saint Mary of the Sea (Seville, Spain)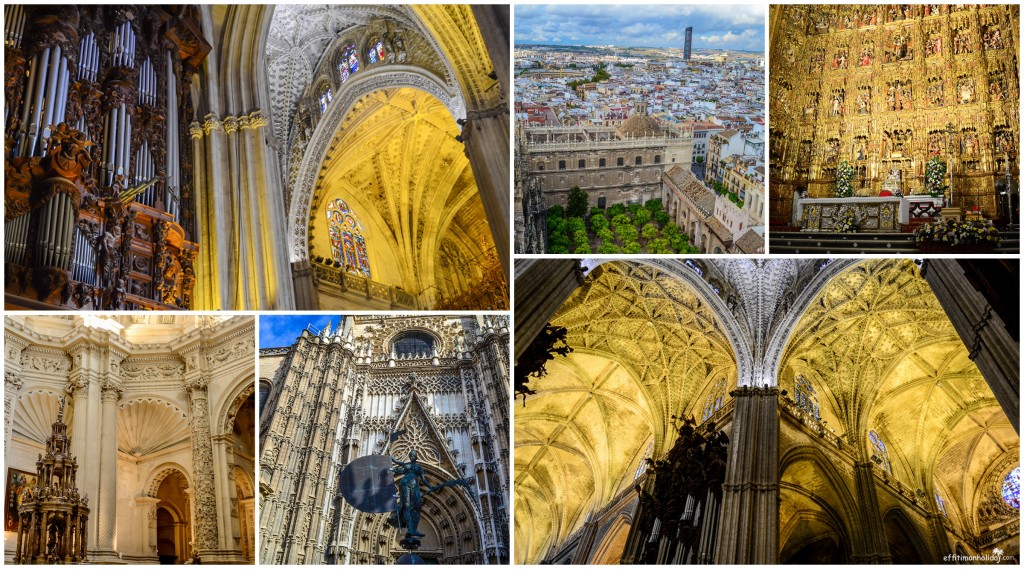 There's no doubt in my mind that this UNESCO World Heritage Site is the most gorgeous cathedral I've visited, I feel like there aren't enough superlative adjectives to describe it. From the outside it will impress you with its surface that measures 23.500 square feet and the fact that each facade is special, but once you're inside, your jaw will hit the floor hard. The Gothic vaults look like stone lace and the altar is simply stunning. The 80 chapels are different from one another, each with its own style (the Renaissance ones were my favorites) and from the top of the Giralda tower that you enter from that cathedral you get a lovely view of the city. You can easily spend hours here exercising your photography skills and filling up a few memory cards. 😉
Details
Location: Pl del Triunfo, Seville, Spain
Timetable: Winter (16.09 – 15.06): Monday to Saturday – 11:00 to 17:00, Sunday – 14:30 – 18:30 and Summer: Monday to Saturday – 9:30 – 15:30 and Sunday – 14:30 – 18:30
Price: 8,00 € (2,00 € for pensioners and students up to 25 years old)
 2. St Vitus Cathedral (Prague, Czech Republic)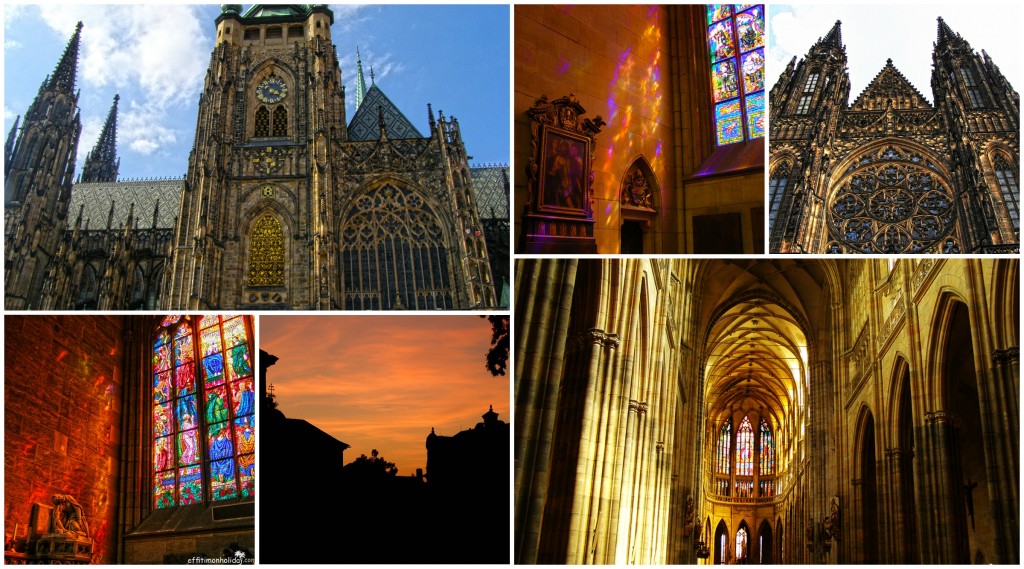 St Vitus is a Roman Catholic metropolitan cathedral located within the Prague Castle. My visit to Prague was only the second trip abroad I took and I remember being fascinated by this Gothic cathedral with its stained glass and imposing columns. It is the largest one in the Czech Republic and can be seen from different parts of town. After the deaths of the first two architects, Mattias of Aras and Peter Parler (note: not Peter Parker), the Hussite War in the 15th century and a great fire in 1541, the cathedral stood unfinished for centuries until work was resumed in 1844. The cathedral was finished in 1929 and is now a symbol of the city.
Details
Location: Prague Castle (see this link for directions to the castle)
Timetable: 9 – 17 (on Sundays 12 – 17), the last entrance is at 16:40
Price: 250 – 350 CZK (€9 – €13), depending on the type of ticket for the castle you get.
3. Saint-Jean-de-Montmartre (Paris, France)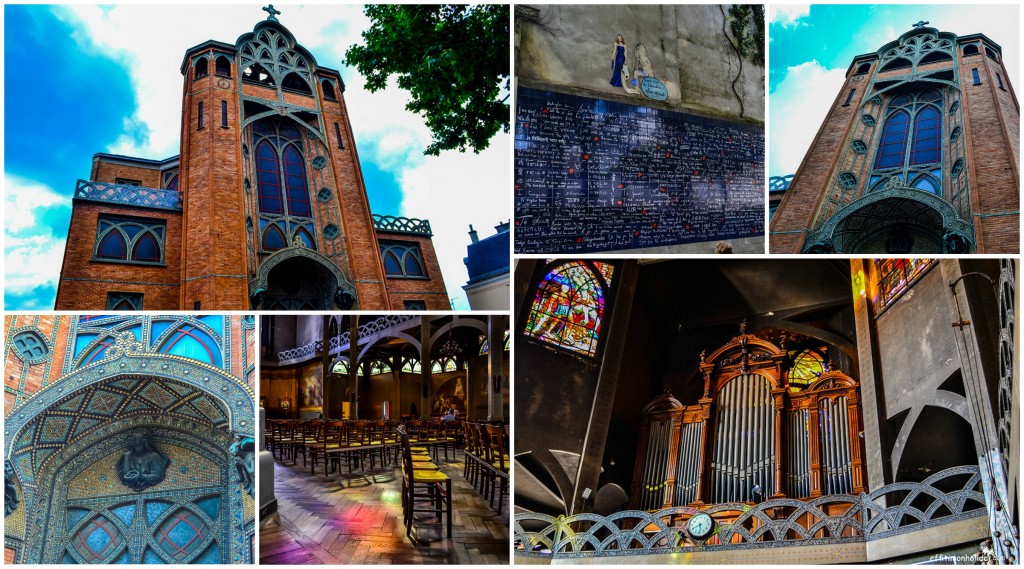 Okay, this one is technically a church but before you call me a cheater, just look at it! It's so beautiful and yet so unknown, most people don't go off the beaten path in Paris and I would have missed it as well, I found it while I was searching for the I love you wall. I loved the Art Nouveau design with the bricks and ceramic tiles facade (which was highly controversial at its time) and the fact that it was peaceful inside, there were only a few people in sight. Not something you often see in Paris!
Details
Location: 19-21 Rue des Abbesses, Paris, France (Metro station Abbesses)
Timetable: 9:30 – 18:00 (or 19:00 during summer)
Price: free!
4. Lutheran Cathedral of Saint Mary (Sibiu, Romania)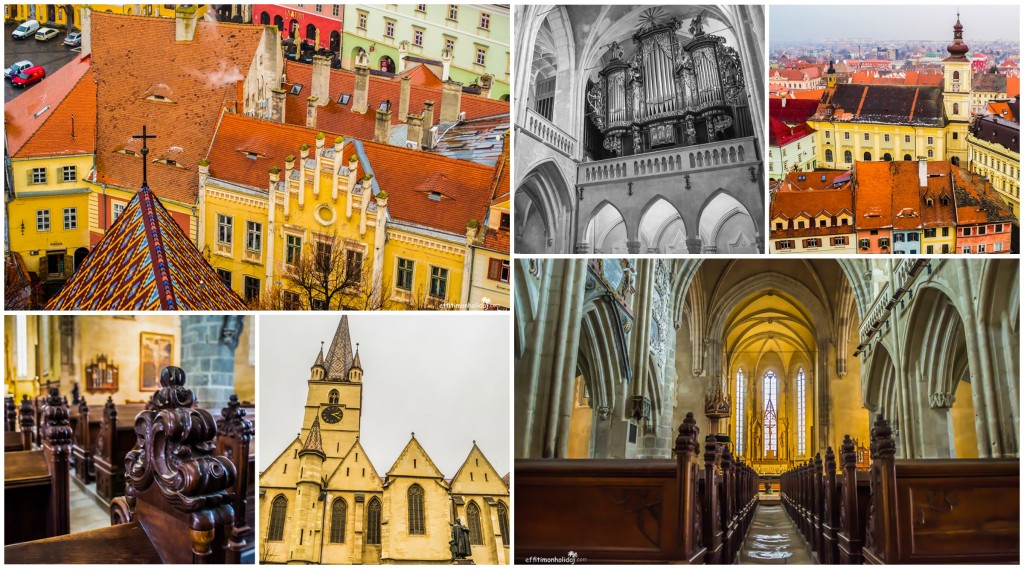 This Gothic Cathedral of Sibiu is one of my favorites in the country. Not only  is the inside gorgeous, with a huge Baroque organ from the 17th century, but the view from the tower, the biggest in Transylvania, is breathtaking, especially on sunny days when you can see the whole city surrounded by mountains. During the summer months, there are organ concerts in the cathedral and I would love to attend one, I bet it would be a surreal experience. I think that no visit to Sibiu is complete without stopping here as well.
Details
Location: Huet Square, Sibiu, Romania
Timetable: 9 – 20 (from April 15 to Oct 15) and 9 – 17 (from 16 Oct to April 14). The tower is open from 10 to 20 (July to September) and only on the weekends between October and June, from 10 to 17, because it doesn't have any artificial lighting up there.
Price: 8 RON (€1.8)
5. Se do Porto (Porto, Portugal)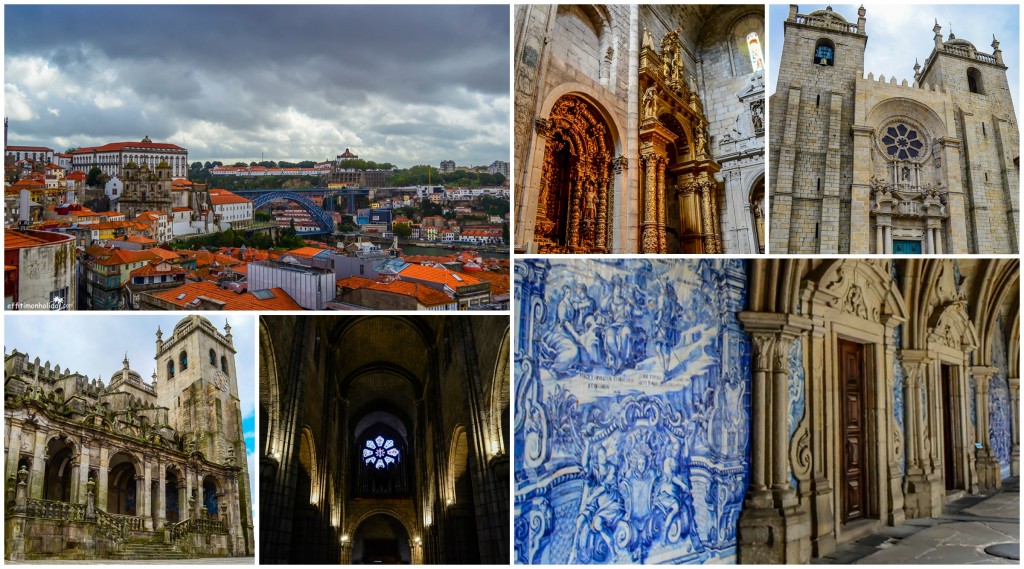 Porto has so many churches and cathedrals that you can't see all of them in one trip. My favorite however is the oldest one, the Cathedral located in the historical center of the city. It will awe you not only with its mixture of Gothic, Baroque and Romanesque architectural styles, or its imposing size, but also with its lovely cloister, with many gorgeous azulejos (white and blue tiles), the best I've seen in town!
Details
Location: Terreiro da Se, Porto, Portugal
Timetable:
Price: free and €3 for the cloister (well worth the price!)
 What about you, do you have a favorite cathedral in Europe?