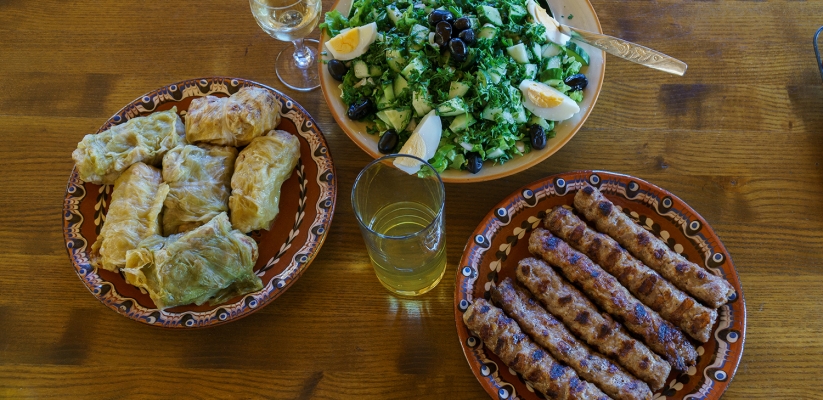 A Foodie's Guide To Eating in Northern Bulgaria
I have to be honest with you, when I first heard that our next destination will be the northern part of Bulgaria I wasn't impressed at all. As the majority of Romanians, when I hear Bulgaria I immediately think about the all-inclusive resorts in the Golden Sands or Sunny Beach areas. Secondly, I think about Balchik. The main reason for this analogy is apparently my ignorance. I visited the Sunny Beach area and let me tell you – it is not bad, but it is not impressive either. This area is for full convenience and for people who love going to the beach all day long.
I don't want to diminish the importance of that area for the Bulgarian tourism, however I am looking for something more personal, based on my own interests. I love it when things pass the time test and after a few years I still remember what I did and what I ate in different places of the world – I will always remember our search for a restaurant in Copenhagen,  our picnic in Stockholm, our experience in Helsinki's Market Square or the Maltese cuisine.
I don't remember anything particular about the food at the all-inclusive resorts, except the fact that I was a lot.  I didn't know what to expect from the trip in the Northen part of Bulgaria, known as the Dobruja region (or as we call it in Romania, Dobrogea). However,  my expectations were exceeded by the history of the area, the nature and to be honest by the dishes prepared also.
Food in Dobrich Province, Northen Bulgaria
The Dobrich Province is located in the northern part of Bulgaria, on the Black Sea coast, near the Romanian boarder. In general, the Balkan countries have similar dishes that they call traditional. For example, the dish called "sarmale" (composed of cabbage leaves and minced meat and/or rice) is a dished considered to be traditional in Romania, but it is also found in Bulgaria, Greece or Turkey as it is highly Turkish influenced. We also found a similar dish, named golabki, in Poland.
Taking into consideration the location of the area, I expected to find sea food dishes and dishes that show the Balkan influence. What I didn't expect was the hospitality of our hosts, who cooked for us traditional recipes and took their time to explain to us everything we needed to know about the local specialties.
 Dinner and breakfast at Levana guesthouse, in Balgarevo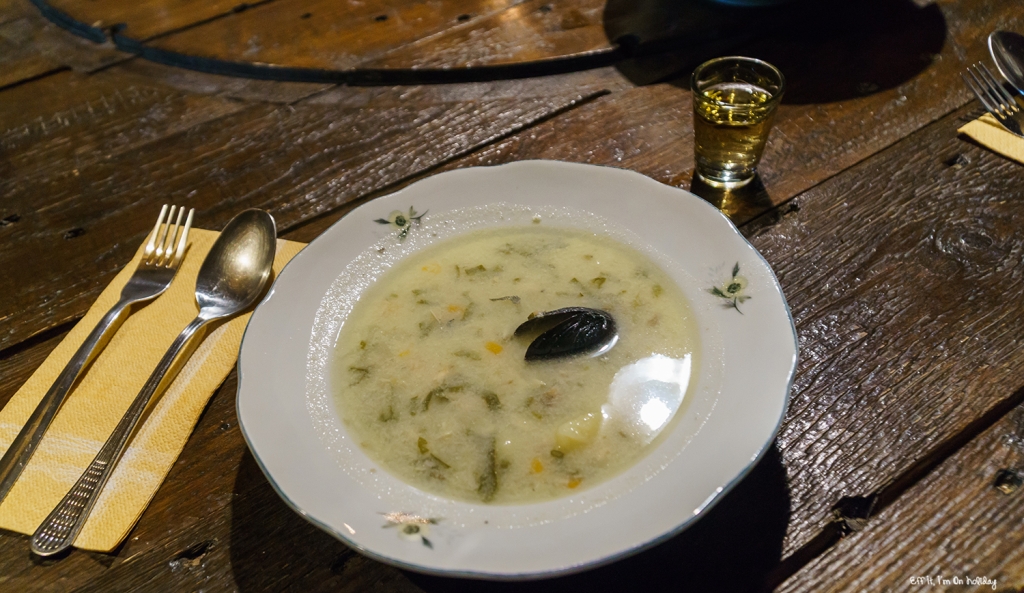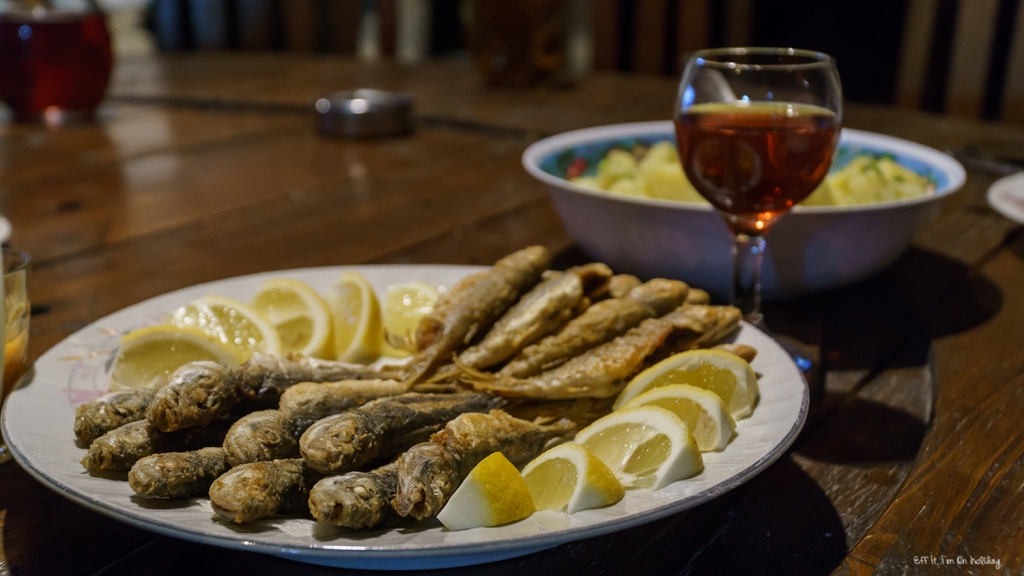 After a long trip, our final stop was Levana guesthouse located in Balgarevo and Krasi, our host, made it possible to call the guesthouse our home. As we arrived late in the night, our first interaction with the area was through the food. The dinner was personally cooked by Krasi himself after a recipe passed on by his grandmother.
Firstly, we served a fish soup made with the common scad (Trachurus mediterraneus), a species of mackerel family, the red mullet (Mullus barbatus), the pontic shad (Alosa immaculata) and mussels. The soup was served with salamurika (a sauce made with lemon juice, garlic, chili peppers and salt). Needles to say that the fish was freshly caught and cooked.
For the main course, we had some fried common scads and red mullets, served with a potato salad. For those of you who drink alcoholic beverages, Krasi offered some homemade plume or grape rakia. Rakia is a fruity brandy, made from different kind of fruits with a high alcohol content.
The dinner was served on a round massive wood table, were we heard the history of the place from Krasi . It was impressive to see how much passion a person can have, when he talks about his grandmother's recipes and his grandfather's house.
We found out that the plant called lovage is called "leustean" in the sea side of Dobrich area same as in Romanian. Not so different after all.
After a good night sleep, we served breakfast where we ate fried bread covered in egg – Krasi called this dish "something from his childhood", traditional Bulgarian yogurt with fig jam, traditional Bulgarian cheese pies and cheese. We learned that due to the mild winters and the hot summer, fig trees are everywhere in that area and therefore even rakia is made from the figs.
Lunch at Our Home/Unser Haus, in Kavarna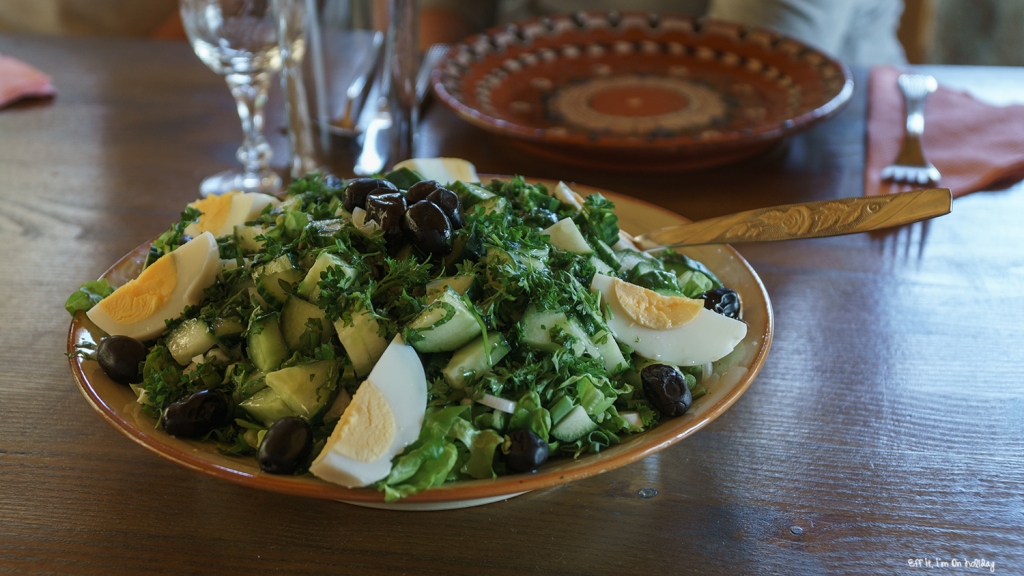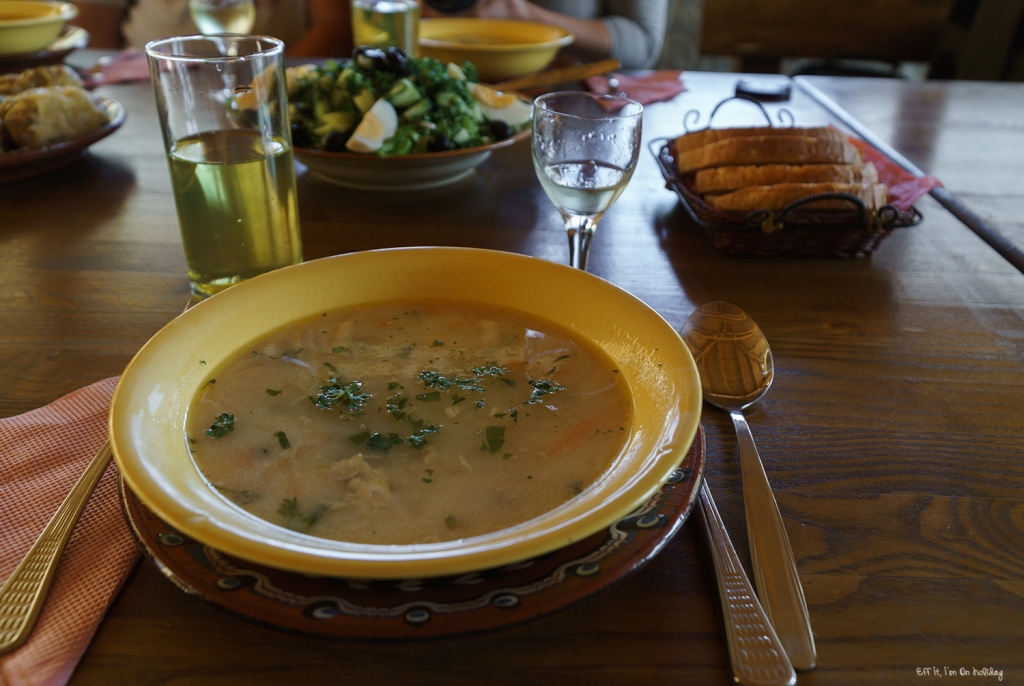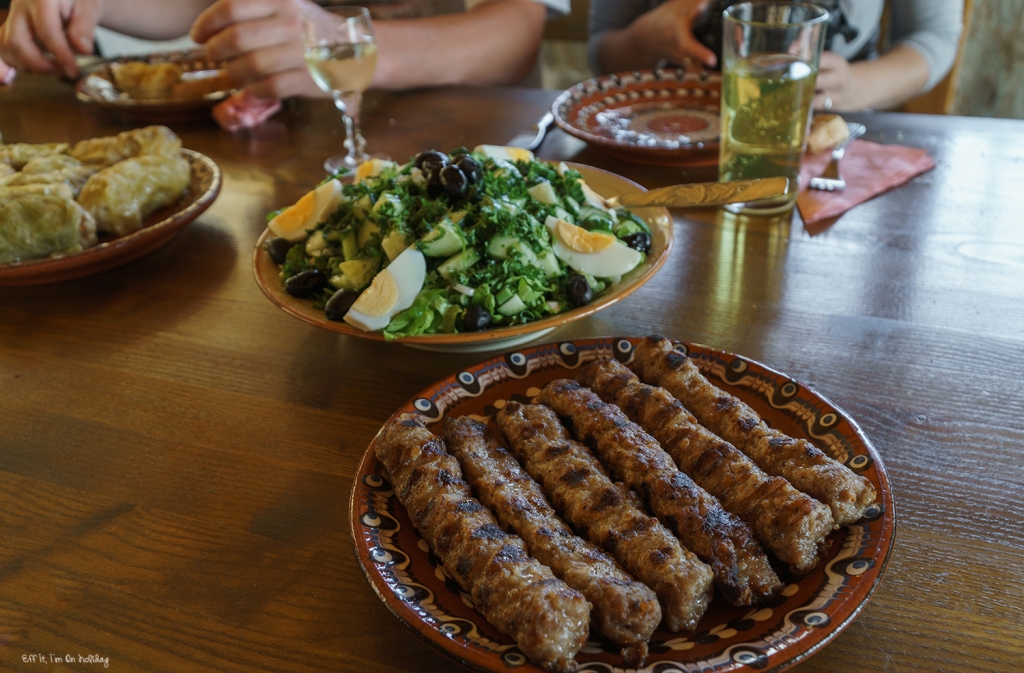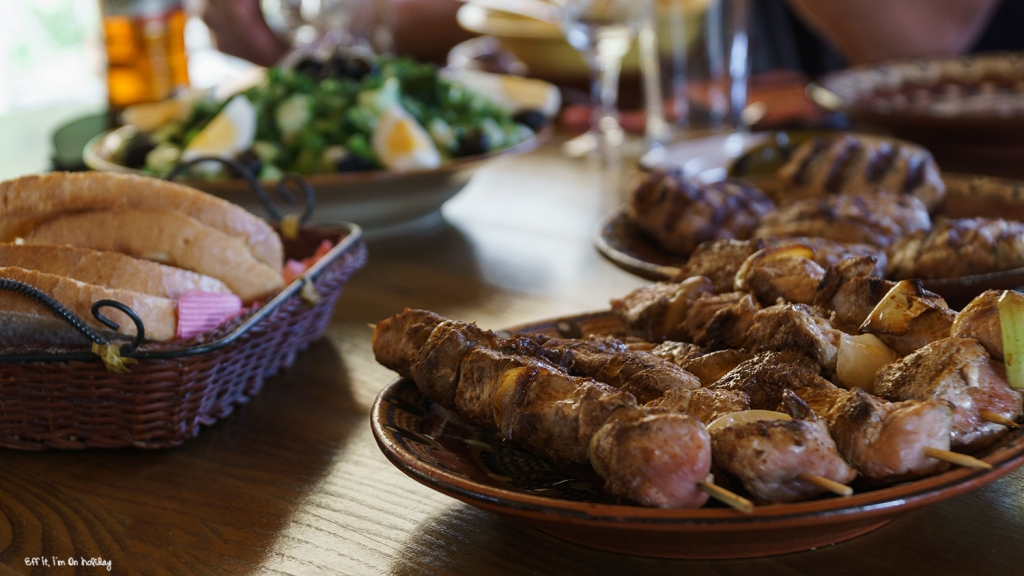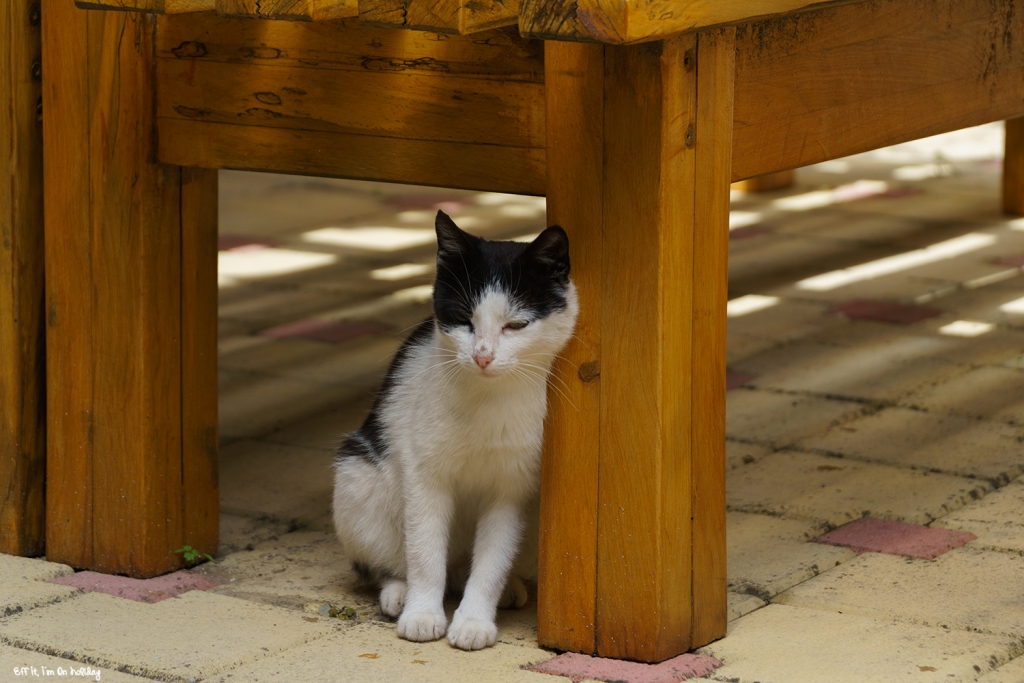 On our second day, we had the chance to meet Darina and her family, at Our Home/Unser Haus, located in Kavarna. I was again impressed by the kindness we were welcomed with at Unser Haus. Darina introduced us to her family and her house and we once again felt that place is like our temporally home, hence the name of the place.  The lunch was also traditional Bulgarian and very diversified for those of us who don't eat fish (hint: Adri).
The first course was homemade bean soup or homemade chicken soup. I had the chicken soup as I was curious to make a comparison with the Romanian one. They're not so different, but better from the ones that you normally find in restaurants – this one had a more flavorful taste.
For the second course we had a selection of traditional dishes – from sarma, to a Bulgarian salad (made with cucumbers, eggs, olives and parsley), to traditional meatballs named kufte and some kind of kebab dish named kebabche. We tried all of them as I was wondering how different they are from other similar dishes in the Balkan area – I have to tell you, although similar, the dishes were essential different – either it was Darina's personal touch or it was the local identity or a combination of both. I don't have to tell you that rakia was also present on our table.
Dinner at St. George Tavern, in Kavarna,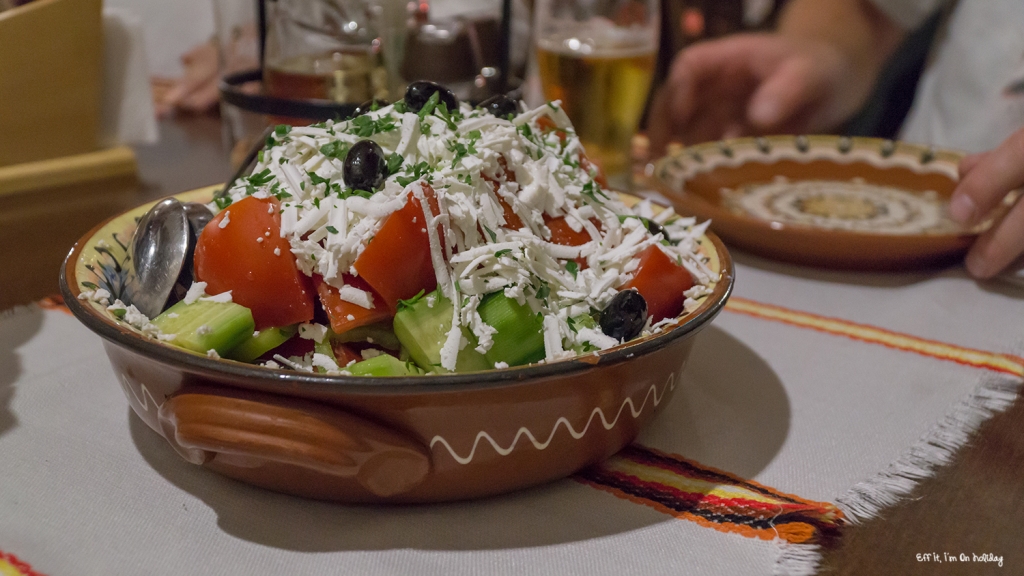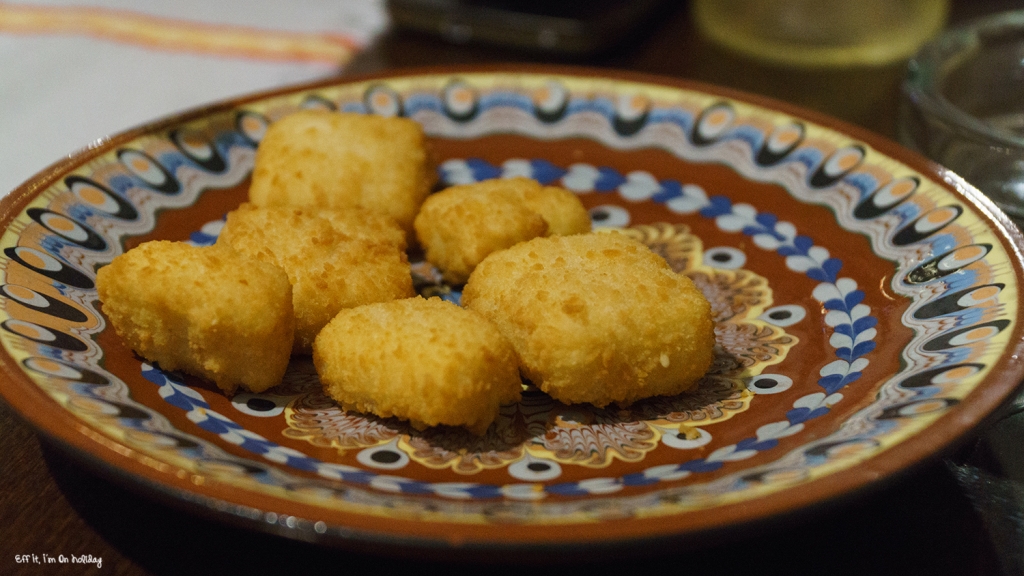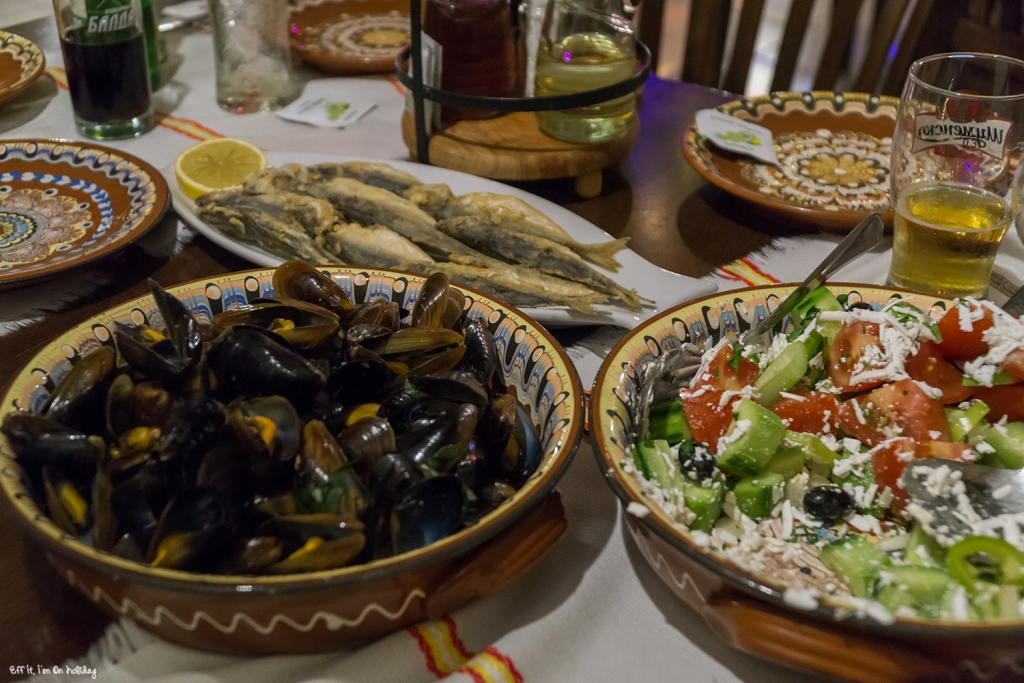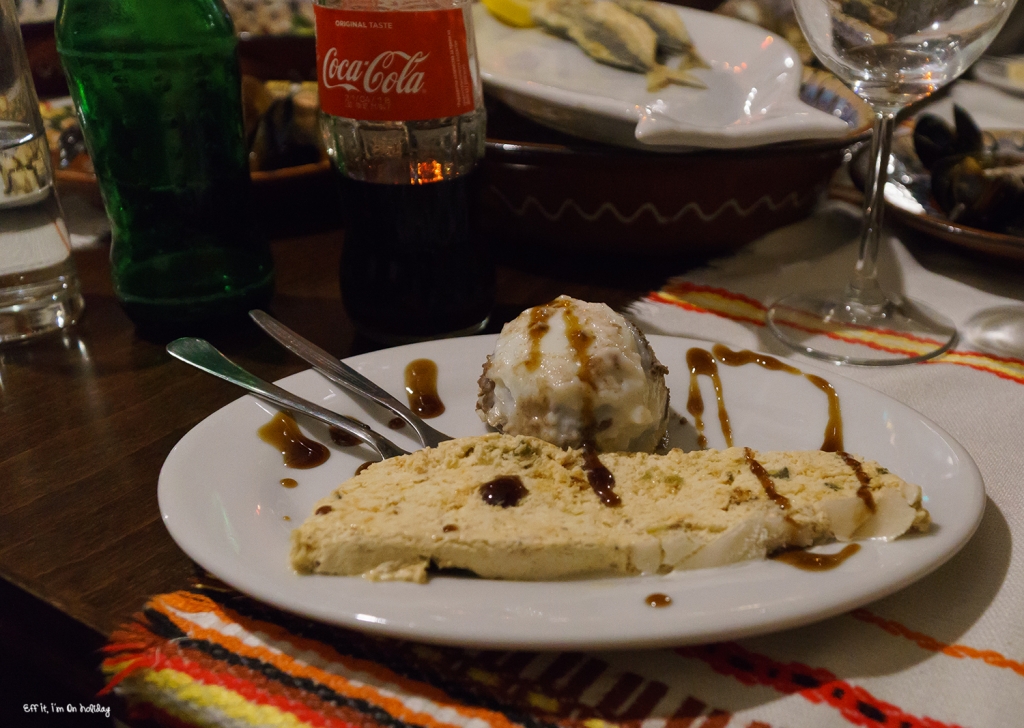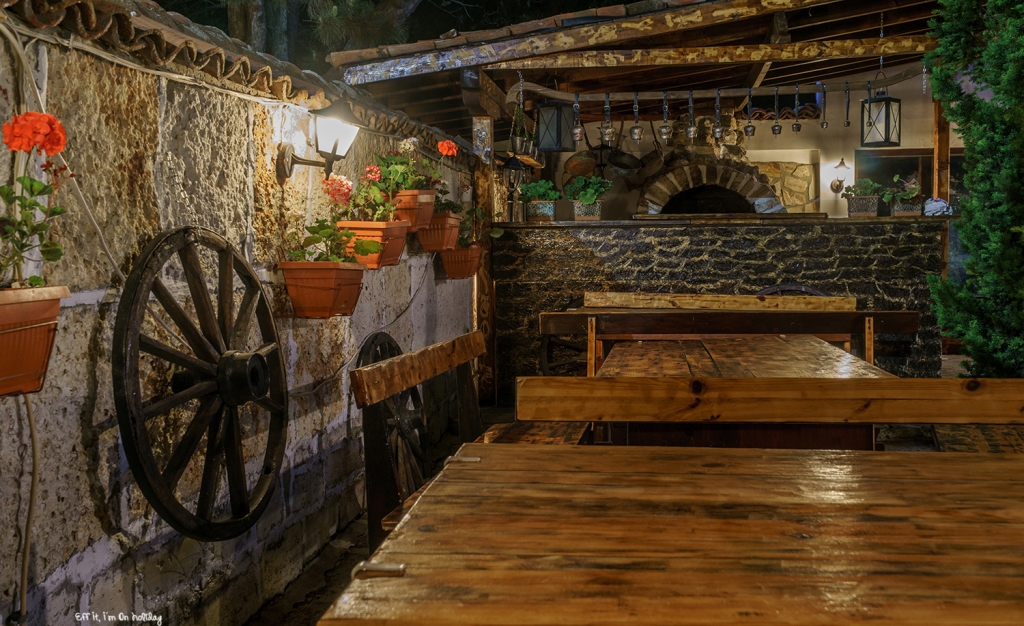 On our second and last day, we've met Vasilka at St.George Tavern in Kavarna, for what turned out to be a Traditional Bulgarian night with traditional food and music. I was touched to see that Vasilka not only spent the entire night with us, but also she speaks Romanian. She told us about the history of the Tavern and how she and her husband (who is the Tavern's chef) preserve the traditional Bulgarian spirit.
We heard some folk music and saw some folk dances, but must importantly the food was amazing. The dishes were sea food based and besides the fried common scad and Bulgarian salad, we've tried some deep fried cheese as an appetizer and for the first time in my life I tried boiled mussels. As Vasilka told us, the mussels were from a local mussels farm, the only eco-friendly one in the area. I didn't have what to compare them with, but Vlad swears they were extremely good and I guess his plate full of empty sells confirmed that.  Besides the already omnipresent rakia, Vasilka opened a special bottle of wine – a 2016 Muscat Ottonel named Kaliakra, after the fortress in the region. The bottle was from the first batches of the local manufacturers.
Although full, we've tried some vanilla cake with nougat ice cream, which proved to be the best dessert after such a great meal.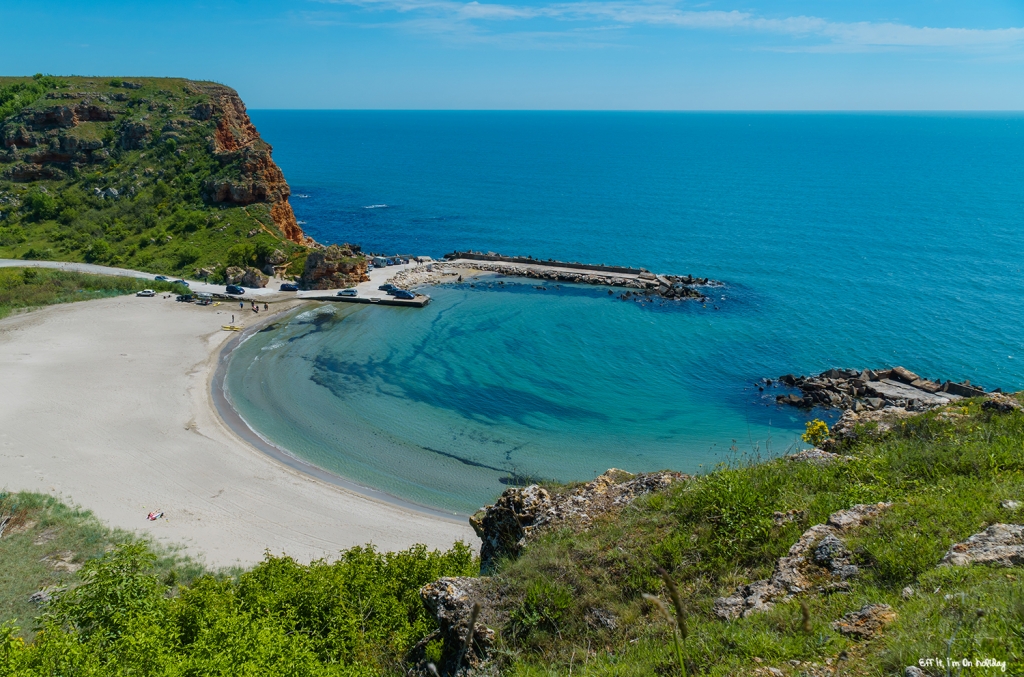 If you ask me if this experience will pass the test of time and if I will remember about the food in ten years I honestly can say I will let time tell, but I really hope so. The food was amazing, as it was really different from the experience offered by the all-inclusive resorts. It is all about traditions and a place to call home for a few days. It is about childhood and local spirit. It is about passion and about things well done.
However at the end of this experience, I can definitely say that I will always remember the honesty, the passion and the hospitality of our hosts.
Disclaimer: Many thanks to Levana Guesthouse and for hosting us and to the wonderful people who have kept us well fed with delicious food over the weekend: Krasi, Darina and Vasilka. As always, all views, photography and desire to return is entirely our own.